Last updated on November 4th, 2022
Featured Image: Arms wide for New Zealand's jaw-dropping natural landscapes / Photo credit: Amanda Burgess
How the 'Land of the Long White Cloud' Pushed Me Out of My Comfort Zone
By Amanda Burgess, Editor, JourneyWoman
I'm hyperventilating on the Gondola, the steepest cable car lift in the Southern Hemisphere at 450 metres. We're talking a near-vertical 240-metre climb above Queenstown, New Zealand –the adventure capital of the world. And the luge track that I'm about to downhill race on is another feet-dangling chairlift above it. But sometimes, you need to breathe through fear to get to some of life's bigger thrills.
Just weeks earlier, in January 2020:
My wobbly finger sits hovering over the 'submit payment' button on a 12-day adrenaline junkie tour of New Zealand's South Island, as my wobbly heart beats a staccato tattoo against my ribcage. Since my husband Gabe died of cancer in 2018, the prospect of going through life solo fills me with dread. But I know I need to be alone. So, I take a deep breath, tell my overactive mind to stop questioning the location my heart keeps whispering, and hit that button.
New Zealand is but one leg of my two-month journey. I have friends to lean on in my other planned destinations – Bali and Australia – but I yearn to strike out on my own and do something swashbuckling and daring. I keep telling myself: I'll see where the wind blows me. Only issue with that? It will likely blow me straight back into my comfort zone, with people I know, and I'm craving anonymity.
"Then something Tookish woke up inside him, and he wished to go and see the great mountains, hear the pine trees and the waterfalls, and explore the caves." – JRR Tolkien
The evening I leave Sydney for Christchurch, I'm ready. Something Tookish lies within me, waiting to leap against my ribcage and roar to life at the slightest provocation. Yet the low buzz I feel emanating from every pore is excitement, not anxiety.
Extensive research led me to Haka Tours – I feel a synergy with the company's philosophy that small groups lead to more immersive experiences, the flexibility they offer in customizing your tour to fit your needs, and the fact that 70% of participants are solo travellers like me.
I arrive at the Haka Lodge hostel in Christchurch in the wee hours of the morning and feel my way to the dorms in the dark so as not to disturb anyone's slumber. Weeks of criss-crossing time zones and anticipation for the adventure ahead have me lying awake in the dark, wondering who all these sleeping people around me are and if we'll connect on any level.
In the morning, I meet the group over a breakfast briefing, and breathe a sigh of relief. The age spread is wide, but these are my people – open-minded, open-hearted, adventurous travellers who are up for almost anything.
Day 1 – Christchurch to Mackenzie Country
First up on the day's itinerary is a walk around cold and windy Christchurch – a town rocked by earthquakes in 2010 and 2011. Nine years later, the extensive damage of 2011's magnitude 6.3 earthquake – one that killed 185 people – is still visible, despite halting efforts to rebuild. It looks for all appearances like a scene from a dystopian novel or post-apocalyptic movie – boarded-up half-razed buildings, empty lots taken over by hipster-chic shipping container eateries. It's a poignant reminder that living amongst so much natural beauty sometimes comes at a devastating price.
I stand in front of a lot staring out at 185 Empty Chairs – a temporary art exhibit artist Pete Majendie erected as an act of remembrance for 185 lives lost – for some long, bone-chilling minutes. The wind is blowing through the spaces between the chairs, and I glance down at a white infant car seat. This one grabs me, a mother of two, by the throat.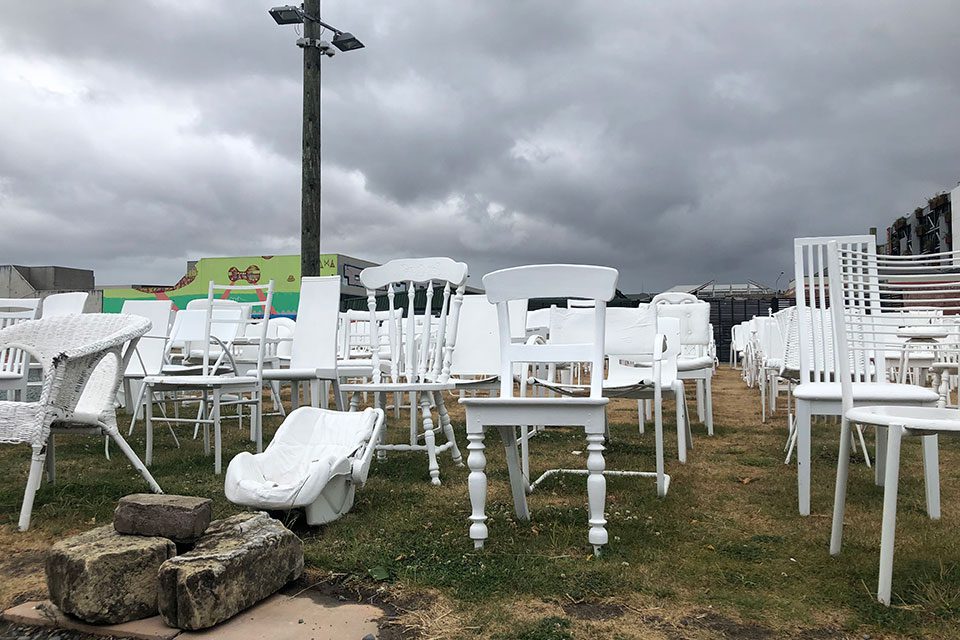 Art exhibit 185 Empty Chairs, erected to honour the lives lost in the 2011 earthquake in Christchurch, New Zealand / Photo provided by Amanda Burgess
By unspoken agreement, our entire group converges at Riverside Market for lunch. This indoor farmer's market stands on the grounds of what once was the Re:Start Container Mall, a post-quake innovation that brought life back to the central business district. It supports local growers and small businesses selling produce, meat, seafood, baked goods, coffee, and more – alongside Riverside Lanes, a collective of boutique shops and upscale eateries.
I wander the bustling market packed with travellers and locals alike for a good half hour before deciding what I want to eat. My nose leads me to Noodle Monk, purveyor of soulful and flavoursome Thai street food. The fragrant and spicy green curry I order transports me to the bustling alleyways of Bangkok in a single bite.
Bellies full, we load onto our small tour bus to make the long drive to Lake Tekapo (derived from the te reo Māori words taka, meaning sleeping mat and po, meaning night) in Mackenzie Country, where we will be spending our first night. I needed this. The anonymity. The relative solitude. No one to answer to but myself. A promising group of strangers. A land brimming with legends and lore. Majestic nature as far as the eye can see. I'm feeling New Zealand's unique pull.
As the cover of the tiny travel journal I'm feverishly writing in says: Sometimes, you just need a change of scenery. Oh, did I ever. I am impossibly charmed by the rolling green hills dotted with woolly sheep, ringed with mountains blanketed in emerald bounty, whizzing by through the bus window.
Mackenzie Country is named after a legendary Scottish sheep rustler named James McKenzie, credited as the first European to discover the Mackenzie Pass – where he was caught with 1,000 stolen sheep – Mackenzie Basin, and the Lindis Pass. There is even a bronze monument to his faithful dog Friday standing proudly near the lake. Seems New Zealanders love a rebel.
Upon our arrival, I explore the rocky shores of Lake Tekapo's glacier blue waters and snap some obligatory photos of the Church of The Good Shepherd – a tiny stone church built in 1935 that sees 60 to 80 weddings annually between couples from all over the world with its jaw-dropping backdrop of mountains and glacier lake.
Sitting on the shores of Lake Tekapo in New Zealand / Photo provided by Amanda Burgess
Church of the Good Shepherd at Lake Tekapo. A spectacular place to wed, as people from all over the world do each year / Photo provided by Amanda Burgess
I plan a sunset hike to the peak of Mount John for a night of stargazing with four new friends, Brits Lucie, Jitesh and Hugh, and Aussie Faraaz. The area is an IDA International Dark Sky Reserve – a designation given to a protected land possessing an exceptional or distinguished quality of starry nights and nocturnal environment. In 2012, the 4,300-kilometre area around Lake Tekapo that is our home for the evening was declared the Aoraki Mackenzie International Dark Sky Reserve, with light pollution strictly controlled in the area. It is the only one of its kind in the southern hemisphere, and one of only eight in the world. From this unique vantage point, stargazers can see constellations only visible in this hemisphere, including the Southern Cross, the Magellanic Clouds and the Milky Way.
We start out at dusk, bottles of beer and wine nestled in our packs, for the hour climb to the summit of Mount John. The five of us are completely in sync, developing the jokey shorthand way of communicating that is peculiar to lifelong friends or travellers on life-altering journeys. By the time we reach the peak, the rapidly disappearing light takes on the otherworldly quality of day surrendering to night.
Panoramic shot from the summit of Mount John overlooking Lake Tekapo in New Zealand
With high winds threatening to blow us off the mountain, we take cover in the soft grass blanketing the mountainside facing Lake Tekapo. Here we sit for hours, drinking, talking, dissolving into fits of laughter at everything and nothing — essentially noise polluting this little slice of God's Country.
As the night sky shrouds us in darkness, the ever-cheeky moon shines brighter than I have ever seen it. We sit for as long as we can stand with the cold night air slicing through to our bones, then begin our descent. With talk turning to horror films in the black of the night forest, we make quick work of it, stopping at a zipline park built for children to enjoy a few midnight runs before collapsing in our bunks at YHA Lake Tekapo — quite possibly the most glam and well-equipped hostel I have ever seen.
Day 1 in New Zealand delivers one giant check off the ever-expanding Burgess Bucket List.
"It's a dangerous business, Frodo, going out your door. You step onto the road, and if you don't keep your feet, there's no knowing where you might be swept off to." – JRR Tolkien
Days 2 & 3 – Mackenzie Country to Queenstown
You'd think a woman from Canada – one who has made the Rocky Mountains in Alberta and British Columbia her playground for years – would tire of mountain ranges and glacier lakes. That seeing some on the other side of the globe would hold little appeal. You'd be wrong.
Setting off from Lake Tekapo this morning, we make a pitstop at Lake Pukaki, set deep in the heart of Mackenzie Country. The largest lake in the area, its powder blue waters flow as far as the eye can see – a shimmering carpet leading to the dramatic peaks of the Southern Alps in the distance. I can't resist spreading my arms wide.
It's something I do when holding an emotion too big to contain – usually when taking in a particularly awe-inspiring view of nature's grandeur – sometimes adding a double peace sign. As if to expand myself to match the magnitude of what I'm witnessing. The feeling itself is so expansive that my body seeks to communicate in action what words fail to express until after I've processed the experience. This is the first of several times my arms will involuntarily fling wide on this trip. That's how many sights worthy of arm-flinging awe this country serves up.
Views from the luge track atop the Queenstown Gondola
We continue to snake our way through Mackenzie Country en route to Queenstown – the adventure capital of New Zealand – a drive that runs from serenely scenic to spectacular showstopper. Eventually, we stop at Kawaru Gorge, the World Home of Bungy, where two of our crew are about to scream their way through its widely yawning mouth..
This is the one activity I have given a definitive pass on. One must drum up the guts to do a running jump off a woefully narrow platform for a short-lived thrill, and then wait like a fish on a line to be reeled back up at a snail's pace. Not my idea of a good time. I watch both Ellie and Jitesh brave the bungy with admiration and a healthy dose of are-you-out-of-your-mind-people trepidation.
After getting our room assignments at the YHA Queenstown, the lot of us head to race the mountaintop luge track. Sometimes, you have to breathe through fear to get to some of life's bigger thrills. I confess: I have a deep-seated fear of cable cars. Perhaps I met my end on one in a previous life, or it could simply be tied to my enduring fear of heights. Whatever it is, being on one gives me sweaty palms, a racing heart, and a strong desire to curl into the fetal position on the floor of the pod. The risk-reward ratio simply isn't high enough.
To be fair to my fear-gripped self, the Queenstown Gondola is no joke — it's the steepest cable car lift in the Southern Hemisphere at 450 metres. We're talking a near-vertical climb. And the luge track is another feet-dangling chairlift above it. I feel a buzz of fear and anxiety build to crescendo in me, making my breath shallow and my heart pound. Since I flat out refuse to give fear unchecked power over me, I close my eyes and connect to my breath. Have to do the same all over again on the chairlift to the luge track.
On the other side of my fears lie 800 metres of serpentine mountainside track with steep gradients, banked corners, dippers and cuttings offering some of the most spectacular mountain and glacier lake vistas you'll ever see. We all jump into specialized luge carts (essentially a sled on wheels with steering and breaking mechanism), competitive streaks emerging in our five-run race to the bottom.
Hot Tip
If you have only a few hours to spare on the luge track, the best bang for your buck is the Gondola plus six luge rides pass. If you're going paragliding with G Force Paragliding (whose meeting point is on top of the Gondola), you can combine the two activities and enjoy some luge runs before or after your flight for a one-two punch of adrenaline.
A happy pack of Haka Tours adventurers after conquering The Queenstown luge track
With adrenaline and thrill coursing through my veins, all vestiges of fear dissipates and my eyes stay wide open on the chairlift and cable car, drinking in the panoramic views. There are times that we should heed the evolutionary advice we come equipped with in our hippocampus — and times to push through fear to do more and be more. As the slogan for AJ Hackett Bungy says: Fear less. Live More.
Live More, Fear Less – This is pretty much our Editor's life motto
New Zealand is already proving to be the place to just that, and I'm only getting started.
Stay tuned for the next installment in our Destination: New Zealand series,
coming in a 2021 issue of JourneyWoman magazine.
Inspired Reading For Active Travellers
Inspired by the women who came before her, adventurous solo traveller Angela Maxwell shares lessons from her courageous walk around the world.
read more