Last updated on May 25th, 2021
Things for travel and adventure-loving women to explore
JourneyWoman is not advocating travel, even within your home province/state/territory/region, unless it is safe to do so. Prior to taking any trips, follow all safety and travel regulations provided by your local government.
Safety & Travel Resources Ontario
Health Resources Ontario
In May, we brought you some tips and inspiration for becoming a traveller in your own city. In early June, former Toronto Mayor David Crombie showed us how to explore a city by understanding its bone structure.
Now that all of Ontario has entered Phase 2 of reopening and we're considering venturing beyond our own city limits, we're back again with some inspiration and tips for what to see and do – and how to do it safely and respectfully.
Plucked straight from the Field Notes of our on-the-go Editorial Team, here's our hot list of the best Ontario-grown experiences on offer this summer:
1. Stargaze at Torrance Barrens Dark Sky Preserve (Gravenhurst, Ontario)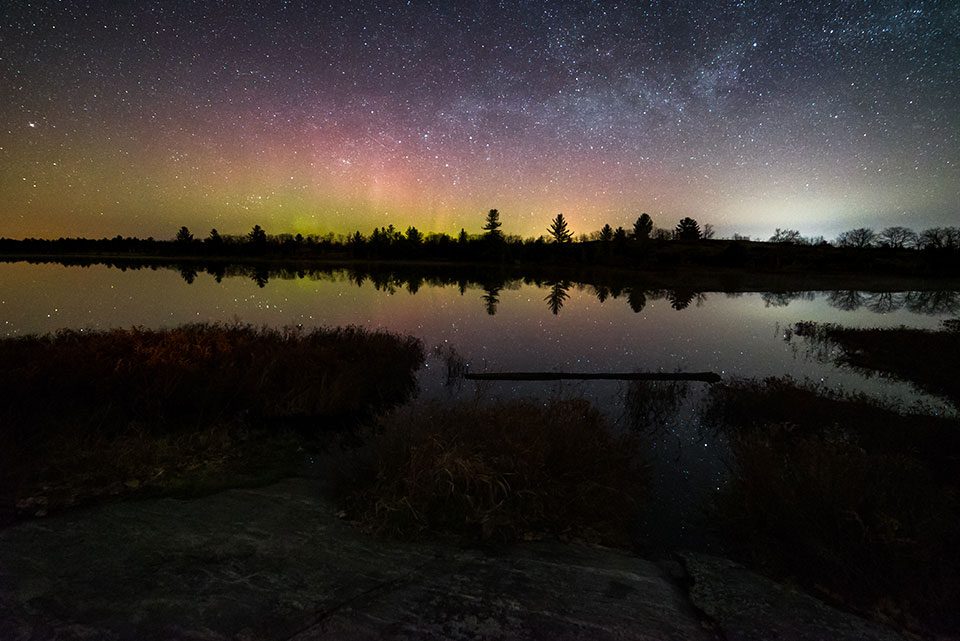 When is the last time you got a clear view of the stars as nightfall blankets your city? The only time many of us catch a glimpse is when we're travelling through areas where nature still dominates. Even then, local lights often beat the stars back beyond even the sharpest-sighted people's peepers. Enter Canada's first Dark Sky Preserve – protected land possessing an exceptional or distinguished quality of starry nights and nocturnal environment. Nestled in Ontario's cottage country, Torrance Barrens is distinguished by rock that is more than two billion years old. As the Preserve's website claims so poetically: "It has been under mountains, underwater, under miles of ice and under tropical jungles many times in its history. Today, it is under your feet as you look up into the cosmos and appreciate the immensity of time and space."
Sights to see and things to do:
The otherworldly green wisps of the Northern Lights (visible to the naked eye)
The cloud banks of Jupiter and rings of Saturn (visible through a telescope)
The two-million-light-years-away Andromeda Galaxy – faintly visible to the naked eye and an unforgettable sight when viewed through binoculars.
If you go:
For spectacular binocular viewing with a fully unobstructed 360-degree panorama, walk along the main trail (follow signs), across the boardwalk and up the first ridge.
Make a full day of it – there are many hiking trails and excellent summer blueberry picking in the area.
Keep it clean, dark and peaceful:

Limit your use of artificial light
Do not litter

There are no official campsites, but limited camping is permitted. Please do your part to preserve Torrance Barrens as a place "where people frequent but do not remain."
2. Explore the wonders of Ouimet Canyon (Dorion, Thunder Bay District, Ontario)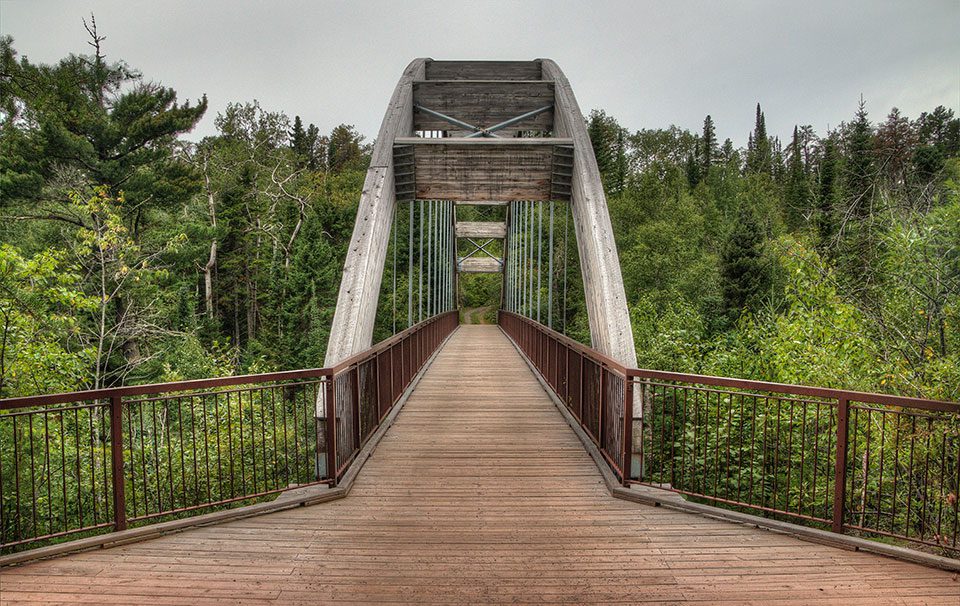 One of those photos-don't-do-it-justice natural wonders, Ouimet Canyon is a 150 m (490 ft) wide gorge with sheer cliffs that drop 100 m (330 ft) straight down to the canyon floor. Offering sweeping vistas that people travel the globe to see, Canadians have this unpolished jewel in their own backyards – and many likely don't know it. If standing on a cliff face older than time, staring into the horizon, and taking in awe-inspiring views is your thing – and if it isn't, do you have a pulse? – Ouimet Canyon is worth the scenic drive along the TransCanada Highway.
Sights to see and things to do:
A trail and boardwalk connect two lookout platforms that offer spectacular panoramic views of the gorge, its cliff faces, and the canyon floor.
Rare alpine flowers and arctic plants typically found 1,000 kilometres north, that are able to survive in the canyon bottom's unique environment (viewable only from lookout points – walking on the canyon bottom is prohibited to protect the fragile ecosystem).
Eagles and other birds of prey.
Nearby Eagle Canyon, which boasts Canada's longest foot suspension bridge and a 0.8 km zipline.
If you go:
Check the Facilities and Activities summary on the Ouimet Canyon website to see what is currently available and unavailable for use due to COVID-19. At press time, all-terrain wheelchairs, toilets, and picnic shelters were unavailable.
Practice social distancing, avoid large groups.
The park is open for day use only, and there are no overnight camping facilities. If you are interested in camping, check out nearby Sleeping Giant or Kakabeka Falls Provincial Parks.
There are restrictions on hiking trails. Stay on marked trails and respect all trail closure signs.
Pack everything you need (water, snacks, hand sanitizer, masks, first aid kid).
Do not litter – use available garbage bins or pack-out your litter.
The canyon is not wheelchair accessible or easy to navigate for people with mobility issues.
3. Explore Shipwrecks, Turquoise Seas and Flowerpots (Tobermory, Ontario)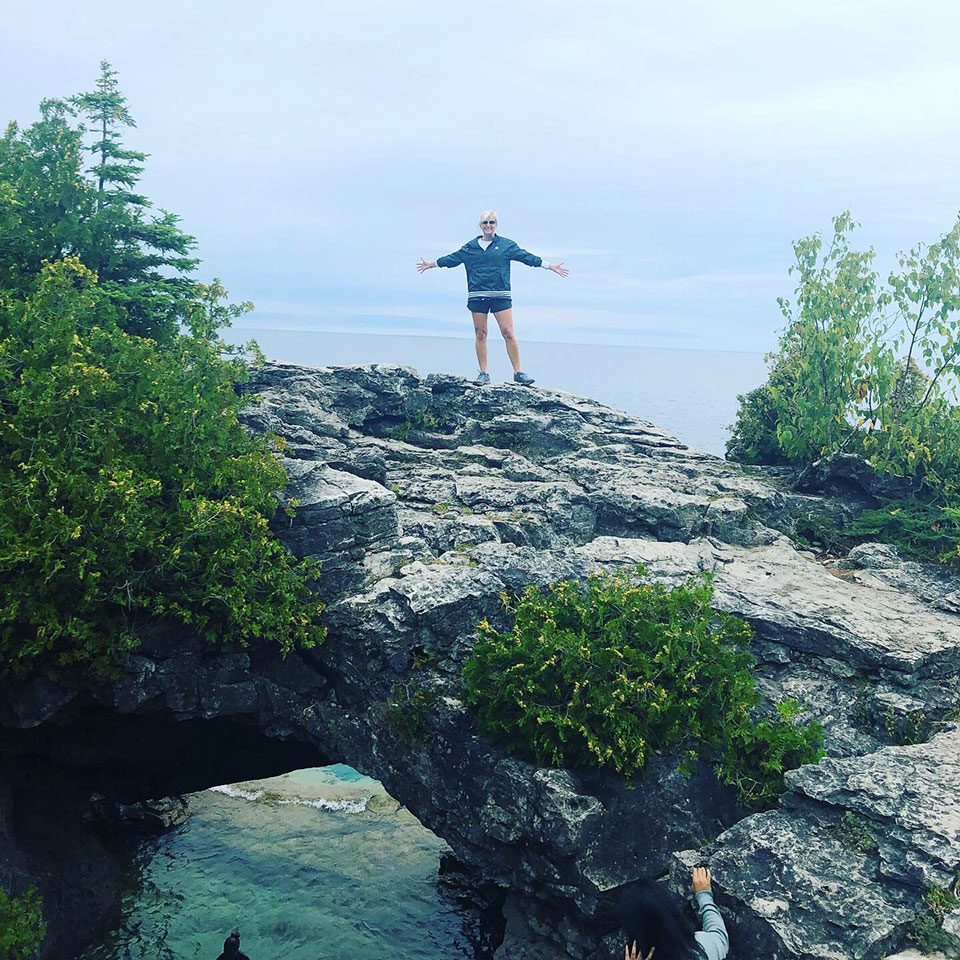 Carolyn stands on a natural arch at the Grotto, Tobermory National Park / Photo provided by Carolyn Ray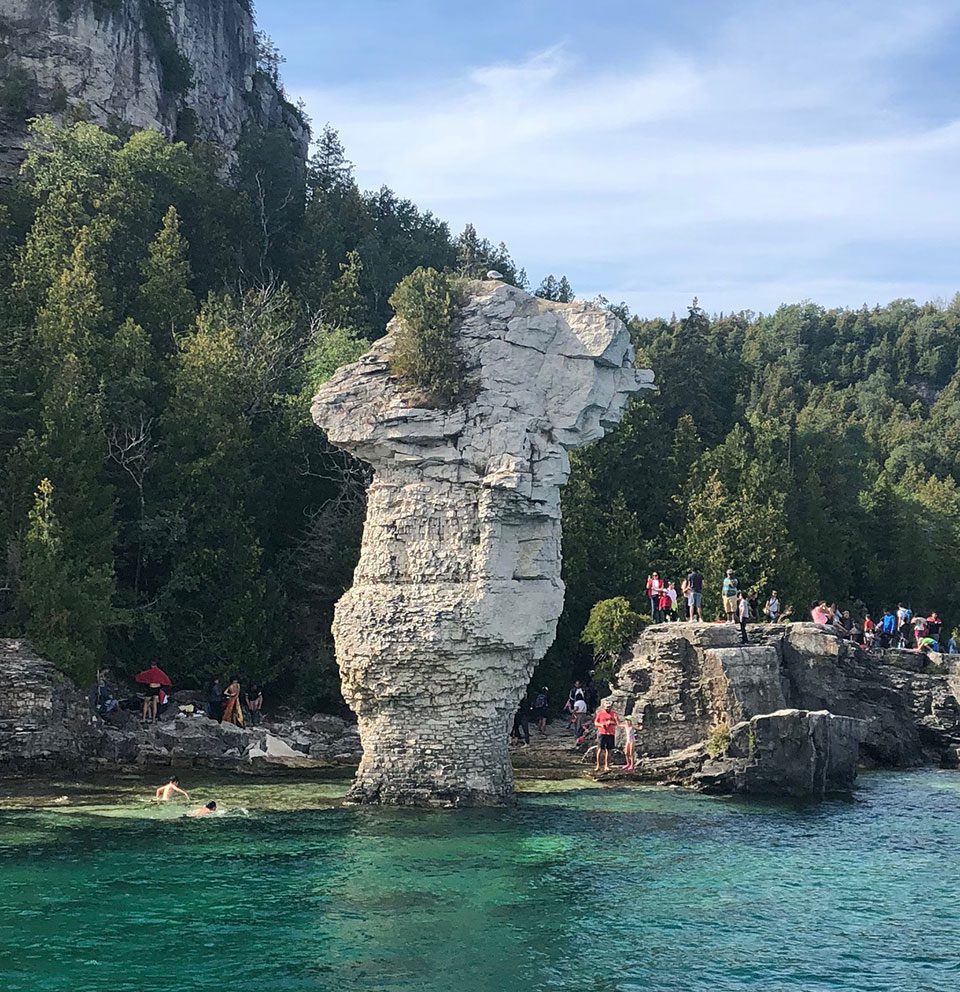 A Canadian national treasure, the Flowerpot rock formation in Tobermory, Ontario / Photo provided by Carolyn Ray
Perched at the tip of the Bruce Peninsula, Tobermory seems slightly surreal – it's a charming fishing village, encircled by a welcoming array of boutiques, restaurants and boats. Just outside its harbour, shipwrecks lurk just below the surface of its clear turquoise waters, and the ancient limestone towers of Flowerpot Island and the Italianesque caves and cliffs of the stunning Grotto in Bruce National Park make you feel like you've travelled to another country. Italy perhaps? Or Scotland? For nature and water lovers, Tobermory offers hiking, kayaking, diving, swimming or camping under starry skies. Its clear waters, 19 islands and 22 shipwrecks dating back to the 1800s in Fathom Five National Park have earned it the moniker of the 'freshwater Scuba diving capital of the world.' This area also marks the northernmost point of the 400-million-year-old Niagara Escarpment, which stretches for almost 500 miles across southern Ontario from Niagara Falls, a remnant of the layered sedimentary rocks deposited in ancient seas of the Paleozoic Era.
Things to see and do:
Shimmering beneath the surface, look down on two shipwrecks in a glass-bottomed boat.
The two "flowerpots," twin limestone stacks eroded over centuries by wind, water and ice.
43 species of wild orchids on the Bruce Peninsula.
If you go:
Bruce Peninsula National Park opens June 29 but it's operating at half capacity for the Grotto and Visitor's Centre.  In high season, buy a parking ticket online in advance for about $20. Call 519-591-2233 to double check. 
The Tobermory website has up to date information on activities, where to stay and excursions.
Several boat tours such as Blue Heron (opening July 1) and Tobermory Wave offer excursions to Flowerpot Island but are not stopping. According to the Chamber of Commerce, boats have a capacity of 10 people and you mus wear a mask. Check park openings to find out when you can camp and visit the historic light station, learn how lightkeepers live and take in the views from the deck.
Limited camping (six sites) is available on Flowerpot Island near Beachy Cove (make reservations using Parks Canada Reservations System or call 1-877-RESERVE).
Visit Manitoulin Island on the Chi Chee Maun ferry in under two hours.
Stop by Coconut Joe's Harbour Bar & Grill for a view of the sunset and tiki cocktails.
Stay in Tobermory or in nearby Sauble Beach (note that Sauble Beach is currently closed to prevent crowds).
4. Delve into Ontario's lumber town history in ghostly Balaclava (Renfrew County, Ontario)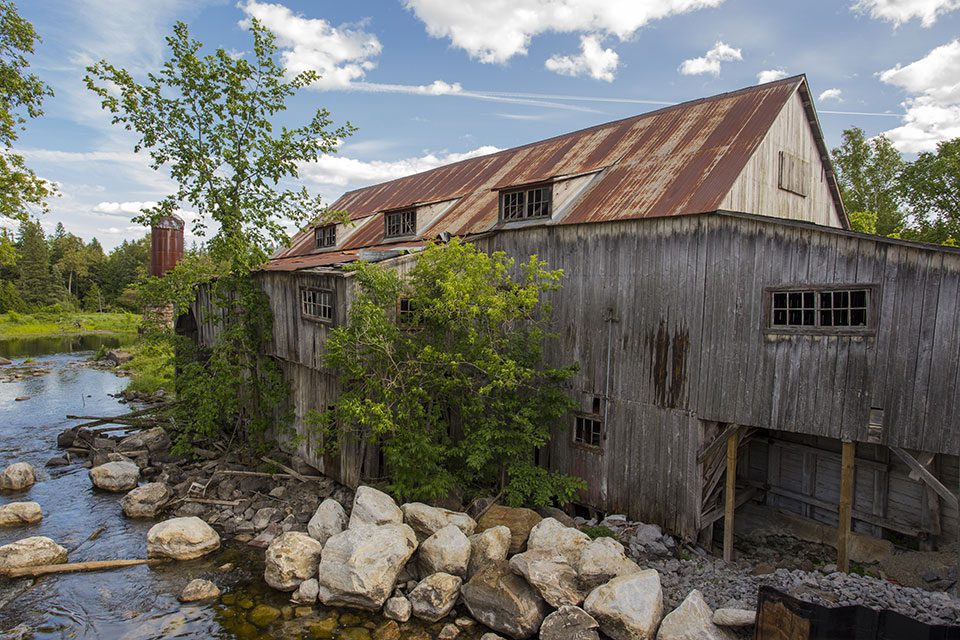 Did you know that Ontario has a ghost town just a four-hour drive from Toronto and a 1.5-hour drive from Ottawa? Now you do. In Balaclava, ramshackle, sun-silvered wooden buildings with sagging roofs whisper the stories of Ontario's bustling lumber town past. Balaclava began as a mill town built on Constant Creek in 1855, with a blacksmith, hotel and residential homes added by 1860. The town was home to one of Canada's last operating water-powered sawmills – until a fire destroyed it in 1915, dispersing residents. Ghost story-loving souls can walk the abandoned town and see a forgotten piece of Ontario history.
Sights to see and things to do:
Walk the abandoned main street and enter the creaking General Store.
Bike the 50 km Balaclava route from Kelso Beach Park into the abandoned town, with spectacular views of Georgian Bay along the way.
Visit nearby Bonnechere Caves when they reopen in 2021 (see below).
If you go:
Note that the site of the burned-out mill is private property – trespass at your own risk.
5. Bonnechere Caves (Eganville, Ontario) – reopening 2021
Formed from ancient limestone at the bottom of a tropical sea more than 500 million years ago, the Bonnechere Caves sit at the Fourth Chute of the Bonnechere River in Ottawa Valley. The cavernous cave system cloaks a treasure trove of stalactites, coral and the fossilized remains of ancient sea creatures. If you love history and paleontology, or fancied yourself as a subterranean adventurer like Indiana Jones, this is geological gem is one to put on your must-see list for 2021 when the caves reopen to the public. There's more to see and do than simply explore the caves, which sometimes function as underground dining venue and underground concert and festival venue. Owner Chris Hinsperger says Bonnechere Caves is a fair, a festival, a farmer's market, an edutainment venue, community connector and more. While he says he's "sad every day that I won't see thousands of people come here and leave with smiles on their faces" this season, he is pivoting to online experiences that everyone can enjoy. 
Sights to see and things to do:
If you visit the last week in September and the first two weekends in October up until Thanksgiving, you might spot some early-hibernating bats.
Examine prehistoric fossils: Straight-shelled cephalopod, brachiopods, crinoid rings, gastropods, trace fossils, horned coral, rugose colonial, honeycomb coral, and pelecypod.
Wonder at the feeling of standing on the prehistoric seafloor – the limestone you walk through was deposited as layers of mud and silt during the Ordovician time period.
If you go:
While the caves are currently closed to the general public, the operators are offering opportunities to explore the caves virtually. Over the next few weeks, area musicians will be playing in the soaring caverns – as they would have been in August at the Cavestock Underground Concert Series (now rescheduled for 2021). Follow along on the Caves' Facebook page.
Notes for visiting when the caves reopen:

Guided tours leave every 20 to 30 minutes and last approximately one hour (except for weekdays in September when tours run at 11 am, 1 pm and 3 pm only).
On even the hottest days, caves are unseasonably cool. Bring a light sweater.
Wear low-heeled shoes.
The cave system is not stroller friendly or suited for people with mobility issues.
Photography is allowed and encouraged.
Bring a flashlight for a closer look at the fossils.
Leashed pets are allowed in the picnic area and on walking trails, but not on the guided cave tours.
Do you have an Ontario must-see or must-do to add to this #TravelAtHome list?
Comment below or email our Editor Amanda Burgess at amanda@journeywoman.com.
Want to pen a #TravelAtHome feature on the province, state, territory or region you call home – and all of the amazing things to discover there?
Email our Editor Amanda Burgess at amanda@journeywoman.com.
For those travelling to or from Toronto, consider Toronto's 'other' airport, Billy Bishop Airport, located on Toronto Island.
Sunken ships in Tobermory, ON add to the area's mystique.
Photo by Carolyn Ray