Last updated on September 3rd, 2023
10 places to explore outside Old San Juan, Puerto Rico
by Carolyn Ray, JourneyWoman 
After spending close to a month in Puerto Rico, driving from coast to coast and spending a week on the magical island of Vieques, I've discovered many special places. Here are 10 travel tips to get off the beaten trail beyond Old San Juan and discover more of Puerto Rico's history, art, delicious cuisine, kind people and beautiful beaches.
1. Spend a day at El Yunque Rainforest. It is less than 30 minutes from Old San Juan. Save yourself the $100 for a guided tour on a bus and rent a car and drive yourself. Bring a bathing suit so you can jump in a waterfall after your hike! It rains a lot, so the trails can be muddy. Wear proper shoes for hiking.
2. Mu\y guide Melina of Ponce, Puerto Rico, says: "Explore the town of Jayuya and spend a night there in the mountains. In the morning explore the rivers, coffee plantation and pre-colonial sites, and in the evening listening to the coqui while sipping hot chocolate in coffee hacienda homestay or small hotel. This is a place to be out in the morning, and a night with a book enjoying the stars. It's the least visited part of Puerto Rico."
3. West of San Juan, near Isabella, stop by Guajataca Tunnel, an abandoned railway tunnel that you can walk through to stunning beaches. It's quite isolated but incredibly scenic. Afterward, drive into Isabella – slowly – so that you can see the rock carving of the Taino warrior. Enjoy lunch along Isabela Beach and climb up onto the rocks for incredible views.
4. Support the farm-to-table movement. Volunteer with World Central Kitchen and eat at locally-owned restaurants. Check out the Foodie Guide here.
5. Head to the west side of Puerto Rico, known as the 'surfing capital of Puerto Rico'. Rincón offers wonderful beaches and a laid-back vibe. Behind the Punta Higüero Lighthouse, a large dome peeks out of the forest. This was the Caribbean's first nuclear-powered electricity-generating facility, which was decommissioned around 1968. There's talk of it becoming a museum. The beach nearby is known as Domes Beach and it's a great place to watch the sunset and the surfers.
There is stunning graffiti in Yauco, just outside Ponce / Photo provided by Carolyn Ray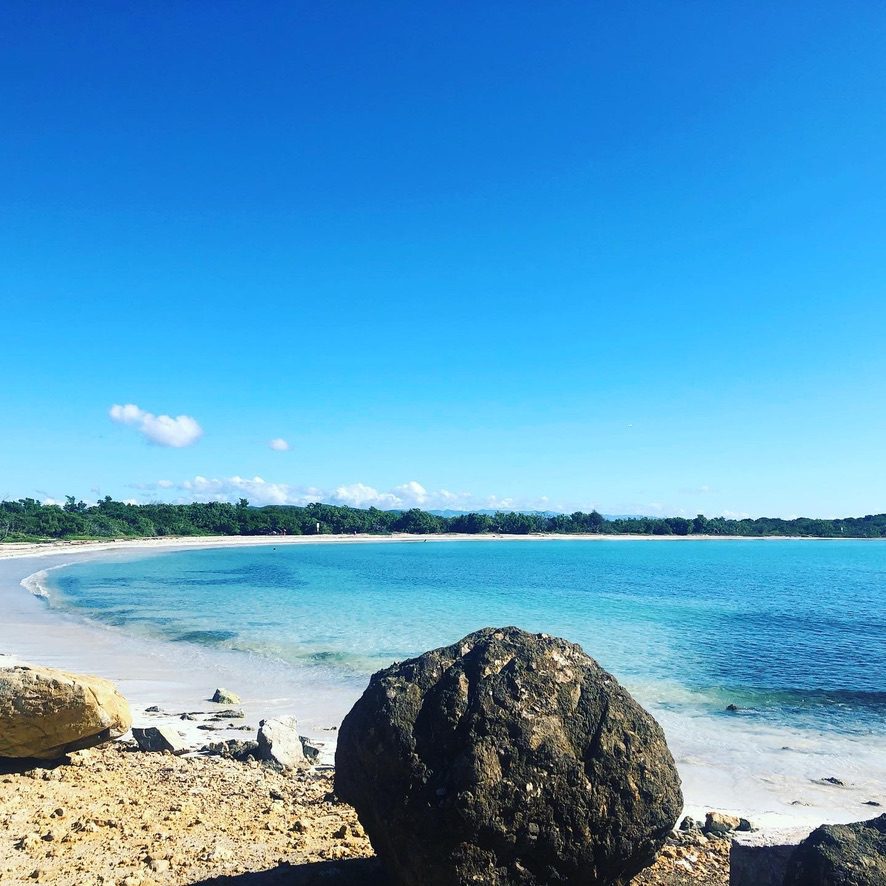 Playa Sucia where you can see manatees in the ocean / Photo provided by Carolyn Ray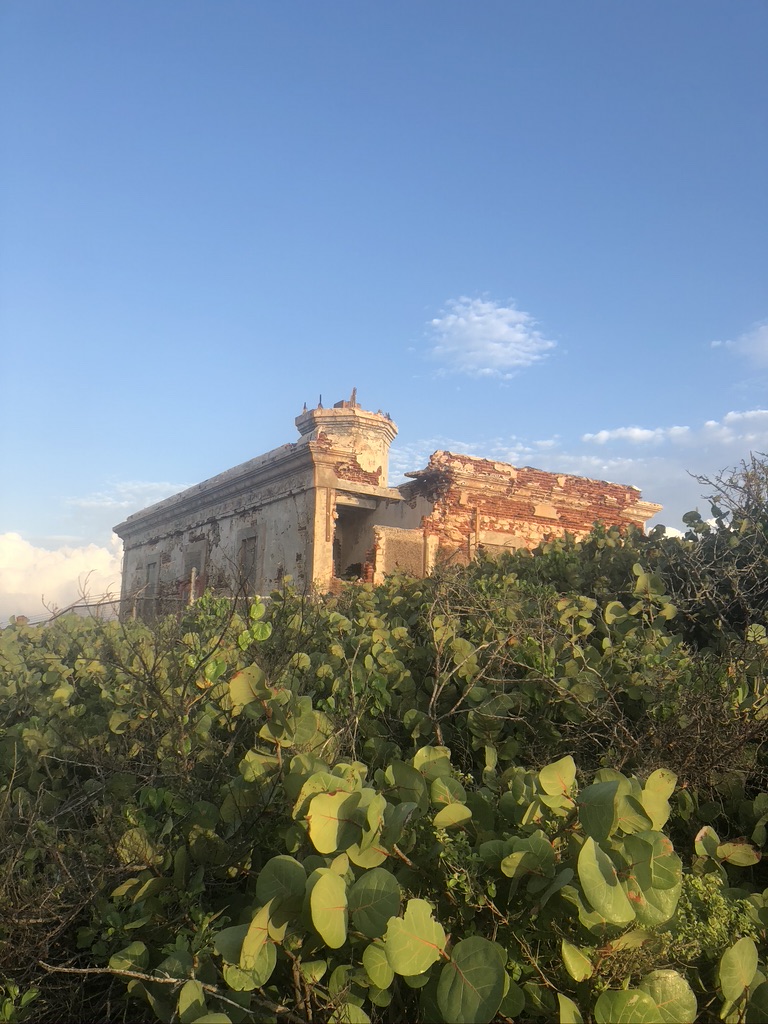 Los Morillos Lighthouse / Photo provided by Carolyn Ray
6. In Cabo Rojo, visit Los Morrillos Lighthouse, built in 1882. It provides a stunning backdrop for photographs against the Caribbean Sea and rocky cliffs. Behind it is the white beach Playuela, or Playa Sucia, where you can see manatees swimming in the ocean.
7. Visit Yauco, known as 'El Pueblo del Café ("Coffee Town"), a two-hour drive from San Juan (or 30 minutes from Ponce). Its urban art exhibit Yaucromatic is a wonderful example of how artists have come together to transform this mountainous hillside town with brilliant murals that rise up the streets and extend into the nearby areas. While you're driving to Ponce, stop in at the Finca el Girasol (Sunflower Farm) in Guánica.
8. Always have an umbrella or poncho ready (it seems to rain every few minutes, but passes quickly). And the wind…. Woo hoo! Now I know how Columbus found the island – he was literally blown into it!
9. The Puerto Rican flag shares many elements of the American and Cuban flags; its colours, stars, and stripes. In Puerto Rico, it's a symbol of pride and independence. Take time to understand why that is.
10. Because it's part of the U.S, it's easy to speak English. Try to greet people in Spanish to make an immediate connection and have a better experience. Ask questions, be curious. There's so much to learn about the character and history of Puerto Rico.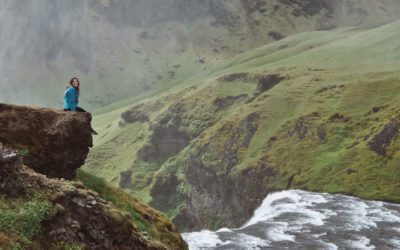 The JourneyWoman team selects their favourite off-the-beaten path travel destinations every woman should experience, from Ethiopia to Thailand.
Travel to Puerto Rico? Not with out Amy Gordon's book – 100 Things to Do in Puerto Rico Before You Die. It comes JourneyWoman recommended!
As JourneyWomen, we have an opportunity to create a positive impact in the world when we travel. Being in Puerto Rico post-Maria gave me the chance to do just that.
Plan Your Trip
Get started with resources recommended by the JourneyWoman community
Book Your Flights
Use tools like Expedia or Google Flights to look up the best flight prices. Being flexible with dates can save you even more money.
Don't forget to carbon offset your flight with TerraPass.
Find Somewhere to Stay
Find a hotel on Expedia and earn points towards free stays. Hotels.com offers a free night stay for every 10 nights booked.
Looking for an apartment or something more long-term? Check out VRBO.
Insure Your Trip
Travel insurance is more important than ever. Compare plans and policies for the best coverage for your trip using Insure My Trip.
Traveling for an extended amount of time? SafetyWing offers ongoing coverage on a month-to-month basis, and World Nomads offers coverage for extended trips.
Looking for a Tour?
Head to the Women's Travel Directory to find a woman-friendly tour around the world.
Travel Extras
Why not brush up on a new language before your trip with Babbel.
Don't forget your JourneyWoman branded accessories while you're on the go!