Last updated on June 25th, 2021
No skin! The more conservative you dress the stronger you appear. For example, when I took my first trip to Paris alone I wore a nice pair of kakhis, a crew neck sweater and a nice, but comfortable pair of shoes. Also, my carryon baggage was neat and even beyond clothing … if I ever felt that I was being looked at I did not smile a lot. I kept my head high and shoulders back. There is nothing that will repel someone more than the realization that a woman is self assured and knows what she's doing. If they get the impression that you'd tell them to knock off if they approached you then you're going to feel much more secure!
Haley, Columbus, USA
Wear a tame knee-length skirt, flat shoes and a tame top suitable for the weather.
Amber, Akron, France
Avoid wearing tennis shoes (Nikes etc.) because it tells everyone you're a tourist. Black shoes are a necessity if you want to go into most nightclubs. Also, bring along black pants and try to avoid jeans. Black is very common and works well for traveling (small stains don't show up).
Julie, Minneapolis, USA
Paris is one of the most sophisticated cities I have ever travelled to. French women of all ages know the art of dressing in a very fashionable manner. Having been there a couple of times, I recommend wearing some cute scarves (around your waist, in your hair, or around your neck) and stylish, yet comfortable clothing. I recommend wearing palazzo pants or knit trousers (New York & Company's city knit collection is great because it is very classy, easy to pack, and wrinkle-free) along with nice tops or blouses. This type of clothing served me very well in Paris and other cities in European countries. Keep in mind that when in Paris and other places throughout France for that matter, you will do a lot of walking. Look for shoes that you will feel comfortable walking in all day long. With that said, don't break in new shoes when going to Paris for the first time. Allow yourself some time to break them in at home before leaving on your trip. The good news about shoes is that you don't have to sacrifice style for comfort. I found a really cute pair of shoes that I wore while in France and I didn't have any problems at all with my feet. Jeans are great to wear as well, but don't wear faded soccer mom jeans with the tapered legs! Jeans with a bootcut or flare leg are good. No-no's include white sneakers, wearing fanny packs around your waist and wearing cameras around your neck. You will be spotted as an American tourist right away! I recommend taking along a larger purse. Before leaving for my trip to Paris, I found a purse that was large enough to hold my wallet, passport, camera, and travel-sized umbrella without the purse being too big and feeling too heavy. Just be sure to guard your purse carefully, as Paris is known for having many pickpockets in tourist areas and on the metro. By exercising caution, you won't have any problems. Have a wonderful time in France and be careful!
Therese, St. Louis, USA
Wear black and lots of it. Hanging out in Paris in January is cold and can be extremely damp. Pack a long black skirt, a couple of pairs of black tights, a big black sweater (a few coloured heavy scarves), black jeans, shirts and or turtle necks to layer under the sweater, a hat and you're off. To guard against pickpockets, don't carry a purse, but rather wear a money belt and tuck it underneath your clothes. There's nothing nicer than having free hands to take pictures, etc. Bring a pair of black boots (low heel) that you'd be able to walk about five miles in. But please, don't ever wear tennis shoes.
Margaret, Williamsburg, USA
In Paris, in order not to be perceived with disdain, leave your baseball cap & sneakers in the hotel room. Save them for tramping around Roman sites away from the city.
Alix, Toronto, Canada
In France, as in most of Europe, women "of a certain age" dress their age, i.e., a skirt or slacks (no blue jeans or shorts) and proper shoes (no running shoes). By "of a certain age" I mean everybody over around 30.
If you want to look French, use black as your basic colour and wear a scarf somewhere on your body (around your neck, your hair, your waist, or tied to your purse).
Looking as if you belong protects you from "draguers" on the street who sometimes follow foreign-looking women, asking them for a match or for directions to some well-known site. Do not think that if you dress down (in other words, look unattractive and grubby) it will protect you from the advances of men. Dress poorly and you will only attract a lower class of weirdo! Frenchwomen like to make the most of their appearance. If you do, you will blend in.
One last tip: don't smile too much. French women don't; it's considered a come-on.
Karen, Seattle, USA
Yes, of course you can wear fashionable jeans in Paris, and sneakers as well. However, make sure your sneakers are what I call "sophisticated city sneakers", not big white sneakers devoted to sport. Those big ones are a no-no here. Also, as in every big city be careful about your purse. Always keep it in front of you, and don't keep too much money in the same place. I've seen so many kids in a crowded subway trying to open tourist's bags! Take care and have fun in Paris.
Caroline, Paris, France
I travelled to Paris in December – a scarf is a must! Everyone wears a scarf, they can be any colour and any material and when you get home you won't know how you ever got by without one in the past. Younger people do wear sneakers occasionally, but European sneakers are not the same as the U.S. – they look a lot more like bowling shoes. Plenty of high-heeled boots and leather pants on women of EVERY age. Remember, to look truly like an American tourist, just wear a baseball cap and hang a camera around your neck (this works for whatever country you're in).
Julie, Rockhill, USA
French women are by American standards always dressed up. If you don't wear black high heeled shoes and a scarf (or sweater) around your neck, you'll be spotted as an American from a mile away…not that that's a bad thing, just something to keep in mind.
Megan, Toledo, USA
The Parisian women dress with style and if you don't approximate a little bit of it yourself, you'll feel under dressed and dowdy. Bring along some scarves, costume jewelry and forget your jeans and white athletic shoes. I've discovered a wonderful fabric that drapes beautifully without being revealing. It is lightweight and doesn't wrinkle and comes in several dark colors–brown, black, purple, navy. I bought my pieces at Chico's and they call it "scrunchy". It is also available as Supplex through TravelSmith.
Trisha, Atlanta
When visiting Paris, "dress up" more than you would in most other places. This involves a creative use of scarves, costume jewelry, decent looking shoes and watching what the Parisian women wear. This may be the one city in which you abandon jeans, athletic shoes and warm-up suits for a more attractive form of dress.
Trisha, Atlanta, USA
Nobody in Paris ever wears sweatpants. I think it is the only city in the world in which if you are a young woman, you must wear a tight miniskirt in order NOT to be stared at.
People here actually wear leather pants just to go to the grocery store.
Jennifer Wade, Cambridge, USA
I lived in France for a year. Many French women put a great deal of time and energy into their appearance. They can spend hours on personal grooming — hair, nails, less is more make-up — and deciding what to wear. Even when they dress casually, French women give their clothing a great deal of thought. They are taught from an early age to make the most of what they have. If you want to blend in but don't want to wear black I would recommend going for an "English Country" classic look — neutral blazers, jackets, suits, blouses, skirts, dress pants, raincoats — with special attention to the details. The easiest accent is the neck scarf. And I did see women wearing blue jeans in France — at museums, on the weekends, walking their beloved dogs — even women of a certain age — but the jeans were crisply ironed and worn with tweed blazers, blouses and high heeled-boots.
Kate, USA
More Tips and Advice on What to Wear Around the World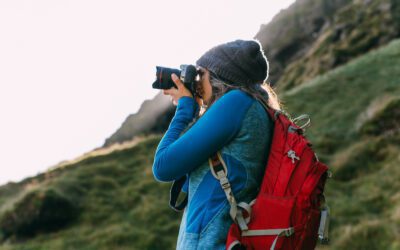 Our monthly curated list of solo travel trips submitted by JourneyWoman readers, featuring hotels, safety tips, what to pack, and more.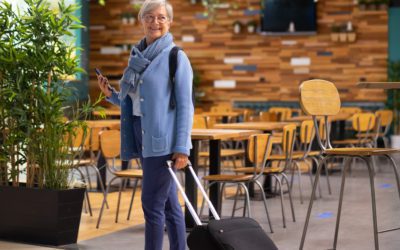 Tips for women over 80 to stay comfortable and stylish on the plane from former costume designer Diana Eden.
Ten of the most stylish and practical travel bathing suits for fuller figures, recommended by women travelers.