Last updated on November 19th, 2023
Featured image: Views of the coastline in Nerja, Spain | Photo credit Yuriy Biryukov Shutterstock
Finding magic off the beaten path
by Carolyn Ray, Editor, JourneyWoman
It's Three Kings Day in Spain, and I'm in one of the most picturesque towns in Spain — Nerja, where the Balcon de Europa stretches out into the sea.
I've been inadvertently caught up in the celebrations, stuck in the procession with Melchior, Caspar, and Balthazar, the crowd favourite. Somehow, in the process of angling for a better view, I find myself right next to the three kings as they descend from the viewing platform. Stuck behind the police and city officials, I'm trying desperately not to be the random tourist in the background as parents rush their children to the kings for photographs.
It's almost impossible to extract myself, as throngs of children swarm toward Balthazar, their favourite. There's no way to escape — unless I join the parade of brightly dressed revellers, so I smile, sing and dance along with everyone else.
Nerja, with breathtaking views of the ocean
This isn't my first Three Kings parade in Spain but it's definitely one of the most memorable, because I'm in a picturesque town called Nerja, just outside of Malaga. With its charming restaurants and shops, Nerja has miles of rugged, unspoiled beaches and breathtaking ocean views. And ice cream shops, making it practically a staple.
The centre of town is the Balcón de Europa, a large rock that extends out into the ocean. From here, you can see up and down the rocky coast. While I didn't swim in the ocean in January, the beaches look enticing and I'm tempted.
Near Balcón de Europa is the 7th century Church of El Salvador (Iglesia El Salvador), where there are murals of The Virgen del Carmen, also known as "La Reina de los Mares" (Queen of the Seas). She is the patron saint of mariners and fishermen and holds a revered place in the hearts of coastal communities throughout Spain, including Nerja. July 16th is the Virgen del Carmen festival, where the sea is lit up by boats covered in lights and flowers, and people pay homage to the Virgen. They even set her out to sea with scuba divers placing an effigy of the Virgin on the ocean floor.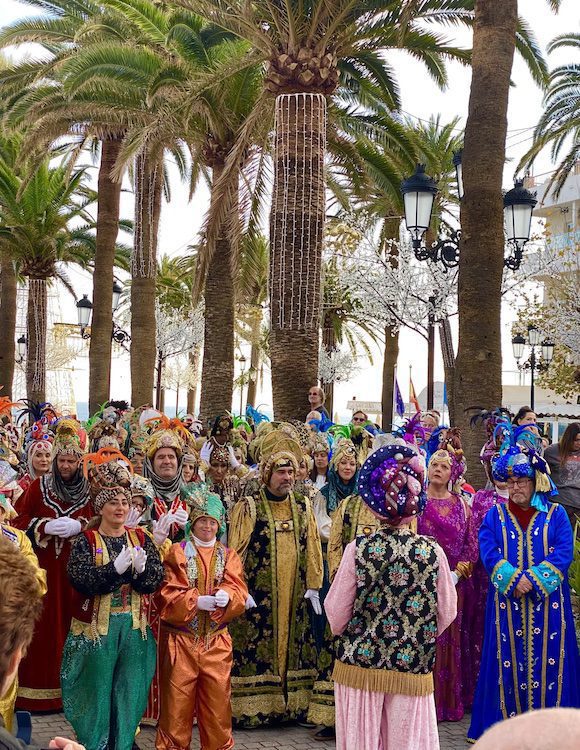 Three Kings Day on Janury 6 in Nerja, Spain / Photo credit Carolyn Ray
The tiny village of Maro, population 800
Nerja is walking distance to Maro, the small town I'm staying in.  Population 800, Maro has three streets, one small coffee shop and a market where there is always fresh bread (another staple in Spain). With views of the rugged coastline, it's an ideal getaway for some writing and relaxation. When I do need more excitement, there's a $4 shuttle bus that runs between Nerja and Maro.
The morning after the larger Three Kings Day celebration in Nerja, I hear more music and wander outside of my casita to see that the Three Kings have travelled here. This time, there's an orange tractor pulling a trailer with all three kings on it, tossing out candy for the children.  At the main square, the whole town gathers for the celebration. It's incredibly adorable.
A 10-minute walk from my casita are the Nerja caves. The caves are prehistoric and were discovered in January 1959 by a group of local boys who climbed into a small hole looking for bats. The caves have some of the oldest cave paintings in the world with columns, stalactites and stalactites, and are astonishingly beautiful.  More information here.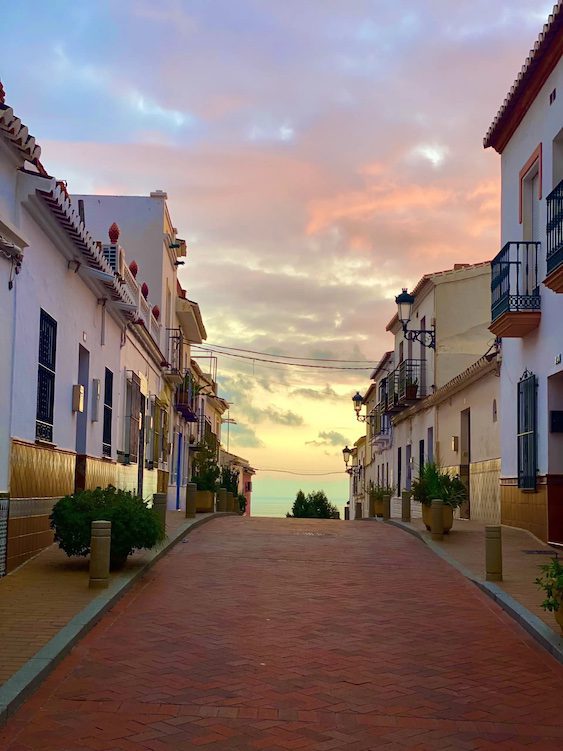 My street in Maro, Spain / Photo credit Carolyn Ray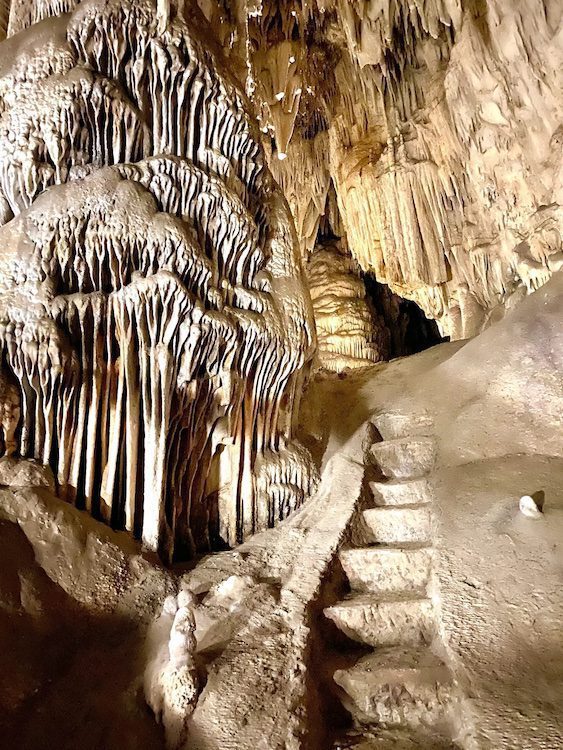 The Nerja Caves in Maro, Spain / Photo credit Carolyn Ray
Frigiliana, one of Spain's most beautiful villages
The couple that own the casita I'm staying in live in Frigliana, the 'white village' in the mountains, and invite me to visit. It's only a 10-minute ride from Nerja, with buses leaving almost every hour.
Frigliana is known as one of the Pueblos Mas Bonitos de España (most beautiful villages in Spain). Here, there are small shops with locally made handicrafts lining the streets that make it feel like an artist's colony. The colourful blue doors and whitewashed buildings make this town so picturesque. Every street is cared for, with terracotta flower pots and beautifully designed pebbled walkways. One of the most popular is Calle Zacatin, which leads to the top of the hill, where there are spectacular views of the ocean and surrounding mountains.
Cafes and restaurants line the streets, making it the perfect place for a long, leisurely lunch.  For more information, click here.
Where to stay:
Find the perfect place to stay in Nerja right here!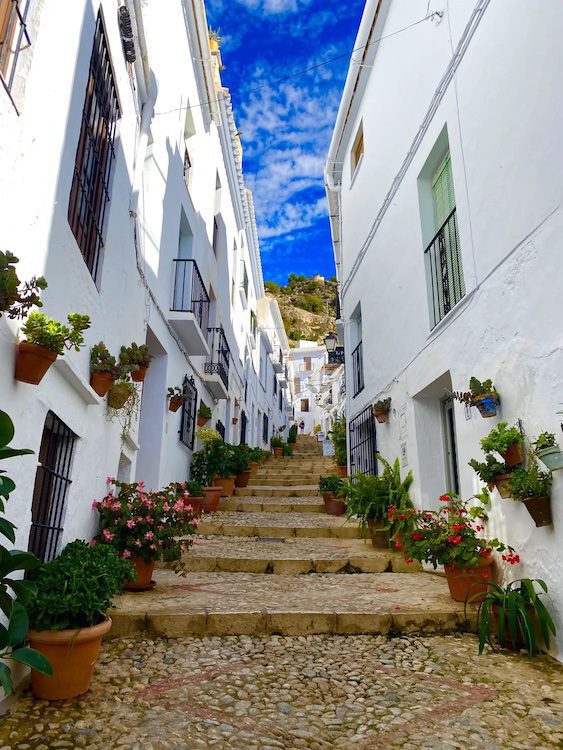 Calle Zacatin in Frigliana, near Nerja / Photo credit Carolyn Ray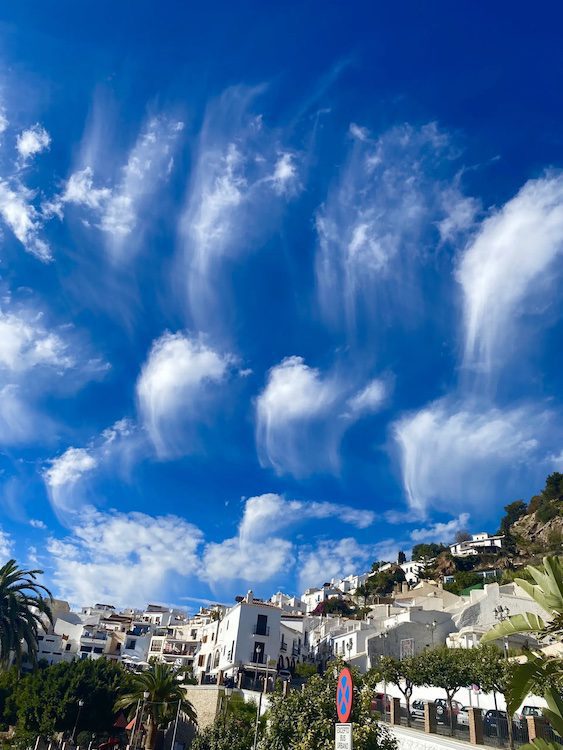 Even the clouds look like paintings in Frigliana, near Nerja / Photo credit Carolyn Ray
Having travelled to so many places in Spain, I'm always looking for the most authentic and untouched places. These three picturesque towns in Spain captured my heart. What places do you love, and why?
Less-travelled places to explore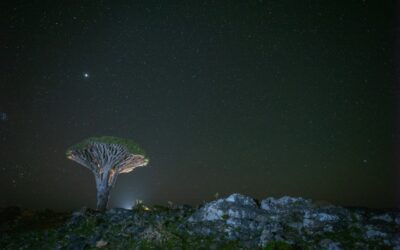 Highlights from 21 days of adventure on Swan Hellenic's SH Diana expedition cruise ship, in Egypt, Jordan, Saudi Arabia, Djibouti and Socotra.
A 21-day expedition cruise from the Suez Canal to the Indian Ocean is an opportunity to see less-travelled places and embrace new adventures.
For women, the benefits of small ship travel include sustainability, access to less-travelled places and a more personalized experience that includes safety and hygiene.