Featured image: Storm King Art Center is a short drive from New York City | Photo by Karen Gershowitz
Escape into art and nature near New York City
By Karen Gershowitz, Contributor, Quirky Places
New York City is known for some of the best museums in the world. But if you're looking to escape the hubbub of the city, there are five sculpture parks near New York City worth checking out that are a short drive or train ride away.
Whether you love the monumental sculptures at Storm King Art Center or Pepsi Sculpture Garden, abstract art or people and animals, there is something for everyone in these parks. Many are open year-round and many offer free admission, making them affordable outings for those on a budget. Plus, these places make for great solo travel excursions in the solace and solitude of nature.
Five sculpture parks near New York City
1. Storm King Art Center in New Windsor, New York
Located in New Windsor, New York, just over an hour's drive from Manhattan, Storm King Art Center is one of the best-known sculpture parks in the country and my favorite. The park covers 500 acres of meadows, low rolling hills, fields, and woods. You can walk, rent bikes or take a free tram that circles the property.
I first discovered Storm King in my teens while working at a nearby sleep-away camp. It became my refuge from the constant demands of campers. I'd go there to enjoy the idyllic landscape and striking sculptures and read a book. In the 1960s, the park was less developed and there was less art.
Storm King now features more than 100 pieces by some of the most prominent sculptors of the last hundred years; among them Mark di Suvero, Alexander Calder, Louise Nevelson, Isamu Noguchi, Claes Oldenburg, David Smith and Richard Serra.
One of my favorite pieces is Maya Lin's Wavefield, a 240,000-square-foot expanse of rolling waves of grass. When the wind blows through the area, it becomes living kinetic art. Another favorite is Andy Goldsworthy's Wall, a serpentine wall, made from stones found on the property, that snakes across a stream and around trees. In autumn, surrounded by vibrant reds and golds, it is breathtaking.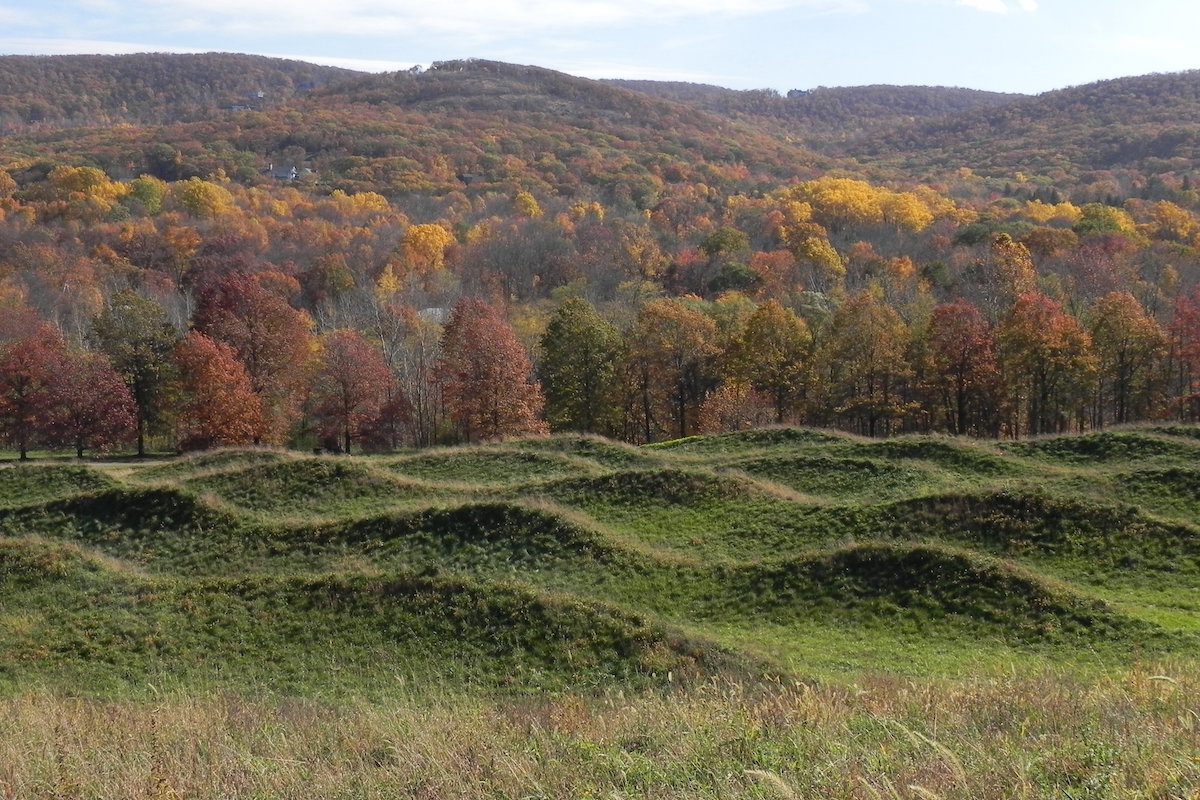 Maya Lin's Wavefield in Storm King / Photo by Karen Gershowitz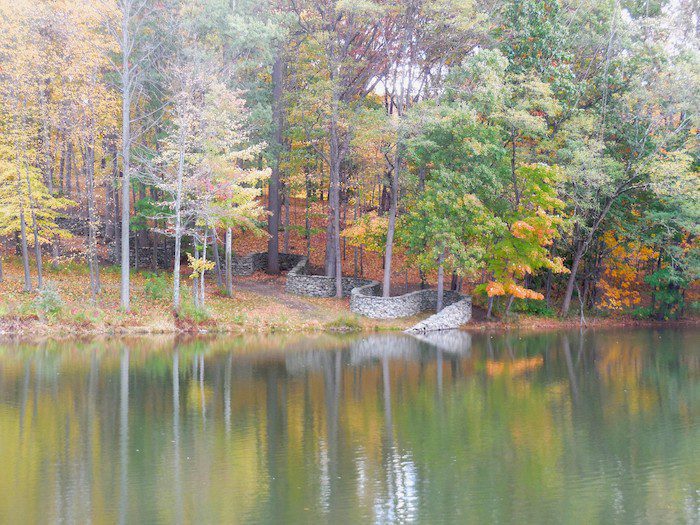 Andy Goldsworthy's Wall in Storm King / Photo by Karen Gershowitz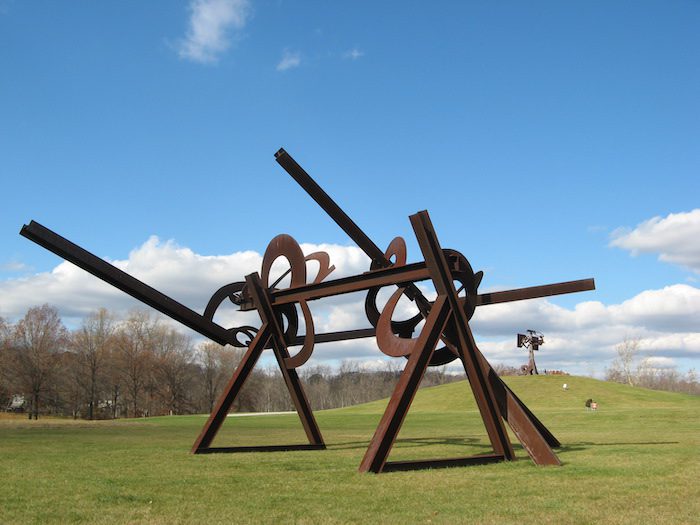 A large sculpture in Storm King / Photo by Karen Gershowitz
For me, the most striking aspect of Storm King is the land itself has been sculpted to create the perfect setting for each of the massive sculptures. I probably wouldn't like some pieces if they weren't in this setting. The open fields and towering trees provide a dramatic backdrop that enhances them. But if you look carefully, you'll discover Storm King isn't just about grand-scale artwork. Nestled among the trees and hidden in nooks throughout the park are smaller, more intimate works. I've sometimes felt as if I were on a treasure hunt while wandering around the grounds.
Storm King is open year-round but closed on Tuesdays. There are picnic areas and, in season, a small food kiosk. Tickets are per vehicle starting at $23 for one person and released in two-week blocks on Wednesdays at 12PM. There are also discounts for veterans and active military and those who belong to other museums in New York, such as the Whitney. Learn more here.
For those with mobility challenges, Storm King's grounds comprise varied terrain including rolling meadows, hills, wooded areas, paved paths, gravel paths, and mown lawns. Check the visitor map for areas for paved and unpaved paths and steep areas (where the slope exceeds that of a wheelchair-accessible ramp, or 12.5%). While push wheelchairs are available, there is also a wheelchair-accessible Tram Loop and visitors are encouraged to bring their own adaptive bikes, mobility scooters, or other mobility aids.
Find a rental car to discover New York here!
2. Pepsi Sculpture Garden, Purchase, New York
In Purchase, New York, just 45 minutes from Manhattan, the Pepsi Sculpture Garden is a hidden gem that's not well known except to locals. It's smaller than Storm King, but perfect for a few hour's jaunt. When I lived in Westchester, I often took my dog there for a walk on the property.
Refurbished during covid, the garden looks better than ever. It features over 40 works by contemporary artists from around the world. The well-tended gardens, with lily ponds and a lake, are themselves a work of art. 
The park is on the grounds of Pepsi's corporate headquarters. It's free and open to the public on weekdays and weekends from April 1 through November 19. Call in advance to check opening times. Motorized vehicles are prohibited.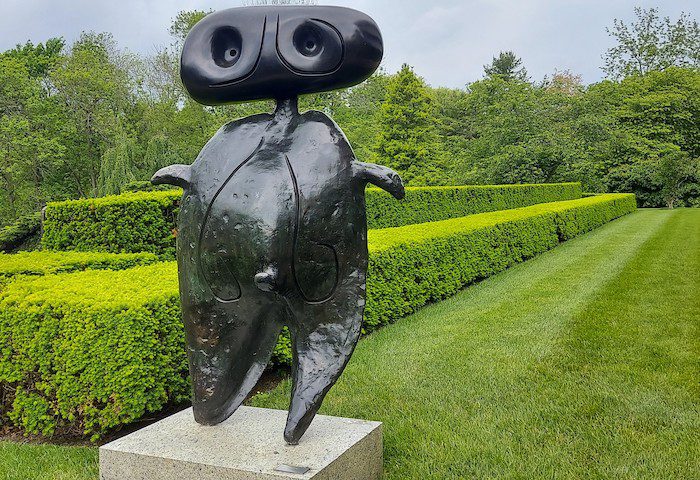 One of many pieces in Pepsi Sculpture Garden / Photo by Karen Gershowitz
Luscious greenery in Pepsi Sculpture Garden / Photo by Karen Gershowitz
3. Grounds for Sculpture, Hamilton, New Jersey
Just over an hour's drive from Manhattan, in Hamilton, New Jersey, is Grounds for Sculpture. It has the most extensive art collection, with almost 300 works by over 80 artists. The pieces are closer together, making it easier to see a lot of the collection in a single visit. 
It was founded in 1992 by artist and philanthropist J. Seward Johnson Jr. He wanted to create a space where people could experience art in a natural setting.  As with the other gardens, Grounds for Sculpture has beautiful landscaping.
Storm King and Pepsi feature monumental sculpture, much of it abstract. Grounds for Sculpture focuses on people and animals. They encourage visitors to interact with the art, even allowing visitors to sit on the sculpture. Several of the works by Seward Johnson are based on famous paintings. "Le Déjeuner sur l'herbe," brings Edouard Manet's painting of the same name to life. "Bridge Over a Pond of Water Lilies," is based on a series of paintings by Claude Monet. I've often seen people posing with the life-sized figures.
Find even more things to do in and around New York City right here!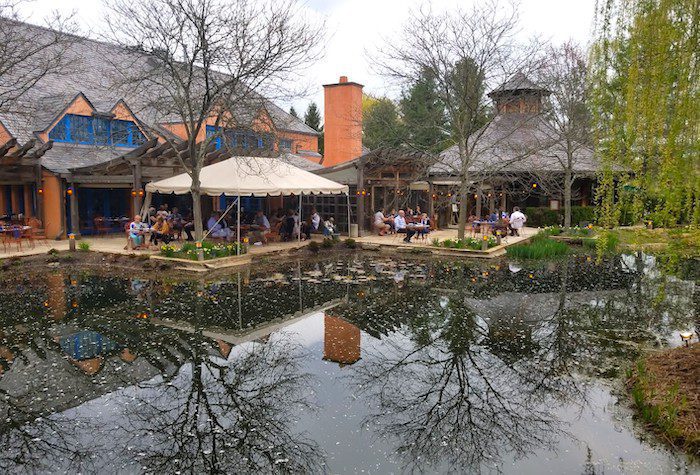 Rat's Restaurant in Grounds for Sculpture / Photo by Karen Gershowitz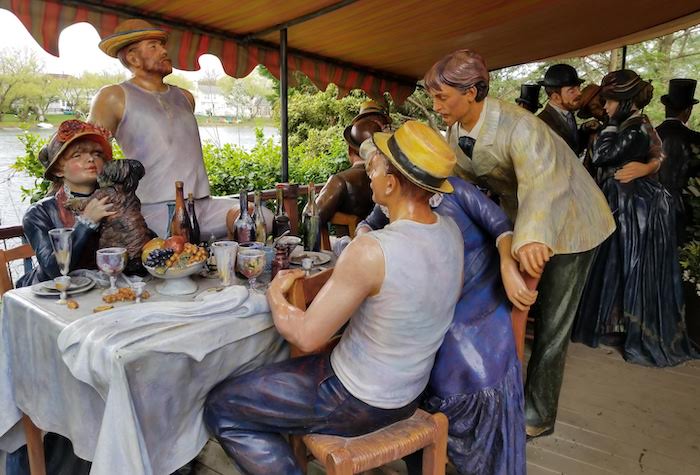 One of the life-size sculptures / Photo by Karen Gershowitz
'Bridge Over a Pond of Waterlillies' in Grounds for Sculpture Park / Photo by Karen Gershowitz
Whenever I go, I make it a point to make a reservation at the restaurant on the property, Rat's Restaurant. The name may seem strange, but the French-inspired dishes are delicious and the setting is whimsical. They named the restaurant after the character Ratty from children's book "The Wind in the Willows."
Prices are free for members, and range from $18 for healthcare workers, seniors and military to $25 for general adult admission. Reservations are required on weekends and holidays, and it's closed on Tuesdays. The grounds are also accessible and most paths are made up of paver stone, scooters and wheelchairs are available for rent.
4. Opus 40, Saugerties, New York
Other sculpture gardens near New York City that are further afield and not as extensive, but still worth a visit, are Opus 40 and Art Omi.
Opus 40 is in Saugerties, New York, about two hours from Manhattan. Unlike the other gardens, Opus 40 is the work of a single artist, Harvey Fite. Over several decades, he single-handedly built an enormous earthwork, including stone paths and platforms, out of local bluestone. Besides sculpture, there is an extensive area where you can walk through pristine woods.
It's open from Friday to Monday from 10:30 AM to 5:00 PM. Senior and adult prices range from $9 to $11 and tickets are available for purchase online.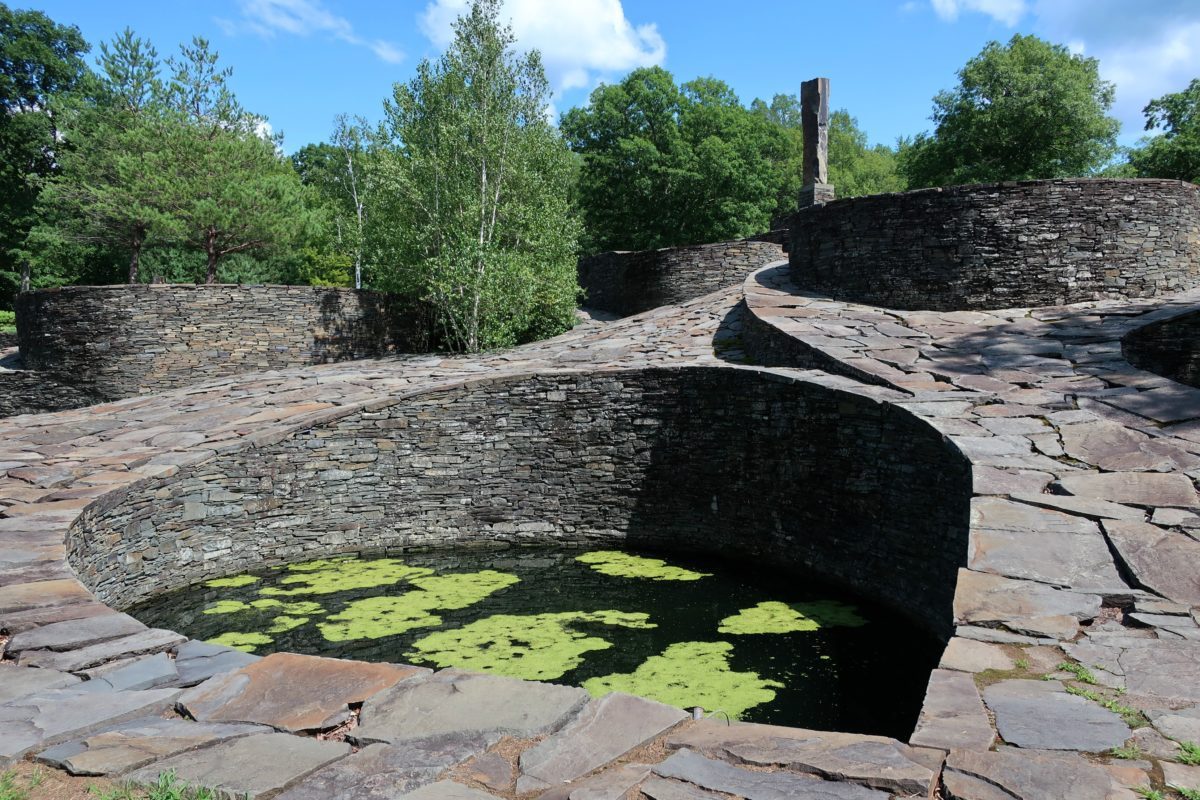 Opus 40 is one of many sculpture parks near New York City/ Photo by Karen Gershowitz
5. Art Omi, Ghent, New York
Art Omi, in Ghent, New York, about two and a half hours from Manhattan, covers one 120 acres. There are contemporary sculptures, installations, and site-specific works. Just be aware that at Art Omi there are no paved walking paths. It can be rough going if the ground is wet. 
The Sculpture & Architecture Park is free and open daily from dawn until dusk year-round. The Benenson Center, housing the Newmark Gallery, is open daily from 9 AM–5 PM from April 1–October 31. Visitors are encouraged to register in advance. 
These sculpture parks near New York City have allowed me to escape the city and immerse myself in art and nature. I especially appreciate them in the summer when the heat can be brutal. If you're an art enthusiast or just looking for a peaceful place to relax and explore, I highly recommend visiting any of these parks.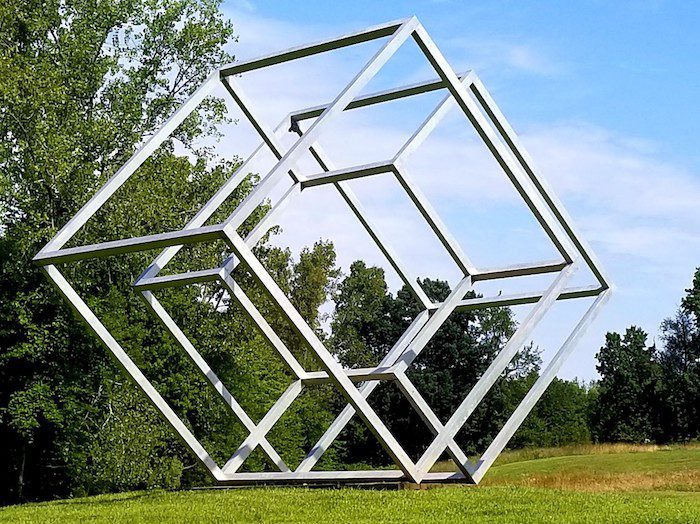 One of many sculptures at Art Omi / Photo by Karen Gershowitz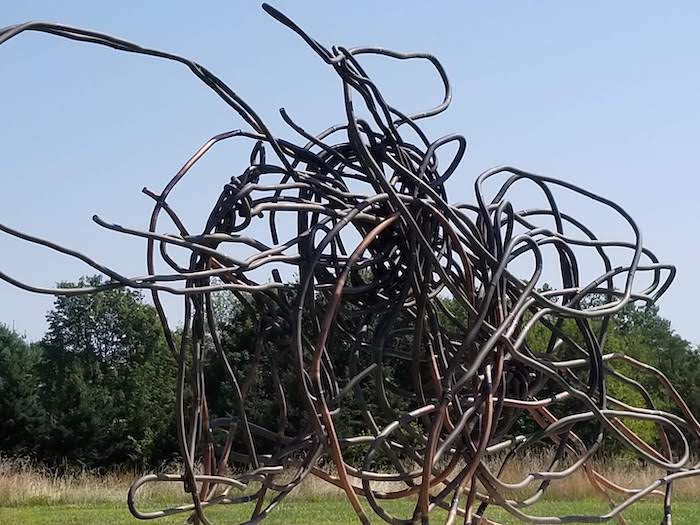 One of many sculptures at Art Omi / Photo by Karen Gershowitz
Did you know you can print this article as a PDF? Just click on the buttons under the printer photo (second from right) at the very top of the article. You can also make the size of the type larger on any page by clicking the buttons to the right at the top.
Read More From The United States
Diana Eden shows how to travel in your own backyard and discovers quirky towns, Wild West folklore and outright odd places around Nevada.
Karen Gershowitz recounts her visit to the Ozarks and four quirky towns including Bentonville, Fayetteville, Eureka Springs and Branson.
Diana Eden recounts her experience as a panelist at Women's Travel Fest 2023, and shares her tips for older women in New York City.