Last updated on June 25th, 2021
Lead image: Tampa, Florida Photo by Jesse Adair on Unsplash
Women-Friendly Museums and Shopping  
By Evelyn Hannon, Founder, JourneyWoman
(originally published in 2010, updated in June 2021) 
I didn't actually choose to go to Tampa the first time. It happened because I ticked a little box in a tourism conference questionnaire that asked which area in Florida I'd like to explore. Now that I've spent some time in this Gulf Coast city I know I'd go back in a minute either by myself, with a girlfriend or with my young grandkiddies. My special thanks to the women of VisitTampaBay.com who helped me discover the fun this city has to offer.
Not just a tourist destination…
The first thing I noticed about Tampa is that it's not simply a tourist destination of flashy facades built to attract tourist dollars. Tampa has a very distinct personality fashioned by the folks who laid the foundation for this city. There is rich history here and the roots of many cultures to explore — Native American, Cuban, Spanish, Italians plus a sprinkling of Eastern European Jewry thrown into the mix. That means today's visitors to Tampa can enjoy the thriving cultural scene, ethnic diversity and festivities along with the locals who work hard to keep this city vibrant.
The weather is wonderfully moderate…
The average temperature in Tampa is 72°F which happily allows for outdoor activities all year long. Their coldest month is January when the average temperature overnight is 52.4°F but it rises delightfully to 70.1 °F during the day. For those who like it hot, August is the warmest month with temperatures of 90.0°F; the driest time is November
Tampa is child-friendly..
.
There were so many times during my stay in Tampa when I wished I had my grandchildren with me. I know that they would have enjoyed these museums, zoos and amusement parks immensely.
Busch Gardens — is a combo of delicious delights for kids, especially the older one, with wild rides, a crazy mix of Broadway-style shows and more record-breaking roller coasters than any destination in Florida. Travelling with little ones? Check out Land of the Dragons where Busch Gardens devotes one and a half acres of fun just for young adventurers. They'll love the illuminated water geysers, the echo chamber and the mini flume ride.
Website: https://buschgardens.com/
Museum of Science and Industry (MOSI) — Journeywoman absolutely loved The Children's Science Center at MOSI. Called 'Kids in Charge!' this museum for youngsters 12 and under uses play areas and exhibits to explain science and inspire creativity. It's a huge open area and kids are free to touch and try everything.
Website: https://mosi.org/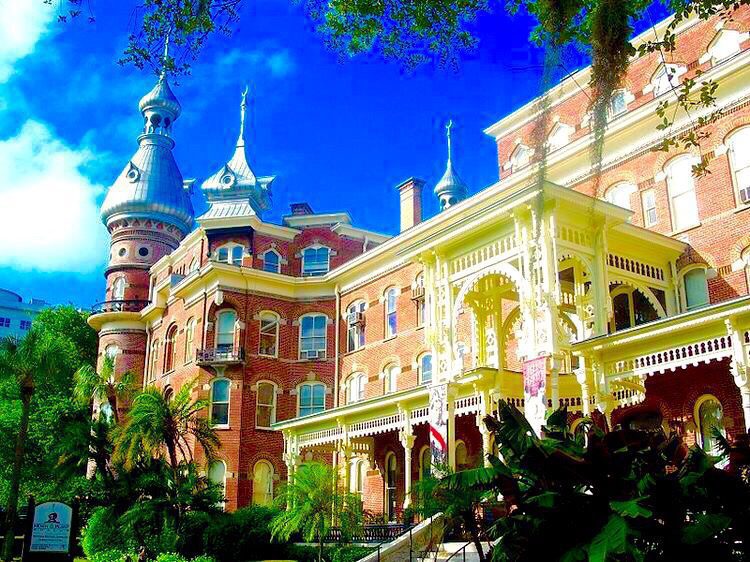 Museums that women will enjoy…
The Henry B. Plant Museum began life as one of the grandest hotel of its time with famous guests such as Mrs. Roosevelt, Clara Barton (American suffragette), Sarah Berhardt (actress) and Wallis Simpson, the Duchess of Windsor. Known for its minarets that pierce Tampa's modern skyline, the former 1891 Tampa Bay Hotel showcases the American lifestyle in the turn-of-the-century-Victorian era and is now part of the University of Tampa campus. The Plant Museum features an annual Gasparilla exhibit showcasing early photographs, rare artifacts and authentic costumes from Gasparilla's century-old history in Tampa and also a Victorian Christmas Stroll during the holiday season. The museum transports visitors back to the gilded age and features Henry B. Plant and his wife as people with vision and a desire to awaken a sleepy Tampa Bay. Website: www.plantmuseum.com
The Tampa Bay History Center is one of the newest permanent museum buildings in Tampa. Located near the historically important Fort Brooke reservation (the birthplace of modern Tampa) it contains 60,000 square feet of exhibits depicting almost 500 years of recorded history and 12,000 years of human habitation in the region. Creative displays and the newest in technology take visitors back in time to meet the area's Native Americans, pioneer settlers, cigar workers, immigrants and cowboys as well as military and sports heroes. There's a wonderful replica of a city cigar store complete with original mosaic tiles on the floor and displays of old cigar boxes on shelves. School children have the opportunity to create their own patterns on clothing for Seminole Indians. Through technology visitors become part of an enormous cattle roundup via giant screen projections and much, much, more. Leave lots of time for your visit here; there's just so much to explore. Website: https://www.tampabayhistorycenter.org/
Ybor City State Museum tells the story of the immigrant life and Ybor's cigar making history. The State Park complex covers approximately one-half of a city block and includes an ornamental garden and multiple restored cigar workers' houses called casitas (little houses). Visitors can tour the interior of one of the casitas to gain an appreciation for the 'shot-gun' style homes in which many cigar makers and their families resided. The main museum facility is housed in the former Ferlita Bakery building, a neighborhood bakery operated by the Ferlita family, Italian immigrants who established the business at that location in 1896. Website: https://www.ybormuseum.org 
Not exactly a mall in Tampa…
If you are looking for some interesting shopping opportunities check out Hyde Park Village. Nestled in one of the city's oldest and upscale neighborhoods it's a contemporary collection of 10 buildings containing shops and quaint restaurants designed to please the well-heeled. In it you'll find familiar names like Restoration Hardware, Chico's (great for women's travel clothes), April Cornell and Pottery barn. There's an Aveda Spa if you need it, and a paint your own ceramic art (if the kiddies are bored). 
Meet the women of Tampa…
The Athena Society is an organization of Tampa Bay professionals who have demonstrated leadership in the community and committed themselves to promote equality and opportunity for women. Started in 1976 to support passage of the Equal Rights Amendment, it remains true to its shared purpose today. Membership is by invitation only and limited to 160. The group is a member of The International Alliance for Women, an organization that links business and professional individuals and women's networks throughout the globe. Website: https://www.athena-society.com/
A favorite brunch spot for women…
When Journeywoman asked about a favorite brunch spot that women would enjoy, the name 'Circles' came up in a few conversations. Housed in a 1920s bungalow, Circles' decor is best described as elegant simplicity. You'll find tables topped with white linen, and walls aesthetically graced with black-and-white photographs. Holiday lights adorning the windows lend the eatery a festive air. The food is varied enough to satiate a plethora of appetites. 50 lunch and dinner treats range from lobster bisque — a hearty favorite with real chunks of lobster floating in a cream base — to egg rolls, calamari, pasta, tuna dishes, meat, vegetarian specialties and Thai dishes. Open on Sundays for brunch it is a favorite with the locals.
Address: 13002 N Dale Mabry Hwy, Tampa, FL 33618, United States
Good Florida food and great fun…
Good casual fun! I live in Tampa and I'd like to tell other women travelling to my part of the world about a funky restaurant called Skippers Smokehouse Restaurant & Oyster Bar. This Tampa 'institution' focuses on Florida cuisine enhanced by the tastes of the Caribbean and Louisiana. Take a peek at their menu where you'll find everything from Clam Chowder and Caesar Salad to Grouper Sandwiches and Grilled chicken breasts. If you are travelling with kids of any age they will love the crazy architecture and decor of this place with its fun signs everywhere. This restaurant is also a music venue with yop entertainment bands playing outdoors in their back terrace space. Good food and great fun!
Myscha Theriault, Tampa, Florida
A History of the Women of Tampa…
Real Women of Tampa and Hillsborough County by Doris Weatherford
ISBN: 1 879852 33 0
Publisher: University of Tampa
They created a civilized society long before Europeans arrived in the New World, helped establish Tampa as the nation's cigar capital, led Florida's first statewide suffrage movement, built ships during World War II, and pioneered movements in fields ranging from real estate development to social service that forged the community's character.
Gifts under $10 from Tampa…
It's always a fun challenge for Journeywoman to discover worthwhile souvenirs under $10.00 to bring back for the folks at home. Here are a few finds from Tampa for girlfriends, boyfriends, little kiddies, teenagers (check out the Florida Flamingo Poop) and your more discerning family members…
Coconut Patties dipped in chocolate
Key Lime Taffy
Florida Flamingo Poop (chocolate covered sunflower seeds)
Paula Deen's Pear Preserves, Sweet Potato Biscuits, Southern Spice Rub
Paula Deen's Book 'It Ain't All About the Cooking'
Know before you go…
To learn more about Tampa Bay's Hotels, Restaurants, Beaches, Events and More click here.
To learn more about Florida, in general, click here.