Last updated on February 20th, 2023
Can you imagine a world without elephants?
By Carol Moore-Ede, Guest Writer 
(Note: this article was reviewed by Nora Livingstone, our Ethical Animal Tourism expert on the JourneyWoman Advisory Council.) 
"An understanding of the natural world and what's in it is a source of not only a great curiosity, but great fulfillment."
– 
David Attenborough
Travel is an excellent opportunity to get to see wildlife that one may have only seen in books or watched on documentaries. But what if there were no more elephants?  As David Attenborough famously says, "…are we happy to suppose that our grandchildren may never be able to see an elephant except in a picture book?" It is our collective responsibility to make sure this never comes to pass. During travels, an elephant experience is often high on our' preferred list of things to do. However, it must be done with knowledge of the species and its history of abuse; a sense of compassion; and an understanding of the threat to its future existence.
Several years ago, my friend, Sally and I, both in our early 70s, decided to take an unchartered trip to Thailand and Cambodia to explore both the known and the unknown. As part of our wanderings, we planned to find and visit these gentle giants. It was important to us that we research into the mandate and practices of each conservation area. We did not want to engage in activities that were alien to the elephants' natural life.
Elephants in captivity worldwide have been beaten, neglected, abused and overworked. Recently, Kavann, the 34-year old elephant from Sri Lanka, was rescued from his imprisonment in a Pakistan zoo. This was a result of raising public awareness by celebrities, such as Cher. In the midst of COVID-19, Kavaan traveled 2,700 km by air to the Cambodia Wildlife Sanctuary in Siem Reap. This was a major achievement, but particularly so while humans were confined to their homes and not free to travel.
Happily, there are pockets of safe havens to which endangered elephants can retire. Some of these are located in Cambodia, but not all preserves are equal. Some still cater to tourists' fantasies to bathe with the elephants, share mud baths together, or to take rides on them. As humans, we have imposed our wants and desires on other species, which has led to their extinction in many cases; and today it is happening faster and more extensively than ever.
"It seems to me that the natural world is the greatest source of excitement; the greatest source of visual beauty, the greatest source of intellectual interest. It is the greatest source of so much in life that makes life worth living."


— 

David Attenborough
Crossing the river with a mahout
Choosing the right sanctuary to visit: "Let elephants be elephants"
There are a number of elephant conservation areas in Cambodia. These include the Mondulkiri Elephant and Wildlife Sanctuary, the Kulen Elephant Forest, Cambodia Wildlife Sanctuary, the Elephant Village in Luang Prebang, and the Elephant Valley Project (EVP). Each one offers a variety of experiences. However, we were careful to research what was included. We were determined that riding the animals not be one of the activities offered.
Young elephants are usually trained by a method called Phajaan to let tourists ride on them. This method of training includes beatings and daily torture to keep the animals submissive.  We saw elephants being ridden at Angkor. The hard wooden saddle and combined tourist weight can cause permanent spinal injury. In addition, rough cement and stone underfoot are harmful to their feet; which split and crack, and often become infected.
Despite this, each year some hundreds of thousands of tourists persist in riding these mild animals. Thankfully, since we have been there, the elephants of Angkor have been retired — for many of them after 22-years of work — and have been liberated to roam in 1,100 acres of protected forest in the foothills of the Kulen Mountains. There are, however, many more that have not been so fortunate and are in need of saving.
Sally and I decided on the Elephant Valley Project (EVP). Based near Chiang Rai, their mission sets out to "let elephants be elephants" and to "teach elephants to be elephants again." The rescued residents previously had been overworked in the logging industry, or even forced to perform circus tricks. Frequently they were starved and deprived of their natural food of grass and bamboo, and suffered from acutely poor health.
For those who have a kinship with animals, there's little more awe-inspiring than getting up close and personal with nature's creatures in their natural habitat.
Why the Elephant Valley Project is a standout
The EVP has been successfully operating in Cambodia for 10 years and has adopted a "no riding, no bathing no washing" policy. The sanctuary comprises 30,000 hectares of protected forest, which wraps around a multitude of rivers, streams and waterfalls. 1,500 hectares of this natural habitat is reserved for their nine elephants. 
The sanctuary offers a number of options for visiting and volunteering within a completely safe environment. Women of all ages will feel welcome, and experiences can be tempered to one's capabilities or limitations. One can spend one day observing or weeks of volunteer work.
Sally and I arrived at the Nature Lodge by car with our Cambodian driver. He was utterly dependable, and knowledgeable about the history and customs of the country. The lodge was located about five minutes from the tiny town of Sen Monorom. There are many delightful places to stay if one is not spending the night at the EVP. We chose the Nature Lodge for its simplicity. Nothing fancy is offered other than a wonderful view with spectacular sunrises and sunsets.
A number of little wooden cabins, capped with red roofs and standing on stilts, dotted the hillside like a village in a jungle clearing. What a welcome change from the roadside motels we see in North America. The rooms comprise a bed, or two, and that is it! The bathrooms have a modern toilet, sink, and running water; but be prepared to have the upper walls open to the landscape.
It reminded me of a much more pleasant version of visiting our cottage outhouse while communing with nature. It's wise to carry a flashlight for any night time visit, or to get up to the main lodge in the evening; and an alarm clock if you have to get early transportation to Sen Monorom in time for transport to the Elephant Valley.
The Nature Lodge: little cabins on stilts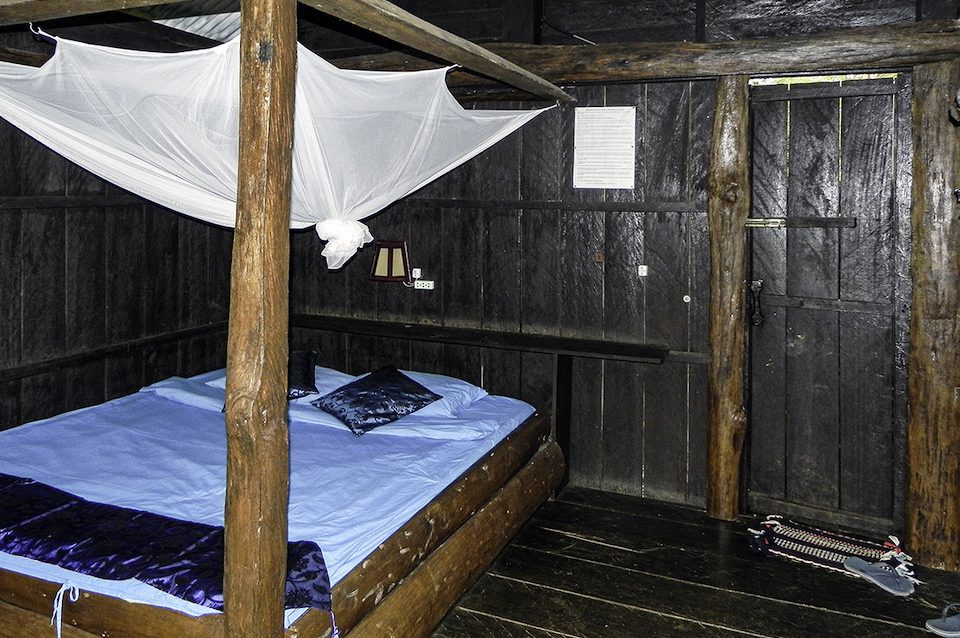 The interior of the Nature Lodge we chose to stay in
Observing majestic elephants in their natural environment is a rare privilege
At the EVP sanctuary we were welcomed and given a briefing on elephant etiquette before setting out for a hike into the jungle to find some of them. It was refreshing to actually have to go and look rather than predictably find them behind a wall of wire fencing. It turned out to be quite a lengthy pursuit. Despite their size, these elephants are smaller than their African cousins and blend in amazingly well with their surroundings. The combination of the brilliant sunlight breaking through the dense undergrowth and the deep shadows of the forest help them disappear. Elephants are amazingly stealthy as well, so do not expect them to announce themselves. 
Be prepared to walk up and down mountainsides, cross rivers on narrow logs (some balance required!), and then have your breath taken away when you suddenly come across a couple of the gentle giants strolling in the jungle. It's good to remember to layer your clothing. It can be surprisingly cold in the mountains in the morning; and blistering hot and humid during the day. In addition, be sensible about footwear. Surfaces can range from wet and slippery to hard and unforgiving. 
"Elephants are so wise and so funny and so endangered and so intelligent. I just think there is a lot to learn from them."

— Gloria Steinem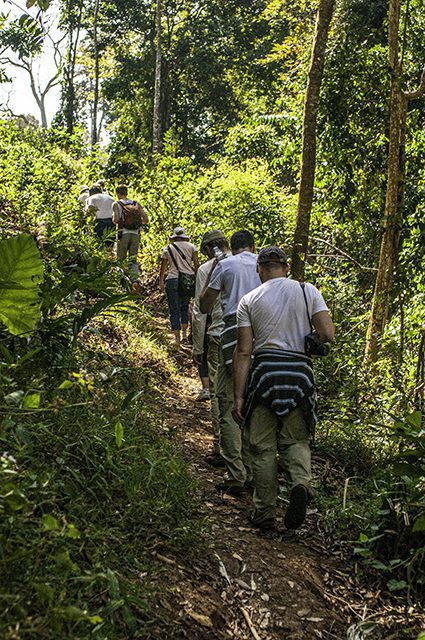 Hiking up the hill to find elephants
It is a privileged experience to visit these fascinating giant creatures and see them up close. I love their spiky heads of hair, sprouting like tiny quills on the back of a baby porcupine. Their eyelashes are long and luxuriant. Their skin looks like cross-hatching from an artist's sketch. Their ears are decorated with border patterns of spots, which end up in a curl, a straight edge, or a frill. Each elephant has a set of markings distinct from the other.
Unfortunately, some bear traces of their brutal treatment – a caved in skull here, a limp there, or crooked bone from a former break. It is fascinating to observe how they use their trunks for lifting, snorkelling, touching, breathing, grasping, and making sound. The over 40,000 muscles in the boneless appendage allows it to work in three-dimensions. I saw them twisted into all manner of shapes: Some like coils, others like hoops, and still others mirroring the heavy vines of the jungle.
Watching the elephants, different personalities also became apparent. There is the small cheeky one, the affectionate one that continually reaches out to touch her companions with her trunk, the one that is more aloof, and another that seems so expressive. They have an air of wisdom about them; and observing their sad-looking eyes, I wondered what memories are within those massive prehistoric skulls. 
It is a gift to see the herd in its natural habitat interacting with one another, grazing on the various forest offerings of grass and bamboo, and being free to do whatever they feel like doing at that moment, and not being forced to perform.
Water play brings out the fun social side of elephants
Another part of the experience is to watch the mahouts and their gentle presence guiding the elephants for their bath in the river backed by a cliff of rich orange-red soil. 'Mahout' originates from Hindi. It means elephant keeper. The Thai term is kwan chang, "one who walks with an elephant." These boys and men are local Bunong, the indigenous people of the Mondulkiri highlands., They are passionately committed to saving their native elephant species. The Asian Elephant is part of their cultural and spiritual heritage. They believe that the elephant is the connection to the spirits that live in their forests, mountains, and villages. A mahout may ride an elephant, but never with a saddle. They sit up high behind the ears and only mount them when they need to guide or wash them. They are highly trained and trusted. You may see them on the back of an elephant where they use special washing techniques, and examine their skin for care and treatment.
"All I want is a wild elephant; which swishes tones of water merrily all around with its trunk."
 

— 

William Scott Bruford
Elephants love water. It is fun to watch them play. They use their trunks like water guns, squirting each other or themselves. They enjoy submerging their giant bodies deep into the cool stream, and luxuriate in the buckets of water tossed on them by their keepers. When the elephants decide they have had enough, they emerge in a large parade with purpose. It is wise to stay clear!
Elephants are social animals. They thrive on each other's company. Sometimes there is a lot of excitement among the herd. One can hear boisterous bellowing and trumpeting; and watch as trunks intertwine, and ears flap. Do not try to mimic them. They will become agitated and confused, and can become aggressive. Elephants remain wild animals, no matter how much effort goes into trying to domesticate them. It is best not to forget that and to keep a respectful distance.
Mahouts washing an elephant
You will always remember your time spent with the elephants at EVP
As a volunteer, you will get to help with the elephant conservation. You could, if appropriate, be asked to carry heavy sugarcane trunks to the animals. It is a real treat for them. They love the sweetness. Other duties may include reforestation, making trails, building small projects, and farming for elephant food. These are done without the elephants. However, for those staying longer, more involvement with the elephants is possible, such as elephant observation, health checks, and other research.
Numerous hiking paths can offer different experiences within the jungle. Waterfalls and encounters with other animal species are some of the exciting alternatives. All the hikes are in the company of at least one EVP staff member to ensure ultimate safety. There is an option to spend one or several nights in the jungle, watch the sunset and sunrise, and listen to the sounds of the jungle at night. In a normal week, there are six elephant experiences, four sessions of volunteering, five nights' accommodation, all meals, and return transport from Sen Monoro.
The cost of this, with a shared room, is $400 US a week for the first 2 weeks, $350 per week for week 3, and $300 for each additional week. The EVP was closed for awhile due to COVID-19, but is open again for limited numbers. Visiting or living with the elephants is an extraordinary and unforgettable experience and by participating you will be helping to protect and preserve an endangered and abused species, as well as their habitat. It is also possible to sponsor an elephant until some of our borders open and we can travel once again.
I cannot stress more strongly that just because a company is listed as a "sanctuary" or a "project" does not mean that it has the best interest of the elephants at heart. Ask questions, evaluate the answers, and if you are not happy with the answers you receive, move on.
My experience and memory of the elephants is one I carry with me all the time.  They say an elephant never forgets— and neither will I. 
"I just wish the world was twice as big and half of it was still unexplored."


— 

David Attenborough
More on Sustainable Travel
In Africa, the cheetah population is dwindling as they are captured as pets, killed over conflict and suffering from land use and climate change.
Travel tips for women taking their first river cruise, including tipping, etiquette, room size, weather and packing tips.
Entrepreneur and inventor Alice Chun delivers her solar lights to disaster areas around the world, bringing light to the darkness.