Last updated on April 23rd, 2022
Inspiring JourneyWomen to Explore Their Own Backyards
By Amanda Burgess & Carolyn Ray 
When we hatched a plan in July to road trip around our home province of Ontario this summer, staying in unique accommodations and armed with a new experience checklist for the COVID era, we thought we were doing JourneyWomen everywhere a service. Let's be the trailblazers, we thought. Let's inspire grounded JourneyWomen travellers to get out and explore their own backyards. Let's perfect that checklist and arm our JourneyWoman community with it so all can return to travel with confidence when they're ready.
While we turned each of those thoughts into action, this was so much more than travelling on assignment. It brought us life, light and purpose as we emerged from our post-lockdown cocoons.  It also helped us learn more about nature, our inner child, and the creativity and innovation of women entrepreneurs
Glamping in Parry Sound and Algonquin Park. A rustic Arowhon Pines cabin. A farm in Chatsworth, and adventures in Tobermory and the Bruce Peninsula. A loft above horse stables in Adjala-Tosorontio. A vintage airstream in Feversham. A river bunkie in Bobcaygeon. A Victorian tiny house and a Romani caravan in Orono. A bunkie on a private island near Dorset. A summer packed with adventure, laughs, tears, insect bites, 'showering' with baby wipes, hiking until our feet gave out, campfires, s'mores, wine, fresh air, and life-affirming fun.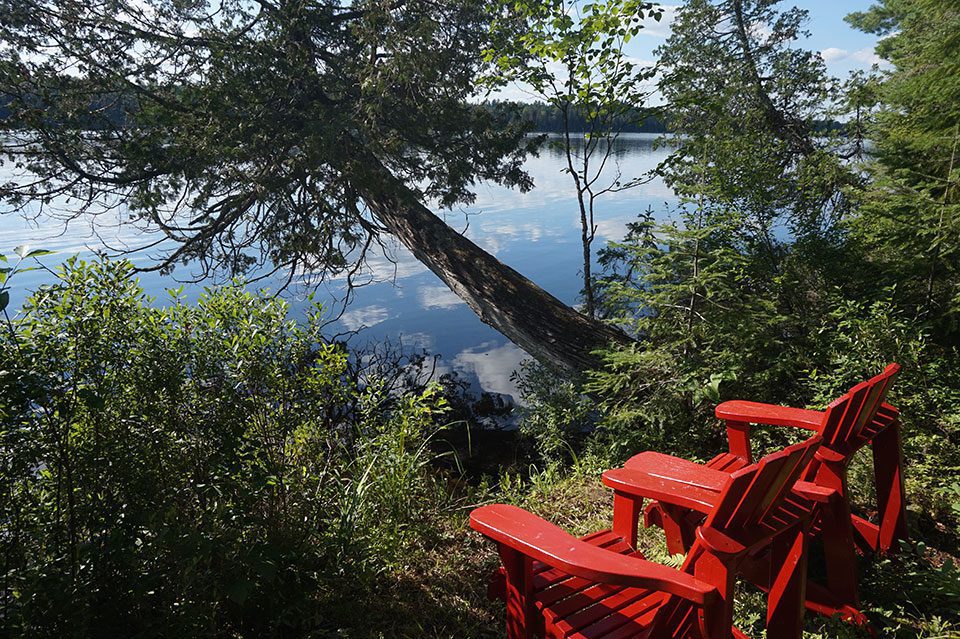 Please note: We are not advocating travel unless it's safe: please check local travel restrictions before you go! Wear a mask, embrace social distancing and practice safe hygiene! For the latest Ontario information, please visit : How Ontario is responding to COVID-19.
While we already have a beady eye on some fall #TravelAtHome adventures, we wanted to take this opportunity to pause and reflect on the summer that was – to give you some insights on the experience and tips for crafting your own #TravelAtHome experiences. Along the way, we considered what the JourneyWoman travel checklist should look like in the future. For more on that click here.
#TravelAtHome Insights in the COVID Era
#TravelAtHome requires a different level of planning, packing and execution 
This was impressed upon us on our first separate trips. Packing for any kind of travel – inter-city, in-state/province, in-country or international – in the COVID era is akin to a new parent collecting everything they need for a simple outing.
We carried a breadth of new items for the first time. The unwieldly items that make roughing it more bearable. The items that provided an extra layer of COVID safety even when we weren't roughing it (our own bedding, towels and dishware). Organized and expert packers, we rarely forget anything. What never got forgotten was our headlamps, reusable metal wine glasses and sleeping bags. Oddly, what did get forgotten was essentials like underwear and socks. More than once. For a road trip packing checklist and some expert tips gleaned from past experience and learning on the fly, check out Road Trip Packing in the COVID Era.
It takes a lot of time and energy to plan transportation, food preparation, activities and accommodations for short trips
We put so much pre-work into planning international travel that it feels like a breeze once we land. But when we're transitioning to a new location, getting laundry done and repacking isn't daunting. It's part of the adventure.
When you plan a series of one to two-day adventures in different parts of Ontario with sometimes a day or less at home in between? It becomes a relay race to unload, do laundry, consult your itinerary and checklist for the next location, and switch out the gear in your pack and vehicle.
Then there was the grocery shopping in each location. While we brought our own silverware, plates, and condiments, finding fresh vegetables and fruits was a priority. Most meals were prepared on a grill or over a campfire. Remembering all of the cookery, utensils and dishware needed. Doing the actual cooking after a long day of hiking and exploring. All of this takes more time, effort and energy. This summer, we didn't see midnight once. And there were times that we blinked owlishly at one another wondering if 9 pm was too early to retire (sidenote: it's not).
3. It brings adventures of a different flavour than international travel
When we designed our #TravelAtHome experience, I secretly wondered if it would be a pale shadow of the international travel we were missing. It's not. It's simply different.
What was missing were the adrenaline-pumping, heart-stopping risks that typically accompany some international adventures. But part of that is the unknown. There are, of course, risks to exploring the water-laden, rock-dotted, bear-dwelling, bug-buzzing wilds of Ontario. And thrilling adventures in this space abound. But they're known risks. Familiar adventures, even when exploring unfamiliar corners. This is our backyard.
The upside? This is our backyard. The sweeping vistas, vast wilderness, wild rivers, majestic lakes, rocky beaches. The flora, the fauna, the forest and farm creatures. The rocky cliffs, deep crevasses, and secret forest paths. The starlit skies, offering up scintillating sights of the Milky Way and Northern Lights. They're stunning, awe-inspiring, and life-affirming. And they're all part of home. The adventures we had on this playground filled the soul, but the hum of our blood was set to a slower rhythm. The kind that comes with the familiar viewed with fresh eyes.
It puts you in touch with your inner child
We are both in touch with our inner child. Since we both redesigned our lives, every day and every trip centres on different aspects of play. But the unusual slant to our accommodations – prospector tents, a Romani caravan, a treehouse, a vintage Airstream, a river bunkie, a cottage bunkie, a tiny house, a loft above a horse barn, camping out on a farm – activated our curious natures and drew those inner children to the surface.
We laughed more. Played harder and longer. Stayed outdoors from sunup to sundown. Were more open to exploration. Once, when hiking, the laces of one of my hiking boots caught on the other, causing me to fall spectacularly. I skinned my shin, got a rock in the knee and scraped up my palms. I got up and laughed it off, as I did when I was a kid.
The novelty of unique accommodations coupled with the familiarity of home turf is an intoxicating cocktail for your inner child. They crave adventure with a safety net. Little Amanda and Little Carolyn drank greedily from that cup all summer long.
It deepens your relationship with nature
Ontario may not have the mountains that Western Canada and Quebec boast. What we call mountains here are more accurately hills or escarpments. But there's something undeniably magical about our farmland and forests. There's cottage country in almost every direction in this province, each offering a different brand of magic.
Each area of Ontario has its own appeal: Algonquin Park with its authentic 'Canadian' wildlife, where Carolyn saw a young moose chomping down on lilly pads while canoeing; to the wilds of the Niagara River, with its almost prehistoric rocks and cliffs; to Blue Mountain, where you can hike along the Escarpment and walk through boulders that don't let the sunshine in.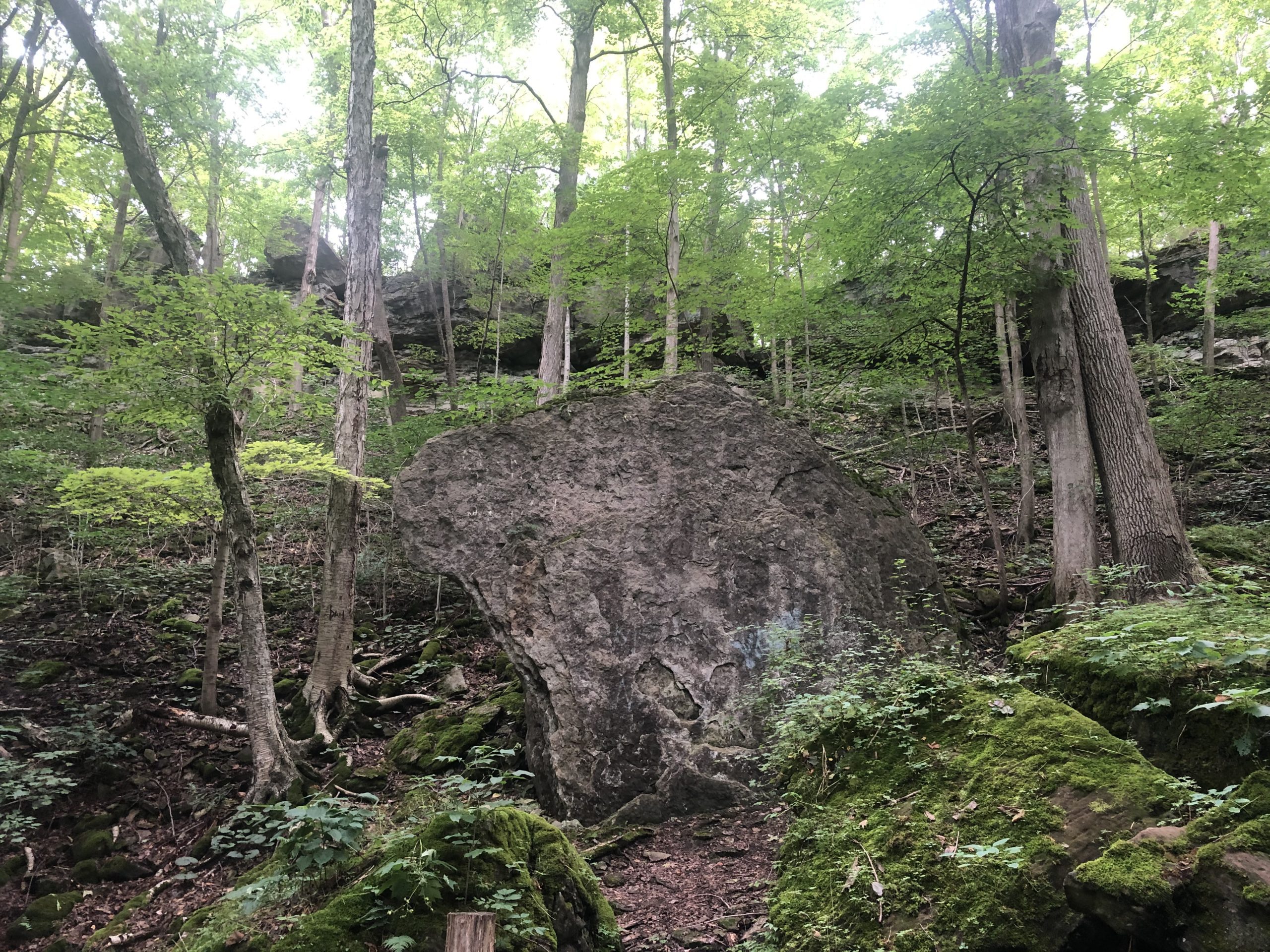 It forges fresh connections between you and your at-home tribe of humans
This summer, we road tripped with our daughters. With friends. With each other. One special trip was with Carolyn's daughter Alyx and her grandmother Carol – three generations together for a #travelathome adventure. There's a unique rhythm and depth to conversations that take place on a dock, around a campfire, or while hiking through the woods. You shed your city self and become your most authentic. You speak truth. You dispense with small talk. You reconnect with what really matters. The simple things in life. Yourself. Your people.
Oh, if the trees and lakes could talk! The things they saw and heard. Like the time we heard rustling in the woods after a few glasses of wine around the campfire and hustled off the roof of my Jeep where we lay stargazing and hightailed it for our vintage Airstream. The conversations about life, love, and JourneyWoman. The hopes and dreams shared in the flicker of flames, carried off into the night in sparks on the wind.
It gives you a deeper appreciation for the place you call home
There's a reason why Ontario's slogan was "Yours to Discover" for so long. There are so many hidden places waiting to be explored. So many pockets of peculiarity. So many natural landscapes that transport you to other places – the Caribbean, New Zealand, Europe, and more.
This summer, we even explored places that have been known to us since our childhood but experienced them in unique accommodations that offered a different perspective on the familiar. We visited places we've long known of but had never been to before. Like Bobcaygeon, made famous to Canadians by The Tragically Hip song by the same name. Yes, we played the song while lying on our river bunkie's floating docks – like most self-respecting Canadians would.
It makes you more accepting of misadventures, foibles, and full-on failures
So many things can go wrong in a summer of road tripping. Like falling while hiking. Undercooked corn on the barbeque. A bout of food poisoning. Getting caught in a downpour while adventuring and going about your day looking like a drowned rat. Forgetting important gear or items of clothing, like bathing suit bottoms or t-shirts.
The more that went wrong, the more philosophical we became. We accepted what is. The things we couldn't change. We danced in the rain. That might be our approach to all travel, but there's an ease to going with the flow of failure when you're travelling at home. Because you're on familiar terrain. You know where to go, what to do, who to call in a pinch. There are no language barriers. No cultural barriers. Just a problem you can solve or wave away, at your discretion.
It impresses upon you the creativity and innovation of your fellow citizens in creating unique experiences in a familiar country
It's a challenge to make an experience feel unique and novel to women travellers who aren't tourists. To the people who call Ontario home. And to women that need more reassurances on safety, hygiene and accessibility. That's exactly what a special few of our hosts achieved with our stays. (And need we mention, these are all women entrepreneurs?!).
Like Amy, of The Tiny Host, who runs The Happy Glamper – our vintage Airstream in the woods. Not only is the outdoor space and interior design beyond Instagrammable, it's set smack in the middle of the woods. Instant ambiance. It feels like a well-kept secret that only a chosen few know about. The pre-communication was second-to-none. When we arrived, our host was waiting to welcome us and orient us to the area. As we walked into the Airstream, our eyes fell on a welcome kit: Deluxe s'more makings, two sticks for campfire roasting, a pot of JiffyPop (a campfire staple), and a hand-written welcome note. From a spacious outdoor patio featuring homey touches like rugs, solar string lights and lanterns to ciders in the fridge and La Creuset cookware in the cupboards, this host thought through all aspects of a luxe roughing it experience.
Or Dymnpa Hayes, co-founder of Harmony Outdoor Inn in Parry Sound, where we stayed in a prospector tent for a few nights. Every touchpoint of the guest experience was thought through and elevated. From the newly built composting outhouses for each tent to the solar-powered, heated outdoor cedar showers, to the handpainted signage that showcases the fun personality of the owners and the Inn. There are woodland paths to every tent and the waterfront that are lit by solar lights at night – to guide the way and create a festive atmosphere as you head down to the campfire to toast marshmallows. Check out our experience here.
At Arowhon Pines in Algonquin Park, owner Theresa explained the care taken to integrate new safety and hygiene practices into the design of the resort. Even though there are many things the resort stopped doing due to COVID-19 (like cooking classes, the sauna, buffets and daily housekeeping service), great effort was made to include gentle reminders everywhere and reinforce safe hygiene, while staying true to the feel of the property. Another important aspect of Arowhon was its accommodation for guests with mobility issues, including full-access rooms and rooms closer to the dining room and the action on the main dock.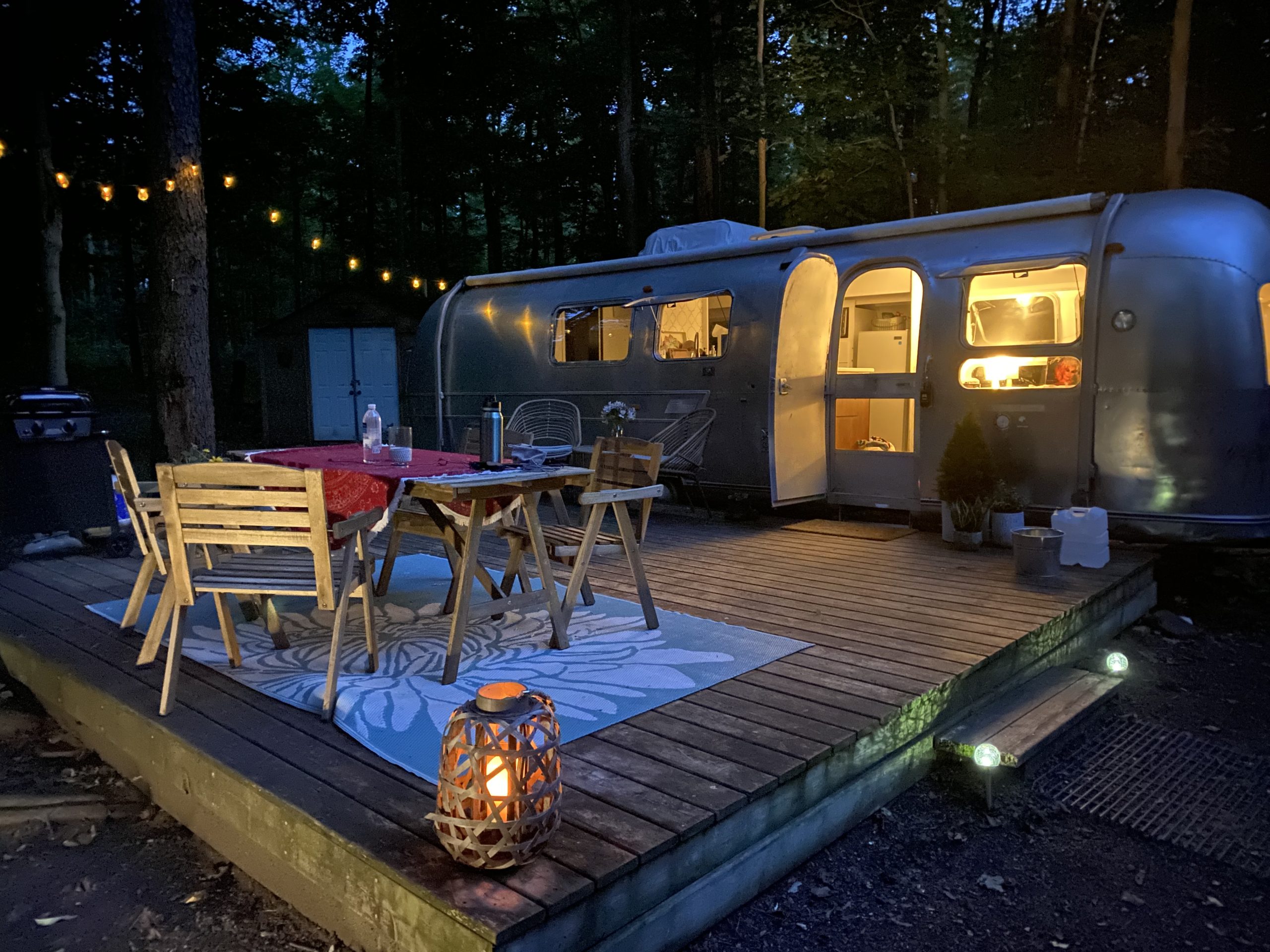 It doesn't have to break the bank – you can go big on experience, even on a budget! 
Understanding that budget-conscious travel is a concern for JourneyWomen everywhere, we deliberately searched for unique stays that were under $200 a night, with a splurge or two along the way. In fact, most of our accommodations were priced under $100 a night on Airbnb.
We primarily cooked our own meals, with the odd stop on a patio here and there. Brought our own wine and water. This helped keep ancillary costs down, but it did make for more work as noted above. It was an acceptable trade-off. Another way to reduce costs is through memberships like CARP or AARP, which offer significant discounts on rental cars.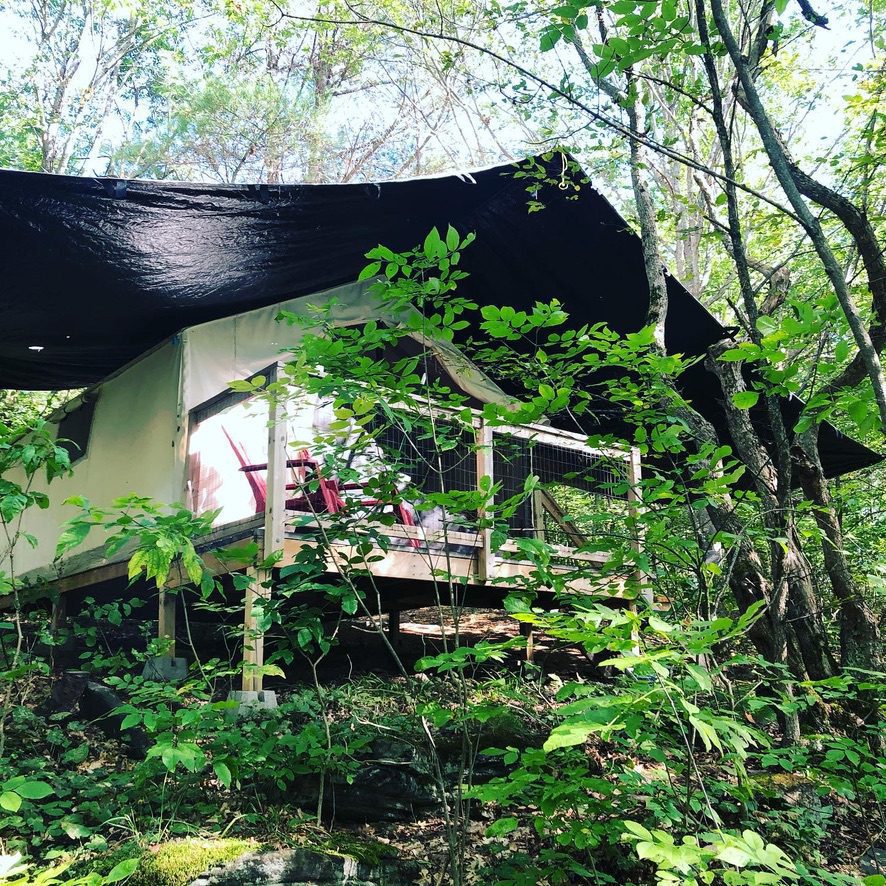 Tips to inspire your own #TravelAtHome experiences
Look for unique accommodations that are an experience: Accommodations usually aren't the centrepiece of a trip. But when you book something unique – like a treehouse, tiny house, Romani caravan, prospector tent, Airstream, or horse barn – it's a big part of the experience. It elevates a simple at-home road trip to something special and memorable. Do a Google search for "unique places to stay in X" and see what pops up. Check the 'unique stays' filters on Airbnb and other homestay sites. (For all full list of where we stayed, click here).
Think like a traveller in your own province or state: When's the last time you looked at the place you call home with the wonder and curiosity that fuels your travels? Shed your this-is-home blinders and soak up your own backyard like a traveller. You know all that obsessive scrolling you do on social media before heading out on trip? Apply it to your own province/state. Follow its hashtag. See what people are up to and posting about. You can also search your province/state on Pinterest, where ideas and inspiration abound.
Plan and pack smart: Follow our road trip packing tips. You need less than you think you do and more that you haven't thought of yet. Make checklists. Lay everything out visually by day and activity. If you're splitting your adventures up into several legs, with pit stops at home in between as we did, make notes on what you didn't use, what you forgot and what you could have used, and adjust your packing checklist for the next trip.
Look for deals and discounts: Are you a member of an organization like AARP or rewards program that offers deals and discounts on things like car rentals? Check the fine print before you book anything for your trip. You could be leaving money on the table. Consider booking for mid-week versus on weekends for better pricing – or visit in the off-season, as summer turns to fall
Manitoulin Island in Northern Ontario offers women a taste of everything we love: unspoiled nature, plenty of hiking, stunning views from the Cup and Saucer Trail and a glimpse into Indigenous history and culture.
read more
Note: If you'd like to see the full list of where we stayed and our honest reviews, click here. Our #Travelathome trips were not subsidized or paid for in any way by tourism organizations.  This was all on us!