Last updated on November 4th, 2022
by Amanda Burgess, Editor, JourneyWoman
Tobermory – the sparkling turquoise water jewel of Ontario
Confession time: I'm a perverse creature. When people flock to something, I go the other way. On a visit to the Louvre in Paris in 2015, I shied away from the phone-and-camera-wielding crowds forming around Leonardo da Vinci's Mona Lisa in favour of touring Napoleon III's opulent apartments in the Richelieu wing virtually solo. If I'm going to brave a crowd, there had better be live music involved.
So I've always been a bit hesitant to visit The Grotto, an open cave hidden in the cliff face of the Niagara Escarpment near Tobermory. It attracts close to 500,000 visitors annually with its startlingly turquoise waters and boulder beaches. Beautiful? Undeniably. Crowded? Always.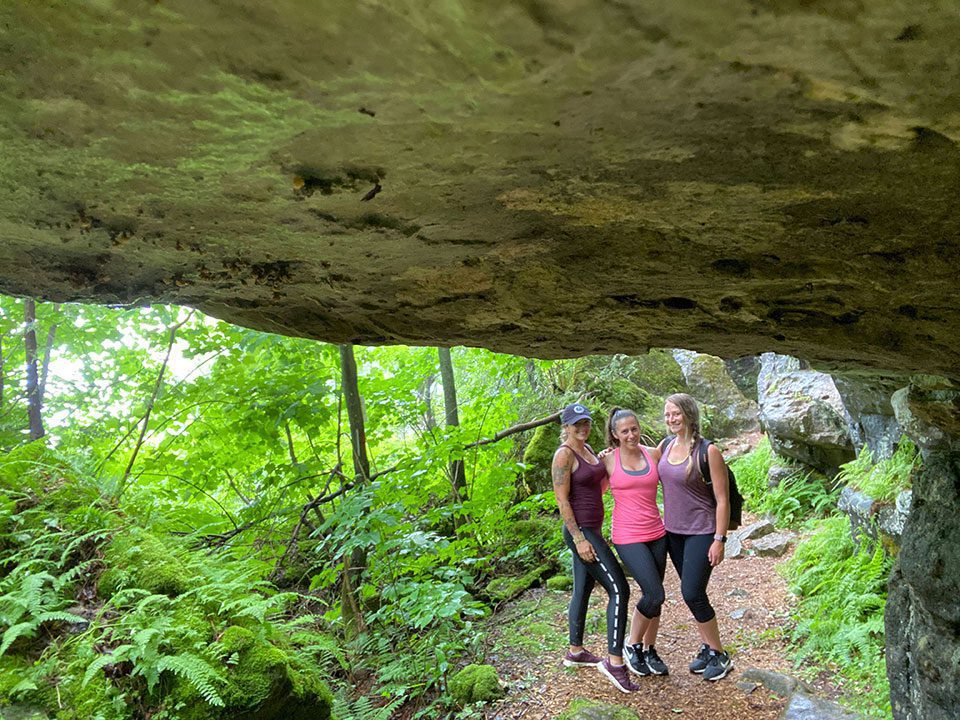 Exploring Grieg's Caves after we got rained out of a planned trip to Flowerpot Island. Sometimes, Plan B can be a better adventure. / Photo credit: Amanda Burgess
But when two adventurous friends and I started planning a girls' road trip to feed our travel bug during the pandemic, and that became part of a plan Carolyn and I hatched to make this a #TravelAtHome summer, The Grotto (and surrounding Bruce Peninsula National Park, with its timed four-hour parking slots operating at half capacity), started to look more attractive.
Campsites in Bruce Peninsula National Park book up quickly, as does most accommodation in Tobermory. My friends and I weren't interested in crowds, and we wanted time on the road in my Jeep every day. We decided to camp on a wee farm called Sweet Dreams Acres in Chatsworth to encourage wider exploration from a home base for our three-day adventure. And what a smart choice that was.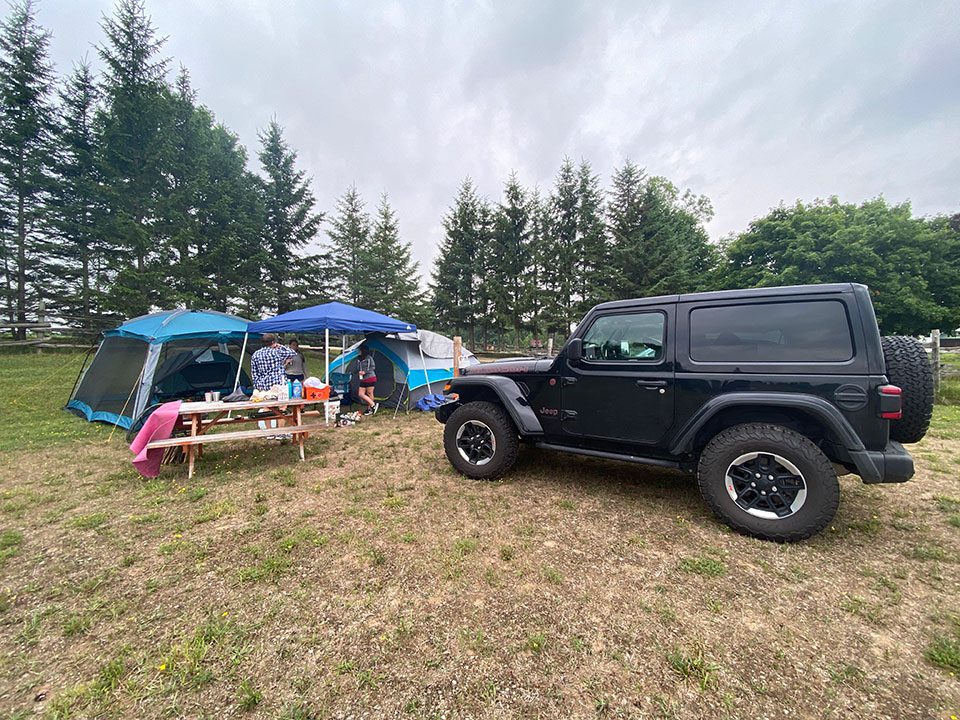 A simple campsite belies an incredible advenutre to be had in Tobermory / Photo credit: Amanda Burgess
New Women's Safety Criteria
Applying insights from our recent JourneyWoman study The Risk and Reward of Travel, we've developed new criteria to evaluate our travel experiences. Our key finding was that there is a lack of trust, so we're on a mission to go beyond website, PR and marketing communications to see who is putting their dollars and effort behind their words.
Safety scorecard in hand, I evaluated our experiences with fresh eyes. Appeal and Reputation still matter, but we also want to look deeper into cleanliness, hygiene, transportation in and out, and access to healthcare systems. Here's how the Bruce Peninsula stepped up to the challenge of travel in a pandemic.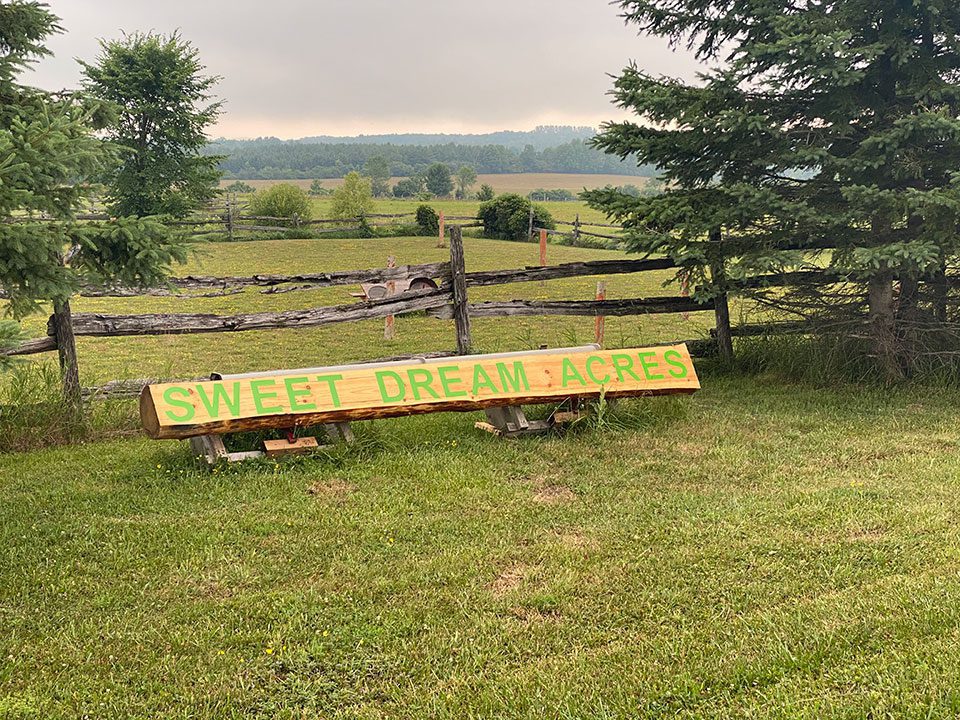 Our sweet little farm, Sweet Dream Acres / Photo credit: Amanda Burgess
Appeal
My friends and I like to have loose plans and leave room for discovery. We'd put The Grotto and Flowerpot Island on our must-see list and generated back-up points of interest to choose from across the three-day itinerary. Everything we placed on the list had extremely high appeal, high activity, and high probability for adventure and exploration.
See the Overall Experience section for a day-by-day rundown of our itinerary.
Reputation
There's a reason Ontarians flock to Tobermory in droves every year. It offers up spectacular views and an outdoors experience many pay a pretty penny to find in other corners of the globe. This one is in our own backyard. And what a beaut.
Safety/Cleanliness
Everywhere we went, safety and cleanliness – standard and COVID-rigorous – was a priority. All parks and attractions were operating at reduced capacity, and had COVID safety measures front and centre on websites and in on-site signage.
The modern, touchless restrooms at the head of trails at Bruce Peninsula National Park were some of the cleanest and best-smelling I've witnessed in North America, with cleaning schedules posted and up to date.
Healthcare
There are small hospitals and emergency care centres a short distance from the farm we stayed on and all of the parks and attractions we visited. We were careful to bring a full emergency kit with us wherever we went. And two of us are St. John Ambulance First Aid & CPR trained.
Transportation
Transportation in and out of Bruce Peninsula attractions and the surrounding areas are quite easy if you're driving your own vehicle. Road trips in this region offer up ever-changing farm and lake vistas and wide country roadways and highways. With music pumping, the open roads – stretching for miles – can tickle your need for speed, but be careful in this area as it is well patrolled by police.
Mobility and Accessibility
There are some flat, easy trails near The Grotto that someone with a cane or mobility aid could manage, and the park offers accessible campsites and washrooms. But the Grotto itself would be quite challenging to navigate.
Flowerpot Island features some well-groomed trails accessible by wheelchair and mobility aid, and the ferry services are also wheelchair accessible.
Grieg's Caves are not accessible for those with mobility issues or other physical challenges. The hiking there requires some physical agility and balance.
The farm we stayed on was a family friend of our friend Eugene, who camped there with us, so we paid an honorarium to the owner to camp there for four nights. We bought groceries and prepared all of our meals on the campsite ourselves, making our meals and accommodations very budget friendly. Our experiences in the national parks and nearby attractions were also quite affordable. The biggest cost, refunded when cancelled was our ferry ride to Flowerpot Island ($169.50 for three people).
Bruce Peninsula National Park & Fathom Five National Park Admission Fee
Daily rate – prices in Canadian dollars:
Adults (ages 18 to 64): $7.90
Seniors (ages 65+): $6.90
Youth (ages 6 to 17): Free
Family/Group: $16
Grotto Parking Fees
• $11.70
Grieg's Caves Entry Fee
• Adults: $10
• Children (ages 3 to 12): $5
• Children (2 and under): Free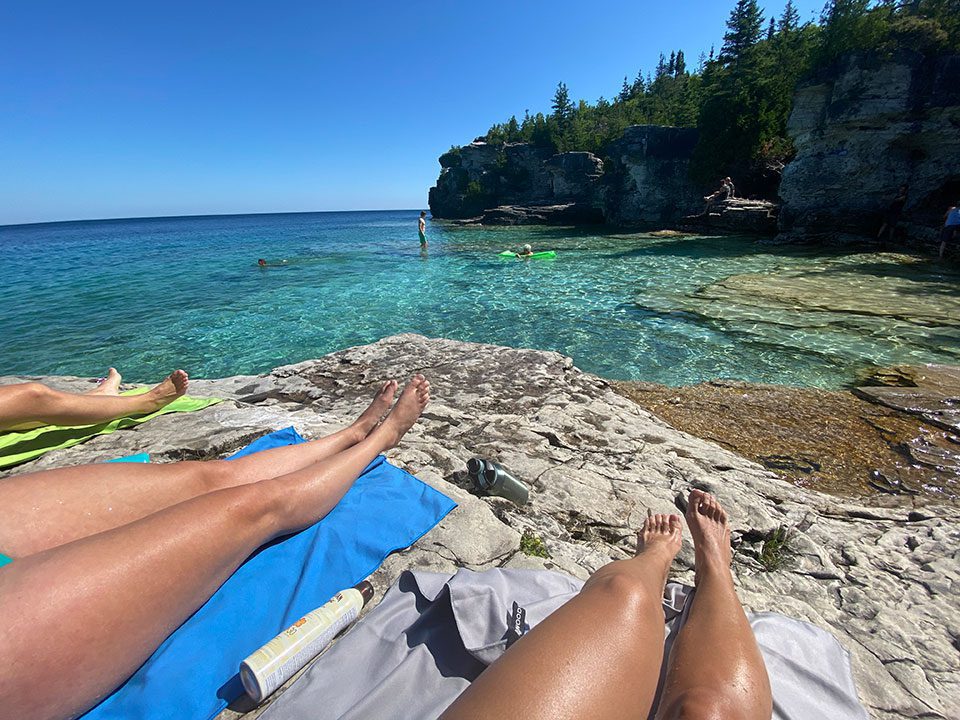 A much needed break by the Grotto to rest tired legs / Photo credit: Amanda Burgess
Overall Experience
Day 1 Itinerary
Drive to Tobermory. Hike to The Grotto. Swim in Georgian Bay's Caribbean blue (and glacier cold) waters, sun ourselves on its outcropping of rocks.
Hike rocky beaches and winding forest paths to ferret out the well-hidden but well-worth-the-effort-to-find Overhanging Point. Eat lunch under its soaring cavernous curves. Perch precariously on its edge. Hike some more.
Drive to Sauble Beach — and remember why I prefer Muskoka lakefront to the Myrtle Beach of Ontario, but have the experience redeemed with the best frozen cocktail I've had in some time at Sola's Grill.
Head back to our farm for sunset, chats with horses, a bbq dinner, and some s'mores.
Bruce Peninsula is a beaut. Experiencing it at reduced capacity in high season was a rare benefit of the COVID era. For much of the day, we were solo on trails, beachfront, and Overhanging Point. We were given unobstructed views and sunbathing rock real estate at The Grotto.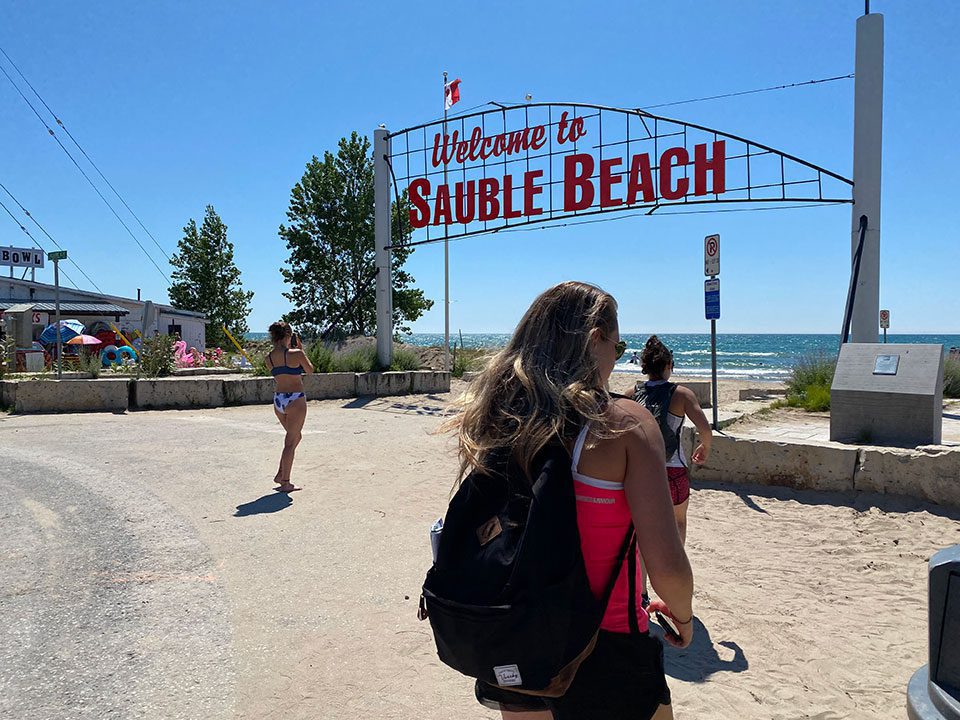 Day 2 Itinerary
We swapped our farmland campsite at Sweet Dreams Acres for the forested wonderland of Freija — a campground and outdoor activities site run by our friend Eugene's family. This would have been our choice to stay at, but it was fully booked when we planned our adventure.
We had the place to ourselves, partaking in the ultra-fun, ultra-competitive, meditative sport of archery. Little known fact about me: I am a pacifist, but put a shooting weapon in my hand, show me a target, and I transform into a marksman. From shooting an AK-47 in the Omo Valley to shooting games in arcades, something in me connects with this particular aspect of hand-eye coordination — though I have zero of that for team sports.
After a slow start as my muscles got used to the 35-pound recurve bow, I started to hit the target. My entire demeanour shifted. I vibrated with the energy of accomplishment.
After that, we explored the surrounding pine forest, cooled ourselves in one of two manmade ponds on the property, enjoyed some fresh streetcorn with the owners, and then headed back to camp for a BBQ and dance party.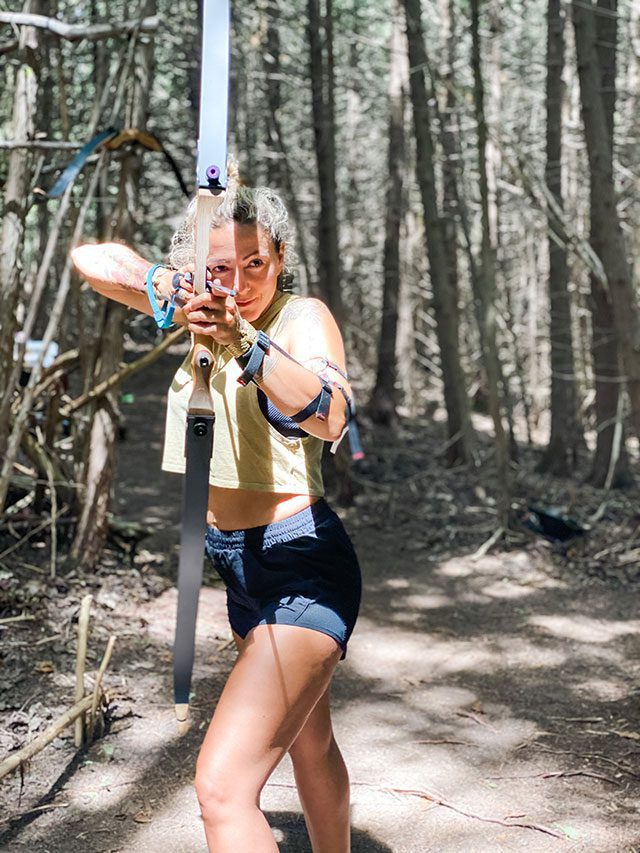 Just call me Katniss / Photo credit: Amanda Burgess
Turns out I'm a better archer than I thought / Photo credit: Amanda Burgess
Day 3 Itinerary
The reason my friends and I like to keep a fluid itinerary? Sometimes, nature serves you rain. You can be disappointed, or dance in it. My friends and I choose to dance.
Day 3 was meant to be our boat trip to Flowerpot Island. Perched at the tip of the Bruce Peninsula, Tobermory seems slightly surreal – it's a charming fishing village, encircled by a welcoming array of boutiques, restaurants and boats. Just outside its harbour, shipwrecks lurk just below the surface of its clear turquoise waters, and the ancient limestone towers of Flowerpot Island in Fathom Five National Park and the Italianesque caves and cliffs of the stunning Grotto in Bruce National Park make you feel like you've travelled to another country. Italy perhaps? Or Scotland?
We'd been warned the night before that our adventure might be cancelled due to rain. But the rainy morning dawned and we hadn't received the call, so we drove the 90 minutes into Tobermory and picked up our tickets. Just as we were about to board the ferry, the skies opened up and unleashed an epic storm, drenching us to the skin. We waited, sopping wet, for the official cancellation that would see our tickets refunded.
Kissing the head of a stone dinosaur / Photo credit: Amanda Burgess
Adaptability is one of my biggest strengths. Change, mishaps, hiccups, missed turns and detours don't faze me — they come with the same territory as travel and adventure. It's all part of the journey. Rigidity leads to disappointment and missed opportunities.
So when our Flowerpot Island adventure got rained out, we had to adjust our day on the fly. Plan B? Nearby Grieg's Caves.
The best part of my friendship with Darra and Amanda is having two people who run at the same speed when it comes to music, travel, fun, adventure, exploration and risk tolerance.
With rain still pelting down, we hiked the area around Grieg's Caves, exploring a lushly forested collection of caves largely reminiscent of a scene from Lost World. I even stumbled upon one rock formation that looked so much like a brachiosaurus dipping its head down into the cave that I couldn't resist giving it a wee nuzzle.
From there, we drove out to Dunks Bay to hike a few sections of The Bruce Trail, sticking to the less populated trails marked as more challenging. We wanted to be as alone as we could for experience and safety considerations. We stayed away from the lookout points, which were well populated and made physical distancing near impossible.
On our drive back to our campsite at Sweet Dreams Acres, we made a pitstop at Ingliss Falls to get a full dose of nature. The 18-metre-high (59 ft) cascade was created by the Syndenham River meeting the edge of the Niagara Escarpment — nerdily fascinating to someone who grew up a three-hour drive away on the other end of the escarpment.
We returned to camp a motley crew of sodden, muddy, bedraggled adventurers, and fell upon our remaining rations like a pack of wolves. Designing a Plan B adventure is both invigorating and exhausting. Never let rain stop you. Dance in it.
If You Go
The Grotto:
Buy your timed parking slot and park pass online ahead of time (they book up quickly).

Cost: $11.70 (per vehicle)

Take the more challenging hike along Georgian Bay to the Grotto if you have the mobility and energy. It's the more scenic of the options.
Bring sunscreen, sunglasses (the white rock beaches are blinding in the sun), a water bottle (there are refillable stations at the head of trails), and insect repellent with DEET. The deer flies are ravenous and relentless.
Flowerpot Island:
Accessible only by boat (2020 season runs July 1 to October 1). Check schedules and rates:
www.blueheronco.com

www.bruceanchorcruises.com

To book a group tour, visit the Visitor Centre in Tobermory
Email (bruce-fathomfive.pc@canada.ca)
Phone: 519-596-2233
Time your visit:

5 hours: See the flowerpots and cave
3 hours: See the flowerpots, cave and light station
4-5 hours: See the flowerpots, cave, picnic, hike the entire loop trail

Camp there:
A quick trip from Toronto, Stratford, Ontario is a welcoming place for a solo getaway for women who enjoy arts and culinary experiences.