Last updated on March 14th, 2022
Photo: Three women-owned businesses coming together to evolve a beloved brand:
JourneyWoman, AUTHENTICA and Spodek & Co.
From left, Carolyn, Amanda, Tom, Eden, Sharon and Dzung (Melissa on phone!)
The Power of an Idea
Ideas can be very powerful. The idea of JourneyWoman, one that started 25 years ago, was ahead of its time. The idea was that we, as women, can support each other in the journey of life, with travel as a unifying experience.
That idea is manifested in Journeywoman. Journeywoman is much more than a website. It's a safe place where women express their hopes and fears, share experiences that shape the world and discover new qualities within themselves.
That idea is what compelled me to continue JourneyWoman. When I started my professional career 30 years ago, I had no female role models. There was no safe place for us. I've now been the CEO of several businesses and have spent most of my last 15 years trying to help women progress. This belief in empowering women is why I trained to become a coach, and participate in several women's mentoring and entrepreneurial communities, including Omniwomen, Dovetail, Move the Dial and SheEO.
Even with my credentials, the opportunity to extend Evelyn's legacy is daunting.  It requires a deep understanding of the qualities that made JourneyWoman so beloved while understanding the ways in which travel, and our world, is changing.  For JourneyWoman to continue its leadership role, we must be relevant. We must be innovative. We must be ahead of everyone else.
Extending a Legacy
In the case of JourneyWoman, my goal is to preserve Evelyn's vision to inspire and empower women.  Along with my passion for travel and empowering women comes a 30-year career in communications, marketing and brand. I've helped to build some of the world's best-known brands, but I'd never done anything like this. This was different. It is highly personal and highly emotional. This was personal.
The odyssey began last August. I wore two hats: One as the CEO of JourneyWoman, and a second as the CEO of my other business, AUTHENTICA, which specializes in strategy, writing and design. I invited Eden Spodek of Spodek & Co to join us as experts in digital communications and website programming. I was so proud to have these dedicated, passionate people with me every step of the way. Evelyn's daughter Erica joined our creative sessions, along with Melissa Fox, who was Evelyn's 'webmistress' for five years. No one knows Evelyn's expectations better than those two! 
Evelyn's family and close friends.  Erica and Leslie were incredibly generous, allowing me to choose items from Evelyn's enormous book collection, photographs and travel memorabilia.
Erica also gave me her mother's iconic red boots, cape, yellow Antarctica jacket, scarves, her beret and many other items. I spent hours at Evelyn's apartment, listening to stories, looking through photographs, books and travel knick knacks.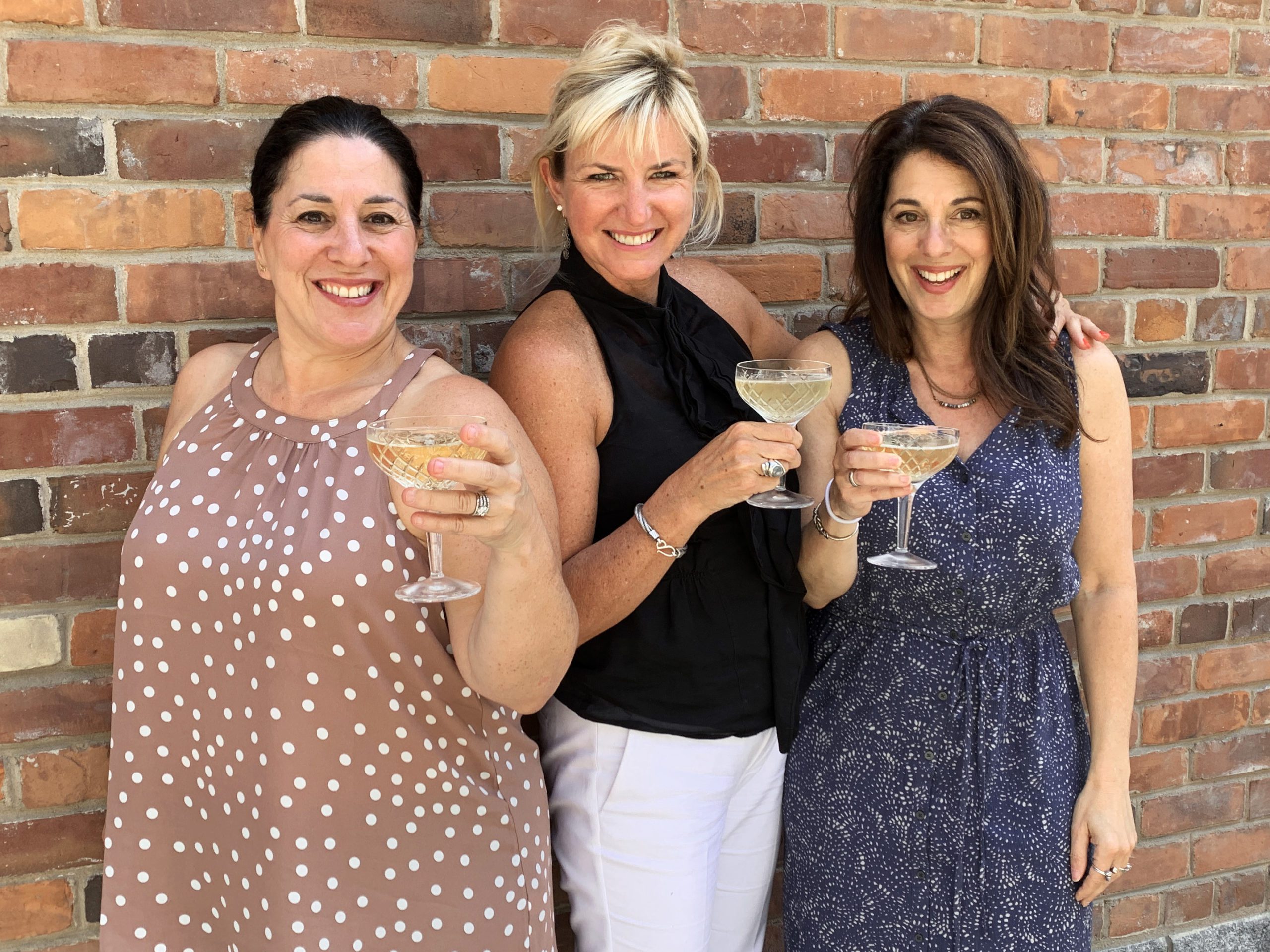 Celebrating the extension of  their mother's legacy: Leslie (L) and Erica Ehm (R),
with Carolyn in July 2019 
I also spent time with two of Evelyn's childhood friends, Marilyn Lightstone and Sunny Holtzman; the three were friends from grade school in Montreal.  I am so appreciative of their overwhelming support and kindness, despite the irreplaceable loss of their lifelong friend.  
Carolyn with Sunny and Marilyn, Evelyn's childhood friends from Montreal
Learning from the JourneyWoman community
I wanted the voices of JourneyWomen to be reflected in absolutely everything. I am forever grateful to you, the vibrant and opinionated JourneyWoman community, for generously sharing your hopes and expectations. In Fall 2019, over 1,500 women completed surveys that helped us understand what was most important to you.
Most women found the website hard to search.  In our survey results, 62% rated the site 'somewhat' to 'not at all appealing'.  You also told us you were hungry for tips, safety, what to wear, cultural etiquette, and that you enjoyed the travel directory. You said that you wanted information organized by destination (77%); that email is the preferred mode of communication, and like Facebook for social media (84%).
It was gratifying to hear how much you trust JourneyWoman, and expect original, authentic content.  Almost a quarter of JourneyWomen purchase products and services mentioned on the website.  I was pleased to see support for a more responsible view on travel. I have truly enjoyed listening to the voices of ardent, passionate JourneyWomen. Your emails, calls, and messages have profoundly influenced the evolution of the JourneyWoman brand.  Thank you!
Other ways I learned: I began my initiation into the travel writer world with the TBEX travel blogger conference in September in Montana. (This gave me an opportunity to revive Evelyn's 'Cutie of the Day'!)  In December, I joined the Society of American Travel Writers (SATW), a professional association of travel writers. I attended the NYT Travel Show in January 2020 to understand the travel trends that would affect women. Little did we know that all those trends, like river cruising, would soon be irrelevant! 
Carolyn with the "Cutie of the Day" at the Travel Bloggers Conference in Montana 
At the 'First-Timers' Session at the Travel Bloggers Conference in Montana in September 2019
At the New York Times Travel Show with Pauline Frommer in January 2020
How we did the design
We began by looking at the symbols of JourneyWoman: the colour red, the boots, the illustrations, the cute graphics. And of course, the editorial: the writing style, the humour, the tips, and all the things that have made JourneyWoman the most respected and trusted solo women's travel website in the world
Evelyn's iconic red boots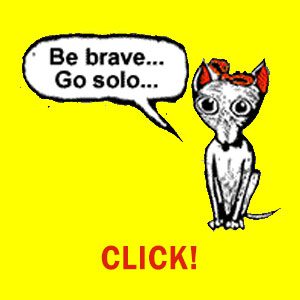 Cute, quirky illustrations 
The Backpack Girl, who stood in as our logo for the past 7 months
From August to November, we explored a broad range of options. We made every attempt to carefully preserved the equity built over 25 years while modernizing the logo, colours and illustrations. We explored a variety of hand-drawn logos and illustrative styles and designed a cute set of graphics to use in social media and on the website.
In October, we began building a brand new website, seeking to improve access to information, readability and usability. The original JourneyWoman website was built in 1997 and had over 3,000 pages. We assigned criteria to identify which pages to keep and archived the rest. Long, but timeless pieces of advice were compiled into a new series of downloadable ebooks. For the website design, we built templates from scratch (as opposed to using the generic ones provided). We tested everything to see how the content would display, particularly on mobile devices. By February 2020, much of the design and content work was completed. March was spent finishing the coding and editing, improving photography and much more.
Early on, I had made a decision not to include advertising on the site (like banner ads). We will find other, more creative ways to cover the cost of this site, without sacrificing the joy of reading the editorial.
I believe we have designed a friendly, approachable brand that Evelyn would be proud of. It takes all of our learnings from the past 7 months and applies the alchemy of graphic design with state-of-the-art website technology to create what I believe is the most stunning women's travel website in the world.
Exploring handwritten -style logos 
Evaluating different 'moods' and textures 
My daughter Alyx actively participated in ideation
Erica with our amazing designer, Dzung
After one of our creative sessions 
Modernizing Iconic JourneyWoman touches
Reflecting on the luggage tag Evelyn had created, I imagined that JourneyWomen might enjoy accessories. We asked you – and you said YES! So we designed a full suite of products, incorporating your feedback along the way. We have several exciting products to help you travel safely and well, Those will be available soon in our Store.    
Photo of Throwback luggage tag: feedback from the community was to remove 'free to fly', which resulted in a 'new' throwback luggage tag. 
What this means to you
The driving motivation for JourneyWoman is simple.  I want to create a place for the JourneyWoman community to thrive.  The new website builds interconnected bridges between types of travel, destinations, tips, and women-only tours in women's travel directory. To learn more about the changes we've made, click here.
In the end, we have moved mountains. Our brand is dynamic. We will continue to adapt, and I continue to invite your comments and suggestions.  
As in all things, I embrace progress, not perfection.  My purpose is to serve you- our community – in ways that honour the past yet usher in the future.  I hope you're as proud of this work as I am.
A very special thank you to our passionate teams, who truly put their hearts into this work: Melissa F., Amanda B. and Tom (JourneyWoman), Amanda C., Dzung, Hien (Authentica), Eden, Sharon, Twilight, Melissa S. (Spodek & Co)., and Erica Ehm and Alyx Ray.