Last updated on February 8th, 2022
How to bring the taste of Mexico home
When it comes to sensory memories, our taste buds hold a treasure trove. They're also time machines. One hint of spice, flavour or memorable dish and we are transported back to places our journeys have taken us faster than the Ghost of Christmas Past whisked Scrooge away.
Infusing a taste of your travels into your meal can shake up and spice up your traditional menu, bringing back memories and the opportunity to create new ones with your guests. To give you some inspiration and practical tips for doing just that, we called in a panel of experts – chefs and a sommelier from Toronto and beyond with diverse backgrounds and cuisine specialties.
Salt Cod Recipe from Jose Hadad
Before Mad Mexican became one of the most recognizable Toronto brands for guacamole, salsa, and chips, founder Jose Hadad cut his teeth in an apprenticeship for German-Canadian celebrity chef Michael Stadtländer at his Eigensinn Farm. While helping Stadtländer create his Heaven on Earth farm-to-table dining experience, Mexico City-born Jose marinated his ambitions and brought his desire for fresh food back to the city when he began selling his own creations at St. Lawrence Market. From there, he opened up a restaurant – Frida – with a partner and eventually decided to invest heavily in his bourgeoning Mad Mexican brand, expanding it to include a flagship taco house and production space.
A taste that transports him to past travels: "Probably achiote, which is a spice made with ground Annato seeds. Brings me straight into Yucatan, where this spice is very popular and there are a bunch of recipes using it. Like Cochinita Pibil, which would be a baby pig, slowly cooked and marinated in achiote, with a spread of refrito beans, cochinita, and habanero pepper salsa. Just like being in heaven, unless you overindulged in the habanero. You get the point."
Jose's tip: Slow down and take your time as you plan and prep your meal
"Food is about sharing in the physical realm, but also in the spiritual. Wish the best to yourself while cooking and listen to the food – she will tell you what she wants to be," he muses.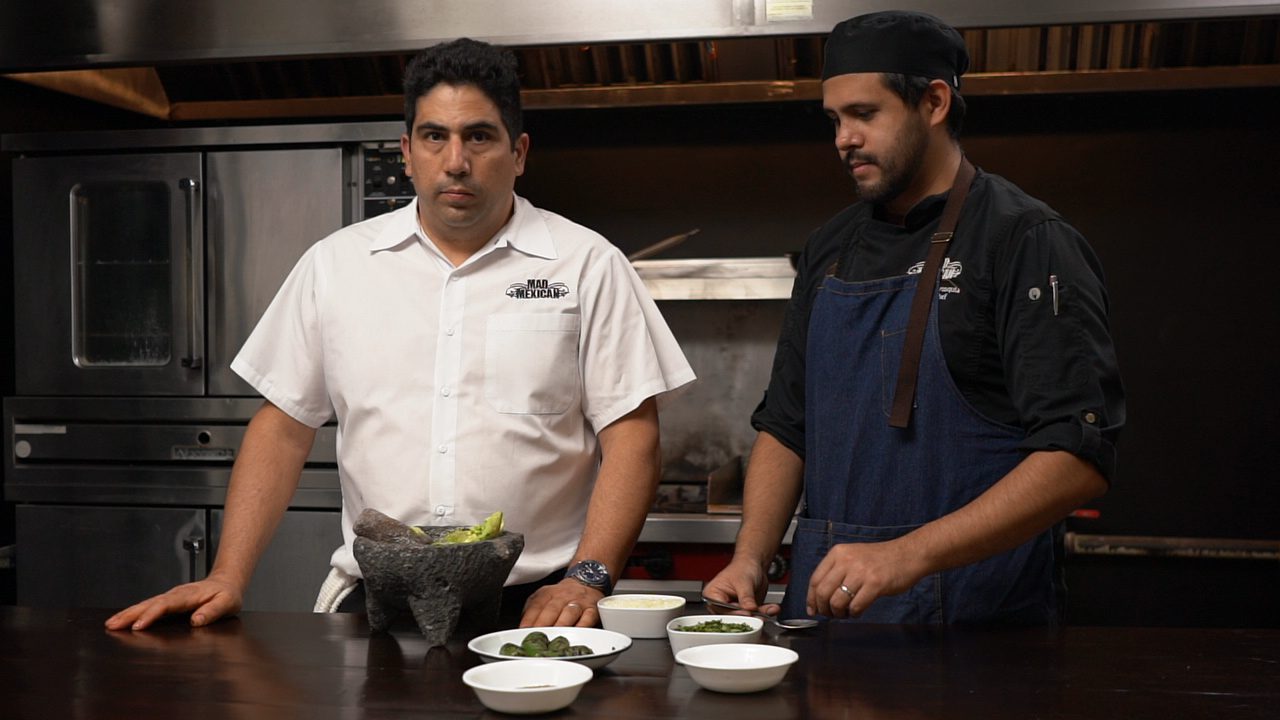 Bacalao a la Vizcaina (Spanish-Style Cod)
Ingredients: Serves 4-6
– 800 grams salt cod, rinsed overnight and covered with fresh water in your fridge for 3 days, broken into small pieces
– 8 cloves garlic, peeled and minced
– 8 potatoes, sliced, peeled, and cut in to 1/2 in squares
– 10 Roma tomatoes, broiled in the oven and peeled and chopped
– 1 onion, finely diced
– 20-30 green olives, pitted
– 1 chili, California or any sweet pepper variety, diced finely
– 1 chili, red pepper, diced finely
– Juice of 1/2 lemon
Directions
Cook onion, garlic and tomato with Olive oil in a pan big enough to hold all the ingredients.
Add cod, potatoes and olives and mix well at medium eat and cook for 30 minutes, covered.
Add the pepper and cook for another 10 minutes and uncover.
Season with salt, pepper and the lemon juice to taste.
Enjoy with fresh crusty bread.
Wine-Pairing Recos from Erin Henderson, Co-Founder, The Wine Sisters & Drink T.O.
Again, we're dealing with another dish full of flavour. Salt cod is fairly dense, so I would want to lighten it up a bit and go for a wine to contrast those deep notes and indulgent texture. Go for a wine that has some nervy acidity – and there's an embarrassment of riches to choose from: Spanish Albariño, French Chablis… but if you follow me on Instagram you know I'm a dry rosé girl. Rosé's lively structure combined with that light fruity note makes it a great partner for so many dishes, especially fish and seafood.
Try: Gérard Bertrand Côtes des Roses Rosé, 2018 Languedoc, France