Last updated on December 2nd, 2021
Foodies dish out memories, tips, and recipes
Wherever you find yourself this holiday season, and whatever holiday you celebrate, you can bring a taste of your travels to your table with some creative thinking, forward planning, and a little inspiration from food and wine professionals.
When it comes to sensory memories, our taste buds hold a treasure trove. They're also time machines. One hint of spice, flavour or memorable dish and we are transported back to places our journeys have taken us faster than the Ghost of Christmas Past whisked Scrooge away.
Infusing a taste of your travels into your holiday meal can shake up and spice up your traditional menu, bringing back memories and the opportunity to create new ones with your guests. To give you some practical tips for doing just that, we called in a panel of experts – chefs and a sommelier from Toronto and beyond with diverse backgrounds and cuisine specialties.
Theresa Albert, Owner, Rosehurst Stratford B&B – Stratford, Ontario
Theresa Albert's special mix of chef training, 10 years in Hotel Management, and experience as a Food TV host and Nutritionist makes her an ideal Innkeeper. She recently moved to Stratford to keep playing with her food – a journey she shares on her new show Breakfast at Rosehurst where viewers can enjoy what her guests sit down to daily at her inn.
A taste that transports her to past travels: The chicken pate she perfected in her kitchen to remind her of various trips to her food mecca of France. "Life has come full circle for me. To be able to live in an agricultural region and town where food is revered and culture (as well as the discussion of it!) is invited reminds me of my recent and ancient roots. I have attempted to create my own little French Village in which to enjoy my days, and one spoonful of this pate brings me right back to that first taste of pate at Grand-mère's table and to each subsequent visit to its homeland of France."
Paula Roy, Host, Paula Roy's Favourite Foods – Ottawa, Ontario
Paula Roy has long been an enthusiastic explorer of faraway lands and cuisines. She enjoys sharing some of her original recipes on her website, Constantly Cooking, and hosts a popular cooking show in Ottawa, Canada: Paula Roy's Favourite Foods. She also serves as the food editor of the leading lifestyle publication in Canada's capital: Ottawa At Home.
A taste that transports her to past travels: "I do return – in my mind and my kitchen – often to Italy, where I attended a cooking school more than two decades ago. I'll be holding a zucchini blossom in my hand, or working some flour, water and eggs into a pasta dough, and I am instantly transported back to that time, which was a real turning point for me as the experience gave me the confidence to pursue professional recipe development as part of my career. Another place that haunts all my senses is India – one whiff of cumin seeds toasting or freshly ground cardamom, and I am right back to the spice markets, kitchens and dining tables I visited during a prolonged trip through that magical country. I love to share international influences in my frequent television appearances, and these segments seem to resonate with viewers who are eager to add some flair to their home cooking."
Nancy Manotas, Owner, Manotas Organics and Fine Foods – Toronto, Ontario
Nancy Manotas is owner of Manotas Organics and Fine Foods in Toronto's St. Lawrence Market. Nancy's passion for authentic Spanish gastronomy and the extraordinary flavours of Latin American ingredients led her to create new recipes based on ancient food traditions from Spain and South America. Her goal is to maintain and revive simple and wholesome foods made with love by their Spanish and Latin American ancestors.
A taste that transports her to past travels: "Marcona almonds! Every time I taste a salty roasted Marcona almond, I think of how delicious the good the food in Spain is."
Doug McNish, Vegan Executive Chef & Consultant – Toronto & International
Doug McNish is a world-class executive vegan chef, consultant, educator, brand spokesperson, speaker, and a committed vegan activist. He is author of the award-winning Eat Raw, Eat Well, 400 Raw, Vegan and Gluten Free Recipes. Founder of Toronto vegan hotspot Mythology, Doug is currently consulting with the Radisson Blu Royal Park Hotel in Stockholm, Sweden – where he will spend the holidays this year – to create a plant-based menu. He also set to a new vegan restaurant in Charleston, South Carolina – Neon Tiger – in 2020.
A taste that transports him to past travels: "I spent a lot of time as a really young boy in the Caribbean with my mom and dad – Antigua and St. Lucia were like a second home to me from the age of three months to four-years-old. Anytime I taste jerk spices, I am transported back to that time of dancing in my mother's arms to reggae music and barbeque!"
Jose Hadad, Founder, Mad Mexican – Toronto
Before Mad Mexican became one of the most recognizable Toronto brands for guacamole, salsa, and chips, founder Jose Hadad cut his teeth in an apprenticeship for German-Canadian celebrity chef Michael Stadtländer at his Eigensinn Farm. While helping Stadtländer create his Heaven on Earth farm-to-table dining experience, Mexico City-born Jose marinated his ambitions and brought his desire for fresh food back to the city when he began selling his own creations at St. Lawrence Market. From there, he opened up a restaurant – Frida – with a partner and eventually decided to invest heavily in his bourgeoning Mad Mexican brand, expanding it to include a flagship taco house and production space.
A taste that transports him to past travels: "Probably achiote, which is a spice made with ground Annato seeds. Brings me straight into Yucatan, where this spice is very popular and there are a bunch of recipes using it. Like Cochinita Pibil, which would be a baby pig, slowly cooked and marinated in achiote, with a spread of refrito beans, cochinita, and habanero pepper salsa. Just like being in heaven, unless you overindulged in the habanero. You get the point."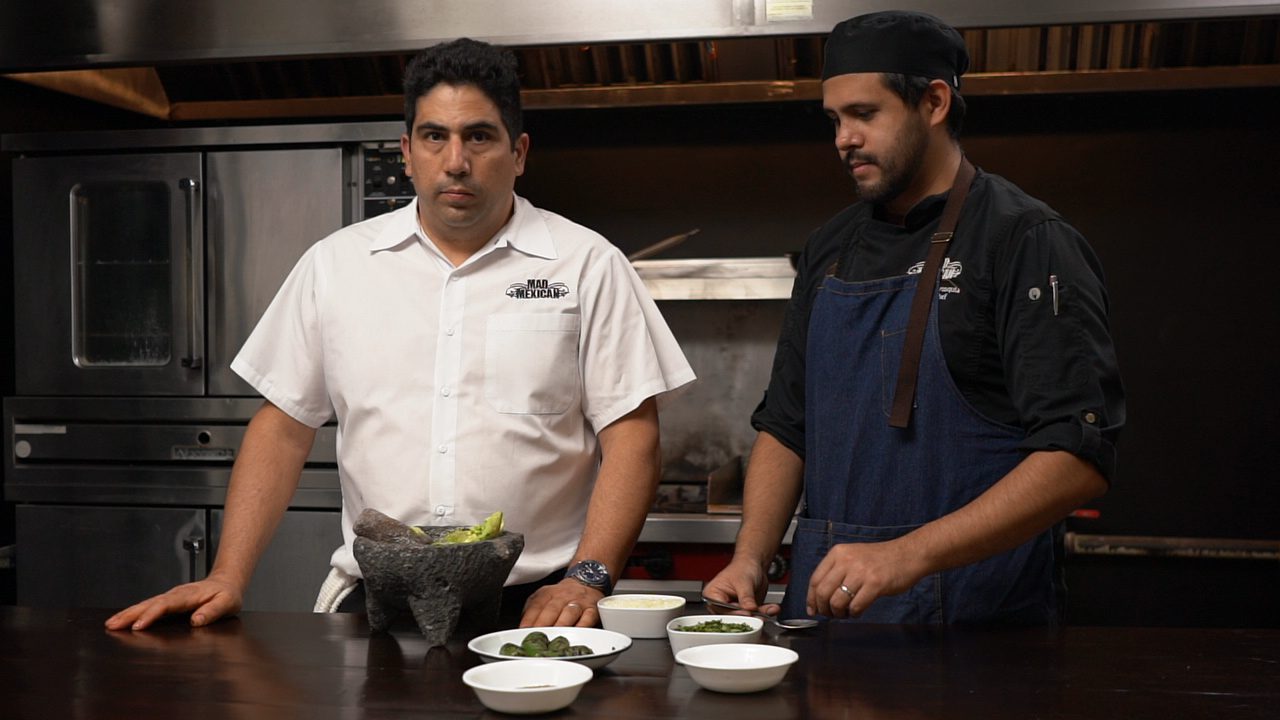 Erin Henderson, Founder of The Wine Sisters and Drink TO
Erin Henderson is a certified sommelier and entrepreneur. She the co-founder of The Wine Sisters and Drink Toronto. Erin is the wine and drinks expert on CTV's The Social and an instructor of wine at George Brown College in Toronto.
A taste that transports her to past travels: If I had to pick just one (no easy feat, I assure you), I would have to say the hot and sweet paprikas of Spain. I smuggled home tons of it last time I was there and add it to as many dishes as possible. But being a sommelier, I have to say that Chianti Classico will have me smiling about my travels in Tuscany and Beaujolais (so misunderstood here!), has me longing for the lush green hills of southern Burgundy.
Holiday Traditions and Memories – At Home, and Around the Globe
The holidays are often the richest source of our sensory memories. It's a time when families come together, slow down, cook and share meals more often. We asked our chefs to share a poignant holiday memory – food-based or other – along with any holiday food traditions from a favoured region or country.
Memories of Quebec (via France) – Theresa Albert
"My happy place is France, preferably Paris during the sparkly holidays. I know my ancestors came from here to Quebec where my mother was raised, so the resonance makes sense, but calling upon this place in my mind enrobes me with warmth from the tongue to the toes," she says. "As a child, visiting family in Quebec was different from my more Anglophone Toronto upbringing. Here, family gathered around food at mid-day – le dejeuner – and there was much laughter and gustatory indulgence. My earliest memories are of playing under the table after the meal with my French-speaking cousins, whom I could barely understand. Language didn't matter – human connection and a full belly did."
Holiday Memories and Traditions – Paula Roy
"My favourite holiday meal memory stems from when I was very young, watching my mother ignite the brandy sauce over the plum pudding, then carry the flaming dessert to the table. I couldn't believe something so daring was happening right before my eyes. I think I was too afraid to taste it then, but I love it now, especially when prepared by my 90-year-old mom," she says. "I come from a home where great importance was always placed on food – not just eating it with gratitude, but also preparing it with care and love. For the holidays, cranberry sauce was made with wild berries we picked ourselves in the early fall. Most of our festive meals included traditional North American fare, but always with some Maritime influences. Treats like Solomon Gundy (pickled herring), raw oysters, and hodgepodge shared the table with tourtiere, turkey, and a dazzling assortment of sides and sweets. In my own home, I have preserved a lot of the food traditions I grew up with. The exception is Christmas Eve, which is the menu I like to tinker with the most. Our new favourite meal, now that our children are adults, is cheese fondue and a robust salad. Lingering over this communal meal seems to help us all slow down and really embrace the spirit of togetherness that the season is meant to encourage. I use a recipe I learned from a Swiss chef many years ago while on vacation in the Alps."
We asked some of our JourneyWoman women's tour partners, who are experts in local cuisine, to share their best culinary travel experiences.
Spanish Holiday Meal Traditions – Nancy Manotas
"In Spain and South America, holiday traditions are fairly similar. There are more corn dishes in Central and South America. We make special rices in the form of tamales or paella style with meats and vegetables," she says. "Sweets are very important and define the holiday in a very special way. Nougat or turrones are made with almonds and a light wafer layer, plus the egg white filling. We enjoy theme with chocolate and hazelnuts. Russian-style potato salad, prepared with homemade mayonnaise, is a must!" Nancy's holiday 2019 meal will be punctuated by roasted almonds with mountain honey to bring a taste of Spain to her table. "We will get excited about the roasted pinenuts and almonds in saffron rice, and we will eat lots of turrones or nougat to remind us how delicious Christmas can be, and how good it is to share the most delicious nougat in the world perfectly made in Spain with all members of our family," she says.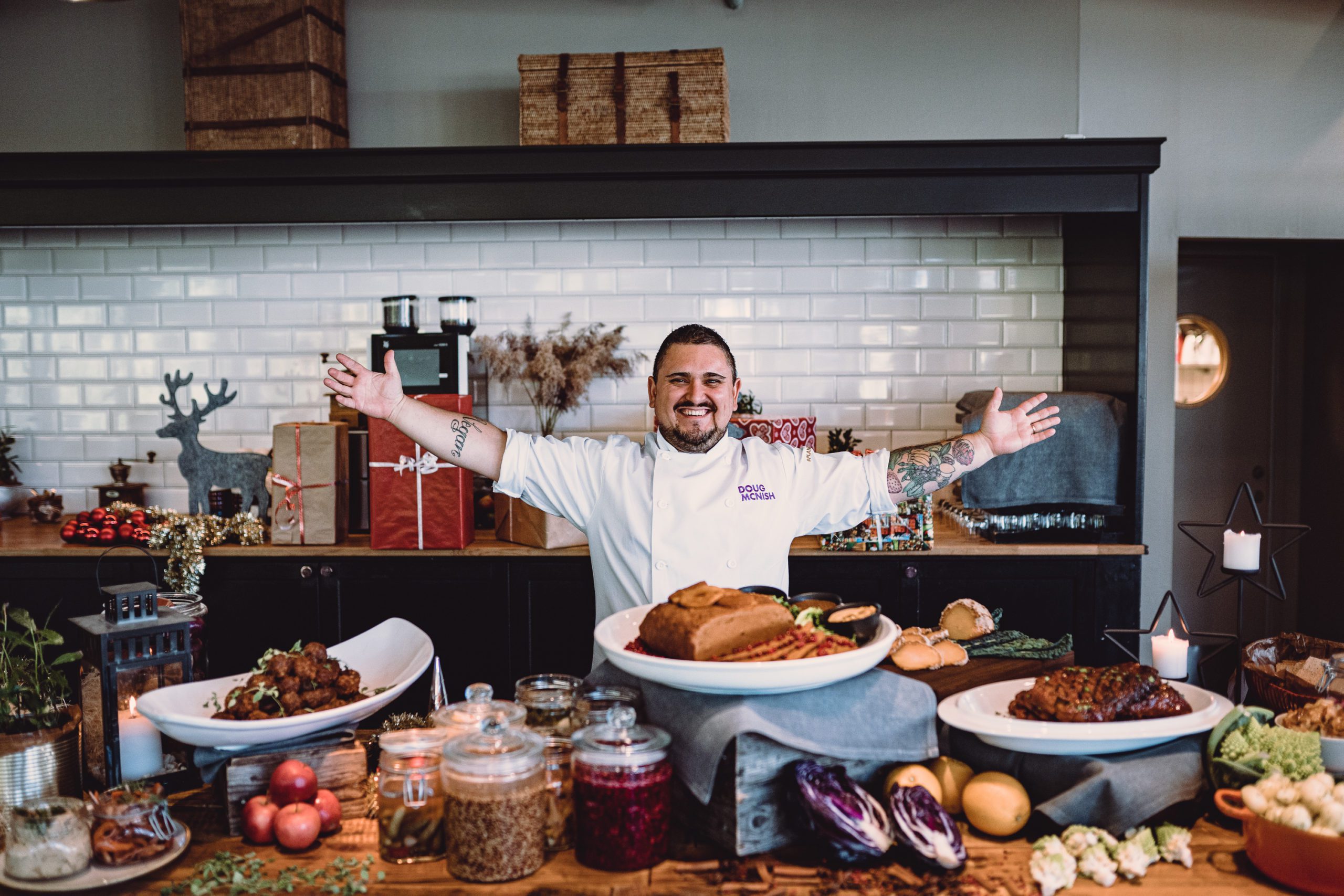 Chef McNish with his vegan Julboard creations for the Radisson Blu Royal Hotel in Stockholm, Sweden.
Swedish Holiday Meal Traditions, Veganized – Doug McNish
"This year, I have been consulting for a hotel in Stockholm, Sweden, and was tasked with helping to create a vegan Julboard – basically the most awesome table full of the most amazing food that Swedish people love to indulge in. I created a veganized Glazed Holiday Ham, Lentil Walnut Meatballs in a traditional Gräddsås sauce, and a rack of Baby Back Hickory Smoked Ribs," he says. "In Sweden, they generally have more pickled and preserved foods, most likely due to climate. Since spending so much time in Sweden, I have definitely looked at other ingredients like lingonberries and other vinegars in a different way. For example, I love the use of more acids and vinegars here." Doug will be in Sweden this year for the holidays and is looking forward to digging into some of his own creations – vegan ribs, meatballs, ham, creamed kale, and potatoes au gratin – and bringing some of the flavours and textures of the country to his cuisine in North America and abroad.
Holiday Meals & Memories of Mexico – Jose Hadad
"My mother was from the Northern part of Mexico, so I was raised with very North American-style traditions – turkey, cranberries, mashed potatoes, and gravy. There were some Latin-style dishes that accompanied the meal, like Salt Cod Portuguese-style and some others," he says. "I have recreated some of the recipes in restaurants that I have owned, mainly following my gut." When asked to recall his favourite holiday memory, his choice is less about food and more about family unity. "My favourite had to do with my brother. We did not have a stellar relationship throughout the year, but when we were about 17, we indulged in some Mexican spirits, had a beautiful chat and ended up hanging out until the early morning, talking about everything," he recalls. "Looking back, we were so young, knew nothing about life, but respected ourselves and each other." His holiday menu at home this year is decidedly less Mexican – A roast or turkey, potatoes, gravy, medium-cooked Brie with a fig compote, and lots of red wine and family.
Tips, advice & recipes to bring a taste of trips past to your table this holiday
We aim to bring you inspiration and information with utility in equal measure here at Journeywoman, so we asked our chefs to share some tips and a favoured global holiday recipe as a gift to you, along with a champagne feature from sommelier Erin Henderson and her wine pairing recommendations for each chef recipe. We hope the following bits of advice and mouth-watering recipes spark your imagination and ensnare your senses. And if you try your hand at any of them, send us a photo and your verdict at editor@journeywoman.com!
A Taste of Spain with Nancy Manotas – To Come!
Happiest of holidays from the Journeywoman Editorial Team to each and every one of you, our fellow Journeywoman. You make this community the rich, engaging, and inclusive resource it has always been. Becoming part of it has been the most unexpected and enriching gift for each of us. Our wish for you is that 2020 takes you more transformative places – in your travels or in your life's journey – than any year before it.
Discover More Food and Drinks From Around the World
Enjoy all the fresh cuisine you can in Oaxaca, Mexico — from street food to upscale rooftop restaurants, you'll love every bite.
We asked some of our JourneyWoman women's tour partners, who are experts in local cuisine, to share their best culinary travel experiences.
The scents, the flavours, the textures of food are all time capsules that evoke memories of travel and spirit us away to another time and place