Last updated on August 18th, 2022
Memories of places we've been and love
By Amanda Burgess, Contributor
All around the world, us travellers have been largely grounded for the past eight months. When travel is your greatest joy, its absence can feel heavy. That's when we need to get creative. To find ways to travel through our memories and recreate the emotions our trips evoked.
Since our strongest memories are sensory, one of the best ways to tap into them is by creating dishes from countries we've visited. The scents, the flavours, the textures – they're all time capsules that can spirit us away to another time and place. We asked JourneyWomen to share recipes and memories from past travels so that we can all create some new culinary memories in dishes inspired by faraway places.
Flavours of Italy – Marillee's Sorrento-Inspired Tiramisu
Marillee C. is a fan of slow travel – immersing herself in a place and its rhythms so she feels part of it. She once spent a full week at cooking school La Cucina del Gusto by Chef Carmen in Sorrento, Italy with two friends, where she learned to make famed Italian dessert tiramisu and a bevy of other dishes.
"I've never laughed so hard or had so much fun! Chef Carmen was a hoot," she says. "Eating tiramisu brings me right back to that exquisite Italian villa on the outskirts of Sorrento, the fun we had in the kitchen with Carmen, drinking Prosecco, and laughing – as well as the beautiful coastal drives and adventures we had on the Amalfi Coast. I will be returning for another round one day."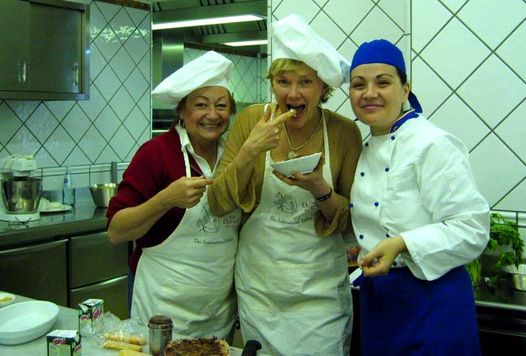 Marillee (centre) taste-testing with Chef Carmen in Sorrento, Italy / Photo provided by Marillee C.
MARILLEE'S SORRENTO-INSPIRED TIRIMISU
Ingredients
2 ladyfinger cookies per person
1 egg
1 tbsp of white sugar
½ tbsp Amaretto, Disaronno or Kalua
1/3 cup of whipped cream
1 heaping tbsp of mascarpone cheese
¼ cup of espresso coffee
1 tbsp cocoa sprinkled on top of tiramisu
2 tbsp dark chocolate sprinkled on top of tiramisu
Preparation
Beat sugar and egg until white and fluffy. Then add marscapone cheese.
In a clean bowl, whip the cream and fold it gently into the sugar, egg and mascarpone mixture until smooth.
Meanwhile, prepare approx. six (6) small cups of espresso coffee and put it in a bowl to cool.
Soak the ladyfingers in the coffee and layer them in a rectangular glass bowl. Add a layer of cream, then grated dark chocolate, and sprinkle cocoa on top. Repeat to give a second layer if you like a larger portion.
Chill the tiramisu in the fridge for about 20 minutes. Can be saved for up to two (2) days refrigerated.
Marillee hamming it up at La Cucina del Gusto / Photo provided by Marillee C
Flavours of France – Brenda M.'s Paris-inspired Beef Tartare
In years of living in and visiting France, Brenda M. frequented Comme A Savonnieres – a restaurant in the 6th arrondissement of Paris – often for their beef tartare.
"If you look very closely, I've red-circled the beef tartare on the menu board in this photo. I made it recently using a piece of filet mignon that I got at Cumbrae's in Toronto," she says. "My recipe is different than most as I just go for a simple few ingredients and make it to taste. There are as many different recipes as there are different takes by various chefs in restaurants around the world."
The secret to Brenda's take? She grows her own garlic, and that's what shines in her recipe. She purées it on the back of her knife with salt, abrading against the chopping block used to cut up the steak into small cubes, with capers and egg yolk to hold it together. She serves it on a baguette with lots of cultured butter and a glass of wine. So very French!
(Above) The Parisien restaurant that was inspiration for Brenda's beef tartare; (Right) Brenda's Beef Tartare / Photos provided by Brenda M.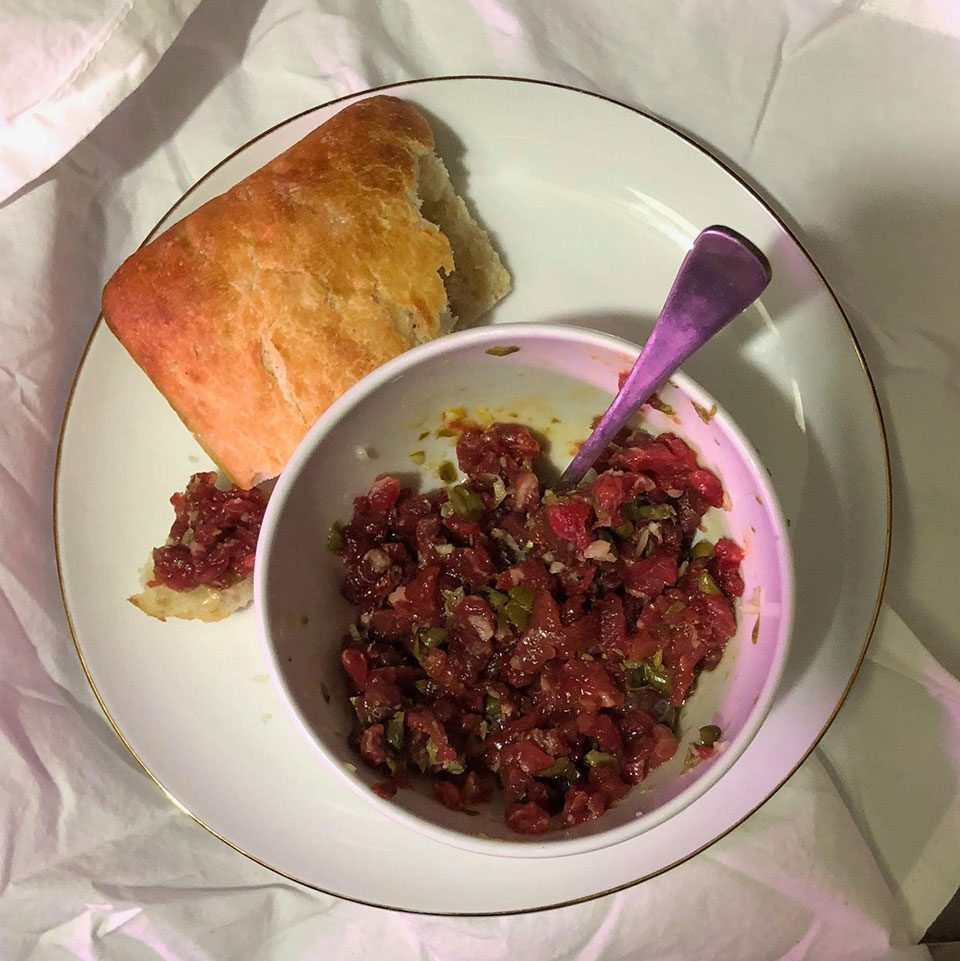 Brenda's PARIS-INSPIRED Beef Tartare
Ingredients
8 – 10 oz organic filet mignon
1 large egg yolk
2 tbsp small, brined capers, drained, rinsed and chopped
1 large garlic clove, minced
Salt and pepper to taste
Preparation
Cut the steak into 1-inch cubes and place in the freezer for 10 minutes.
Whisk the egg yolk in a small bowl. Then whisk in the garlic, capers, salt, and pepper.
Hand chop the meat to your desired texture. With clean hands, quickly fold the meat and dressing together.
Serve with fresh baguette, cultured butter, full-bodied red wine, and a salad. A good bite of 70%+ dark chocolate to end the meal will settle your appetite after the explosion of flavours.
Flavours of Israel – Marion B.'s Bubbi-Inspired Cherry-Pistachio Rugelach
Marion B., whose family is Jewish on both sides, has travelled to Israel three times. On one of those trips, a bubbi in her 80s taught her how to make rugelach – a sweet and flaky Jewish pastry.
"I was on a kibbutz when I met this old woman. She told me she was a great-grandmother to everyone. I felt warm all over when she told me that I was one of her children too," says Marion. "It was the first time I had met Judih, and it felt lovely to belong to her clan! She taught me how to make challah bread too, which I still make 25 years later. My family love it."
Marion B.'s Cherry-Pistachio Rugelach
MARION'S BUBBI-INSPIRED Cherry-Pistachio Rugelach
Ingredients
8 oz cream cheese room temperature
1/2 lb unsalted butter at room temperature
1/4 cup sugar
1/4 tsp salt
1 tsp vanilla extract
2 cups all-purpose flour sifted
Filling
1/4 c brown sugar
6 tbsp sugar
1 cup pistachios chopped finely in food processor
1/2 cup black cherry preserves quickly pulsed in food processor (no lumps)
1 tsp cinnamon
Freshly grated nutmeg
Orange zest
1/4 cup cinnamon sugar (mix together sugar + cinnamon)
Egg for egg wash
 Instructions
Cream butter and cream cheese in stand mixer with a paddle attachment until creamy. Add sugar, salt and vanilla. Mix well.
Add flour and mix until just combined. Dump the dough onto a well-floured surface and roll into a ball. Cut the ball into quarters and wrap each quarter in plastic wrap. Refrigerate for at least 30 minutes or in the freezer for 15 minutes.
For the filling: In one bowl, mix together the brown sugar, granulated sugar, cinnamon, nutmeg and pistachios. In another bowl, stir together the black cherry preserves and orange zest.
Take one dough-ball out of fridge (leaving others chilled until ready to use) and on a well-floured surface, roll it out using a floured rolling pin. Roll it out to about nine (9) inches in diameter. NOTE: It will feel somewhat hard/stiff in the very beginning, but this is such a beautiful soft dough. Once you start working it, it gets easier.
If you have a round cheesecake pan or any 9-10 inch pan, use that as a guide to cut a perfect circle for your rolled out dough and save the excess cut-outs to use again.
Take two (2) tbsp of preserves and spread a thin layer on the dough. Less is more in this case.
Now take 1/4 cup of the pistachio mixture and spread it evenly on the preserves, lightly pressing down.
Using a very sharp knife or even a pizza cutter, but the dough in half, then in quarters. Then cut the quarters in half.
Now here's where to be gentle and take your time! Take one of the wedges and roll from the outside-in.
Once all of them are rolled up, place them on cookie sheet end-side down, and then brush with egg wash and sprinkle with cinnamon sugar.
Bake at 350 degrees Fahrenheit for about 15-18 minutes until lightly golden brown.
Flavours of Laos – Hope P.'s Laap Gai
When Hope P. was travelling around South East Asia – where she'd eventually settle in Laos and open a restaurant and bar called Hope's Oasis – it was love at first laap for her. Laap Gai is a traditional Laotion chopped chicken salad best eaten, in her opinion, with a fistful of warm sticky rice.
"As I munched on this local favourite, I knew it would be a mainstay in my archives. Everything about it was right. I've made variations over the years. I've shared it with friends. It never fails to shuttle my mouth and heart back to Laos," she says. "Laap Gai translates to chopped chicken in the Lao language. Like all Lao food, it's not precious. It's actually a bit messy looking. Perhaps that's one of the things I like most about it. I prefer to mash up the ingredients with my hands like I watched my Laos friends do in their dark, smoky kitchens. Lao people eat laap made with chicken, duck, pork and even congealed duck or pigs' blood as an everyday meal with sticky rice and steamed vegetables. They also throw it into the banquet mix at weddings and village celebrations along with an enormous amount of Laos Laos — fermented rice wine — to slug it back with."
Hope in Laos in 2000, where she opened a bar and restaurant with her boyfriend called Hope's Oasis / Photo provided by Hope
This recipe is easy to prepare once you have the ingredients on hand and keeps well for a couple days in the fridge. It makes for a perfect light lunch with lettuce/cabbage cups, or even for a hearty breakfast.
There's no oil in the preparation as the chicken is literally cooked in lime juice. This does wonders for pumping up the flavour and nutrition content. There's a subtle crunch from the toasted sticky rice powder that gives it the tiniest hint of BBQ and punchy kick of chili that follows the first bite.
Ingredients
500g ground chicken
Juice of 1 lime
3 tbsp fish sauce
3 tbsp Khao Khua (toasted sticky rice powder – see notes on the right)
1 Thai bird chili, minced
1/4 cup of fresh mint, chopped finely
2 scallions, chopped finely
2 shallots, chopped finely
Toppings (optional)
Fresh mint
Cut lime wedges
Instructions
Cook the ground chicken in the juice of 1 lime in a heavy-bottomed pan (or whatever frying pan you own) until the pinkness disappears and it is completely cooked through and little juice.
Pour the cooked chicken into a mixing bowl and add the fish sauce, toasted rice powder, chopped chilli, shallots, scallions and fresh herbs. Mix well to incorporate the flavours.
TASTE. Do you like it more lemony? Do you like it really spicy? Do you prefer more mint? Add more of what you prefer or leave it as is.
Serve the salad with wedges of fresh lime, more chopped mint and a side plate of crunchy cucumbers, iceberg or bibb lettuce cups or my absolutely favourite vehicle for any food (especially Laos food) — sticky rice.
Mama Hopey Notes:

Khao Khua – the roasted rice powder used to make laap taste like it's been barbecued. You can buy it at an Asian grocery store, but I make it and keep a jar stored for preparing laap. To make it: Take a wok or cast-iron pan and roast 2 cups of raw sticky rice on medium-high with a few lime leaves jumbled in for extra flavour. Keep shaking the pan until all the surfaces of the rice grains get browned. Take off the heat and pound into a fine powder in a mortar and pestle or spice grinder.
Sticky Rice – glutinous rice. You can buy it in any grocery store or Asian market. It's often labelled as sweet, fancy rice. And it sure is fancy. To make it: Soak the amount of rice you want to eat (I usually do about 4 cups for my family) in a deep bowl and cover with water for anywhere from 4-12 hours. Then steam it in a sticky rice basket (see picture below) over a pot of gently boiling water for about 30 mins, covered with a saucepan lid. You can buy the sticky rice basket in your local Asian supermarket.
Plan Your Trip
Get started with resources recommended by the JourneyWoman community
Book Your Flights
Use tools like Expedia or Google Flights to look up the best flight prices. Being flexible with dates can save you even more money.
Find Somewhere to Stay
Find a hotel on Expedia and earn points towards free stays. Hotels.com offers a free night stay for every 10 nights booked.
Looking for an apartment or something more long-term? Check out VRBO.
Insure Your Trip
Travel insurance is more important than ever. Compare plans and policies for the best coverage for your trip using Insure My Trip.
Traveling for an extended amount of time? SafetyWing offers ongoing coverage on a month-to-month basis, and World Nomads offers coverage for extended trips.
Looking for a Tour?
Head to the Women's Travel Directory to find a woman-friendly tour around the world.
Travel Extras
Why not brush up on a new language before your trip with Babbel.
Don't forget your JourneyWoman branded accessories while you're on the go!
Let These Tasty Stories Take You on a Journey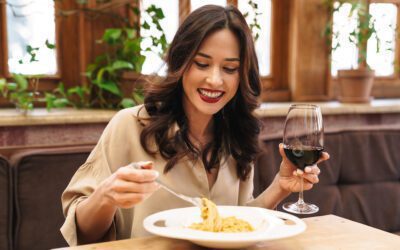 From Austria to Zanzibar, JourneyWoman readers share their favourite food experiences discovered while travelling.
read more