Last updated on April 23rd, 2022
Featured image: Airports in Europe don't look like this anymore!
Why adaptability and generosity are core requirements for all travellers
I felt fortunate and privileged to travel to Spain this month for a Once-in-a-Lifetime experience walking the Camino de Santiago. This was my first international trip in almost two years; my last, in March 2019 to Cuba, was on the eve of the pandemic.
Even though I had flown within Canada, I felt some anxiety about flying overseas. Did I have the right travel documents? Would my pre-trip test results come in time (and be accepted) by Spain? Would there be barriers to entry in Spain? Would I be able to get home? What if I got sick while was there?
There are a lot of benefits to travelling now – fewer crowds, vacant seats on airlines, and quiet hotels. An important consideration for me was that Spain has high vaccination rates: a total of 79.3% of people in the country have had at least one dose of a Covid-19 vaccine – the equivalent of 90% of the vaccinable population.  For me, it was definitely worth it to pursue a Once-in-a-Lifetime Experience like the Camino. Every moment was meticulously planned, letting me enjoy the experience and not worry about details like accommodations or even meals.
While travel has changed, my anxiety was mostly unwarranted. If you choose to travel right now – and it's very much a personal decision, have your eyes wide open, be adaptive and share your observations with others so that we can all learn together. In a world of ever-changing travel requirements, this is about being ready for the unexpected, as I found out. Please visit our TravelReady Centre to check the latest on travel and search vaccination and hospitalization rates by country, use Our World in Data.
My Top Five Learnings
1. Use a travel agent for international flights
When I was invited on this trip by Wild Women Expeditions, I evaluated the pros and cons of booking my own flight. I could definitely do it using my own points, but in the end, I decided to use Wild Women's travel agency, Flight Centre. I'm glad I did, because my original flight home was cancelled while I was out walking the Camino, without access to cellular service.
By the time I checked my email that evening, Flight Centre had found new flight options for me and provided updated travel requirements through Sherpa, a free website that lets you see what's required when you travel through multiple countries, depending on what passport you hold and your vaccination status. This let me enjoy my walk, having confidence that new arrangements were being made.
My original flight had a brief stopover in Zurich, and my new route went via Frankfurt and now included an unplanned overnight stay. Expect to have more stops when you travel; most of the women I travelled with had 3-4 stops getting from Spain to the US. I felt lucky with only one stop.
2. Testing – just do it
Spain didn't require a PCR test, but I did one anyways. I wanted to be sure, before I left, that I didn't bring COVID to another country.  In Canada, I got my test at a Shopper's Drug Mart for about $220 and had the results in less than 24 hours. Going forward, I plan to get a rapid test or do a home test before I travel, just to have peace of mind.
I was routed through Frankfurt, which was incredibly busy (just as I remember). When I arrived in Spain, I had to show a QR code. Spain has a health control process that you need to fill out before you leave, providing documentation that you are vaccinated. This generates a QR code that you show at the airport when you arrive, making entry quite seamless. Many people had not filled out their forms and did it upon arrival.
If you are travelling, I recommend you bring your own rapid tests or make sure your tour operator has some. If you happen to develop a cold or cough while on your tour, you will want to know your results right away.
When you are leaving a country, make sure you can get your test results within the right period of time. In Spain, for example, the PCR testing centres are closed on weekends. I had planned to get a COVID test on Friday, but when my flight was rescheduled from Sunday to Monday, I only just slipped in under the 72-hour requirement. Some airlines will let you do at-home testing kits, but most require third-party proof. Our guide did a tremendous job finding testing options for us (5 Americans and one Canadian), all with varying flight schedules.
Check local testing centers before you book travel or tours; it might be best to travel on a weekday or later in the week if you can, so that you meet the window for testing prior to departure.
Tip: For PCR testing in Santiago, try: https://www.quironsalud.es/en
Take a peek into my backpack with my Camino de Santiago packing list, filled with everything you need to get ready for your pilgrimage.
3. Travel Insurance – buy more than you need
When my flight home was cancelled, I was rerouted through Germany for a night. Flight Centre recommended I extend my insurance to cover the trip interruption and get reimbursed for the hotel (which wasn't small change).
I discovered you can't do insurance extensions online – the insurance company, in my case, Manulife, wants to talk to you live and confirm that your medical status hasn't changed. Going forward I will always add a few days when I purchase travel insurance, along with a COVID rider which many companies are now offering.
That said, I also recommend that you have a Plan B in case you do get a positive test result. If you had to stay in a place for two weeks, how would you handle it? Do you have resources on the ground? Healthcare support? There are still many risks to travel and not all of them are predictable.
TIP: I brought two printed copies of everything – travel insurance, test results, and proof of vaccination – just in case.
4. Wear Your Mask
In Canada and the US, masks are something of a fashion statement. In Spain and Germany, my observation was that most people are wearing medical masks or N95s. I noticed most Spaniards wear masks all the time, even in small towns. They seem to understand that the collective health of all us is more important than one of us.
I didn't see any fabric masks – it is all business. Most manufacturers recommend masks only be worn 3-4 hours at a time. Buy a box of masks and bring a few with you. I started with white N95s and will now purchase black going forward, as the white ones get dirty quickly. (And if you drop your mask on the ground pick it up, please!)
5. Be flexible and generous
If you choose to travel right now, know that in addition to it being a privilege, it is also a responsibility. We, as travellers, need to be flexible and adaptive. Regulations are changing almost on a daily basis, so be prepared in every way possible. Don't expect everyone to know all the answers. Do your research and share what you learn in our Forum or private Facebook group.
Restaurants, hotels and bars you might have visited in the past are closed; many may not re-open. Those that are open have reduced staff, and limited capacity. Tip generously; while we have suffered not travelling, so too have these businesses that are trying eagerly to reopen. Everyone is doing the best they can to serve the traveller, but we're all learning together.
What questions and concerns do you have about international travel? I'd love to hear them. 
I'll writing more about the Camino de Santiago as soon as I get over my jet lag! Stay tuned!
Get Inspired With Even More on the Camino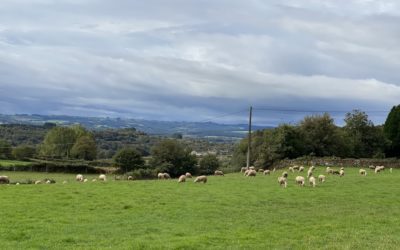 Even the world's most famous pilgrimage, Spain's Camino de Santiago, has some surprises for experienced walker JourneyWoman Publisher Carolyn Ray.
Take a peek into my backpack with my Camino de Santiago packing list, filled with everything you need to get ready for your pilgrimage.
When the Camino de Santiago in Spain calls, women follow their hearts to make this one of our top once-in-a-lifetime solo travel experiences.