Last updated on May 15th, 2023
Featured image: Responsible tourism can have a huge impact on the lives of local people you visit | Photo by astakhovyaroslav on Envato
My Journey Into Conscious Travel on an African Safari
By Diana Eden, Contributor, Women over 80
Travel is not just about motoring around a foreign land; it is the immersive experience that truly changes us when we are open and willing to look below the surface.
This summer, I went to Africa to see the wild animals. Lions, elephants, and giraffes out in their territory. In truth, I was only thinking about how I could realize the experience I had dreamed of for so long. A 'bucket list' trip, if you will, though I like that expression less and less the closer I come to…..well, the bucket! But at 82, I thought I deserved a trip that would deliver significant rewards.
The rewards turned out to be not only the extraordinary wildlife, but the ambitious women of Africa. While on my tour, I met four remarkable women whose lives have been transformed by tourism. I was gently nudged into a more conscious travel experience and relished the opportunity to interact with another part of the world and its human inhabitants.
When I arrived with the tour group in Zimbabwe, I knew nothing about the place. I was now exposed to a large country with massive unemployment and where many who live in the rural villages see little hope of change and even less a secure old age. I knew nothing of the hardships of the coal mining industry, much of it owned by the Chinese, nor that most of the population just live by subsistence farming.
Four ambitious African women leading the way for others
1. Samantha Johnson Lunga, Trip Experience Leader
Samantha Johnson Lunga led my "Ultimate Africa" tour with Overseas Adventure Travel, or OAT. A leader in the small group experience, with a generous attitude towards solo travelers, OAT's philosophy is that visitors should experience things, not just see them.
Samantha was our `OAT "Trip Experience Leader" or TEL. Into that little acronym is packed 24-hours-a-day responsibilities for 13 travelers, which include seamlessly facilitating the several borders we crossed, checking the Covid Vaccine cards and passports, coordinating the busses that were to meet us, not leaving anyone behind, counting luggage and being in touch with the pilots of our small bush planes.
Samantha Johnson Lunga of Overseas Adventure Travel
Samantha's life did not start easy. A mixed-race child born to a Cape Malaysian mother and a Mozambique father during apartheid, she escaped with her parents from South Africa to Botswana.
Her mother, a strong woman, insisted on her going to a school for white children where she knew Samantha would get an excellent education. Samantha knew she did not want to be a doctor or lawyer as her mother had hoped, but she wanted to go into tourism. A job at a Greek deli gave her money to study at night, and her first job was with The United Touring Company. Before long, Abercrombie and Kent hired her, where she stayed for 15 years. Needing a change, she accepted a job with OAT, where she has been ever since.
 Samantha's abundant love of her country inspires her to share her culture with the visitors and share the visitors with the local people. The "Ultimate Africa" tour I was on included a visit to a local village where we bought food at the small grocery stores to bring to the family that was going to host us and show us some of their daily activities. 
Also important to her was our visit to the Lukhosi School, where we witnessed how badly needed are desks, computers, and equipment. We also experienced how charming and eager the young students are. We were seated with them, one tourist to a table with two or three students, just to talk and exchange questions about each other's lives. My little group's ambitions included a doctor, a teacher, and a lawyer, and one can only hope their dreams can come true.
 We all donated gifts and money to her non-profit. One of Samantha's previous groups was so affected by their school visit that they set up a fund in her name for donations. Money can still be donated to that fund through OAT. 
Students at Lukhosi School, Mozambique / Photo by Diana Eden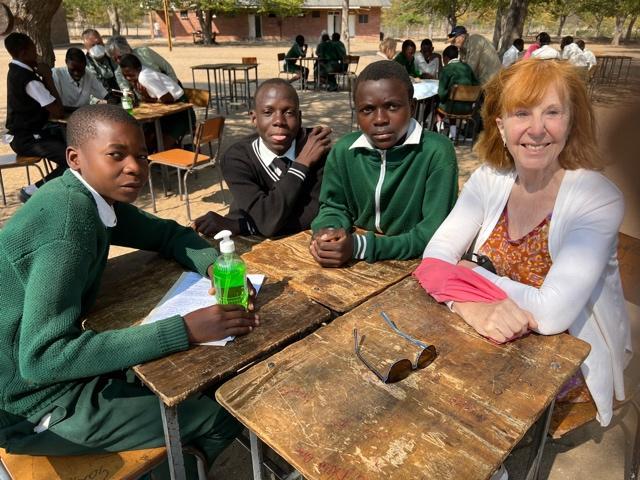 Diana with students at the Lukhosi School / Photo by Diana Eden
2. Gao Lathe Makgasane, General Manager, Wilderness Safaris
Gao Lathe Makgasane was born in a small village called Sethophe on the east side of Botswana, the middle of three daughters. After graduating from school, her dream of being a farmer, and keeping her own goats, sheep, and cattle, was thwarted by the lack of resources available to a young girl at the time.
However, she joined Wilderness Safaris in 2016, beating out many others in competition for a Housekeeping Manager job, and has already risen to the level of General Manager. Her ambition is to one day become a Wilderness director.
Like many working women in the camps, she is separated from her family while in the bush for 3 months. She relies on her mother to take care of her 15-year-old son. She hopes for him to become a conservationist to protect the natural resources in Africa for future generations. Gao's smile is infectious, and I can easily see her achieving any and all of her goals.
Gao Lathe Makgasane of Wilderness Safaris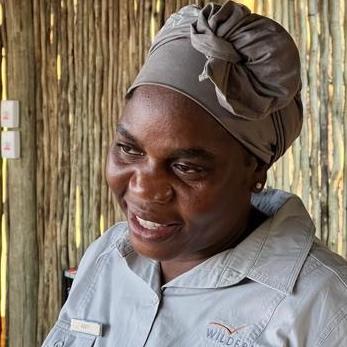 Ada Shepiadah of Wilderness Safaris
3. Ada Shepiadah, Camp Maintenance, Wilderness Safaris
Ada Shepiadah was born in the small town of Maun in Zimbabwe and, as one of 12 children, knew early on that she wanted a better life. I was surprised to learn that she managed to get a diploma in Motor Mechanics and is responsible for the maintenance of the camp. She can fix anything, from broken zippers on the tents to the underside of the jeeps!
Fiercely ambitious (and what is wrong with that?), she is now working at the Santawani Camp in hospitality, serving guests. She says Wilderness Safaris has definitely improved her life. "I just love being out here," she told me. She has three grown boys and a little girl, again, whom her mother takes care of back home, with the assistance of the two adult boys.
4. Sandra Samulala, General Manager of the Santawani Camp
Sandra Samulala was born in Kasane, Botswana, a member of the Surabaya Tribe. Sandra was waiting for the results of her Grade 12 exams when her aunt encouraged her to come and observe her work for the mobile Safaris. After graduating, and a short stint as a teacher, Sandra joined Wilderness Safaris, starting in bookkeeping. She was promoted to the Maun office reception and soon to radio operations. Then she received two years of Hospitality and Management training and was eventually hired as a manager at the Baobab Camp.
"WS allows you to move up," she says, "and trains you." After an interlude where she went to the US to work for Disneyland for a year, Covid hit, and everything stopped. A personal family tragedy further turned her life upside down, but Wilderness found her and brought her back to work in 2022.
"I am so grateful," Sandra says and finds the daily interaction with people has allowed her to slowly heal. She has great hopes for her future and that of her family of five children.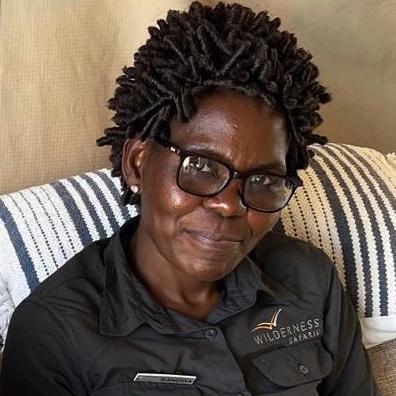 Sandra Samulala of Santawani Camp
As the world's most influential travellers, our choices affect how tourism evolves. Here are seven ways women can embrace a more conscious, sustainable and responsible mindset when we travel.
More about the companies I travelled with
Overseas Adventure Travel, or OAT is a leader in the small group experience. With a generous attitude towards solo travelers, OAT's philosophy is that visitors should experience things, not just see them. To that end, we engaged with local people on quite a personal level. OAT has donated thousands of dollars to the local schools and helped individuals by paying them to talk to the tour groups about their lives and problems, some of which contain controversial subject matter, such as poaching and coal mining.
Another way OAT does good is by eliminating plastic single-use water bottles on all their trips. They provided us with a reusable water bottle and ensured there were safe drinking water sources to fill it.
Wilderness Safaris
Wilderness Safaris builds and staffs the camps and provides the top-notch guides that both protect us and educate us. Founded 40 years ago by two young guides, the company's main goal is their policy of "non-consumptive conservation tourism," which continues to generate benefits for the people and wildlife in the areas in which it operates. Their unwavering vision is: "to conserve and restore Africa's wilderness and wildlife."
I was impressed that the camps are designed to be light-impact, NOT permanent and are powered by solar. Each cabin has its own little solar panels for lighting and hot water. They also understand the need for the rural children of Africa to learn the importance of conservation and its relevance to them. Hence, the "Children in the Wilderness" program: an environmental and life skills program for local kids, focusing on the next generation of decision-makers.
But best of all, they hire men and women from the local villages and train them over time, giving them life-changing opportunities to gain skills, move up through the ranks and enjoy a better life.
We can all make a difference through travel
We can all make a difference for someone else through our actions. Even small ones. Seeing how tourism has empowered so many women was gratifying, and I felt in getting to know these women and being part of their efforts, I, too, could give back. If one young woman in the African bush can feel encouraged by an octogenarian American tourist, what a gift to give! And what a gift to receive, to feel seen and heard in another part of the world.
Disclaimer: Diana's trip was NOT sponsored by OAT or Wilderness Safaris. She obtained the permission of these women to share their stories while she was on safari in Africa. This article was also reviewed by a member of our Women's Travel Advisory Council, Tony Fitzpatrick. 
Seven ways women can help both people and places thrive
1. Ask if your travel is nourishing the destination, host and guest  
2. Pressure the travel industry to create sustainable change 
3. Change how you travel (choose slower, more sustainable ways to travel)                  
4. Become ambassadors and support local conservation
5. Get more informed about the history of places 
6. Read travel articles more critically 
7. Support small, locally-owned businesses
With 54 sovereign countries, the African continent offers solo women vibrant communities, a range of wildlife and diverse cultures.
As director of The Peregrine Fund-Africa, Darcy Ogada is working to save Kenya's raptors – from falcons to eagles – from extinction.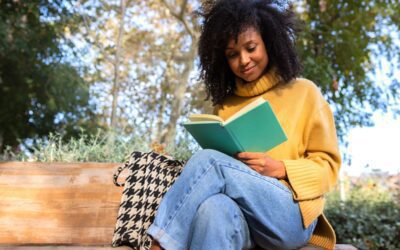 TripFiction's Tina Hartas helps us travel by book to 12 countries that solo women plan to visit in 2023, from Africa to Peru.