Last updated on September 23rd, 2021
By Carolyn Ray, Publisher, JourneyWoman
Self-defence for young women on Tuesday, September 28 at 7 pm ET
JourneyWoman has provided women with women's travel safety tips for almost 30 years. But safety is an issue not just when we're traveling – it's a problem at home too, as we've witnessed in recent weeks at our universities.  
As a mother of a university student, I've become more concerned recently about my daughter's safety and I want her – and all young women her age – to acquire the basic skills they need to help them in potentially threatening situations. By learning basic self-defence skills, our daughters and granddaughters can move confidently into a position of control.  To do that, we need a plan, and we need practice.
I'm deeply grateful that Lorna Selig, who conducted two well-attended sessions for women in the spring as part of our TravelReady Safety program, generously offered to conduct a special self-defense just for young women at universities. Lorna has been teaching self-defence for nearly 17 years and is the CEO of her own Self Defence and Personal Safety Training Company, Safe4Life, where she works to reduce the incidence and statistics of assault and victimization.
Being safe starts with trusting your intuition and understanding your environment. But it's also helpful to have some physical techniques you can use if you're taken by surprise. In this session, Lorna will demonstrate some expert moves to protect yourself and get out of a situation where you feel threatened or have been attacked.  Dress in comfortable clothing that you can kick, punch and yell in.  We want to hear your VOICE! 
We'll share more in this virtual session on Tuesday, September 28 at 7 pm ET.  This event is free to all young women.
For our JourneyWomen, please note we will be holding separate sessions later in the year focused on personal safety while travelling. Please keep this session open for young women, particularly those at school. Please email me at editor@journeywoman.com with any questions.
You're not alone
If you feel unsafe, you're not alone. Our April 2021 Womens' Safety survey showed that 97% of women do not feel they have the physical skills to defend themselves. 
According to UN Women, almost one in three women have been subjected to some form of violence at least once in their life. Even if you haven't been subjected to abuse, the prevalence of the issue means someone you know — a family member, a colleague or a friend — has. The abduction of Sarah Everard by a police officer in London sent shock waves around the world. News reports say she was doing all the right things: "She chose well-lit streets and spoke with her boyfriend by phone. She did many of the things women are advised to do to improve their safety, yet she didn't make it home." 
The UN reports that since the outbreak of COVID-19, all types of violence against women and girls, particularly domestic violence, has intensified. BBC reports that 'Covid hate crimes' against Asian Americans are on the rise. Most of our respondents — 85% — believe that women's personal safety will be as important or more important post-pandemic.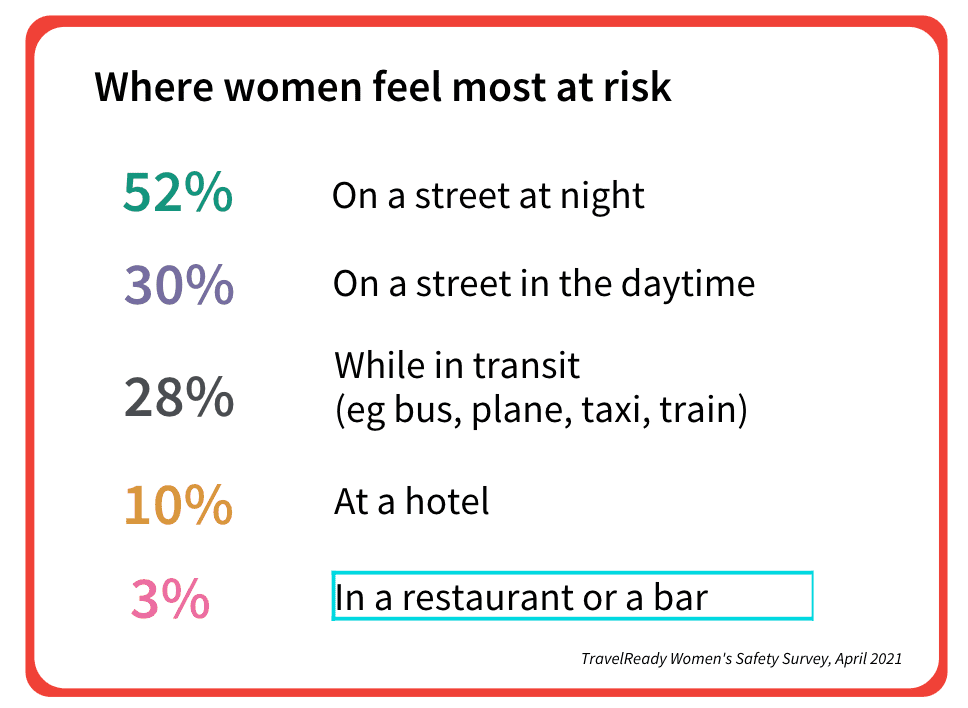 Whether as business or leisure travellers, we, women, must choose our accommodation wisely and arm ourselves with 'know-how' that will improve our safety during hotel stays.
Pickpockets choose you because you are the perfect victim. It's up to you to outsmart them with tips
The hassle of arriving somewhere without your personal clothing as well as the hassle of getting the insurance to pay for your loss just isn't worth checking bags.
We believe that the way a woman dresses as she moves around the world is very important. Simply click on the first letter of the country you want to viist and you're on your way to terrific "what-to-wear" tips.
Whether you are a female travelling within your own country or venturing abroad it makes sense that you keep these safety tips and tricks in mind.