Last updated on March 22nd, 2022
Evelyn Hannon's legacy lives on… in JourneyWoman and in her family 
by Carolyn Ray, JourneyWoman Publisher
When Evelyn Hannon started Journeywoman in 1994, she unknowingly became the world's first female travel writer. She inspired a grassroots movement, a 'female travel revolution' that inspired women to travel safely and well, and to connect women travellers around the world. She told women to follow their dreams and listen to their hearts, and they listened! (Her influence was even recognized by the Bata Shoe Museum, which accepted her iconic red boots into their collection last year.) 
Evelyn passed away almost two years ago, in April 2019.  Shortly afterward, her two daughters, Leslie Ehm and Erica Ehm, and I announced that JourneyWoman would continue on. We celebrated that moment toasting Evelyn and her many accomplishments.
Here we are almost two years later. Leslie has just published her first book, 'Swagger', which is about being your authentic self and holding onto who you are in the face of all of the psychological challenges that will come your way, especially in the professional world. With Evelyn's birthday coming up on March 15, it seemed like the perfect opportunity to honour Evelyn's legacy through Leslie's eyes.
Those who knew Evelyn will recognize these important lessons – they apply not just to the community she built but to all of us! Enjoy and congratulations Leslie! I know your mom would be so proud of you!
Carolyn with Evelyn's daughters Leslie and Erica toasting the OG JourneyWoman!
 About Leslie's book, Swagger
Swagger: Unleash Everything You Are and Become Everything You Want
Ever wonder why some people are magnetic, confident in their abilities, in charge of their own destinies, and utterly at ease in their own skin? What's their secret? In a word: Swagger.
And no, this is not the old swagger – that show-off, in-your-face, arrogant kind. This brand-new swagger is unshakable, undeniable and utterly unstoppable. And you can have it too.
Award-winning training guru and coach Leslie Ehm shows that true swagger results from your ability to manifest who you really are and hold on to it in the face of all the psychological crap that will come for it every day. Part guidebook, part manifesto, a little sweary and completely inspiring, Swagger gives you the steps to unlock and unleash your personal brand of swagger – one that can never be duplicated or diminished. And you'll read stories of the countless people Leslie's worked with who've discovered their own swagger and changed their lives for the better.

For anyone who's ever felt that they weren't good enough or believed that revealing their messy, vulnerable, authentic human selves could never result in greater success, Swagger will give you a doorway into the kind of self-belief that creates unimaginable confidence and will change the way you live, work and feel.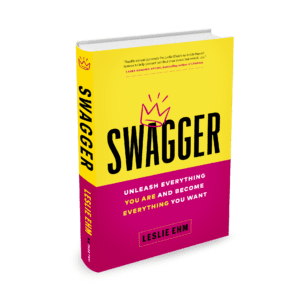 As of March 8, the book is available for pre-order (available in May 2021)
(learn more on Leslie's website)
Leslie's "Unboxing Video", which went viral