Last updated on January 21st, 2023
Have you ever imagined what your backpack would say if it could talk? 
No matter how often you pull out your luggage to go off on an adventure, we all have one thing in common right now: Our luggage is either tucked away or giving us cut-eye from its visible perch in our homes.
We thought it would give us all a dose of light-hearted fun to imagine what our grounded luggage might have to say to us if it had the power of speech. So we asked you to tell us, and you played along with cheeky enthusiasm.
Here's what the stuck-at-home bags of JourneyWomen everywhere have to say: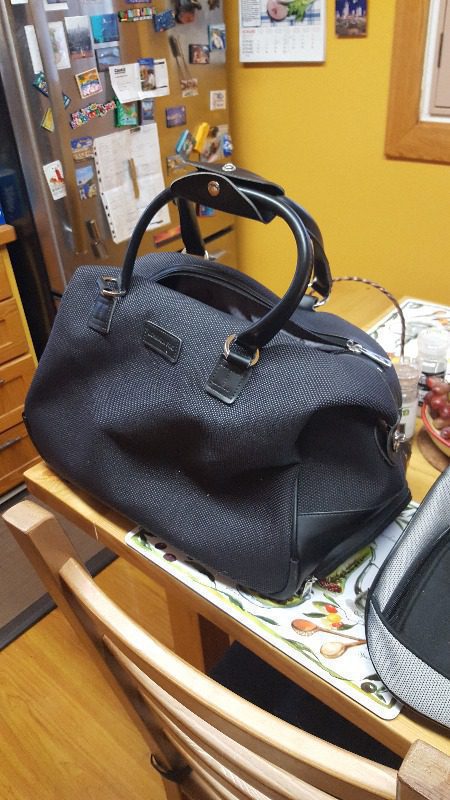 "Hello? are you there? Did I do something wrong? Why have you 'ditzed' me?" – Marion B.
"Where are you? Hope you aren't angry with me." – Marcia B-H.
"Are we there yet, are we there yet, are we there yet???" – Patricia P.
"Pssssst! Over here, higher, lower, to the left…yup! Here I am!!!" – Marlene R.
"You had me out for a while, half full, now I am in a dark closet, What's up with that?!" – Marie R.
"Did I do something wrong? Did I snag your favorite sweater? I promise to do better if you give me another chance!" – Dee K.
"She's going to the beach in Cabo, Puerto Vallarta or somewhere – with or without me." M.K. Clark
"You had me out for a while, half full, now I am in a dark closet, What's up with that?!" – Marie R.
"Did I do something wrong? Did I snag your favorite sweater? I promise to do better if you give me another chance!" – Dee K.
"Carrying pineapple home from the grocery store isn't quite the tropical adventure I signed up for…but at least I get out from under the bed once a week. And I gotta say, the cat is a cute addition. (Or maybe that's me talking haha.) This is my Tortuga Setout backpack 🙂" – Kathryn S
"Let me OUT!!!!!!" – Diane W.
"You promised! You promised!" – Margaret B. "
"Hey, what's happening? Let me in on the plans of our next trip. You know planning and anticipation is as much fun as the actual trip!!" – Norma S.
"I know you're planning something." – Diane B.
"Why are you neglecting me so much?" – Julie H-F.
"Thank you for doing the right thing and staying home. Let's go for a wander in a neighbourhood park and you can tell me the names of the trees and birds that live in our own backyard! I'll carry the guidebook if you need me to!" – Julie O.
"I miss England." – Louise F.
"I miss you." – Judy C-G. 
 "I'm bored with the view in the closet." – Sandra E-L.
"Mum, you promised that we could finally go to Italy this summer!" – Ann T.
"I'm mildewing in your closet right now." – Sara A.
"I was moving things around in my garage and my smaller suitcase fell and hit me on the head. I could hardly get angry. I know how it feels being isolated so long. I got the message." – Thaila C.
"Why are we still here?" – Frankie Sue W-C.
"Chomping at the bit!!" – Christine M.
"My brand new one is languishing in the closet listening to travel tales from the others and wondering when she is going to get to go somewhere." – Arlene A-L.
"Put me on your back, woman, and get me back to Italy. 🥰" – Joy F.
"Hey – Samsonite 22" here. You promised me Canada and Florida this summer, but I'm stuck here in the closet. Hoping to break out of this place for Iceland in November! – Felicia W-M.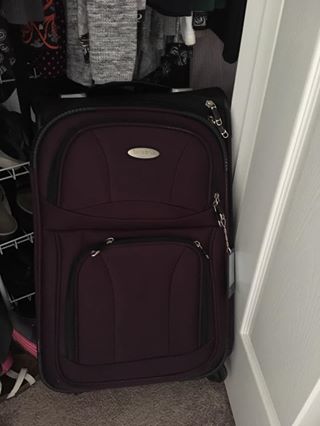 "Shall I unpack?" – Catherine J.
"Let me out! Let me out! 😊" – JoAnn P.
"Why aren't we going anywhere?" – Peg J.
"Why have you abandoned me?" – Claire R-F.
"Why am I feeling so empty?" – R Louise W.
"Mine is just mumbling from the closet…something about needing fresh air and being confined is a small space." – Toosie F-S.
"Why am I full of winter clothes?" – Brenda M.
"Stranded!" – Michelle T.
"So I served you faithfully since 2004 on many trips by air, sea and land to many countries and you threw me in the garbage just because some silly idiot bashed my side in. I may be on the scrap heap, but I bet the other cases are not happy with spending so much time in the dark after a brief moment of glory. You replaced me with a new model with four wheels, but I bet it won't last as long as me. I was a nice model – a bit narrower than the normal and I fit in everywhere and expanded." – Maria P.
"My new Osprey Fairview 40: Break me in! Please ASAP!" – Roseanne J.
"WTF?!" – Lois N.
"Fly me to the moon…" – Jody R.
"Emotional baggage. 😉" – Nancy Q-F.
"What do you mean we're not going? But you promised! It's not fair! I wanna go now! (We were supposed to leave for Scotland in May – now it will be next year)." – Karen G.
"Hello! Is it me you're looking for? I can see it in your eyes I can see it in your smile. You're all I've ever wanted…I love you." – Christine P.
"Thanks for the rest." – Bev M-G.
"Get me the heck out of this place. I need air!" – Barbara G.
"I want to go and explore – when can we go?" – Ute W.
"Where are you???!!!" – Susan E-E.
"I'm feeling empty and forgotten 😒" – JoAnn W-H.
"I believe it's time to go somewhere!" – Lynn H.
"Soon…" – Vera C.
"Yoo-who, it's never too soon to pack…" – Chris W.
"I'm so sad that you don't love me anymore 😔" – Arlene P. 
"I'm already half packed, but you've left me sitting here for months?" – Sandy B-G. 
"I'm tired of being in the closet; take me somewhere." – Ann L.
"I'm not leaving on a jet plane. Don't know when I will go again." – Marg J.
"Hey, it's hot & dusty in the attic. But hey, it looks really nice up here now. Good job on cleaning & organizing. Lol." – Cheri P-B.
"Whew! … I needed a break, but this has been TOO long. ✈🚢🚕🚉" – Erin C.
And finally, here's what my favourite daypack by Hunter has to say:
"Holy hell, woman. I thought 2020 was going to be our year. You carried me around every day for TWO MONTHS. We explored a good chunk of the world together. I sat with you on buses and under plane seats, lounged on beaches, hiked up volcanoes, climbed glaciers, trekked to the gym and through jungles (urban and natural). I even sat on the ground and watched you jump out of a plane. And now? I've been sitting here in your closet, abandoned, since mid-March. I haven't been outside once. I thought we were kindred. What gives?! Get us back to a beach. STAT. I need to feel the sun on me."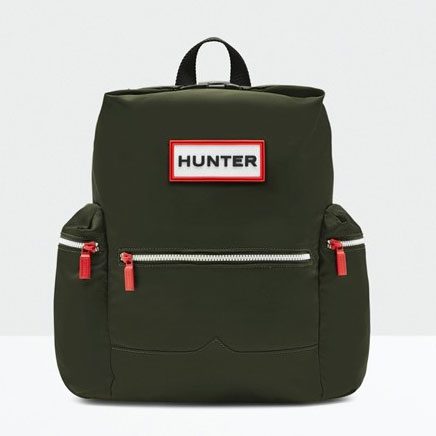 Need Packing Inspiration? Check Out These Articles!
Our monthly curated list of solo travel tips submitted by JourneyWoman readers, featuring packing, accessibility, safety tips and advice.