Last updated on March 18th, 2023
Dining alone doesn't have to be lonely
By Nancy Simpson, Guest Writer
Dining alone is not my idea of fun. I would often order room service or hide behind a newspaper in a trendy restaurant. But there comes a time when you just have to get out of your comfort zone.
I now know that eating alone doesn't have to be lonesome. After retiring at age 55, I set out on a journey to try something new each week for an entire year. This included eating alone!
I have come to like dining alone and starting conversations. Nervous at first, I now feel comfortable. When you actually take the time to chat with people, you realize that everyone has a story to tell. I particularly enjoy talking to Millennials, listening to their points of view on our world today and tomorrow.
Here are three ways I've found inspiration when dining solo:
1. EatWith: One of my highlights in 2016 was discovering EatWith. My daughter told me about this unique opportunity to dine in a local home with guests from around the world. EatWith was started by two enterprising entrepreneurs in 2014, and today there are thousands of people who host on EatWith.
My first experience was at an Italian dinner on the Lower East Side of New York City. Among the eight of us around the table: A young model from Paris, a visitor from Argentina, two colleagues from CNN and two friends celebrating a 21st birthday! Feeling like the older matriarch at the table at first, I quickly relaxed. Everybody has a story, and once you realize that, chatting is fluid and fun. My EatWith experience roster now includes stops in Barcelona, Prague and Salzburg.
2. Quinta do Conde: There are many companies that follow a similar formula to EatWith for solo travelers. A highlight of my summer this year: A farm-to-table event in Prince Edward County (Ontario, Canada) at Quinta do Conde, which hosts several dinners throughout the year. The experience: 25 guests exploring the farm, breaking bread together in the old barn, sitting on mismatched antique dining chairs at long tables, and enjoying an in-season, farm-fresh meal
3. Communal Dining Tables: If you're not into booking a seat for dinner ahead of time, there are restaurants around the world that are now designed with communal harvest tables, often referred to as "family style" dining. You can also take a spot at any restaurant bar.
When visiting New Orleans this summer, I found myself hopping on a bar stool at Boil Seafood in the Garden District to join other solo diners, sharing vacation stories. In any case, you'll be seated with others with the idea that you will be able to spark a conversation with the person next to you. Try it – it gets easier as you go along!
Images supplied by Qunita de Conde
More Food and Drink to Savour
Older adventuress Diana Eden discovers that Morocco is a feast for the senses as she joins Intrepid Travel on a 12-day culinary tour.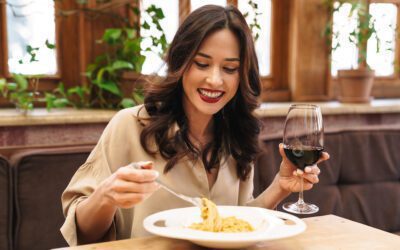 From Austria to Zanzibar, JourneyWoman readers share their favourite food experiences discovered while travelling.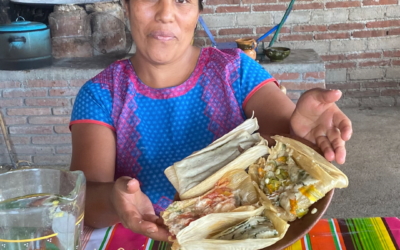 Enjoy all the fresh cuisine you can in Oaxaca, Mexico — from street food to upscale rooftop restaurants, you'll love every bite.