Last updated on April 23rd, 2022
By Carolyn Ray, Publisher
Six months ago, on April 15, I published an article called "How Will COVID-19 Change Travel?" April feels like a long time ago. Then, we were only one month into this pandemic. I had barely unpacked from my trip to Cuba three weeks prior.
Tapping into the insightful advice gleaned from my travel writing colleagues, we predicted three major changes to travel.
Six Months Ago
Six months ago, three main themes emerged from my discussions with the travel writers and experts. (This is verbatim from my article on April 15.)
No more bucket list: Will this mark the end of the so-called 'bucket list? Post-COVID-19, this could be the time to challenge yourself with that awe-inspiring, adventurous trip you've always dreamed of, with a focus on less populated, off-the-beaten-track destinations. Or, you might decide it's time to travel full-time and shift your lifestyle to work from anywhere in the world.
Safety: There will be huge expectations of safety and cleanliness. This will influence us to travel domestically and seek travel providers and safe destinations that are close to home, with easy access to healthcare in emergency situations. Other trends will include road trips, driving instead of flying and visiting wide open spaces, such as UNESCO World Heritage Sites. Large-scale cruising will see a downtown until concerns about safety, hygiene, filtration and air circulation are resolved. For those in North America, the Caribbean, a region that depends entirely on tourism, may be the first choice of destination as Europe regains its footing.
Budget: Very few have escaped the economic impact of COVID-19, and we'll be looking for budget-conscious choices, backed by travel insurance – an undeniably complex area – and more reliance on tour advisors and travel agents – to increase our comfort travelling again. Many small communities have been devastated by COVID-19, so it may take longer than we think to re-open small businesses, particularly in remote areas.
Learnings since then
While the themes might be accurate, there have been some things that surprised me over the past few months.
The strength of this community: On March 15, the day after my return from Cuba, I sent an email to our 55,000-strong global community asking 'what do you need?'
Many women said they were alone, had questions, felt isolated. We decided to experiment by hosting a Community Call. Our first one was on March 21. Since then, we've had 32 calls. Every week. Even on holidays. These have expanded into two more time zones. Through this forum, I've come to know the incredible women in our community and been inspired by your resilience and generosity.
In April, we started offering webinars on topics like bravery, courage and resilience, topics that you might wonder 'what does this have to do with travel?' But talking about destinations felt frivolous when we were facing such an unexpected situation. These topics are indicators that mental health is just as important as physical health and safety as we face a world that is focused more on risk management than comfort right now. 
Our editorial had to shift dramatically, from practical travel tips and destination coverage to stories of inspiration and courage. I have to acknowledge Editor Amanda Burgess, who has done an exceptional job crafting your stories – stories only a JourneyWoman can tell. 
The sheer volume of disinformation: From the simple to the extreme, this has been a challenging time to tell truth from fiction. In April, we started to hear stories about the beneficial impact of the pandemic on the environment. One of the most widely reported articles, later debunked by National Geographic, was about dolphins returning to Venice. Not true. But the water was clearer because of less boat traffic.
Our survey results in June demonstrated that you were having challenges knowing who to trust, with mainstream media and traditional sources falling short of expectations. The creation of a Women's Advisory Council is one way that we adapted to this change, with the intention of offering unbiased, straightforward advice to our community. After all, if you can't trust a JourneyWoman, who can you trust?
Who's stepped up: In our June "Risk and Reward of Travel" survey of over 1500 women, airlines ranked among the least trusted. Yet, six months later, airlines have stepped up and may even become the heroes in this pandemic.
After 9/11 airlines pivoted to become responsible for passenger safety and well-being. Now, many are taking the lead on testing. At the beginning of October, I attended a news conference with Lufthansa, who is advancing the idea of 'contactless travel.' They have done 150,000 PCR tests a day in their state-of-the-art lab in Frankfurt since the start of the pandemic and are sharing data with local health authorities. They plan to offer antigen testing soon, which can be done at the airport in 15-20 minutes, integrating QR codes and digital certificates into the passenger experience.
What's ahead
We've all been adapting, almost on a daily basis, to the changes happening around us. The challenge in the future will be all about managing expectations.
Authenticity: We desire and expect authentic travel experiences. It's likely that the increased cost of travel, combined with smaller experience footprints, will make this more challenging. The impact of the pandemic on countries and small communities has been so much worse than I ever would have imagined. Yet still the travel industry is showing similar marketing, which sets expectations, to what it had been before. I have yet to see marketing photographs of people wearing masks at destinations. It seems inauthentic not to show this. Will the experience promised be the one delivered?
Planning: Planning is going to become more complex. Just staying close to home in our #TravelAtHome road trips in Ontario showed me that. Right now, I can't imagine packing everything I would need into my carry-on or backpack, like I used to do.
To manage all the touchpoints safely, we're going to need the help of travel advisors and tour experts more than ever.
Travelling with Intention: The last and perhaps most important change I see is that travel will be more intentional. As I mentioned in April, while we still may have a 'bucket list,' it won't be all about the destination. We will define travel in more holistic ways. We'll consider the impact of travel on the environment, on animals, on communities, on people, on each other. We will slow down, take longer trips and focus on what's really important to us. We'll look for ways to live our values.
A trip to the Galapagos (or anywhere) won't be complete unless we're also learning to be citizen scientists, actively doing things to protect the environment instead of just 'enjoying' it. I hope that swimming with animals in caged environments will become a distant memory. I hope that the response of 'it's legal here' will not be an excuse for doing an activity that harms animals. Much education is needed here, and I am thrilled that we have representation from an expert in ethical animal tourism on our Women's Advisory Council.
Instead of finding the fastest way to get somewhere, perhaps we'll choose slow travel and support small communities along the way, instead of just getting from point A to B.
What do you think the next six months will teach us? I'd love to hear your thoughts.
Health & Wellness Articles to Guide Your Safe Travels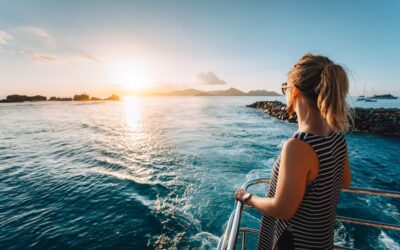 Motion sickness can deter women from adventures, but there are a variety of cures available to help you pursue your travel dreams.
read more