Last updated on November 19th, 2023
Featured image: Explore Jordan with these tips in mind! | Photo by  ©Richie Chan on Adobe Stock
Tips for women to stay safe while visiting Jordan
By Brianne, Guest Writer
Brianne is a twenty-something JourneyWoman living in Houston, Texas, USA. Recently she travelled to Jordan where she lived and studied in Amman for two months. Here are some of her observations designed to help other women planning to travel to this part of the world.
What to wear while visiting Jordan
This is what I observed. For the most part, Jordan is socially conservative and Jordanian women typically wear hijab (headscarf) and modest clothing. I found the Jordanian people very accepting and accommodating so I felt free to wear colorful and hip clothing as long as it was respectful. For example, I wore skinny jeans or slacks with a tank top and a cardigan or jacket and that was considered acceptable. Long dresses and skirts are a fun alternative to pants, and I would recommend quarter-sleeve or long-sleeve blouses. In the summer you might try sleeves that are a bit shorter, but I would not recommend wearing anything that reveals your shoulders.
In Abdoun, an upscale residential area of Amman you can wear short sleeves or tank tops to restaurants as long as you bring a jacket or cardigan or even a shawl to cover up with while you are getting there or leaving. It is acceptable to take these things off once you are seated and having dinner. It is always a good idea to dress in layers wherever you are in Jordan because you will find that depending on where you are different things are appropriate and you can adjust your clothing to the setting you are in. Look around at what the women around you are wearing and then you can gauge what is appropriate or not. Not to mention, it is chilly in the evenings and often times you will want that extra cardigan or shawl.
In more conservative parts of the country (like rural areas and downtown Amman) be sure that your legs, arms, and chest are covered for the most part. And finally, if you do not observe hijab, there is absolutely no reason for you to cover your hair unless you want to.
A double standard for women in Jordan
This brings me to an important point, there is somewhat of a double standard for western women and their dress. While most Jordanian women would not wear short sleeves or tight, revealing clothing in the street, they almost expect western women to wear these things. However, that does not make it appropriate. Clothing like this invites stares and catcalls and some inappropriate remarks. So, as a western woman I would advise JourneyWomen to plan on dressing more conservatively than they might at home. But remember to be creative. Jordanian women love fashion so your clothes don't have to be boring.
Places to eat in Jordan
Wild Jordan Cafe and Gift Shop – Wild Jordan Café is located in the Wild Jordan Nature Center which has a magnificent location overlooking the old city of Amman. All the proceeds from this restaurant and store benefit local charities and Jordan's handicrafts cooperation. The low fat, healthy food that's served is amazing and the olive oil soap on sale in their shop makes your skin 'oh so very soft.' Address: Jabal Amman First circle, Othman bin Affan Street. Click here for more details.
Blue Fig Cafe is a delicious upscale cafe in Abdoun, a residential area considered to be the most affluent in the city. It's great for a break from falafel or shawarma. Website here or call 962 6 5928800 for reservations and directions
Did you know Jordan's Queen is on Twitter?
Queen Rania Al Abdullah of Jordan is on Twitter. Her bio reads: A mom and a wife with a very cool job. Her official website can be found here.
Beloved by solo travellers, 'Travels with My Hat: A Lifetime on the Road,' by Australian Christine Osborne, is an incredible story of a fearless, brave woman, who travelled to remote areas of Ethiopia, Egypt, Saudi Arabia, Yemen, Iraq, Pakistan, and Morocco at a time well before the Internet, travel guides and mass tourism.
Best things to do in Jordan
Al-Pasha Turkish Bath: Ladies, this is an absolute must. You'll spend two hours in an authentically designed Turkish bath and emerge completely relaxed and with skin as smooth as a baby's bottom. Address: 1st Circle Opposite C.M.S. Kinder Garden, Tel: 962 6 4633002
Visit Jabal Al-Qala'a: Perched on top of the city's highest hill these ancient ruins in the middle of Amman are absolutely beautiful, especially in the late afternoon. This site is recognized for its historical importance and its 'special place in the hearts of Amman residents.'
Visit the Royal Automobile Museum and Memorial Park in Amman: the late King Hussein's car collection is incredible even for those who don't appreciate cars. Also, provides an interesting perspective on Jordanian royalty. Call (+962-6) 5411392.
Visit downtown: to truly get a taste of Amman, take a taxi to Wasaht al-Balad (literal meaning is middle of the city) and browse through the many little shops. Be sure to bargain for the souvenirs you'd like to bring home with you. After a couple of hours, head to Hashem's for some of their famous falafel (that's all they serve). Even King Hussein ate their once.
Can single women go downtown without being hassled?
Yes, foreign women dressed appropriately would be able to shop downtown alone. However, it won't exactly be comfortable. Expect to get a lot of stares and maybe an overly helpful salesperson but that would be about it. It is inevitable. Staring is not considered rude in Jordanian culture. It doesn't matter where you are, people will look at you but it isn't meant to be threatening or strange. As a foreign woman, you are interesting and they are simply observing you. Another point to make here is that staring and possibly some uncomfortable things might be said but this is the end of such behavior. In this culture a very strict social distance is observed between men and women and physical contact between the two is inappropriate. All you might see are grown men and women holding hands and kissing each other on the cheek. That said, if possible go shopping with another woman. It will be easier for you and women typically travel in pairs or groups of three anyway.
Editors Note: I definitely appreciate the men who follow the rules of their culture re: distance between men and women. I am much more concerned about 'antisocial' men who don't follow their society's rules.
Outside of Amman
Visit the Dead Sea Movenpick Resort — purchase a day pass which offers access to the Dead Sea and its famous mud, plus a fantastic pool with bar and food. Be very sure to pack sunscreen. This sun is hot! For more information, click here.
Try snorkeling in the Red Sea at Aqaba — we stayed at the Royal Diving Club and snorkeled all morning because the water was so pleasant and the fish and coral were other-worldly. Cool off later with a lemon and mint juice. Website here or call 962 3 2015555
Stay at a bedouin camp in Wadi Rum — Captain's Desert Camp is a beautiful and comfortable camp tucked into the side of a mountain in Wadi Rum. It's operated by a company that has many different tourist operations around Jordan and from what I've heard their other places are very pleasant as well. Your visit includes dinner (the lamb kebabs, mint tea, and handmade bread are amazing) and you sleep in cozy, clean tents. Bathrooms are well-kept and clean as well. Call the Wadi Rum Visitor Center at this telephone number: 962 3 2090600, and they can give you the number for the camp.
A mini guide to Petra, Jordan
Petra is amazing. This is Jordan's biggest tourist attraction. Imagine a city carved into the face of pure rock. You'll need at least one full day to devote to Petra because it takes about three to four hours to get there from Amman and it's an hour from Aqaba. Once you get there, you will need to pay an entrance fee of around 33 JD (approximately $US47) for a one-day pass. Expect a two-mile walk to the Treasury and the main entrance to Petra. You'll want to take your time here because this Siq (gorge road) is streaked with different colored rocks and there are small alcoves that dot the cliffside that once held offerings and statues. You'll emerge from the Siq into a wide area and the Treasury of Petra looms above you in all its splendor. They do not allow tourists to go inside anymore because it is hazardous to the site but you can take photos.
It's important to mention here is that there are people at this point offering camel and donkey rides for outrageous prices. We were advised against taking them because of a variety of reasons (safety and the way the animals are treated) so it would be my suggestion to avoid them because they are tourist traps. If you want to ride a camel, go to Wadi Rum and set up a camel ride with a guide there!
From here, you can wander down the rock corridor and you will come across cliffs that are riddled with mausoleums and tombs. Our guide told us that Petra was a 'city of tombs' and some famous Roman emperors and desert kings have their tombs here. There's also the only Roman amphitheatre that was carved into rock and an old Roman street which is very interesting as well. After this, there are decent restaurants to take a break at but just be prepared to spend more for what you are getting than you would elsewhere in Jordan. Finally, there is the Monastery (also carved into the face of the mountain) which can only be reached by climbing about 800 stairs up to the top. If you are capable of doing it then the feeling of accomplishment and the views are well worth the effort.
Finally, be sure to keep drinking water, wear comfortable clothing that you can climb or hike in, and shoes with traction. Many people think that wearing shorts and tank tops are the best way to stay cool but, in fact, protecting your skin from the direct heat of the sun is much more effective. I recommend loose linen pants, a cotton shirt, a hat, and sunglasses.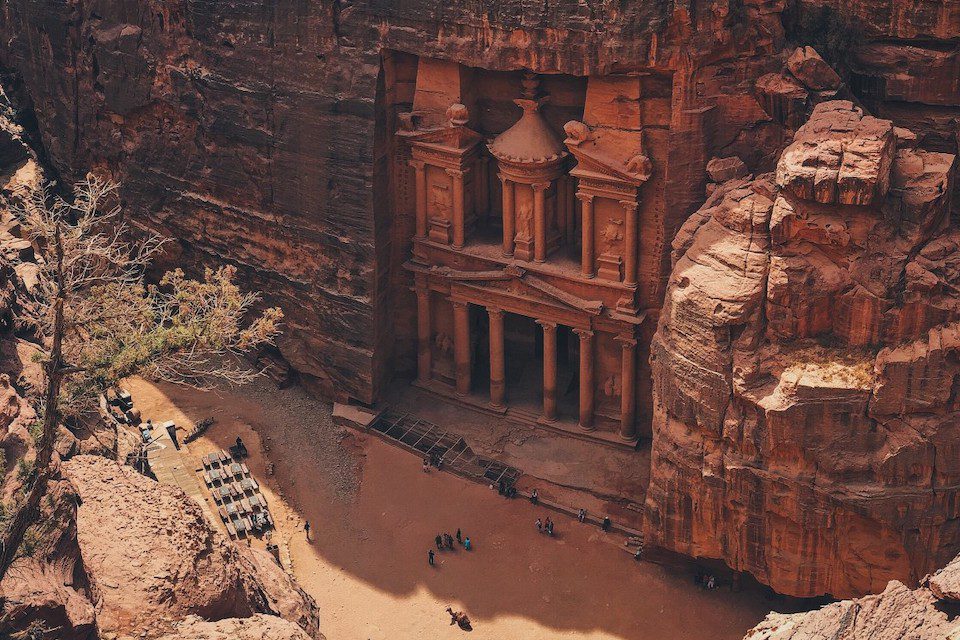 Start Planning Your Trip to Jordan
Get started with resources recommended by the JourneyWoman community
Book Your Flights
Use tools like Expedia or Google Flights to look up the best flight prices. Being flexible with dates can save you even more money.
Find Somewhere to Stay
Find a hotel on Expedia and earn points towards free stays. Hotels.com offers a free night stay for every 10 nights booked.
Insure Your Trip
Travel insurance is more important than ever. Compare plans and policies for the best coverage for your trip using Insure My Trip. Traveling for an extended amount of time? SafetyWing offers ongoing coverage on a month-to-month basis, and World Nomads offers coverage for extended trips.
Looking for a Tour?
Head to the Women's Travel Directory to find a woman-friendly tour to Jordan and beyond.
Travel Extras
Don't forget your JourneyWoman branded accessories while you're on the go!
Read More on the Middle East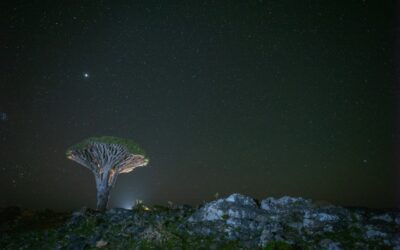 Highlights from 21 days of adventure on Swan Hellenic's SH Diana expedition cruise ship, in Egypt, Jordan, Saudi Arabia, Djibouti and Socotra.
A 21-day expedition cruise from the Suez Canal to the Indian Ocean is an opportunity to see less-travelled places and embrace new adventures.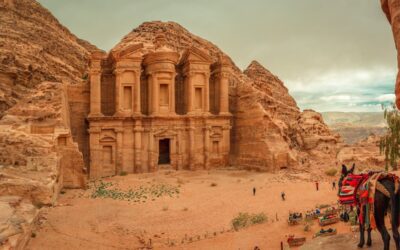 With the war in Israel, should we travel to Egypt and Jordan? How to stay safe and alternatives to travel in other regions around the world.