Last updated on March 20th, 2022
Featured Image: Why Women Will Save Travel / Photo credit: Shutterstock 
by Carolyn Ray, Publisher, JourneyWoman
Five Criteria to Guide Woman's Decision-Making
What is it we love so much about travel? Its allure is unmistakable. Travel feeds our curiosity, satisfies our desire to learn, and grants us the privilege to expand our understanding of the world we all share. It stimulates our imagination, enriches our vocabulary, validates our values and enlists our contribution to protect and preserve the magnificence of our world for future generations.
There is no question that travel is going to be different than it was before the pandemic. We are dealing with many complexities, both known and unknown. In June, to better understand the impact of the pandemic on women's travel, we conducted an online study called "Embracing the Unknown: The Risk and Reward of Travel", which many in the JourneyWoman community participated in. Over 1,500 well-travelled and highly experienced women age 55+ shared their views on decision-making criteria, reputation and trust, and destination choice. We published these findings in July, in "Why Women Will Save Travel". Based on this research and our #travelathome road trips this summer, we're thinking about what the future looks like for mature, independent women travellers.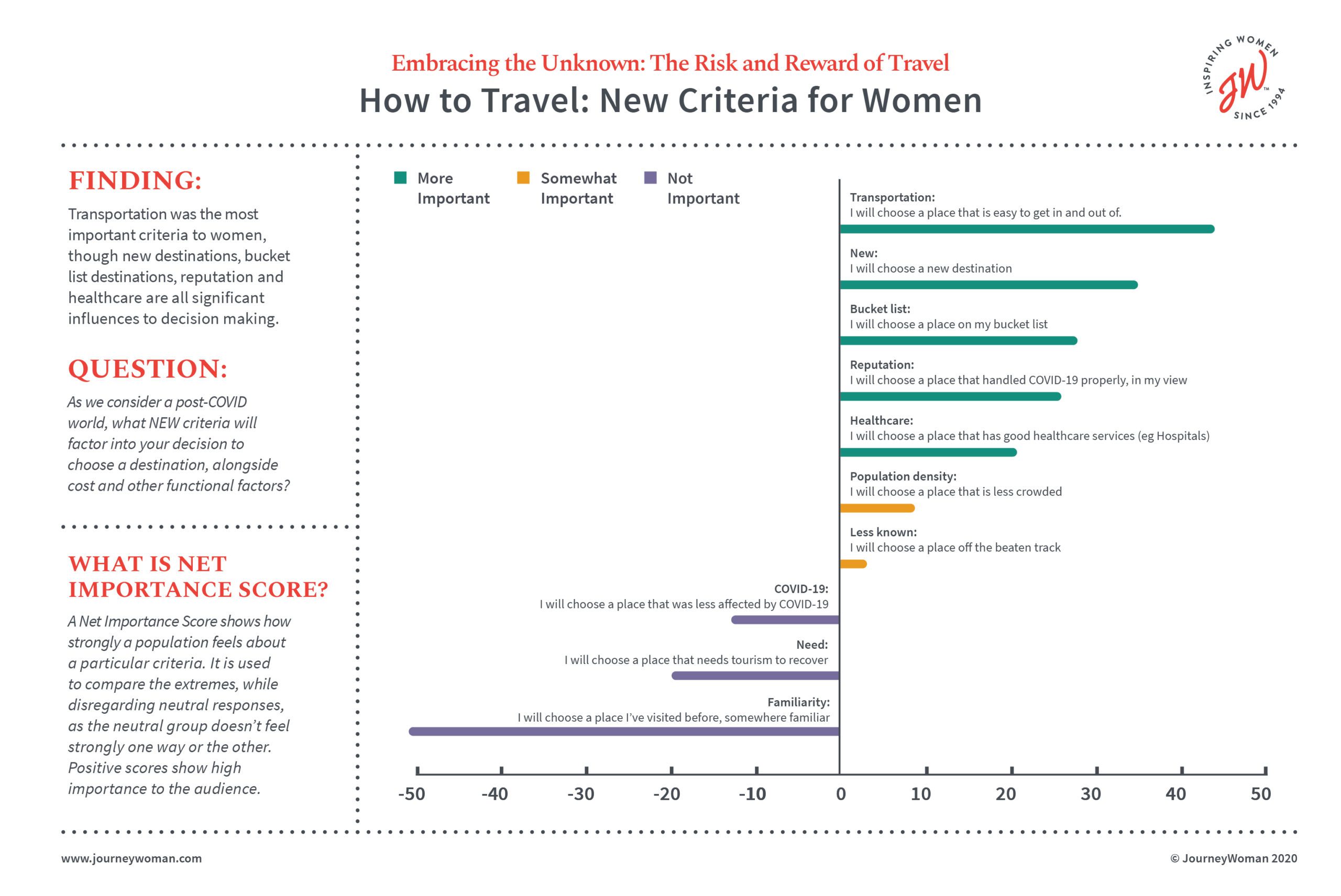 The Importance of Trust
Trust is fundamental to every relationship and transaction. It's even more important when it comes to travel because a lack of trust inhibits confidence and creates cynicism. Open, transparent communication helps build trust. However, simply stating something, like a cleaning commitment, or cancellation policies, is not enough. To truly believe, we must witness evidence across every aspect of the travel experience, from staff behaviour to ongoing communication before, during and after travel.
One thing is clear from our research: women want more information, not less. But we depend more on trusted sources close to us than marketing claims, particularly when we have to make decisions that can impact our health and safety and those around us.
Travel, Her Way
In July, our small team of women set out to Travel At Home to investigate this new way to travel. We explored our own backyard in Ontario. We stayed in a variety of small towns and experimented with unique accommodations: Glamping in Parry Sound and Algonquin Park. A rustic cabin at Arowhon Pines. A horse farm in Chatsworth, and adventures in Tobermory and the Bruce Peninsula. A loft above horse stables in Adjala-Tosorontorio. A vintage Airstream in Feversham. A river bunkie in Bobcaygeon. A Victorian tiny house and a Romani caravan in Orono. A bunkie on a private island near Dorset. (To see photos from our travels, visit our Instagram).
But this wasn't just travel for the sake of it. Each time we travelled, we evaluated the experience against a growing list of over 80 travel criteria to determine what served us and what didn't. While we considered criteria such as appeal, reputation, communications, safety, comfort and cost, these five emerged as newly important criteria for mature women travelers.  These themes will be visible in our editorial, webinars and guide our thinking as we strive to stay one step ahead and lead this discussion on behalf of mature, adventurous women travellers everywhere.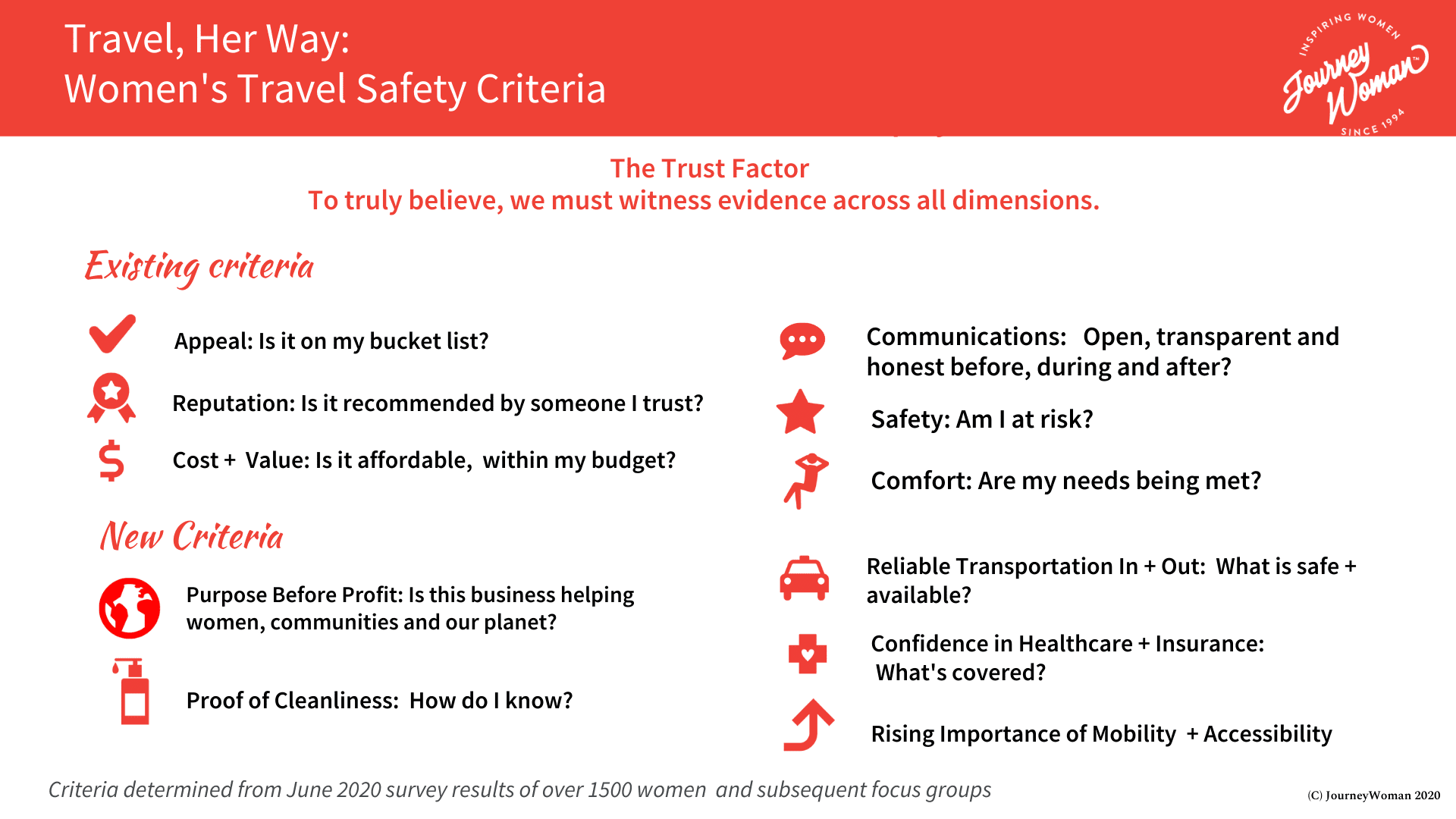 1. Purpose Before Profit
As we look to the future, we have an opportunity to recast many practices that were damaging to the environment, animals and communities. We can also do more to support women in the tourism industry, advance equality and diversity and choose women-owned businesses, both in our own countries and those that rely on tourism.
Purpose – why something exists beyond making a profit – is a strong driver of choice. As we explored our own backyard, we asked: Why does this place exist? What is the belief behind it? How did it make us feel: like tourists or family? Is it a woman-owned business, supporting other women-owned businesses? Is it treating the environment with care, using solar or eco-friendly products to make the earth cleaner or better? Is it providing organic or farm-to-table products? Is it treating wildlife with respect, promoting experiences that are respectful of animals in their natural environment? Every business needs to make money to survive, but when you view the world through the lens of purpose first (why do we exist, what's our role in the world?),  your perspective shifts. 
2. Proof of Cleanliness
We want and expect personal assurances that cleanliness is a top priority. For mature women, and those with pre-existing health conditions, this can make the difference between a wonderful experience and a hospital visit. We considered the basics like: Is there a stated commitment to cleanliness? What do others say in reviews?
But then we watched for evidence. Are guests and staff complying with safety regulations? Is there touchless registration and check-in? Are social distancing and hygiene practices evident, particularly in shared spaces like airports? Are masks worn and enforced? Are bathroom facilities, bedrooms and eating areas visibly clean? Are masks and hand sanitizer provided? Are there handwashing or sanitizer stations throughout? We also examined the way in which new cleanliness practices are being integrated without taking away from the experience – or even better, when they deepen the experience, as we experienced at Arowhon Pines.
3. Confidence in Healthcare + Insurance
Most of us are fortunate to live in countries where there are good quality healthcare facilities. But this changes when we travel internationally. Our research revealed that healthcare is of primary importance to women as part of the decision-making process. Going forward, health insurance is no longer optional. Thankfully, over 73% of our respondents purchase comprehensive or medical insurance. Before we travel, understanding what is covered by insurance is paramount; yet the insurance industry ranked lowest in terms of reputation and trust.
Questions abound, such as: 'What are the options for quarantine? What healthcare facilities are on the ground and available along the way?' How far is the nearest hospital? Is there a doctor on site? Is there reliable cellular or WIFI service? What is the case count in the area? These will become more important in the overall decision to travel. Travel insurance, while complex, is required for travel in our post-pandemic world. (Read "A Cautionary Tale: Solo Travellers Never Leave Home Without Travel Insurance.")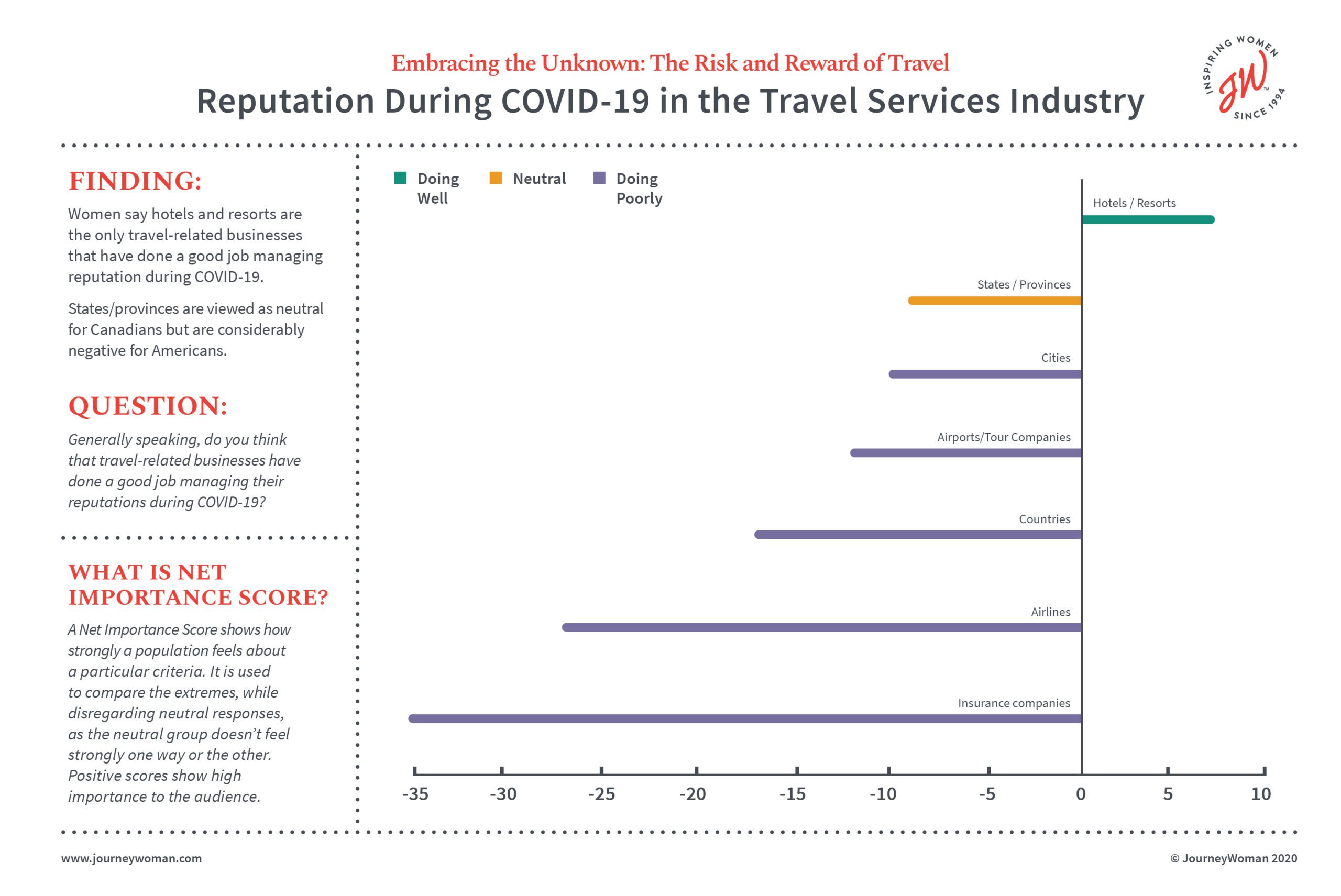 4. Reliable Transportation In + Out
Women will still embrace new, off-the-beaten-path destinations, but getting in and out will form part of the criteria for decision-making. The CDC has recognized the importance of transportation in its latest Travel Guidelines, which include specific guidelines on air travel, public transportation, ridesharing, bus, train, cars and RVs.  
In our recent article on Flying in the COVID Era, we reached out to our JourneyWoman community to get first-hand, honest stories of recent flight experiences on different airlines in different countries. We also reported on what more can be done by airports and airlines to raise traveller comfort and confidence.
5. Rising Importance of Mobility and Accessibility
While our research did not include questions specifically about mobility and accessibility, I feel this is a criteria  that will become increasingly important in the future. Women are much more likely than men to have mobility issues. The CDC reports that 44% of those aged 65 years or older in the US are living with a disability. In Canada, a recent report by Statistics Canada found that nearly 2.1 million women (14.9%) compared to 1.7 million men (12.5%) aged 15 or older reported having one or more disabilities, mobility issues, that limited them in their daily activities.
Making travel accessible is vital to the future of travel. Women with mobility issues often feel anxious getting ready to run local errands, let alone contemplating international travel. In our travels, we asked: Is the site accessible for women with mobility issues? Are seats, rooms, bathrooms and eating areas easily accessible? Are there special accommodation for guests with mobility issues?  Are wheelchairs, canes or folding walking sticks available for guests?  Read our recent coverage on this topic here: 7 Things I Learned Travelling With an Alinker by Kat Inokai, Walking and Mobility Tips for When the Heart is Young by Elizabeth Bingham, and A New Way to Travel by Elizabeth Jones. 
(Note: We want to cover this topic in every issue of JourneyWoman; if you have a story to share, please reach out!)
Our Role as Influencers
Gen X and Baby Boomer women are powerful influencers in the world of travel, more so than any other generation. Through our own brave actions and independent spirit, we influence our friends and families and our children and grandchildren. We inspire other women to join our ranks as solo travellers. We also hold the most purchasing power of any demographic, spending thousands per week on multiple trips per year.
We are among the world's most experienced travellers, hence the responsibility falls on our shoulders to lead others, and help the industry adapt. We have the power to choose businesses that put people ahead of profits, support women-owned businesses as drivers of change, and demand evidence of change and commitment. We are committed to being a catalyst in this space – a platform for women's voices to be heard, and a connector between these key decision-makers and the industry whose survival depends on them.
The pandemic has given the travel services industry an opportunity to demonstrate a deep commitment to women's safety. It has given women, as the primary decision-makers in travel, a vital role in redesigning the future of travel with a new lens, new expectations and new outcomes.
What else would you add to this list? We'd love your thoughts and feedback.
About the Study
The global study, titled "Embracing the Unknown: The Risk and Reward of Travel", surveyed 1,513 highly experienced women travellers in the highly influential 55-75+ demographic to assess shifts in travel, including the impact on of the pandemic on decision-making criteria, reputation, trust, and destination choice. This research reflects a primarily North American perspective and offers an on-the-ground look at how the topics often covered at an international or political level are influencing changing perspectives at the personal level of decision-making. To learn more read: "Why Women Will Save Travel".