Last updated on November 19th, 2023
Featured Image: A hop, skip, and a jump for most, Muskoka and the surrounding areas offer much-needed respite from the hustle and bustle of city life. / Photo credit: Brian Lasenby on Shutterstock
NOTE: This article is not sponsored content. While the author communicated her media status at the time of booking, she paid all fees due to Harmony Outdoor Inn and this review is a transparent and accurate account of her experience at the property.
"There is nothing like returning to a place that remains unchanged to find the ways in which you yourself have altered." – Nelson Mandela
The Magic of Muskoka: Like a Drumboat Welcoming me Home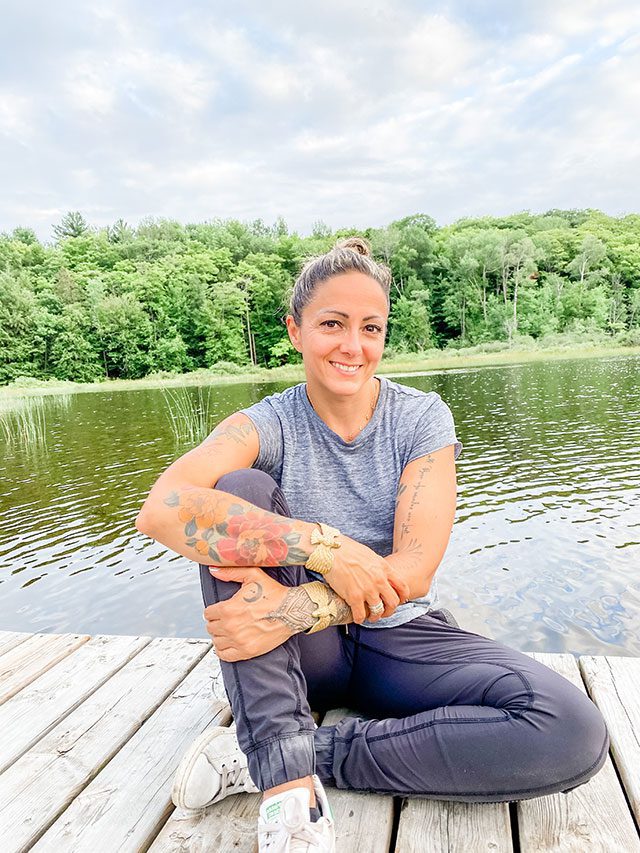 As I've said before, home isn't a place for me. I could live out of a suitcase indefinitely. But if home were a place, Muskoka would come close. It has absorbed me into its timeless rhythm since my earliest memory — like a drumbeat calling me home.
Everything in me exhales the moment Hwy 400 spits me out near the old Hwy 69. A land dominated by birch and pine trees, rock formations and lakes. The ghosts of every iteration of me from birth to current day run free in these woods, their whispers and laughter winging across time and water. The magic of Muskoka, woven into the fabric of my life, has given me a touchstone from which to explore the world. To come home to myself again, I need only come here.
When Carolyn and I hatched our plan to explore Ontario towns both familiar and foreign this summer – staying in unique accommodations and creating a post-COVID scorecard to rate experiences on new safety criteria – I knew Muskoka needed to be on my list. And it needed to be a trip I took with my two daughters, ages 21 and 16. We haven't been able to visit our cottage near Parry Sound since the pandemic hit. While we all feel the ache of that to our core, there's no way we'd risk the health of my 92-year-old grandfather, who still lives there independently.
Planning My Trip
My research for glamping locations led me to Harmony Outdoor Inn – a riverfront inn and campgrounds located on the outskirts of Parry Sound and close to the shores of Georgian Bay. Set on 16 wooded acres, the inn boasts three charming and recently renovated rooms, and six prospector tents for the more outdoorsy. Accommodation includes complimentary parking, high-speed internet, and use of the inn's private waterfront, where guests can make use of kayaks, canoes and stand-up paddleboards provided by sister company Ontario Sea Kayak Centre – or book a range of guided adventures through the same.
The inn was founded in 2014 by Dympna Hayes and James Roberts, who have been working in the outdoor adventure industry for over 15 years. The couple are senior Paddle Canada Instructor Trainers and also run Ontario Sea Kayak Centre.
Life on the Water
While only one of us is a water sign, my daughters and I are all water babies – happiest in, on or near a large body of water. So when we arrived early and Dympna told us to head down to the river and make use of the water toys until our prospector tent was ready, we were thrilled. I thought there would be a complicated booking process for the SUPs and kayaks, or that we'd have to book a guided tour to use them. I'm not big on tours – I prefer solo exploration. I grew up on a lake and know how to operate pretty much anything you can use on one.
By unspoken agreement, my girls and I spent the bulk of our three days at Harmony Outdoor Inn on its waterfront. Lolling on the dock for hours on end, listening to cottage tunes. Swimming in the sun-warmed river. Paddleboarding. Being entertained and amused by the assortment of people learning to kayak, flipping themselves into the water and trying to scramble back in.
The newly physically-distanced Pavilion where guests gather to prepare meals / Photo credit: Amanda Burgess
New Women's Safety Criteria
Applying insights from our recent JourneyWoman study, 'The Risk and Reward of Travel', we've developed new criteria to evaluate our travel experiences.  Our key finding was that there is a lack of trust: Is what we are told is happening really happening? Or is it just marketing?
Safety scorecard in hand, I evaluated this experience with fresh eyes. Appeal and Reputation still matter, but we also want to look deeper into cleanliness, hygiene, transportation in and out, and access to healthcare systems. Here's how Parry Sound stepped up to the challenge of travel in a pandemic.
Appeal
Muskoka is my happy place and Parry Sound holds a special place in my heart. It's been this big city girl's small-town home away from home for most of my life. The inn itself is run by and frequented by travellers who run at my speed, who understand the awe-inspiring magic of this land and respect it. There are any number of outdoor adventures to be enjoyed nearby – hiking, biking, ATV tours, kayaking with Ontario Sea Kayak Centre. If my stay had been longer than three days, I might have ferreted them out. But Muskoka is the one place in the world where I don't feel the need to DO constantly. I can simply BE. See the appeal?
Reputation
The inn didn't come recommended to me, and I'm not a person who scours online reviews. Whether I'm booking through Airbnb or the property directly, I get a feel for a place through my communication with the property owner or manager – which is why I don't use impersonal booking platforms like Booking.com. That said, once I began posting snippets of our adventure to my social media channels, I did get a handful of messages from friends and followers who had visited the Inn and communicated their enjoyment of it – and Hayes and Roberts.
Every touchpoint of the guest experience has been thought out at Harmony Outdoor Inn / Photo credit: Amanda Burgess
An interior shot of the outdoor showers at Harmony Outdoor Inn / Photo credit: Amanda Burgess
Safety/Cleanliness
The inn gets top marks in this area. Owner Hayes says that after about a week of wallowing in sadness at the state of the world, she and Roberts got to working making the inn compliant with new health and safety regulations. Step one was getting some advice straight from the source. "Our sister company Ontario Sea Kayak Centre uses a surgeon as our medical advisor who we have satellite communication with on all of our trips. We turned to her for advice on what changes we should make. She came and visited our site and made suggestions," says Hayes. "We also consulted the resources available from Ontario Health and Safety and made all of the suggested changes. Obviously, taking care of people's health was our number-one priority, and finding ways to ease people's stress about venturing out of their bubble was how we approached everything. We imagined how a guest would feel at every step of their stay with us and made sure we did everything possible to make them feel comfortable." The changes included:
Building additional composting outhouses so that every tent has a private outhouse;
Installing handwashing stations at every outhouse;
Significant changes to the community kitchen/outdoor pavilion area:
Building three new food prep areas/tables that are all six feet long and six feet apart;
Building new cabinets so that every tent has its own cupboard stocked with dishes, cutlery, glasses, mugs, pans and cooking utensils and dishwashing kit;
Adding another fridge for more designated shelving for each tent;
Nixing communal benches in favour of new bar stools for separate seating;
Building a new picnic table area with a tarp overhead and twinkly lights;
Adding an additional sink in the outdoor showers area;
Cancelling group yoga sessions on our waterfront deck in favour of offering a yoga instructor that guests can book for private sessions.
The first thing I noticed when we took our cooler to the 600 sqft covered outdoor pavilion where people gather to cook and eat was the giant bottle of hand sanitizer outside the screen door, and the individual bottles of disinfectant/sanitizer and paper towels on each spaced out table. Over the course of our stay, I observed staff with backpacks full of supplies cleaning and disinfecting common areas at regular intervals – the pavilion, the outdoor showers, the common outhouse (each prospector tent had its own, equipped with a composting toilet, disinfectant, sanitizer, and a handwashing station). It put my anxious daughter at ease and allowed her to fully relax and enjoy her time at the Inn – which meant I could as well. "We have had six doctors randomly stay with us since we reopened, and they have all given us glowing reviews," says Hayes.
More physically-distanced seating at the Harmony Outdoor Inn / Photo credit: Amanda Burgess
Communications and Trust
I had a pre-booking call with Roberts, who gave me the run-down on the place, and encouraged us to bring our own bedding for our stay in one of the prospector tents. When we arrived, I called the number posted on a sign in the parking lot and spoke to Hayes, who would have greeted us in person, but she'd hurt her foot and was en route to a physio appointment. We saw her several times throughout our stay, hobbling around on crutches, making sure all of the guests had what they needed. I was given her cell phone number and asked to text anytime we needed anything. The couple managed to make us feel cared for and taken care of without being obtrusive.
Healthcare
The inn is located a stone's throw from West Parry Sound Health Centre – a well-equipped hospital with a high quality of care. I speak to that quality of care from experience, as I spent the better part of 10 days living in it at the end of my grandmother's life in November 2017.
The connection Ontario Sea Kayak Centre has with its medical advisor is a big plus, particularly if guests book a guided adventure with them.
Transportation
When it comes to accessibility by car, you can't get much better. Parry Sound is a two-hour drive from Toronto – though that drive up Hwy 400 can be extended in peak season. Paved roads near the centre of Parry Sound lead to well-maintained gravel roads that take you straight to the inn. If you took a Greyhound bus to the terminal at Richard's Coffee on Bowes St., you could even walk to the Inn from there, but it would be a bit of a hike.
Is there anything more peaceful than sitting on a Muskuka dock at dusk? / Photo credit: Amanda Burgess
Mobility + Accessibility
Those will mobility issues would find Harmony Outdoor Inn difficult or near-impossible to navigate. It's set on hilly forest terrain, and all of the prospector tents are accessible via a winding network of wooden and stone stairs that made even this fitness nut feel like a billy goat. Great extra burn though! The pavilion and waterfront deck are accessible via a small set of stairs each, and the outhouses require one step up as well. While I observed owner Dympna navigate it all on crutches with her foot in a medical boot, I think she's the exception. There are no mobility supports (wheelchairs, canes) available on site. The inn is built to cater to the able-bodied outdoors crowd.
Cost/Budget
At $140 per night for one of the six prospector tents and between $195 to $225 per night for one of the inn's three bedrooms, this is a budget-friendly option for those looking for an outdoors experience a level up from camping. All costs/cancellation information are explained upfront in the website's online booking page – no hidden fees, no complicated language.
Overall Experience
The inn gets top marks in this area as well. Every touchpoint of the guest experience has been thought through and elevated. From the high-speed wifi and several electrical outlets for device charging in the pavilion to the heated outdoor cedar showers, to the signage that gives helpful instructions and showcases the fun personality of the owners and the Inn.
There are woodland paths to every tent and the waterfront that are lit by solar lights at night – to guide the way and create a festive atmosphere. The waterfront area boasts a large deck with a selection of Muskoka chairs to relax in and hammocks to loll in. There's a sandy beach to swim from or a dock to sit on if you're more of a toe dipper. Sunsets viewed from the dock are spectacular. On a clear night, you can even get a glimpse of the otherworldly Northern Lights.
"We have a bunch of kayaks, stand up paddleboards and canoes at our waterfront for our guests to enjoy with our compliments. If you'd like more of an adventure, we offer full-day kayak trips out on Georgian Bay with one of our professional guides," says Hayes. "We also have a private yoga instructor you may book for your own session at the waterfront deck. Harmony Outdoor Inn is a special place where absolutely everyone is welcome and celebrated. We hope everyone walks away from a stay with us feeling relaxed, restored and, a little more grounded in nature."
Check, check, and check.
Bonus Points
Harmony Outdoor Inn nabbed all available bonus points for its owners' above-and-beyond approach to safety and instilling guest confidence. Having a medical expert available via satellite phone, as well as a regular and highly visible cleaning schedule for all rooms, tents and common areas saw this venue sweep up the points.
If You Go
Check the booking calendar on the Inn's website. Hot deals on rooms and prospector tents are promoted, and you can sometimes nab three days during the week or a single night on a weekend for a reduced fee.
Call ahead to discuss your outdoor activity plans with Dympna and James. They can build a kayaking adventure package for you through sister company Ontario Sea Kayak Centre, point you to the best hiking trails in nearby Killbear Provincial Park, or give you information on other adventures to be enjoyed in the area.
Bring your own pillow and bedding. The Inn provides pillows, pillowcases and bottom sheets, but recommends you bring your own sleeping bag or comforter during the pandemic. For total comfort and safety, bring your own and sleep easy.
A quick trip from Toronto, Stratford, Ontario is a welcoming place for a solo getaway for women who enjoy arts and culinary experiences.
What's next on our list?
In June, we announced our #TravelatHome Series which started with a session featuring the Honorable David Crombie on Toronto, Ontario, RV Safety for Women, by Women, and Tips on Road Trips.
In July, we shared our schedule for July and August, where we're visiting places close to home to evaluate travel in a pandemic.  You can check on our Road Trip progress here.