Last updated on May 15th, 2023
Featured image:  Edinburgh is the setting for Alexander McCall Smith's popular 44 Scotland Street series / image by Mint_Images on Envato
Books with a strong sense of place, from Scotland  to Wales 
By Tina Hartas, Founder, TripFiction
Great Britain and Ireland have, across all the countries, a fantastic and diverse cultural history that is reflected in so much literature. Each country is so very different, yet geographically inclose proximity, rubbing shoulders and providing a fluid backdrop for any authors choosing to set their novels in Great Britain and Ireland. Here we choose 10 great books, offering a variety of top, topical and immersive reads.
Most people who choose to read a book set in a specific place will be aware of the classic reads in each country, so we have selected books a mix of genres which perhaps offer something a little different, bringing a more contemporary feel to the list–and maybe we can introduce our readers here to new authors and new places. It's very hard to choose just 10 representative books, but here goes!
Please note: When you purchase a book using the links below we receive a small commission from the bookseller, at no cost to you. This helps us maintain our website and book club. Thank you!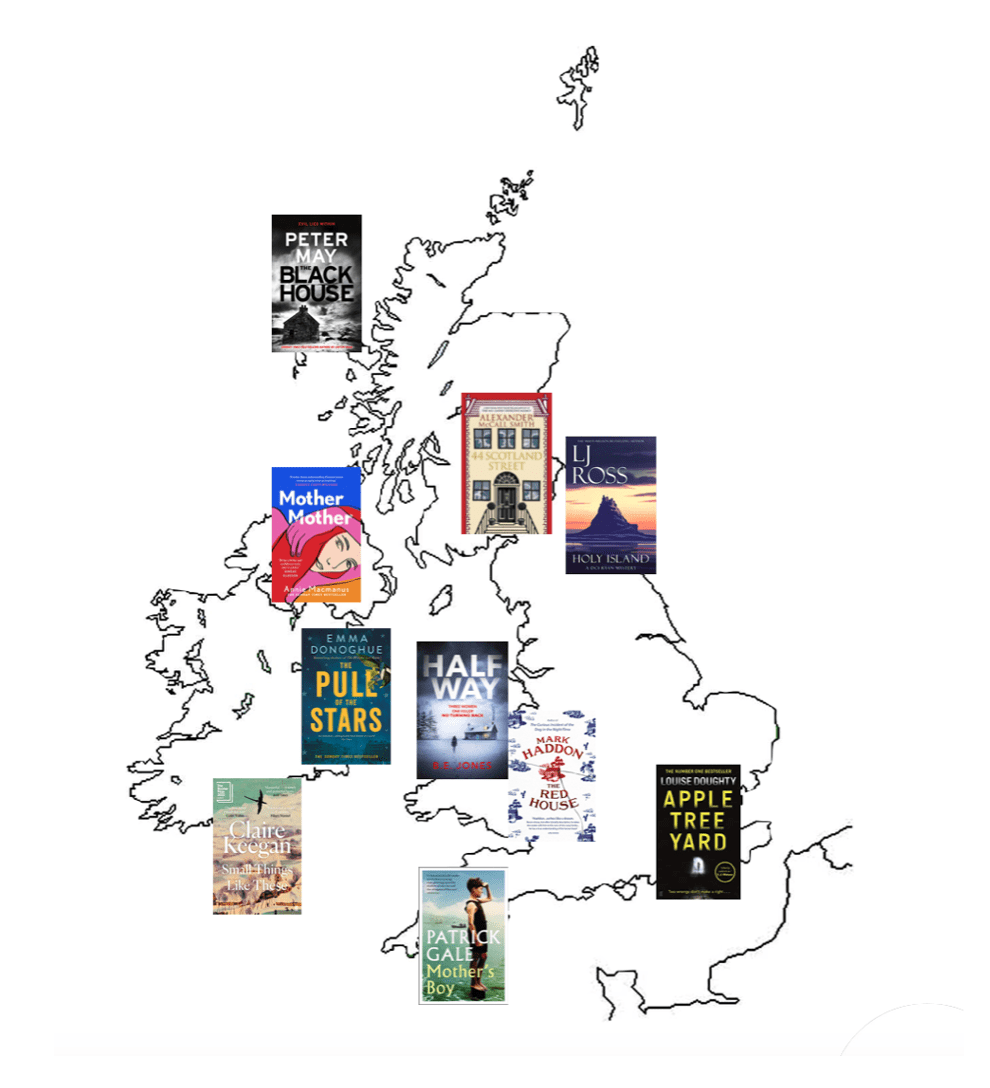 10 books set in great Britain and Ireland
Novels Set in County Wexford
1.

Small Things Like These by Claire Keegan

It is 1985, in an Irish town. During the weeks leading up to Christmas, Bill Furlong, a coal and timber merchant, faces into his busiest season. As he does the rounds, he feels the past rising up to meet him – and encounters the complicit silences of a people controlled by the Church.

The long-awaited new work from the author of Foster, Small Things Like These is an unforgettable story of hope, quiet heroism and tenderness.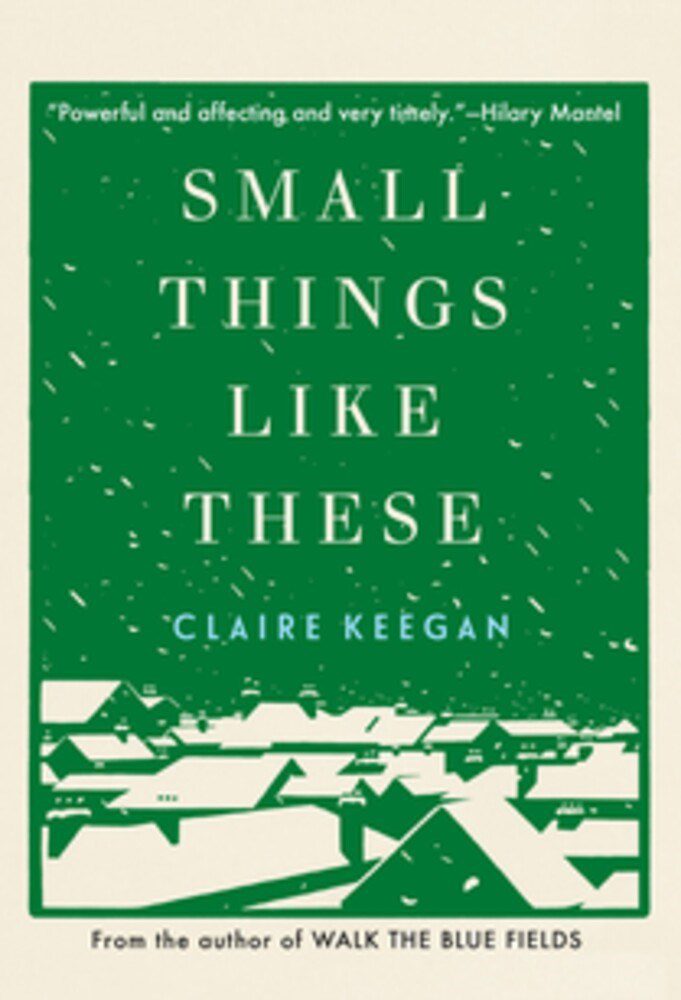 Books set in Dublin
2. The Pull of the Stars by Emma Donoghue
In an Ireland doubly ravaged by war and disease, Nurse Julia Power works at an understaffed hospital in the city centre, where expectant mothers who have come down with an unfamiliar Flu are quarantined together. Into Julia's regimented world step two outsiders: Doctor Kathleen Lynn, on the run from the police, and a young volunteer helper, Bridie Sweeney.
In the darkness and intensity of this tiny ward, over three days, these women change each other's lives in unexpected ways. They lose patients to this baffling pandemic, but they also shepherd new life into a fearful world. With tireless tenderness and humanity, carers and mothers alike somehow do their impossible work.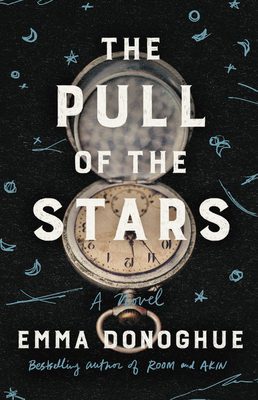 Novels set in Belfast
3.

Mother Mother by Annie Macmanus

THE SUNDAY TIMES TOP TEN BESTSELLER

'A brilliant book…that explores the brutal legacy of addiction and the consequences of a deep grief left to stagnate' SARA COX

'A work of gilded melancholy that is going to take everyone by surprise' UNA MULLALLY

'Macmanus writes with flair and confidence rarely seen in a debut' SINÉAD GLEESON

One Saturday morning, TJ McConnell wakes up to find his mother, Mary, gone. He doesn't know where – or why – but he's the only one who can help find her.

Mary grew up longing for information about the mother she never knew. Her brother could barely remember her, and their father numbed his pain with drink.

Now aged thirty-seven, Mary has lived in the same house her whole life. She's never left Belfast. TJ, who's about to turn eighteen, is itching to see more of the world.

But when his mother disappears, TJ begins to realise what he's been taking for granted.

MOTHER MOTHER takes us down the challenging road of Mary's life while following TJ's increasingly desperate search for her, as he begins to discover what has led her to this point.

This is a story about family, grief, addiction and motherhood, and it asks an important question – if you spend your life giving everything to the ones you love, do you risk losing yourself along the way?
Books set in England 
4. Holy Island by LJ Ross
Detective Chief Inspector Ryan retreats to Holy Island seeking sanctuary when he is forced to take sabbatical leave from his duties as a homicide detective. A few days before Christmas, his peace is shattered and he is thrust back into the murky world of murder when a young woman is found dead amongst the ancient ruins of the nearby Priory. When former local girl Dr Anna Taylor arrives back on the island as a police consultant, old memories swim to the surface making her confront her difficult past. She and Ryan struggle to work together to hunt a killer who hides in plain sight, while pagan ritual and small-town politics muddy the waters of their investigation.
Murder and mystery are peppered with a sprinkling of romance and humour in this fast-paced crime whodunnit set on the spectacular Northumbrian island of Lindisfarne, cut off from the English mainland by a tidal causeway.
(The author is a publishing phenomenon, who sets her books in beautiful North East  England. If you like this, the first in the series, then there are plenty more titles featuring DCI Ryan to pick up, following on from this)
Fiction set in Cornwall
5. Mother's Boy by Patrick Gale
Laura, an impoverished Cornish girl, meets her husband when they are both in service in Teignmouth in 1916. They have a baby, Charles, but Laura's husband returns home from the trenches a damaged man, already ill with the tuberculosis that will soon leave her a widow. In a small, class-obsessed town she raises her boy alone, working as a laundress, and gradually becomes aware that he is some kind of genius.
As an intensely private young man, Charles signs up for the navy with the new rank of coder. His escape from the tight, gossipy confines of Launceston to the colour and violence of war sees him blossom as he experiences not only the possibility of death, but the constant danger of a love that is as clandestine as his work.
MOTHER'S BOY is the story of a man who is among, yet apart from his fellows, in thrall to, yet at a distance from his own mother; a man being shaped for a long, remarkable and revered life spent hiding in plain sight. But it is equally the story of the dauntless mother who will continue to shield him long after the dangers of war are past.
("Sublimely written" – TripFiction)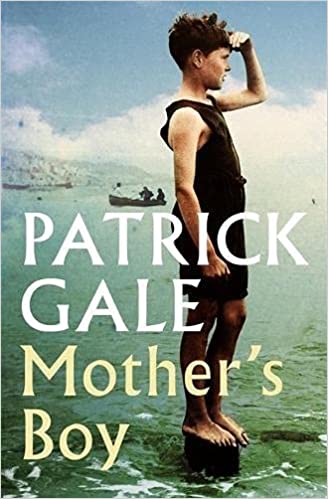 Books set in London
6. Apple Tree Yard by Louise Doughty
Yvonne Carmichael has worked hard to achieve the life she always wanted: a high-flying career in genetics, a beautiful home, a good relationship with her husband and their two grown-up children.
Then one day she meets a stranger at the Houses of Parliament and, on impulse, begins a passionate affair with him – a decision that will put everything she values at risk.
At first she believes she can keep the relationship separate from the rest of her life, but she can't control what happens next. All of her careful plans spiral into greater deceit and, eventually, a life-changing act of violence.
("An engrossing read where London itself is quite a character" – TripFiction)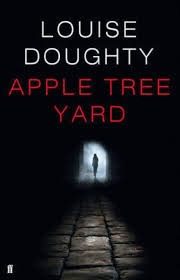 Books set in Wales
7. The Red House by Mark Haddon
After his mother's death, Richard, a newly remarried hospital consultant, decides to build bridges with his estranged sister, inviting Angela and her family for a week in a rented house on the Welsh border. Four adults and four children, a single family and all of them strangers. Seven days of shared meals, log fires, card games and wet walks.
But in the quiet and stillness of the valley, ghosts begin to rise up. The parents Richard thought he had. The parents Angela thought she had. Past and present lovers. Friends, enemies, victims, saviours. And watching over all of them from high on the dark hill, Karen, Angela's stillborn daughter.
The Red House is about the extraordinariness of the ordinary, weaving the words and thoughts of the eight characters together with those fainter, stranger voices – of books and letters and music, of the dead who once inhabited these rooms, of the ageing house itself and the landscape in which it sits.
Fiction set in Wales
8. Halfway by Bev Jones
If everyone is lying, who can you trust?
The Halfway Inn is closed to customers, side-lined by a bypass and hidden deep in inhospitable countryside. One winter's night, two women end up knocking on the door, seeking refuge as a blizzard takes hold.
But why is the landlord less than pleased to see them? And what is his elderly father trying so hard to tell them?
At the local police station PC Lissa Lloyd is holding the fort while the rest of her team share in the rare excitement of a brutal murder at an isolated farmhouse. A dangerous fugitive is on the run – but how can Lissa make a name for herself if she's stuck at her desk? When a call comes in saying the local district nurse is missing, she jumps at the chance to investigate her disappearance.
The strangers at Halfway wait out the storm, but soon realise they might have been safer on the road. It seems not all the travellers will make it home for Christmas . . .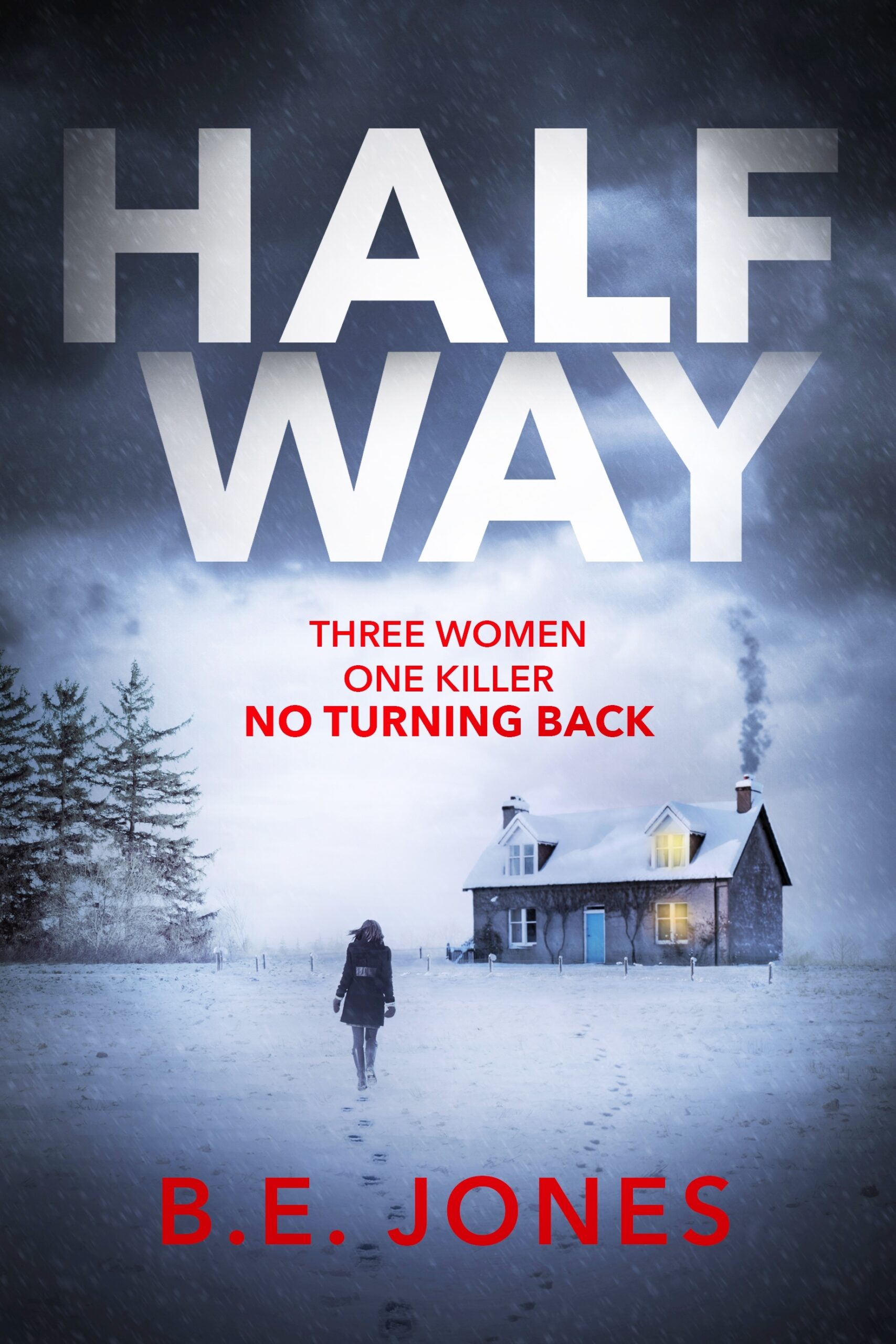 Books set in Scotland
9. The Blackhouse by Peter May
A brutal killing takes place on the Isle of Lewis, Scotland: a land of harsh beauty and inhabitants of deep-rooted faith.
A MURDER: Detective Inspector Fin Macleod is sent from Edinburgh to investigate. For Lewis-born Macleod, the case represents a journey both home and into his past.
A SECRET: Something lurks within the close-knit island community. Something sinister.
A TRAP: As Fin investigates, old skeletons begin to surface and soon he, the hunter, becomes the hunted.
(Peter May is a very popular author and if you like this, the first, in the series, then there are a further two titles in the trilogy to devour).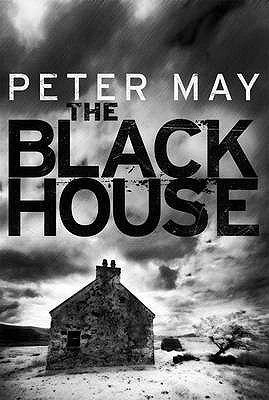 Fiction set in Edinburgh
10. 44 Scotland Street by Alexander McCall Smith
The story revolves around the comings and goings at No. 44 Scotland Street, a fictitious building in a real street in Edinburgh. Immediately recognisable are the Edinburgh chartered surveyor, stalwart of the Conservative Association, who dreams of membership of Scotland's most exclusive golf club. We have the pushy Stockbridge mother, and her prodigiously talented five-year-old son, who is making good progress with the saxophone and with his Italian. Then there is Domenica Macdonald who is that type of Edinburgh lady who sees herself as a citizen of a broader intellectual world.
In McCall Smith's hands such characters retain charm and novelty, simultaneously arousing both mirth and empathy. 44 Scotland Street is vintage McCall Smith, tackling issues of trust and honesty, snobbery and hypocrisy, love and loss, but all with great lightness of touch. Clever, elegant and funny, this is a novel that provides huge entertainment but which is underpinned by the moral dilemmas of everyday life and the characters' struggles to resolve them.
(If you like this author's storytelling, then there are plenty more books that he has penned over the years)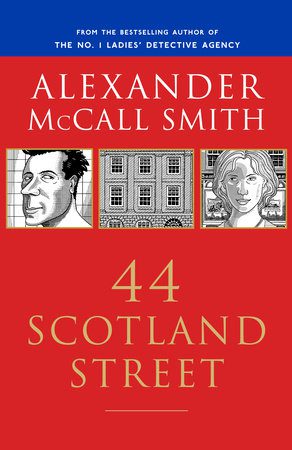 More Books to Inspire You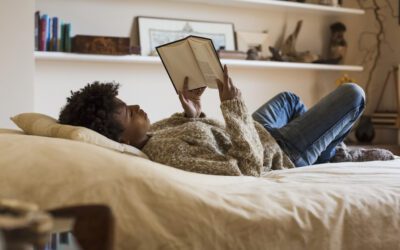 Join us on May 25 to learn about these four inspiring solo travel memoirs written by women from the JourneyWoman community.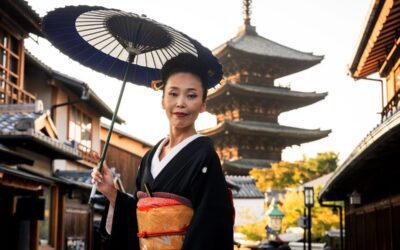 Set in Kyoto, Japan, Rebecca Copeland's thriller "The Kimono Tattoo" shows a deep reverence for Japanese culture.
Curated for Earth Month, these beloved five books about trees remind us of the wisdom of listening to the forest.