Last updated on February 8th, 2022
Featured image:  Havana by Carolyn Ray, 2019 
"A cautionary tale for women around the world…"
By Carolyn Ray, Editor-in-Chief, Publisher, JourneyWoman
In the infancy of Cuba's tourism, Wanda St. Hilaire takes a trip to the tiny island. In spite of her love of all things Latin, she puts herself on a travel ban to Castro's Cuba, one that lasts twenty years. When she is forced to cancel a trip to Oaxaca, Mexico at the last minute, she finds herself in Cuba twice, on back-to-back trips. Walking into the backstreets of Havana, eyes wide open, she finds herself pulled into a dalliance with a charismatic cubano, Paulo.  A journalist like her, they enjoy their time together.
Once she returns to her Canadian hometown she continues their relationship as best they can long distance. She makes plans to see him again but for some reason his letters and phone calls change drastically. She starts to doubt him and wonders if she should continue with her plans to head back to Cuba. A great story about love – with all the colour of Cuba. It's also partly a cautionary tale about the perils of foreign flings.
According to a 2009 interview, she made two back-to-back trips to Cuba in late 2006 and early 2007, which led to an entanglement with a Cuban man. This stirred her to write this very personal and meaty — sometimes messy — tale.  She says: "I wanted to tell the whole truth. It took me a while to get up the courage."
Underneath the facade of Cuba's tourism lies the desperation of a society living mostly in abject poverty. When tourists mingle with locals, we get a glimpse of what underlies the frivolity of Cuban entanglements. St. Hilaire speaks with an authentic voice and doesn't mince words; she recounts her own activities, emotions and opinions with refreshing honesty.
With each solo adventure, the author reaches a deeper understanding of human nature and the world. At the same time, she conducts a journey of self-discovery, learning about her own entrenched beliefs, biases and blemishes.
Recommended by Terry 
"Canadian author Wanda St Hilaire wrote 2 memoirs, Cuban Chronicles and Fragments of French.  Both are great reads for women, especially single travellers.  – Terry, Calgary Alberta
About the Author
A self-confessed romantic, Hilaire prefers solo trips because she doesn't want to follow anyone else's agenda. That allows her to enjoy what she loves most — absorbing a new culture through cooking or language classes and getting to know the locals. Sometimes intimately.
She is a three-time breast cancer survivor. After a second diagnosis in 2010, she made lifestyle changes that contributed to her healing and supported her philosophy that our lives are meant to be lived doing what we love in places that make our hearts sing. Through writing, she shares what she's learned through the high peaks of adventure and love and from the dark valleys of illness and heartbreak. Her mission is to help people overcome the self and tap into their wise inner guidance system.
Your book club co-hosts, Wendy and Carolyn, invite you to bring your tips and advice on romantic liaisons while travelling and join us at our monthly book club on November 17 at 8 pm EDT, for a facilitated discussion, its themes, and to share our travel experiences. Our book club operates on a Pay-What-You-Can model. We thank you for your generosity and kindness.
Hillaire's Rules  — in her own words –for conducting a foreign fling: 
* Most women are wired to want more. A foreign fling is a lot of fun.
* Enjoy the moment (carpe diem), but be emotionally prepared to let it go.
* Educate yourself. Know the lay of land and find out about culture mores and rules. For example, in many countries guests are not allowed in hotel rooms. Be sure to respect the local customs and etiquette.
* Finding yourself showered with the attentions of an exotic foreign man can be very heady. Be aware there may be a hidden agenda or motive (like an escape from dire circumstances). Also, know what your own underlying agenda is.
* Trust your intuition. If you feel uncomfortable or any red flags come up, pay attention. Use tact to extricate yourself from the situation.
* Take precautions and ask questions to avoid issues later on, be it of the heart or your health. Read between the lines.
(Source: The Winnipeg Free Press, 2009) 
Donna Star, author of Cuba for Mama: A Daughter's Journey 2016: Travel Tales & Tips, shares her tips on preparing for a solo trip to Cuba.
Book Club Discussion Questions (Wednesday, November 17, 2021, 8 pm EDT)
We may not get through all of these, but here are some thoughts to start our discussion! 
1. What was your favourite passage of the book and why?
2. What had been your experience with Cuba prior to this book?
3. Why do you think Wanda St Hilaire chose to tell this story?
4. What parts of the story could you most relate to?
5. How honest do you think St Hilaire was being?
6. Our author states, "finding yourself showered with the attentions of an exotic foreign man can be very heady. Be aware there may be a hidden agenda or motive (like an escape from dire circumstances). Also, know what your own underlying agenda is." What do you think her underlying agenda was in her Cuban adventure?
7. Could you relate to Wanda and the main characters? (your favorite/least favorite) Did you like them? Were they believable? Did you approve of their decisions and behavior?
8. How did this book change you / your perspective?
9. Did you learn something you didn't know before?
10. "Most women are wired to want more. A foreign fling is a lot of fun." Ever had a foreign fling? What would your advice be to women who do this? 
11. Does the book inspire you to go to Cuba?
Featured articles on the Caribbean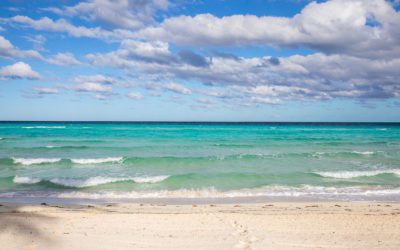 It doesn't get more luxurious than the remote Bahamas resort Careula Mar Club, ideal for solo travelers who want to escape the crowds.
With longer stays dominating the vacation rental market, these 10 expert tips will help women find safe, cost-effective homestays.
Travel tips for women to explore Puerto Escondido, near Oaxaca, Mexico, and connect with nature in a laid-back, bohemian setting.
Your Imagination Can Take You Places
Now more than ever, we're finding camaraderie and inspiration through novels. Join us each month as we discuss a different book, suggested by our community, about a faraway land.