Last updated on March 7th, 2023
Featured image: Clearly, we can never get enough packing tips / Photo by Envato
Packing tips for the eco-friendly traveller
By Marin Scotten, Editorial Intern, JourneyWoman
Here at JourneyWoman, packing is a bit of an obsession. Maybe that's why we have packing lists for almost every occasion – from post-pandemic packing to packing for the Camino. (Not to mention videos of packing on our YouTube channel!) 
When we travel, we want to consider items that reduce our environmental impact.  To take our tips to the next level we invited our very own Nora Livingstone, the CEO of ethical tourism company Animal Experiences International and JourneyWoman Advisory Council Member, to give us some insider knowledge – and to recommend products that are both convenient and eco-friendly. What she shared might surprise you!   
(Please note: this article includes Amazon and other affiliate links, but we only ever recommend items we think are relevant for you and we've tried ourselves that will benefit you on your travels). If you decide to purchase an item through one of these links, we will receive a small commission that doesn't add any cost to the purchase of an item.)
It's no secret that using a reusable water bottle saves plastic and is good for the environment. It's one of the easiest things one can do to reduce waste, especially when travelling. However, just as important is ensuring the water you're drinking is clean and safe to drink. 
Livingstone uses the SteriPen water bottle and and purifier, which uses ultraviolet light to purify water. When you immerse the lamp in the water, it disrupts the DNA of bacteria, viruses and protozoa, rendering them harmless.
Many of the top sunscreen brands like Coppertone, Sun Bum, Neutrogena and Banana Boat contain chemicals that are harmful to the ocean's reefs and marine life. When travelling and visiting these incredible ecosystems, it's our responsibility to do as little damage as possible. Try to find an SPF that uses physical UVA and UVB filters instead of chemical ones. Look for the ingredients: zinc oxide and titanium dioxide. 
Nora recommends Badger Balm sunscreen, a women-owned business that strives to protect natural resources and incorporate climate justice into their everyday production. Their products are chemical-free and reef safe.
"Flying with toothpaste can be messy even if you are allowed to take it on a plane. I switched to toothpaste tabs a few years ago and never looked back," Livingstone says. 
Toothpaste tabs are not only convenient for travel, but they also reduce plastic usage. These tablets by Bees Butter come in a glass jar and are made from 100% food grade ingredients. Simply place the tablet in your mouth, crush it with your teeth and then brush as normal.
A snapshot of what's in Nora's backpack:
What else would you add to our eco-friendly list?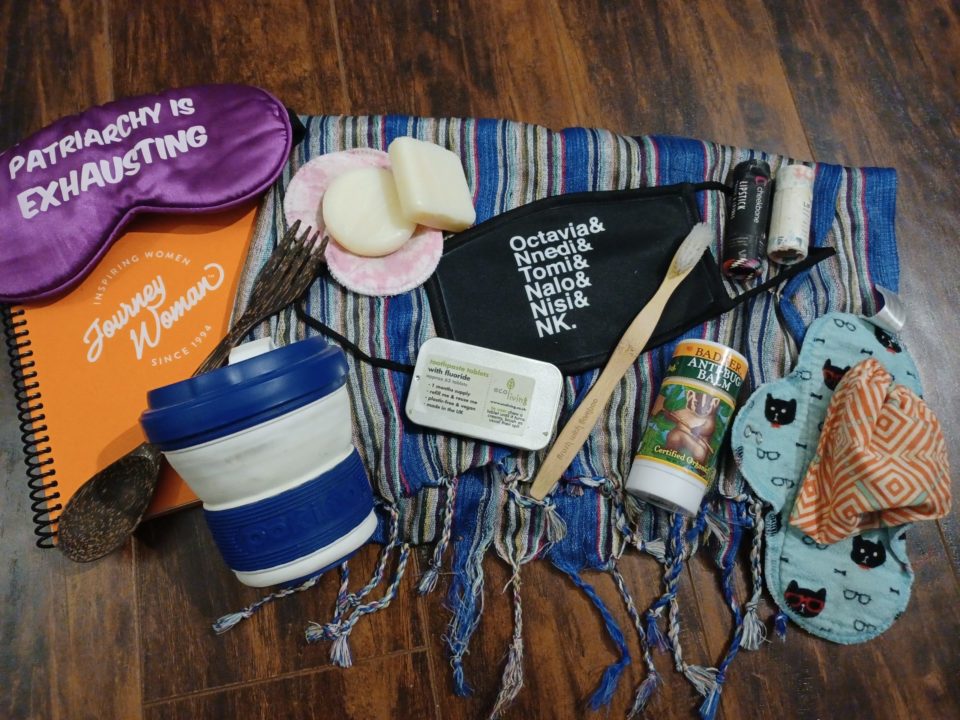 Another product that reduces plastic waste is shampoo bars. These are an eco-friendly way to bring along the hair products you need. These shampoo bars by The Earthling Co. are chemical-free and come in six different scents. They also have a conditioner bar, both of which are small and easy to travel with.
It's no secret that eating a plant-based diet is good for the environment. When travelling however, it can be difficult to find restaurants that have plant-based options.
HappyCow was founded in 1999 as a public service to assist travellers in finding plant-based/vegan restaurants all over the world. HappyCow has since grown to a large online community and app used by plant-based travellers and others who want to minimize their impact on the earth.
When exploring some of the untouched corners of the earth, a bug net is essential for sleeping, especially when spending a night in the jungle. The Kammok DragonFly bug net is extremely lightweight and easy to pack, perfect for throwing in your backpack.
Nora also recommends purchasing one for a child in need from UNICEF.
13 Surprising Things Some Women Don't Travel Without
JourneyWomen readers share the surprising things they don't travel without, from dry-wicking underwear to cable ties.