Last updated on June 11th, 2023
Featured image: Finding a unique place to stay can make a holiday more memorable
Put these women-recommended places on your travel radar
By Amanda Burgess, Contributor
For some travellers, finding a unique place to stay levels up the experience by several notches. 
We asked you to tell us the most unique places to stay, and what poured in will make you want to bookmark this article before booking your next trip. From treehourses to capsule hotels and tents in the desert, these eight unique places to stay will make you want to pack your bags to the UK, India, Spain, Iceland, Scotland, Wadi Rum, and Jordan. 
Disclaimer: This article contains affiliate links. If you decide to stay at one of the properties listed, booking through the link in our article allows us to earn a small commission to keep this site running. Every little bit helps! 
Jump to a unique place to stay now!
Eight unique places to stay 
These eight unique places to stay come recommended by JourneyWoman readers based on their first-hand experience. We're big fans of finding accommodations that are locally owned (especially by women), as they are often the gateways to more authentic travel experiences.  If you have discovered a unique place to stay, don't hesitate to share it so that other women can travel safely and well.
1.
Robin's Nest, Woodhall Spa Village, Lincolnshire, UK
2 Guests . 1 Bedroom . 1 Bed . 1 Bath
Book on Quality Unearthed
Robin's Nest, Woodhall Spa Village, Lincolnshire, UK
A look inside the Robin's Nest bedroom
Rented By: Brenda Hines
Selection Criteria: Taking a mini-break to celebrate birthdays, Brenda was seeking a bit of escapism – a unique experience that would provide a COVID-secure environment and a bit of luxury in the great outdoors that offered the freedom to explore or chill as moods dictated.
Her Experience: Brenda's initial reaction upon arrival was wow – the treehouses had looked amazing online, but the in-person impact exceeded expectations. Every detail had been thought through for maximum fun and relaxation – from the rowing boat to the hammocks swinging between the trees, and the firepit.  The aptly named 'Robin's Nest' even had a resident robin hopping from tree to tree!
 "The treehouse itself was in beautiful location and on entering, it was so much more luxurious but designed to fit in with its natural environment. The floor-to-ceiling windows allowed the outside in," she says. "There was a lovely log burner for colder evenings, the bathroom was stunning, and the soaps were locally made.  There was a kitchen area with cooking facilities and lovely welcome touches such as homemade shortbread and eggs."
Brenda had just moved into a property that was a major project and had spent weeks sleeping on a sofa while work was underway on the bedroom. Her stay in Robin's Nest was more than a pandemic escape – it was a welcome bit of rustic luxury. 
"Staying there was so wonderfully relaxing. You just felt your shoulders drop and your breathing slow. It was as if you could almost shake off the traumas of the last year, and just be for once," she says. "The rowing boat just proved to be such a laugh, getting into it set us off into laughter and getting out even more so. Oh, the small things in life!"
2. Treehouse Hideaway, Bandhavgarh Tiger Reserve, India
2 Guests . 1 Bedrooms . 1 Bed . 1 Bath
Book on TripAdvisor.com
Interior of Treehouse Hideaway
The bar at Treehouse Hideaway
Rented By: Jane Collins
Selection Criteria: On a trip that began in Petra, Jordan, and continued to India, Collins was looking for unique accommodations and discovered the Treehouse Hideaway online, using her local travel agent to complete all trip bookings. 
Her Experience: One of the experiences Collins was keen to have on this trip was to see tigers, given their sadly dwindling numbers. It was part of the appeal of Treehouse Hideaway, which is located on the Bandhavgarh Tiger Reserve. "The entire trip was a 10/10. It was unique to stay in a treehouse, and memorable for the whole tiger adventure," says Collins. "The treehouse we stayed in was like a small bungalow – big bed, fully netted against mosquitoes, bathroom with shower, sliding doors to the balcony overlooking the jungle. We had a first night late arrival from the airport and they waited to serve us dinner. Also brought a huge bowl of hot coals that was placed near the table to warm us up."
Search for the Perfect Trip
Find a women-friendly tour anywhere in the world on the Women's Travel Directory
3. Casa Ibarrola, Pamplona, Spain
1 Guests . 1 Bed . Baths (shared)
Book on Booking.com
The capsule beds at Casa Ibarrola, Pamplona, Spain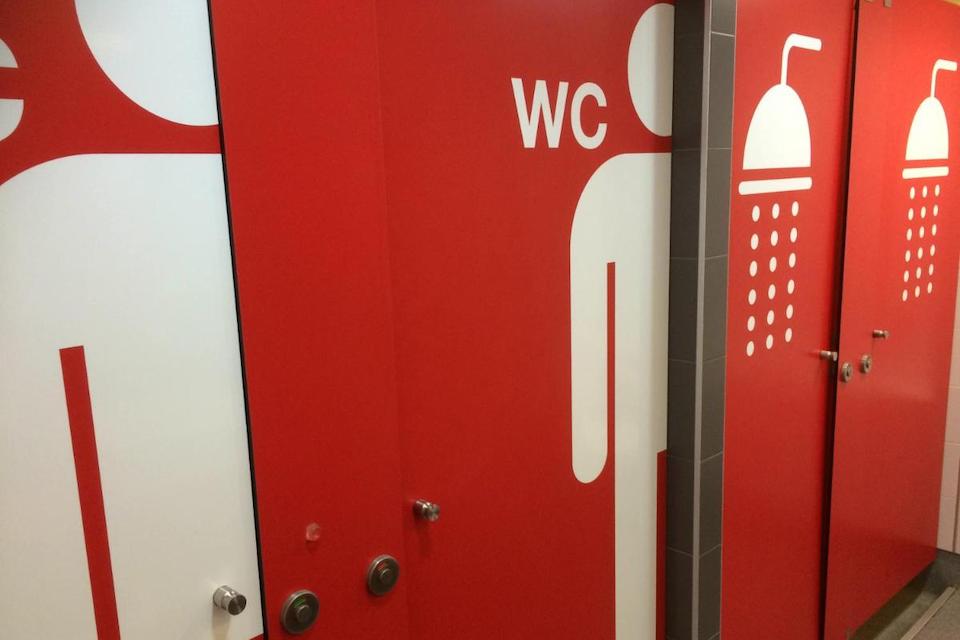 Washrooms and showers at Casa Ibarrola
Rented By: Donna Richardson
Selection Criteria: While planning a Camino adventure in 2017, Richardson needed a place to stay for one night in Pamplona, Spain. Her wish list: Cost-effective, clean accommodations with a comfortable bed, hot showers, laundry facilities and a meal included. She found it in Japanese-inspired capsule hotel Casa Ibarrola – so much so, that she stayed for two nights.
Her Experience: A hostel attendee greeted Richardson with a smile, accepted her payment, stamped her Camino passport and toured her around the facility to her bed. 
"I giggled when I saw the pods, and thought they were so interesting. Streamlined, white and modern. I had heard of pods in Japan but had not experienced one. It had a communal kitchen where you could buy and cook dinner for yourself or share with others, free breakfast, rain forest showers, laundry, and did I mention the cool pods to sleep in that had their own lockable cubby, two power outlets, a light, and pulldown blind for privacy?" she ways. "It also had wifi. Everything was so clean, new, modern, and bright. The experience was the best I encountered on the Camino, and a welcome surprise. Check in was at 11:00 am and check out at 9:00 am the next day. All for 18€ per night." 
Note: Richardson says that her scale for the Camino is vastly different to other trips and stays because of the transient and shared accommodations nature of the pilgrimage walk, but this one stood out head and shoulders above all Camino stays.
4. Buubble Hotel, Bláskógabyggð, Iceland
1 Guests . 1 Bedrooms . 1 Beds . Baths (in separate facility)
Book on Buubble.com
Rented By: Valerie Stern
Selection Criteria: When planning travel, Stern looks for places that are unique: "When people look at my photos or hear about where I stayed, they say: 'Wow! That's so cool!' I had a little downtime between trips and came across a cheap package for a tour in Iceland, so I grabbed it. The stay was part of my package. It sounded like an amazing opportunity, and I couldn't resist adding it to my itinerary.
Her Experience: Stern was expecting a simple driving tour of a few sights en route to the location but was pleased with the number of stops and the amount of time spent at each. She gives extra points for the luxurious vehicle, the friendly, knowledgeable, and fun guides, and the company of the other travellers. 
"We visited Thingvellir, a UNESCO world heritage site; the Rift Valley; Geysir, a geothermal field of hot-springs, boiling mud and exploding geyser; Gullfoss, a giant waterfall plunging down a curved three step staircase a 105-foot deep crevice; and Secret Lagoon, an intimate, secluded natural hot spring," says Stern. "We enjoyed a wonderful dinner (not included) before being whisked off to our private Buubbles, each far removed from the other but still close to the service house with kitchen, showers, and washrooms. This is truly a remote destination with zero amenities, but there was a big, comfy bed covered in faux fur throws, a lamp, a heater, and absolutely nothing else."
She found the experience of being completely cut off from civilization but being so in touch with the natural environment – snow falling all around and over her in her bubble – extraordinary, serene, and quietly comforting. The Aurora Borealis may not have danced in the sky for her that night, it still felt like a once-in-a-lifetime experience.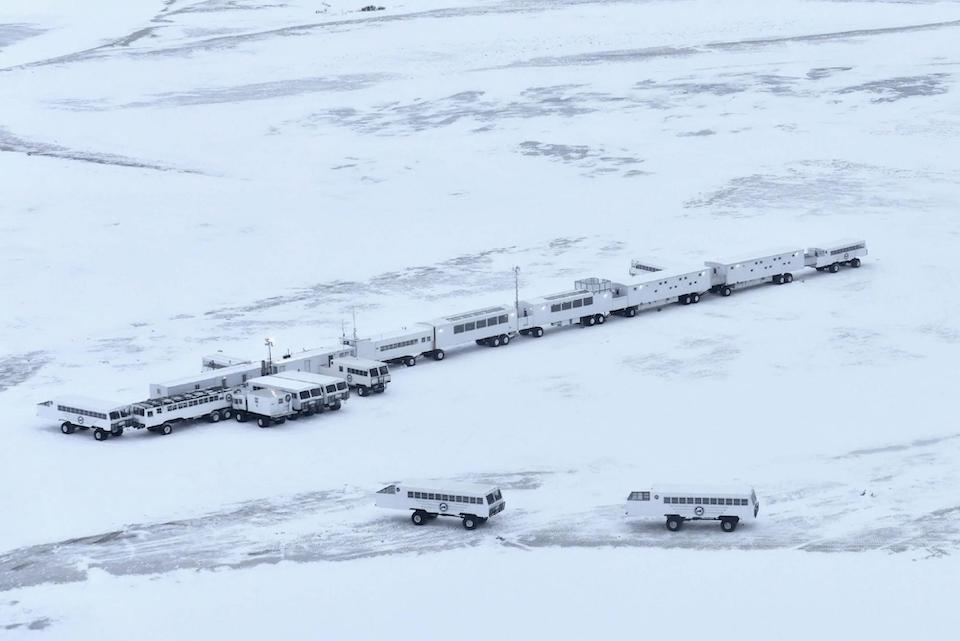 Tundra Lodge, Churchill, Manitoba
The sleeping quarters in Tundra Lodge
Rented By: Dee Kurtzer
Selection Criteria: In 2019, Kurtzer was planning her second trip to Churchill, Manitoba with Natural Habitat (NatHab). The first was centred on the Northern Lights, and this trip was all about the polar bears. The tour company offered the choice of staying in town and making day trips or spending two nights on the tundra in the Tundra Lodge – a custom-designed rolling hotel positioned on the tundra each season in an area of high bear activity. I mean…which would you choose?!
Her Experience: Going into the adventure without much information about the accommodations gave Kurtzer pause. The bathrooms were shared. She was worried she, a Texan, would be cold. She discovered her concerns were a non-issue.
"I actually was warm on the lodge cars, which consist of a sleeping car with bunkbeds and just enough space for a duffle bag. They were surprisingly quiet. I expected to be kept awake from surrounding noises, but it didn't happen. The bunks were not the most comfortable, but it was only for two nights. The other two cars hold a kitchen/dining area with good food, served family style. The staff were very friendly and helpful," she says. "We got up early, dressed, ate, and left in the tundra vehicles, where we stayed all day. The vehicles are very large, with a restroom, and they would pack lunches for us to have onboard. The cars all have a viewing platform, and when the bears come close, it makes for some very good photos."
The experience is expensive, but worth it for its rarity. What made it unique for Kurtzer was being so deep into the wild north, away from city lights and civilization, and staying in accommodations built for the unforgiving tundra.
6.
The Drovers Inn, Loch Lomond, Scotland
Drover's Inn, Loch Lomond, Scotland
Some of the macabre decor at the Inn
Rented By: Kathy Hunter
Selection Criteria: In 2009, Hunter was on a six-day hike along the West Highland Way her brother – who had passed by the inn on previous trips to Scotland and was keen to try it – and booked directly with the inn.
Her Experience: The inn offered everything her group was looking for – breakfast included, showers, food, a bar, colourful staff, clean, and quirky. It was a must-see for its contribution to her trip.
"It's a pretty unique spot and a gem to slide into after a day on the West Highland Way, an ancient trail from Glasgow to Fort William. It is famous for its macabre décor. As soon as you enter the inn, you become aware that you are being watched, as all manner of beasts have been stuffed and displayed, eyes wide open, for your viewing pleasure. A little unnerving at times when you forgot a certain bear was in the hall," says Hunter. "The pub staff proudly sport t-shirts that state: The Drovers Inn. Scotland's pub of the year in 1705.It seems that everything has remained frozen in time since then. There are plaques and swords and relics with what seems like three hundred years of dust and tarnish. The atmosphere is nonetheless cheery, and a fire kept us all toasty."
Hunter's group spotted many now-familiar faces, companions on the Way, passing through the inn. Their quarters were on the third floor. "At least, it seemed to be the third floor. The Drovers h as a strange array of levels and fire doors. It felt like the attic, and the chorus of coos and scratches on the other side of the plaster at the head of our beds seemed to confirm that fact." Highland creatures or the inn's famed ghosts? You decide.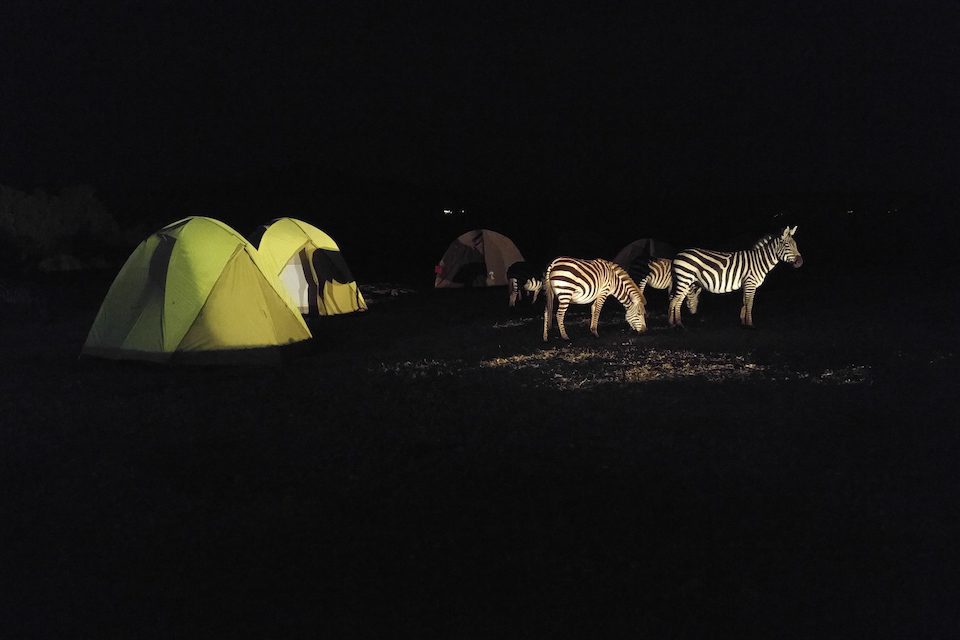 Camp view at night on Kokotailo's two-month safari adventure
Rented By: Louise Kokotailo
Selection Criteria: All accommodations were arranged by her tour company, but she opted for 'accommodated rooms' wherever available. The nights spent camping in a tent in the Serengeti were among most memorable moments of a once-in-a-lifetime trip.
Her Experience: Kokotailo was on a two-month road trip safari with Nomad Tours spanning Kenya, Tanzania, Zanzibar, Malawi, Zambia, Zimbabwai, Botswana, and South Africa, starting in Nairobi, driving to the Serengeti and Ngoronoro Crater. Prior to the tour, she hired a private driver to visit Nairobi National Park, Sheldrick National Trust, Giraffe Centre, and the Karen Blixen Centre.
There were 16 people in Kokotailo's small group tour, and accommodations (when not in a tent) were private rooms or cabins. 
"The Serengeti was a very basic campground, with primitive showers and washrooms. It was only for a few nights, so the basic option was fine.  here are other much more expensive accommodations, but they are somewhat further away from the wildlife," she says. "I preferred the rustic camping. For extra cost, we rented sleeping bags, rather than packing these all the way from Canada. There was something available for us to do when in our camps or resorts most days.  Waking up in the morning with hippos or elephants walking by was unforgettable."
Interior at the Bedouin tent in Wadi Rum, Jordan / Photo by Arabian Nights
Rented By: Suzanne Onstine
Selection Criteria: When booking her desert camping adventure in Wadi Rum, Onstine was hunting for a Bedouin-style camp that offered local flavour. She was travelling from Tennessee to meet a friend who lives in Tasmania, driving all over Jordan for 10 days, with the Wadi Rum adventure happening on the front end.
Her Experience: While Onstine found the Jeep tour geared to the young and fit – rocky trails, climbing rock – there was an abundance of scenery to make anyone forget their discomfort. 
"The camp was more comfortable than I expected even though it was rustic – basic beds in a Bedouin tent with electricity for lights and device charging. I expected to be colder (it was November) but the traditional tent was decent at keeping out the draft. There was a larger communal tent for meals and hanging out that had games and a supply of tea. Meals were great – Arabic style grilled meat and vegetables which they cooked in a pit outside," she says. "I love the desert and being able to stay a few nights in the tent, watching the stars at night, and seeing the colours change throughout the day – especially at sunrise and sunset – was amazing. The quiet of the area is profound, especially at night. It is the kind of setting that makes you think deep thoughts about the universe. A herd of camels wandered through at breakfast time so there were fun photo opportunities there too."
What's the most unique place you've ever stayed in on your travels?
Share it in our Accommodations Directory or search for a new one here.
More Unique Places to Stay to Inspire You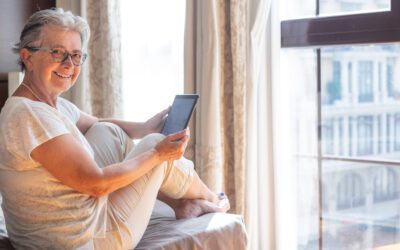 Find, share and support women-owned accommodations in our Women's Travel Directory, which also features Indigenous and accessible businesses.
JourneyWoman readers share their tips on where to stay in Dublin, Ireland, including hotels, hostels, B&Bs, and more.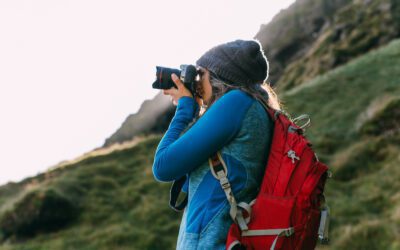 Our monthly curated list of solo travel trips submitted by JourneyWoman readers, featuring hotels, safety tips, what to pack, and more.