Last updated on February 27th, 2023
Featured image: Bath's ancient, medieval and modern history is best seen from Pulteney Bridge over the River Avon, Bath UK / Photo by Cajeo Zhang on Unsplash
Bath, a magical blend of the ancient, medieval and modern
By Carolyn Ray, Editor, JourneyWoman
Who isn't entranced by Bath, with its Georgian architecture and thermal baths? On my first trip to Bath 20 years ago, I was with my daughter, who was four at the time. Then, I was a budding solo traveller on my first trip to the UK.  
Bath is a wonderful place to visit solo. On my most recent visit in November, I spent two days in Bath after a fascinating week in the creative hub of Bristol, which is only 15 minutes away by train. I discovered that Bath is a blend of ancient, medieval and modern features, making it both timeless and elegant. It's one of those cities you can return to and still find something new to discover. It's no wonder that much of Bridgerton is filmed in Bath. 
Take the train! Check train schedules here. 
During my brief stay in Bath, I was a guest at the luxurious Roseate Villa, a family-owned, two-storey boutique hotel. With a park at the front and a garden at the back, it's a wonderful place to relax and unwind. The rooms are so comfortable you won't want to leave, and a delicious breakfast is included. The Villa is about a 15-minute walk from the Bath train station over Pulteney Bridge, or you can take a bus from the train station. Walking time to Bath is less than 10 minutes along well-lit streets.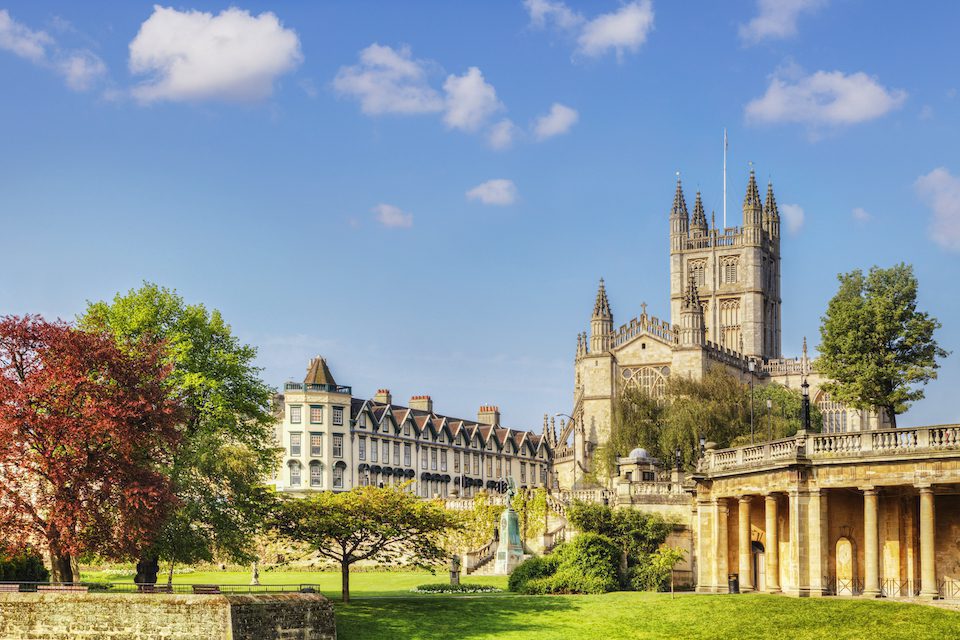 Featured image: Historic Bath Abbey in Bath, UK | Photo by travellight on Shutterstock
Seven things to do in Bath
There is no shortage of creative and historical pursuits in Bath, which change with the seasons. In November, the weather alternated between sun and rain, but it is a pleasant time to go. Bath is a popular day and weekend trip for Londoners, particularly for the Christmas markets in late November and December, so it might be more affordable during the week. 
 1. Visit the Roman Baths
No visit to Bath is complete without stopping by the Roman Baths, one of the best-preserved Roman remains in the world, with ancient chambers and sacred springs. In ancient times, the Baths and Temple were important places for socializing and networking. 
The museum underneath shows the original baths, which were constructed around 70 AD. The Roman Baths are the site of extensive ruins and an interactive museum to help us understand the lives of the Aquae Sulis people. When you're there, look for the hooks mid-way up the walls, which show where the actual water levels were. Get tickets to the Roman Baths here.
Have your own solo lunch at the Pump Room, which was the heart of the Georgian social scene, and the setting for Jane Austen's novels Northanger Abbey and Persuasion. Bring a journal or simply enjoy the Pump Room Trio or Pianist, which play every day. 
2. Practice some self-care in Bath's thermal springs
What could be a more relaxing activity on your own than a morning at Thermae Bath Spa, which has a series of pools including one on the rooftop, and gives you a lovely view of Bath. I went in the morning, but it would be a lovely place to watch the sunset solo! 
Make a reservation in advance, or simply walk in. Bring only a bathing suit; a towel, robe and slippers are provided, as well as plastic bags for your wet suit. A two-hour stay is L38 during the week and a bracelet is provided, which monitors your time. You cannot take pictures, so consider this some self-care and enjoy the warm thermal springs just as the Romans did centuries ago.
3. Stop in at Bath Abbey
For over 1300 years, Bath's iconic Abbey has survived a number of major conflicts, architectural and religious reforms, restorations, and two World Wars. In its history, three churches have stood on the site: a Saxon Monastery, a Norman Cathedral, and the present Abbey building which was started in 1499.  
In 2018, the L21 million Footprint Project was launched, which focused on repairing the Abbey's floor from collapse, install a new eco-friendly heating system using Bath's hot springs, and provide new, improved space and facilities. This fascinating project revealed many exciting discoveries as the floor stones were lifted, documented, and repaired, recording the archaeology beneath the stones. There is no charge to visit Bath Abbey, but donations are accepted.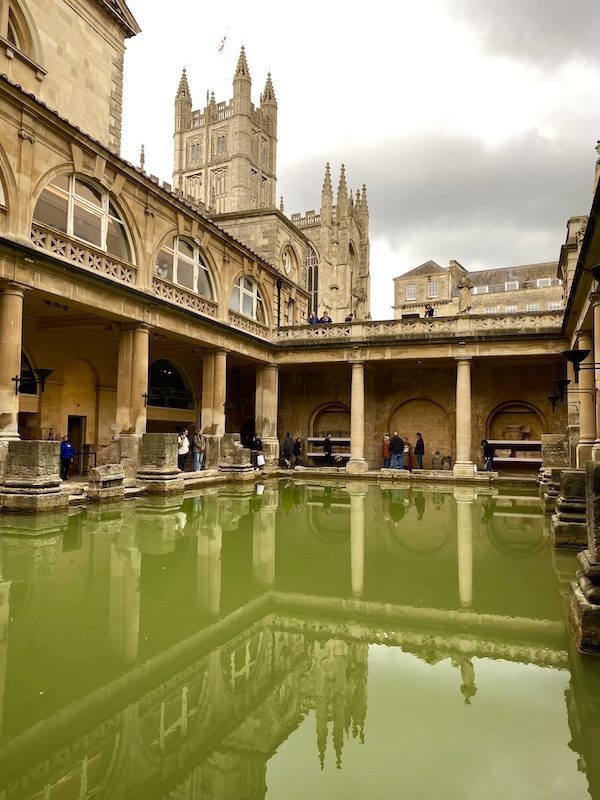 The Roman Baths / Photo by Carolyn Ray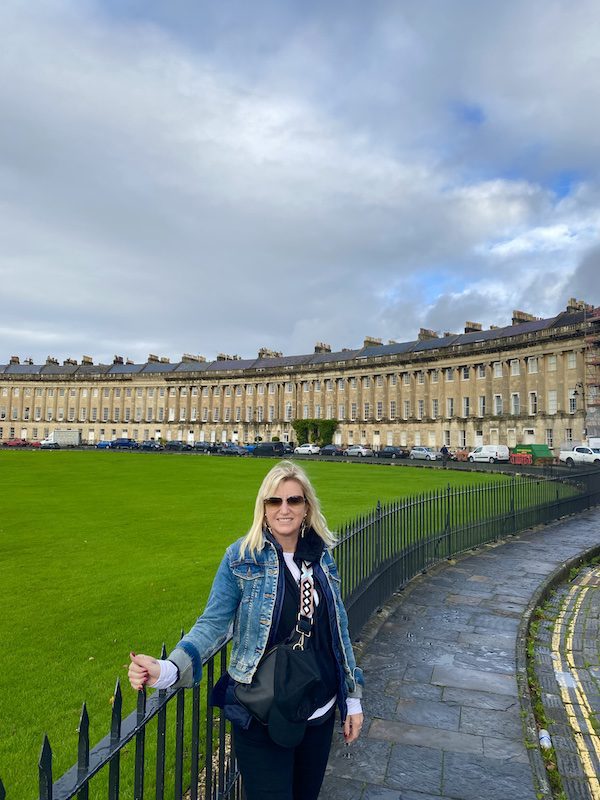 The Royal Crescent / Photo by Carolyn Ray
4. Partake in a formal English Tea
Despite my many trips to the UK, I had never had a leisurely English tea. This time, I enjoyed a mouth-watering afternoon tea at the Roseate Villa, complete with freshly baked raisin scones with clotted cream and homemade strawberry jam, homemade cakes and indulgent sandwiches with goat cheese, cucumber and other fresh ingredients. 
Choosing a tea is a challenge, but the Roseate Villa's Jane Austen Blend caught my eye: "named in honour of the famous novelist, a resident of Bath and reputed tea-lover, a long-standing bend recreates three fine Chinese teas into a delicate tea that was enjoyed throughout the 18th century. There is also the "Lady Whistledown", "Gunpowder Green and Mint" and "Bath City Blend". The beauty of travelling solo is you can have as many teas as you'd like!
5. Take a Bath Walking tour
After all that eating, it's time for a walk. Bath's Georgian architecture is world-famous and there are many gardens and parks to explore. 
Sights to see include The Royal Crescent, designed by John Wood the Younger. With 30 houses laid out in a crescent shape, it was built between 1767 and 1774,  To experience Royal Crescent life in its original style, No.1 Royal Crescent, the first house to be built on the crescent, is open to the public as a museum maintained by the Bath Preservation Trust. 
Nearby, the Circus, which was designed by John Wood the Elder and completed by his son, John Wood the Younger in the late 1700s. If you look closely at this circular set of three buildings, you'll see that it is adorned with acorns, a Celtic symbol meaning growth and good fortune. 
Find a walking tour in Bath here.
6. Stroll along Pulteney Bridge
With its small, quaint shops lining each side, Pulteney Bridge, built in 1774, reminds me of the Rialto Bridge in Venice. There are several tea shops and restaurants, and the tables are perfect for one person so you can enjoy people-watching and the boats floating by on the Avon River. It is from here that you can really see the 'layers' of Bath's history along the River Avon. 
Jane Christmas, author of the book "What the Psychic Told the Pilgrim", joined me from her home in Bristol so that we could connect in real life over tea.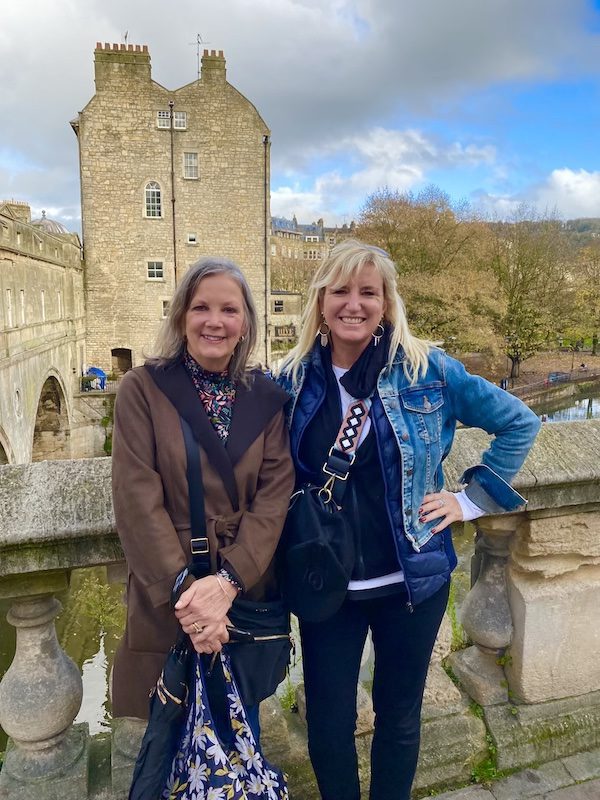 Jane and Carolyn after tea on Pulteney Bridge
/ Photo by Carolyn Ray
7. Spend a morning at the Holburne Museum
One of Bath's great Georgian buildings is the Holburne Museum, which also stars as the home of Lady Danbury in the Netflix series Bridgerton. This building was originally the Sydney Hotel built in the late 18th century as a centrepiece of the Bath 'new town' beyond Pulteney Bridge. It was also a gateway to the Sydney Gardens, a pleasure garden with labyrinth, swings and a mock castle.  
Today, the museum features historical and contemporary art on three floors. The centrepiece is the collection of Sir William Holburne (1793-1874) includes over 2,000 bronze sculptures, silver, porcelain and Dutch landscapes, which he donated to the City of Bath.  The museum is L11 with no discounts for women over 65.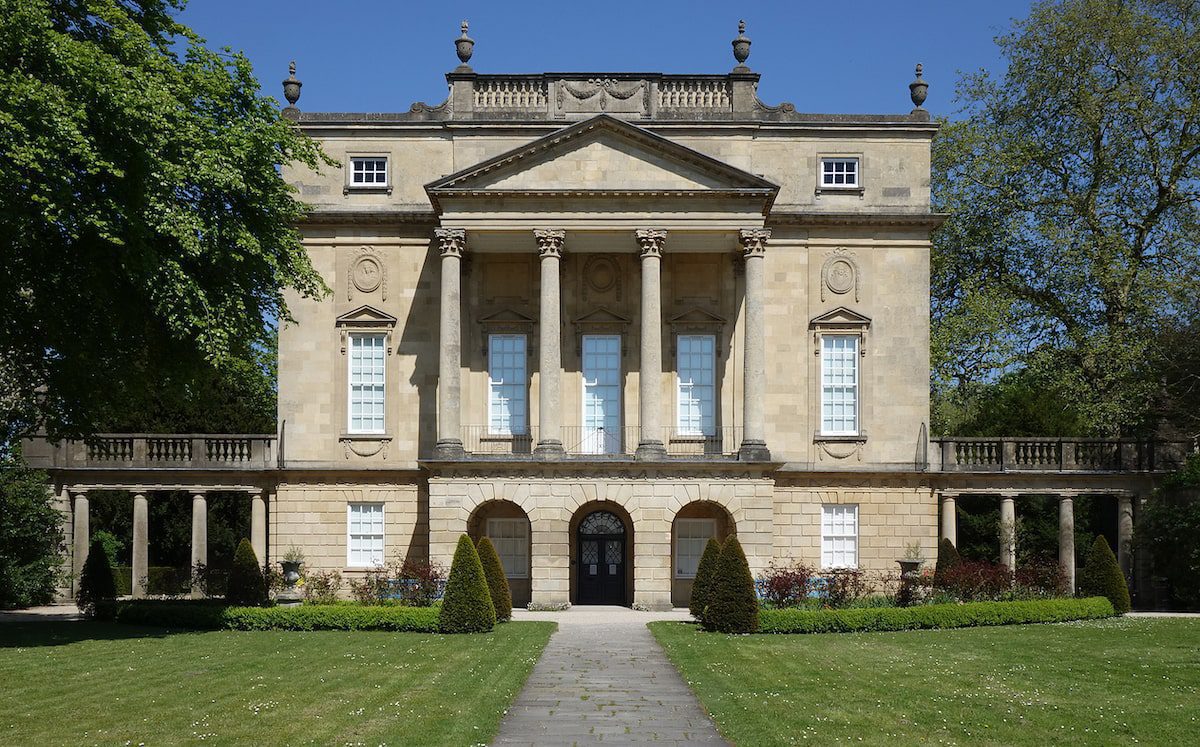 Other things to see and do in Bath
Assembly Rooms: Designed by John Wood the Younger in 1769, these elegant rooms hosted public events with music, dancing, playing cards, conversation, drinking tea and other social activities.  Entry is free, when they're open. 
Mary Shelley's House of Frankenstein:  Step into the dark world of Mary Shelley – a multisensory experience dedicated to the author and her great creation.
The Jane Austen Centre:  A snapshot of life during Regency times exploring how living in Bath affected Jane Austen and her writing.  Note: You can also see Jane Austen's house, where she lived from 1801 to 1805 and even rent it on Airbnb here.
Where to Eat
Bath has more than 50 restaurants and 165 pubs, so there is always a charming place to eat.
Sally Lunn's historic eating house and museum is Bath's oldest building, serving Bath's original Bun. These large fluffy buns with sweet or savoury dressings like lemon curd, cinnamon butter or blackcurrant jam. Don't miss the museum in the basement. 
The smallest pub in Bath is the Old Green Tree Pub, and the Saracen's Head pub is said to be the oldest pub in Bath and a temporary residence of Charles Dickens. 
Disclaimer: I was a guest of Visit Britain and Visit Bath, however, they did not review this article prior to publication.
More on The UK to Inspire You
Visiting London? Why not take a long weekend break in Edinburgh, one of those magical cities that can be enjoyed year-round.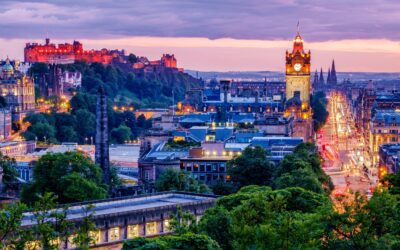 Take a break from the classics and discover these 10 intriguing books set in Great Britain and Ireland, from city to countryside.
Creative, fiercely independent and constantly evolving, Bristol is an appealing and intriguing destination for art and history lovers.