Last updated on September 29th, 2022
Featured image: Finding a suit is easy with these recommendations from women / Photo by Rawpixel on Twenty20
Finding a travel swimsuit for fuller figures
By Breanna Schnurr, Editorial Intern, JourneyWoman
Perhaps nothing is more stressful than finding a stylish yet practical bathing suit that flatters the figure, yet won't fall off when we're jumping from waterfalls or into the ocean! We also want something that has good value and lasts for years so that we're not always having to buy a new suit for every trip.
JourneyWoman Marti Sladek, who tested bras in our last feature on travel clothing, shared her criteria for bathing suits: "Packable, supportive without feeling like a 'foundation garment,' coverage without looking frumpy, available in a wide range of sizes, lengths and styles, affordable and durable, quick-drying, etc. So what is your recommendation for good value in a swimsuit that works for travel?"
(Please note: You can help us provide editorial like this by clicking on the links on this page if you decide to purchase a product mentioned.from Amazon and other companies. We only ever recommend items we think are relevant for you and/or suggested by women. If you decide to purchase an item through one of these links, we will receive a small commission that doesn't add any cost to your purchase. Thank you!)
10 bathing suits for your solo travel adventures
After a vibrant discussion on our private Solo Travel Wisdom Facebook group, these 10 bathing suit brands rose to the top. 
By far the most suggested brand by women was Land's End. The comfort-focused company has a large selection of swim tops, bottoms, skirts and dresses.
"My current fave is a chlorine resistant Lands End for less than $20, used of course," says Jane.
Many styles offer either chlorine-resistant or quick dry fabrics. The company has a large range of sizes, and some of the tops are even made for those who have received mastectomies.
As the company that constructed the first wetsuit back in 1953, Body Glove certainly knows its way around the water.
Recommended by Diane, the great thing about the Bodyglove swimsuit is that it can double as regular clothes, which can save space in your carry-on. Between dresses, leggings and sports bra styles, you'll only have to worry about choosing a pattern.
For our taller ladies, Longitude offers many great one and two-piece suits for your swimming pleasure. Longitude also offers a plus-size section, soft cup and underwire bras and a tummy control feature, providing great coverage for those with fuller figures and still want top-notch support.
Sold at Target, Shade and Shore is a great (and slightly cheaper) option that has you covered…literally.
"Target has some affordable one pieces that are stylish AND secure so you can jump into the waterfall and stay in it," says Laura.
Ranging from an XS to an XXL, Shade and Shore has styles that allow you to show as much or as little skin as you want, while keeping you supported with bra-style tops.
Also recommended by Diane, this Target option offers more classic bathing suit styles with a slightly larger size range. From an XS to a 3XL, you can find a variety of swim styles that suit you best, all for $50 or under!
Contributing writer Diana Eden shares her tips on finding the perfect swimsuit, especially for older travellers.
Beth recommends SwimSuitsForAll, a company focused on celebrating bodies of all shapes and sizes.
The company offers a size range between 4 and 40, allowing you to search for your perfect fit by body type, suit type or any other need. Their website includes a chlorine-resistant section and has some quick-dry options as well.
If you're looking for a new suit in the middle price range, Athleta may be for you.
Using 100% recycled materials, Athleta accommodates bra sizes from B-DD, and is quick-drying. It has a wide range of style and print options, including a selection of rash-guard and UPF (ultraviolet protection factor) styles.
Recommended by Kitty, Title Nine is a company that supports smaller, women-run businesses.
There is a huge variety of styles, which includes a large selection of UPF (Ultraviolet Protection Factor) sun protection clothing.
Size ranges from an XS to an XL, and cup support goes up to a DDD. If you're looking to support smaller brands on your bathing suit journey, this brand might be perfect for you. 
Tommy Bahama has spent 30 years creating long lasting suits. 
Marilena says, "I really like Tommy Bahama swimsuits, well made, lovely, and I have one that's 6 years old now and still looks great."
The company has curated a long list of swim styles. The suits are created in premium Italian microfibre and offer a size range from XXS to XL.
Another long-standing player in the swim game, MiracleSuit has spent 25 years creating shapely but supportive bathing suits.
The company has created their own fabric which boasts control without excessive panelling as well as innovative ways for the best bra support.
"I only do underwire Miracle suit. Or a rash guard that you can wear a bra under," says Chinta.
With a size range between S-2XL and B-DDD, MiracleSuit offers something for every body.
Bonus Entry: Juno Swim
Juno Active sent Marti a swimsuit to test (as well as a bra and panty set, after she opened the conversation in the JourneyWoman Facebook group). Here's what she had to say about the swimsuit:
As a follow-up to my queries about bras and swimsuits for larger and taller women who travel, I've been asked to test the Juno Active Quik Energy Spa Suit, in my size, a 1XTall. I got it in Black, although it also comes in a prettier pale turquoise. 
Pros: Fabulous fabric, sleek, soft, breathable, sun protection, chlorine resistant. Too cold to swim in the pool but I used it for yard work then washed it twice in chlorinated water with no trace of fading or streaking. The top part is lined for great coverage, perfect amount of compression like their sports bra, with a high neckline and comfortable wide straps. It was easy to get on and off, even damp. After being rolled in a towel for a minute or so, it dried within five hours! The longer length was great as I am about 6 feet tall. This would also work as a top with shorts or jeans or a summer skirt.
Cons: Below the breast line, it is unlined, so every bump and roll shows, having lots of stretch but little compression. It's not very stylish, almost prudishly basic except that the pubic area shows a lot of hair. (I am not a fan of waxing and shaving there!) I just did not like the way it looked on my body. My legs and arms are not terribly heavy so there was a bit of material sag instead of tighter elastic at top of leg and underarm.  My preference is a short or swim skirt for modesty and to help accent the waistline. I'd throw one over this tank if I could find one with a long enough rise. 
Juno is made just for us larger women, which is great! Not cheap, but decent value for the money and durable. By the way, the bra and panties I tested for them could probably double as a two-piece swimsuit for those who like a tank-type bottom. They do have several other styles and colors of swimwear. I am considering ordering a Juno swim dress, which looks fantastic on their website.
Marti's Juno Swimsuit Picks
What's your recommendation? Leave it in the comments below!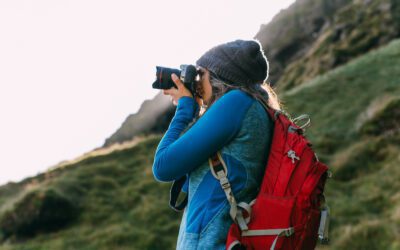 Our monthly curated list of solo travel trips submitted by JourneyWoman readers, featuring hotels, safety tips, what to pack, and more.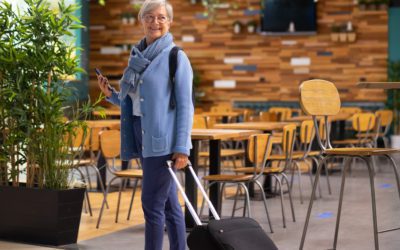 Tips for women over 80 to stay comfortable and stylish on the plane from former costume designer Diana Eden.
Contributing writer and former fashion designer Diana Eden shares her tips for older women to find the perfect swimsuit for travel.