Last updated on September 24th, 2023
Featured image: Get ready for travel with these solo travel tips from JourneyWoman readers | Photo by westend61 on Envato
Best Solo Travel Tips from April 2023
Curated by Marion Broverman, Facebook Group Moderator
Every month we curate solo travel tips from our readers, and this month's tips are all about getting out and exploring the wrold.  These tips include packing ideas, safety tips and advice to explore cities. Here is the shortlist of the best solo travel tips, culled from inbound emails and our private Solo Travel Wisdom Facebook group. We rely on first-hand solo travel tips from you — our readers — if you have one to share please do so!  (You can do that here!) 
Tips on travelling solo
1. Don't be afraid or embarrassed to ask for help along the way. — Marion B
2. Asking for help on a solo trip can take many forms. During the planning phase, ask family and friends for advice they have about the destination. Along the way, ask hotel staff for tips on favorite places to visit, and consult social media for the best places for photos. And, on the subject of photos, don't be afraid to ask a stranger to snap your picture at different points of interest. Usually, people are more than happy to help and there's no reason to be shy. — Nat H
3. I'd say also offer to take photos for people, if you notice someone will be left out. It makes them so happy! Spreading good vibes is one of the ways we can contribute positively in a location. — Marion B.
4. Surprise! It turns out that I don't particularly enjoy "solo" travel for pleasure or for work. For me it translates into "too much alone". It surprised me because I am usually a very friendly person and enjoy conversations with anyone. So, my 1st inkling of this was when I was working on a project in Montreal and traveling back and forth from Toronto – some weekends I stayed in Montreal to explore. What a great city! Then I felt it full on when a friend and I were backpacking in Australia and I was on my own for a week or so. So a couple of options for ambiverts who want a mix of alone + social ~ plan ahead: being a cafe aficionado, I lean into cafes that offer community tables – fun conversations can be had, Meetup groups are always an option and researching Instagram to connect with people who live in the city you're heading to. At the very least, it can lead to recommendations for out-of-the-way local cafes or interesting destinations.  But a few years on now, with more technology and apps and I'm thinking next year is my year to give solo another try. After all, who knows what else I'll learn about myself. — Pulette D.
5. The #1 advantage of travelling alone is that you get to know yourself. You find out what you are capable of on your own, your likes and dislikes, and your own decisions on what to do next on your solo trip. — Marion B.
6. Good learning experiences… thank you. I love traveling to visit friends in various countries. Takes the "sting" out of too much aloneness. I have been an independent traveller for 25 years or more. I love people, always worked with people in my role as a psychologist in healthcare in the U.S. but LOVE to be immersed in the culture, and language too, of course so I meet up lots, too! — Susan S.
7. Turn getting lost into an adventure! Your fears of getting lost can be an experience! Actually sometimes getting lost is a blessing in disguise. You might find a new restaurant or a cool boutique, and find a unique small museum not promoted on big travel websites.— Marion B.
8. Leave your camera/phone back in your room for a day. You'll be surprised at how differently you'll connect with everyone/everything that's going on around you. — Lois P
JourneyWoman readers share some of their best packing tips below – what would you add?
Tips on things to pack
9. I always carry a small spray bottle of peroxide to clean cuts and scrapes, disinfect toothbrushes or clean your shoes. Pour in some peroxide in the morning and within 12-14 hours the smell will be gone. — Pam 
10. I've discovered laundry bar soap at Dollar Tree- 1/2 a bar per month of travel is a game changer (to hand-wash for fresh clean clothes)! — Tracy T
11. Pack a tiny tube of Crazy Glue or similar for repairs to shoes, clothes or gear on the road. — Wendy M
12. Last year I was on a week's walking holiday and part of the sole of my hiking boot got loose. Fortunately, the hotel receptionists where I was staying had a tube of glue. They mended the boot and gave me the remaining bit of the tube in case I needed it. The advantage of staying in a family-run hotel (another travel tip!). — Danae P
13. Take a washcloth if you want one on vacation! Drink local (house) wine in Italy and Portugal – delicious and inexpensive. Probably the same in many areas — Kelly B
14. If you're going to a tropical climate that has high humidity, take extra bras. You'll wash them more often because you're sweating (even if you've never sweat before, humidity does make most of us sweat) and they take longer to dry, also because of the humidity. Trust me, the 'girls' will be glad to have a dry bra on. — Cathy G
15. Invest in a rain fly for your backpack and a waterproof case for your phone. REI and other outdoor stores carry them. Planned rain or unexpected downpours, these inexpensive items save the day (and your stuff)!!  — Joan T
16. A waterproof case for your phone is also good at the beach, on boat trips and if you're in a rainforest environment as the humidity will affect it. — Joan T
17. I also add a little moisture-absorbing pak from pills to the plastic case to prevent it from fogging up.
18. I don't always need hydrocortisone ointment, but when I do I'm glad I always carry a tube in my purse. — Jill E
19. Finally tried out the tip where you put liquid makeup in one side of a hard plastic screw top contact case and blusher in the other- then with a lipstick that's just about run out, a lip pencil n mascara you're all ready to go! — Virginia M
20. Ok so when my Brooks runners wear out I wash and save the inner soles and pack them in case my sneakers get wet. Then I swap them over – the inner soles are so light I just jam them in the outside flat pocket of my roller bag. —Virginia M
21. Pack a sink stopper that fits most sinks. Wring your clothes first on their own, then roll up in a bath towel and stand on it. Hang and use the hairdryer to get any last dampness out. Voila! Clean clothes without expensive laundry fees. (A travel/camp towel of your own can help, too). Oh, and buy concentrated liquid laundry soap at REI. — Sandy L
22. Safety is always a concern for women solo travelers. Several years ago someone suggested that I put a dime store plastic whistle on my purse or day bag. The idea is that if I were to be threatened or approached in an alarming way, I should just blow the whistle. The blaring sound of the whistle would no doubt attract interest and scare the perpetrators away. Thankfully, I've never had to test this theory out, but I still have a whistle attached to any bag that I carry when I travel. — Roseann W.

Tips on things to do
23. Eat at markets. From Seviila to La Boqueria in Barcelona to Halles des Lices in Vannes to the indoor market in Frankfurt. You get either a real plate served at a table from one of the stands so cannot be fresher, a glass of wine, or disposable ware, get the ambiance, share tables and have an impromptu conversation. Small price, no tips, quick meal or stay longer. — Daniele H. 
24. We spent a month in Cadiz, Spain and loved the beaches, the market and the promenade. Of course, the tapas was terrific! — Mary B.
25. There is nothing like wandering in a large outdoor market, eating your pick-up lunch there and spending time by yourself. Or buying a few things that look fresh and cooking that evening in your hostel or pad, wherever that is… The smells and the sights are wonderful. I live and work in Ecuador for the past 12 years and I have learned so much here living here full time this long –about culture as well as living and traveling overseas … Ah, yes, but the markets are special. —Susan S.
26. Take a walking tour on day one of your travels. A walking tour is one of the best ways to warm up to a new destination. It gives you the lay of the city, and helps you find your way around without getting lost the first time. Tour guides will usually point out any areas you might want to steer clear of (as well as cool local spots that are not available on travel guidebooks), which will help you feel more confident about finding your own way around the city after being led by an expert.  —Marion B
Find a local walking tour anywhere in the world here!
27. A hop-on hop-off bus tour is also a good way to get the lay of the land. Do the complete route at first then go back to the places you want to spend time at. — Louise J
28. Here are just a handful of tips for Rome, from a recent (month-long) stay. Walk through Borghese Gardens, but also the Botanical Gardens in Trastevere. Get a scrumptious suppli (traditional fried ball of yummy ingredients) at Supplizio. Long queue out the door? It's worth the wait! Gelato at Gunthers is a-mazing, and the cioccolata calda is tops at Forno Monteforte on via del Pellegrino. — Amit J
29. Listen to your instincts… I was wandering along the beach promenade on Tenerife on my 1st solo trip and felt drawn to wander up towards some shops off the beach (no other shoppers there) and walked into a jewellery store. I chatted with the owner who was quite respectful, but as I was making my way to the exit, we chatted some more and invited me to have a cup of tea. I accepted, and he ended up giving me a numerology reading, and gave me instructions for a healing routine for the next day that involved going into the ocean and dipping under a certain number of times at a specific time of day. It was wonderful, I fell asleep on the beach, and I awoke to feeling like I was seeing the world anew, with fresh eyes. Very healing. If I had let judgements and a negative mind get the best of me I would have missed out on a connection with a local and a wonderful experience. It felt right and good. — Tina V.
30. One of my favorite things to do is buy a day pass on public transit and hop on and off wherever something looks interesting. — Marti S.
31. Love going to local markets. I seek them out when travelling. — Marilyn K.
32. The town of Ross in Tasmania population 410, has a historic walking trail that takes you by a beautiful bridge built by convicts, a lovely cathedral, a female factory "aka women's prison" and the historic cemetery! There is a bakery called Bakery 31 with the best scallop and curry pies! Lovely! — Jo M
33. Walk through the Boboli Gardens in Florence to the very top and there is a wonderful porcelain museum and Fort Belvedere has fab views but it's temporarily closed according to Google maps. —Margo E
34. My sense of direction is terrible, so I take photos of turns or landmarks to help me find my way back to my hotel or apartment after I have been out for a run or walk. (This worked well except when a Ferris wheel was dismantled between the time I left and returned to a pier in Finland.) — Mary Lou H
35. Don't feel like you have to follow the group 100% of the time if you booked a day tour, if it feels safe and you are sure you can rejoin. It's how I had the best crab cakes on PEI. While the group visited a lighthouse, I headed to the seafood shacks. I did inform my guide and I met up with the minibus, delicious snack in hand. I am highly food-motivated. It's OK to veer off as long as you know you won't be stranded. — Nat H
More Travel Tips From JourneyWoman Readers
The best travel tips from JourneyWoman readers in February 2023, covering packing tips, places to stay, how to save money and safety tips.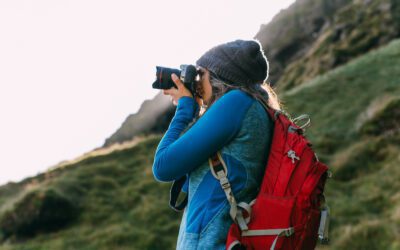 Our monthly curated list of solo travel trips submitted by JourneyWoman readers, featuring hotels, safety tips, what to pack, and more.
Female solo travelers recommend their top safety products to help women over 50 travel safely anywhere in the world.