Last updated on July 9th, 2023
Featured image: Learn how to save money on travel with these tips from women | Photo by choreograph on Envato
15 Ways to Reduce Travel Costs, from our Survey
By Marin Scotten, Editorial Intern
In our most recent survey in April 2023, we invited JourneyWoman readers to share their best tips to reduce travel costs. We culled through over 750 responses to find the most compelling and practical tips so that we could share them with you.  
With 73% of women planning international travel this year, most said they were planning to travel in the off-season, at a time of year when flights, tours and accommodation often cost less, plus you can enjoy a place crowd-free.
15 Tips from Women to Save Money on Travel in 2023
1. Set a budget and follow it
Having an idea of how much you can spend while traveling saves money on unexpected costs. Before you leave, consider setting a detailed budget for how much you can spend on accommodation, food, transportation and miscellaneous items. Once the budget is set, stick to it as closely as you can.
"Have a budget for travel. When I plan a trip, things have to fit into the budget. I do not go over it, but while traveling I will spend freely within that budget." —Linda
2. Look for deals and discounts
There are thousands of deals and discounts out there on things like flights, accommodation, and tours, you just have to look. Be sure to check out the JourneyWoman deals page for a variety of discounts.
"Do advance research on prices at restaurants, attractions and transportation. Knowing where the deals are can save you from unnecessary overspending at tourist traps."
—Carolyn W.
3. Look beyond the cost of the plane ticket
Getting a great deal on a flight is one thing. But don't forget to consider the whole picture including accommodation, transportation, insurance and even visas.
Check different booking sites, read travel guides (we have lots!), you won't find the best deals without doing some digging. Be wary of review sites, as they are often paid for by advertisers, as noted in this article about 1.3 million fake reviews on TripAdvisor.
With women from around the world, join JourneyWoman's Solo Travel Wisdom group to get first-hand, honest advice and tips from women travellers.
"Do your research/due diligence. Know who you're dealing with and what to expect from them, to the best of your ability. While you can have great experiences being flexible and spontaneous in traveling, we do live in a world where not everyone can be trusted." —Jill

4. Exchange your money before leaving
Exchange rates at airports or popular tourist locations are often a lot higher than if you exchange money if your home country. Using a local ATM can also put you at risk for fraud. 
That said, we recommend using a credit card instead of cash wherever possible, for both safety and practical reasons. 
You can also exchange your money online with Wise. With Wise, you can open a multi-currency account within minutes, saving you money on conversion fees. 
"When I travelled in Europe last fall, I was able to transfer multiple currencies through the app, including Euros, British pounds, and Czeck Koruna, with seconds, with low fees." —Carolyn R.
5. Download an eSIM card
Rather than paying for roaming fees on your home country's phone plan, consider buying a SIM card and data plan from the country you're visiting, especially if you plan to be there for a long time.
A SIM card stores identification information that pinpoints a smartphone to a specific mobile network. The app Airalo provides eSIMs instead of a physical SIM card. It's basically a digital version of a SIM card that allows you to activate a cellular plan without having to use a physical SIM card. Learn more about Airalo here.
6. Stay in hostels or shared accommodation
Our survey shows that most women prefer to have their own room, but if you want to save money on accommodation, consider staying in a hostel or co-living space. It might mean less privacy, but the cost is often significantly cheaper. If you want more privacy than a dorm, some hostels offer private rooms that are cheaper than hotels.
Need a safe, cost-effective place to stay? Check out our new Accommodations Directory. 
7. Eat your biggest meal at lunch
It can be tempting to continuously eat a nice restaurant dinner when you're travelling. The food, the wine, the ambiance – a nice dinner is great for a special occasion. If you eat out, women recommend eating your biggest meal at lunch. You can often get the same food and flavour for much less.     
"I usually eat out for lunch or a midday meal, so I can observe local life around me; for dinner or late snacking, I go to a food stand or local grocery store. I rarely buy anything anymore. But I take LOTS of photos!" —Jane
"Make lunch your biggest meal of the day.  It's usually quite a bit cheaper than dinner and a good lunch can fill you up until the evening.  Then for supper, you can pick up some bread, wine, cheese, olives, or whatever speciality the region offers, and take it to a nice park or beach to enjoy an inexpensive picnic for dinner.  And it's a great way to meet people." —Terri
8. Eat like a local
Eat like a local and buy groceries from local markets instead of going to a restaurant for every meal. If you're staying somewhere with a kitchen, you can cook lunch or dinner for a fraction of the price. If you do want to eat out, ask the locals about their favorite spots to avoid tourist traps.
"Find the closest local grocery store and stock up!  You can easily have breakfast in your hotel room and pack items for a picnic lunch.  I make sure that there is a microwave and/or fridge in the rooms I book.  If those aren't available, it is still handy to have store-bought non-perishable snacks to take on the go." —Nancy
"Buy or bring some simple groceries (oatmeal, sandwich fixings) and make breakfast and lunch in the hotel room with mini fridge and microwave."  —Barbara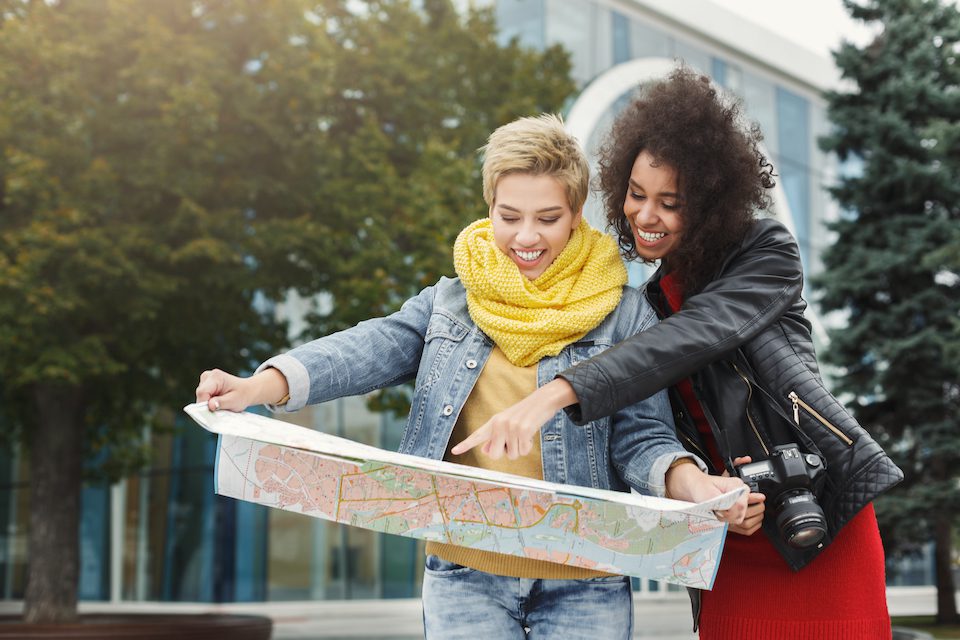 Packing light, using public transit, and exchanging your money before the airport will help you save money on travel / Photo by Envato
9. Use public transportation including buses and trains
Skip the taxi or Uber and utilize public transportation or your own two legs to get to your destination. Most cities have extensive transportation options and walking allows you to see the sights you would miss with a car!   
Taking the train is one of the easiest, most eco-friendly ways to travel. If you plan on visiting multiple destinations, look for package train deals or purchase a railcard rather than paying for each individual ride.
Buying a CityPass can also provide valuable discounts and combine public transit for a specific time period (eg 72 hours) so that you can avoid having to buy separate transit tickets. Learn more about CityPass here.
"For travel in Germany as of May 1, 2023: Get yourself a €49 train ticket that will allow you to travel all over Germany, in every city, on local transportation and regional trains (No IC or ICE fast trains) for an entire month!" —Zenaida
"Use public transportation whenever possible.  It's much cheaper than taxis et al., usually just as efficient, and you meet fascinating people!" —Paula
Trainline, which operates in the UK, offers a third off train tickets for anyone over the age of 60. 
Click here to check train prices now!

10. Travel carry-on only
Skip the checked baggage fees and pack light! Though some airlines charge for carry-on baggage, it's usually cheaper than checking a bag. 
If you do check a bag, make sure to pay the fee on the airline's website rather than at the airport where it's more expensive. 
It's also safer to travel light.
11. Use a credit card with airfare points
If you've had the same credit card for a few years, it might be time to change. Many card companies are offering great incentives, such as free miles, to attract new customers. 
"Charge everything you can to a credit card that gives points towards travel (and pay it off every month!). My last flight to Europe only cost me $50, rest was paid by points." —Deborah
"If you are disciplined enough to pay them off in full monthly, apply for hotel & airline travel credit cards that offer generous rewards. You will save thousands of dollars! I have gone to Europe for a month at a time, several times, and spent under $1,000!" —Nancy
12. Look for senior's discounts and loyalty programs
Before booking a tour, accommodation, museum or rail pass, check to see if there is a senior's discount. It may only be a small, but over time it adds up! Make sure you ask for it, don't assume anyone can tell your age (especially at attractions and museums). 
Women also recommend loyalty programs like AARP, Aeroplan, CAA and AAA. 
13. Make friends with other travellers
Most things are cheaper when you have friends. If you're travelling solo and feeling up to it, try making friends with other solo travellers. That way you can split the cost of tours, activities and rentals.
"Going on day tours and making friends with any other solo trippers! We often team up the next day or later that week to do another activity (if we get along of course) and save money on car rentals or get group rates. And it's a great way to make new friends! —Courtney
Find a women-friendly group tour in our Women's Travel Directory here
14. Try housesitting, home exchange or a hospitality service
House sitting is a great way to stay in a place for free. It also gives you the chance to really experience a place from a local perspective.  Recommended companies include HouseSitters/PetSitters and Homeexchange. 
Women also recommend hospitality networks, which vet members and provide a place to stay. Servas, Friendship Force and 5W, are three to explore. 
"Friendship Force is not only for women travellers, but many solo women, like myself, enjoy membership and travel with this great organization.  We travel as a group (12 to 25 members) and live with FFI members in their homes in countries around the world, living as they do, eating as they do, and seeing their country through their eyes.  It is a very safe way for people to travel as the host families are responsible for seeing that you are well looked after.  I have belonged for over 20 years and find travel with FFI much more satisfying than I did travelling around the world for a year as a tourist." – Shirley F. 
15. Skip the souvenirs
A knick-knack or two won't break the bank, but if you're really trying to travel for cheap, skip the pricey souvenirs and things you don't really need.  And consider recycling your clothes along the way rather than buying new ones. 
"Stop purchasing things you like instead of need." —Diana
"Decide what's important to you and spend on that, even if it's not what you're "supposed" to enjoy at the destination. Save on the other things." —Jill
Do you have any money-saving tips to add? Share them below!
Make the most of these 2024 early-bird booking deals discount deals with Trafalgar Tours and Insight Vacations.
Cultural expedition cruise company Swan Hellenic is offering incredible discounts for solo women on several expeditions in 2023.
Airline credit card deals are one way that solo travellers can tap into travel savings, as writer Karen Gershowitz finds on a recent trip.