Last updated on November 19th, 2023
Featured image: While not a cheap city by any means, there are ways to save money in Paris and splurge on other things | Photo by rubenchase on Envato
Six ways to save money in Paris  
By Leyla Alyanak, Contributor, Offbeat France
Paris is expensive: there's no getting around it. By the time you've booked your hotel, had a few meals and paid some entrance fees, your wallet may be feeling a little lightheaded. While seeing Paris on the cheap is not easy, there are ways to reduce the sting and stretch your dollars. If you cut back where you can, you can save your money for the things you really want to do and for a splurge or two.
Here are six areas in which you can apply your money-saving skills and cut down some of the basic costs of your visit to Paris.
Six ways to save money in Paris
1. Accommodation: Look for alternatives
Open any hotel booking site and you may need some smelling salts. Hotel prices in Paris are extortionate, and even Airbnb and VRBO, the traditional budget alternatives, are often outlandishly priced. Hostels, usually the refuge of the broke backpacker, are also costly in Paris, unless you're willing to bunk in a room with a group of strangers, which I am not.
So what to do? How to sleep in Paris without blowing your entire budget?
Here are the two strategies I use to significantly diminish the cost of accommodation in Paris.
First, I choose my dates wisely. If you visit in November or February/March, prices will be up to one-third cheaper than in May, which is when everyone wants to visit. I was shocked to find a room for under US$200 in November which went for nearly US$800 a few months later. Check every month's prices before you book.
Second, get away from downtown. Everyone wants to be within walking distance of Montmartre or the Eiffel Tower but that's why you pay so much. Paris has an extraordinary public transportation system, so you'll be able to get everywhere without hassle. My favourite Paris away from Paris hub? Versailles. It's safe, it's attractive, and it's only half an hour from Paris, with plenty of trains and metros (RER, the regional lines) to get you there.
Find a place to stay in Paris and the surrounding areas here!
2. Food and drink: Find the nearest "boulangerie"
Of course you're in Paris and of course you'll want to sample all that delicious French food – but it doesn't have to break the bank. By saving money on some meals, you'll be able to splurge on that Michelin one-star you've promised yourself to test.
If breakfast is included in your hotel, then wonderful, eat away. But if not, it's often an expensive meal: why not wander down to the nearest "boulangerie" and order up a croissant and a coffee to go? Then sit on one of the city's many​​ benches and watch the world go by.
About that Michelin restaurant – go for lunch, not dinner. All restaurants in France have some sort of a lunch special, whether a dish of the day or a special lunchtime menu. You'll get to taste the classics of the kitchen, but without the dinner price tag. 
If you decide that dinner in a restaurant is a must, then economize on lunch: head for the nearest market ("le marché") and buy some cold cuts, cheese and fresh fruits. Stop at the boulangerie for your baguette along the way. (And you already know where to find a bench.)
Whatever your sitdown meal, ask for tap water ("une carafe d'eau") rather than bottled water. There's every chance that what you save will pay for a glass of wine.
And finally, as you search for a restaurant during your explorations, try to distance yourself from the tourist traps. If you're near a major attraction, walk a few blocks beyond it before you eat. You'll avoid inflated tourist prices, and possibly have an even better meal.
3. Transportation: Use the bus and metro

 
In Paris, the bus and metro system is definitely the way to go. Taxis can be expensive, Uber a bit less so, but either way you have to contend with traffic, which can be dense, especially since many streets are limiting traffic.
I buy a Paris Visite card – you can get them for anywhere from 1-5 days and for several zones, including the more distant destinations like Versailles, Disneyland, or the Paris airports. You can buy your Paris Visite at any metro or RER station, both at the ticket counter and in the automated machines.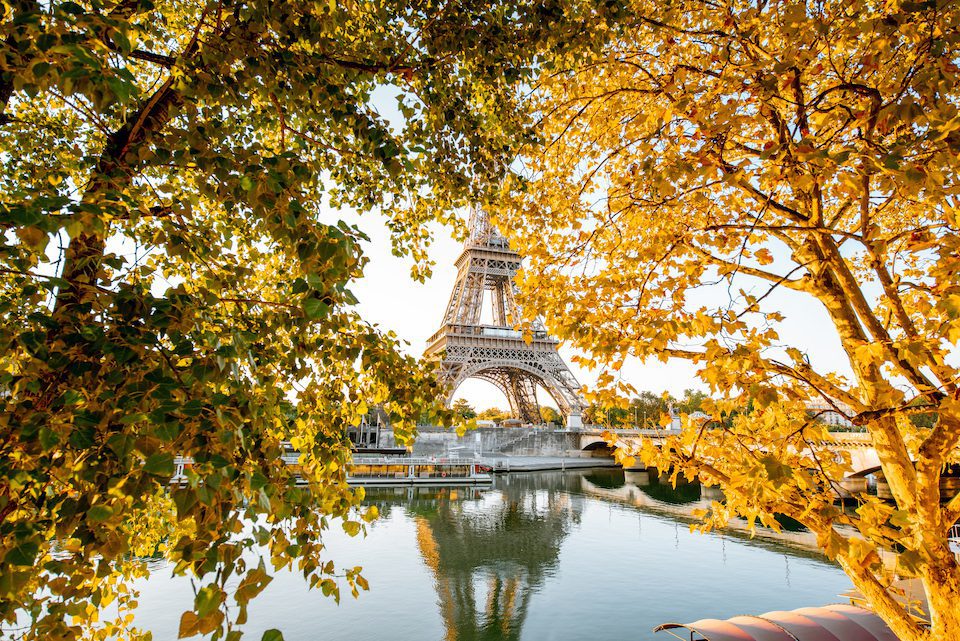 Leyla suggests visiting in the off-season to save on accommodation / Photo by RossHelen on Envato
Save money in Paris at flea markets and second-hand shops  / Photo by Mat Napo on Unsplash
4. Sightseeing in Paris: Discover free museums

   
Of course, seeing the sights is high on our list when we visit Paris, and this is where money can easily be frittered away – a museum here, a tour there, and next thing you know, half your budget is gone.
I have a favourite pastime: riding the bus. For the price of a single ticket (or on your pass, if you've bought one), you can ride the Paris buses and see all the sights above ground, from the Eiffel Tower to the Arc de Triomphe and everything in-between. It's cheaper than a city tour and if you have your guidebook with you, you'll see and learn just as much.
If culture is what you're after and you happen to be here on the first Sunday of the month, you'll find many museums are free. On other days, prices often go down in the late afternoon, so check each museum. But my favourite cost-saver involves the museums owned by the city of Paris, including the delightful Musée Carnavalet, which traces the history of Paris from its earliest days – for free!
Find even more things to do in Paris here!
5. Strolling in Paris: Visit the Gardens

 
Paris is a city for walking. It is filled with famous streets and avenues, all of which deserve a stroll, from the mighty Champs-Elysées to the arcades of the Rue de Rivoli or the delightful streets of the Île Saint-Louis or Île de la Cité.
Remember that the gardens and cemeteries of Paris are free, so if you've secretly wished to visit the tombs of Jim Morrison or Edith Piaf, head to the Père Lachaise Cemetery – and there are plenty of others just as peaceful and beautiful. The city's gardens, too, can be spectacular, from the tiny Place des Vosges to the enormous Bois de Boulogne. Enjoy an afternoon along the Canal Saint-Martin, or head up to the rooftop of the Galeries Lafayette department store for a panoramic view over the capital.
Enjoy one of the dozens of "free walking tours" advertised online or throughout the city. They're not 100% free – you are expected to tip the guide, who doesn't get a salary and relies on your generosity, but it's a far cry from what you'll pay a tour operator. Of course, you can use your guidebook and develop your own walking itinerary…
6. Shopping: Seek out flea markets and second-hand stores

 
Paris is definitely shopping heaven, but a glance at some of those price tags may get you to the Pearly Gates a little faster than you'd planned. It doesn't have to be that way: you can find deals in the City of Light. Paris is littered with second-hand shops, called "friperies", where you can pick up bargains to wear.
Looking for antiques or bric-a-brac? Then head straight for a flea market, like the gigantic Saint-Ouen, and get lost for hours in the world's largest second-hand market.
And remember, as a (non-EU) tourist, you can get a tax refund if you spend a certain amount in a shop. 
Let's face it, Paris will never be cheap. But these workarounds will help you save a little on some things, allowing you to spend more on others, on those things or experiences that really mean something to you. What other tips do you have to save money in Paris? Share them with us below!
More Money-Saving Tips When You Travel
Make the most of these 2024 early-bird booking deals discount deals with Trafalgar Tours and Insight Vacations.
Cultural expedition cruise company Swan Hellenic is offering incredible discounts for solo women on several expeditions in 2023.
Women share their top tips to save money on travel, from finding deals to affordable places to stay, from our April 2023 survey.