Last updated on April 23rd, 2022
Granny Aupair employee Valerie S in Gambia / Photo by Mario Doring
By Kathryn Sullivan, Guest Writer
The last few months have taken us all by surprise: Closed borders and cancelled plans, lost income and diminished savings. All of a sudden, our dreams of setting out into the world may seem out of reach.
But travel will resume in time, and with a few tweaks to our modes and mindset, authentic experiences can be accessible on a budget – and maybe even more so. I'm fortunate to have travelled the world from my home in California, most memorably with a backpack and a budget. Now that I've landed back in school in London, UK, I'm always on the lookout for enriching yet affordable travel options. Below, I highlight a few alternatives to consider as you plan your next adventure.
Embrace a High/Low Style
When travelling on a tight budget, the objective is not to minimize all costs but rather to get the most value out of the money you have set aside. The first step is to reflect on the core intentions behind a trip: Are you seeking cultural discovery, relaxation, an adrenaline rush? From there you can delve into specific experiences you'd like to have, regardless of price. Long afternoons in cafés and live music usually make my list; perhaps you're after contemporary art museums and rooftop cocktail bars. With a bit of planning and ingenuity, these elements can be incorporated into any trip.
In fashion, the popular high/low trend juxtaposes luxury clothing with basics. Why can't you do the same for travel? For instance, if you're open to sharing a bedroom, go ahead and treat yourself to the best meals in town. As for me, I've gulped down trail mix on the way to a West End show in London – perhaps not my most elegant moment, but at least it was consistent with my personal priorities. The beauty of solo travel is that you get to call the shots. No one is watching – you do you.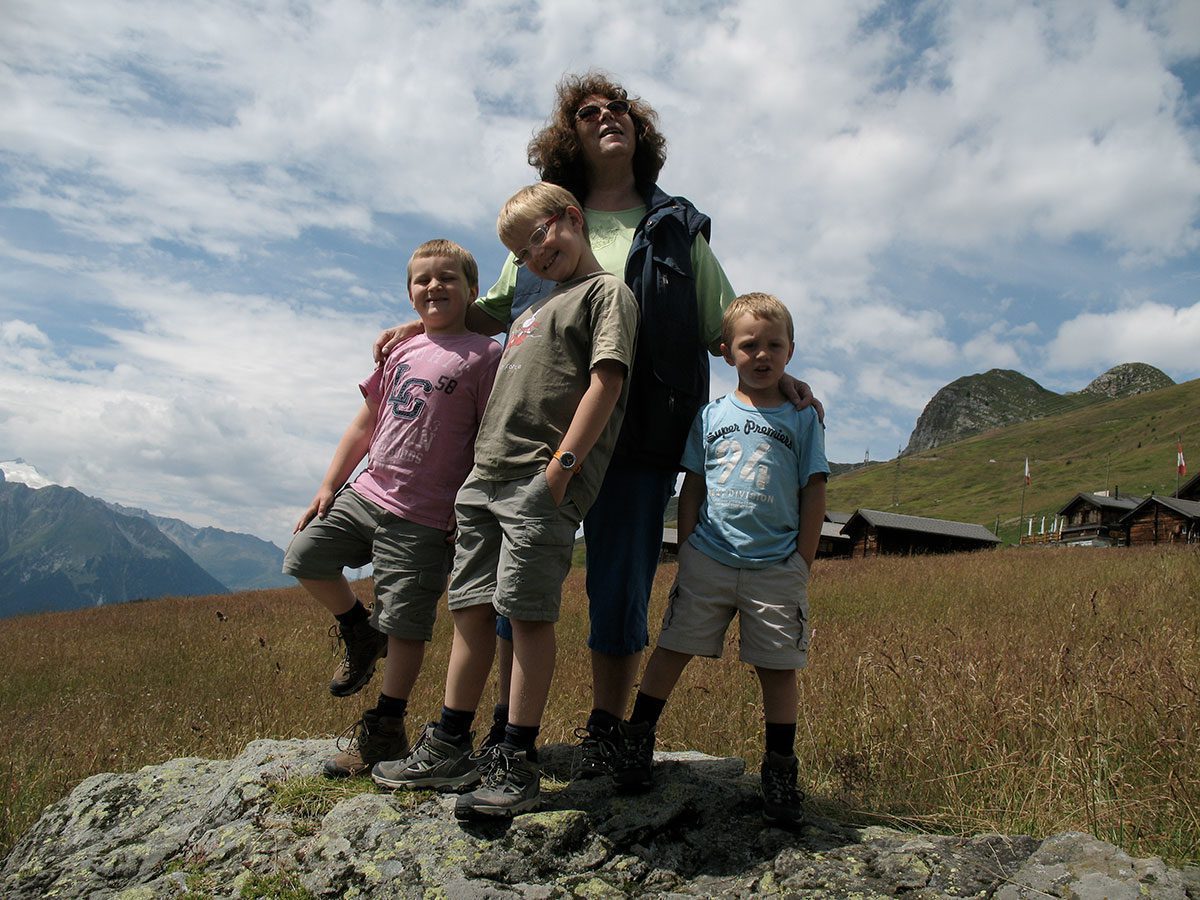 Granny Aupair employee Hannelore B in the Swiss Mountains / Photo by Claudia Richarz
Accommodation can look a lot different than the standard hotel rooms we're used to. Particularly if you're travelling for longer than a week or two. Why not consider one of these options?
Housesitting
Imagine arriving at your destination with a beautiful home to call your own and a furry friend or two to keep you company. Trusted Housesitters is the largest global platform, but regional sites are worth checking out too (e.g., Aussie House Sitters and House Sitters UK). For an annual fee of $129 USD, you can complete an unlimited number of sits and for $189, you can list your home as well. Pro tip: Ask an existing member for a 25% off referral code.
Over the last five years, Vikki Walton of Colorado has house-sat around the US, UK and Mexico, spending two to four weeks in each location. She recommends starting near home to obtain references before applying further afield and getting clear about the caretaking responsibilities that await: "I had a sit in Bracknell, UK where I took care of a cat and basically had free rein during the day. Others require dog walking which can be more work. If you like slow travel then it's a good way to get to know the place you're staying as well as the people."
Voluntourism
Another possibility is to join the collaborative economy and work a few hours per day in exchange for room and board. As with housesitting, your freedom to explore may be restricted but the benefits include an instant community of both locals and travellers alike, plus the opportunity to share existing skills or hone new ones.
One of the earliest programs began in the 1970s in the UK – World Wide Opportunities on Organic Farms (WWOOF). But intense physical labour isn't required. Several other networks have since emerged offering a variety of work opportunities, from language tutoring to web design to running errands for the elderly.
After retiring in Brazil, Rosana Takebayashi had her heart set on experiencing life in North America – without breaking the bank. Through Worldpackers she found two posts, the first at a guesthouse in Oklahoma and the second on a farm in Virginia. "I've fallen in love with the people and the places. This way I'm able to enjoy the pleasure of travelling at a lower cost, along with the development of new skills and knowledge of other cultures," she says. A Worldpackers annual membership costs $49 USD and placements range from a few days to multiple months. Workaway ($42 USD per year) is a similar platform that I have used with success.
If you're feeling especially energetic, Granny Aupair recently celebrated ten years of matching women over 45 with young families around the world. Stays generally last a few months and some families will comp all travel expenses. A six-month membership costs $260 USD (three and 12-month memberships are also available). As with each of these platforms, it may take quite a few applications to find a match. Don't get discouraged!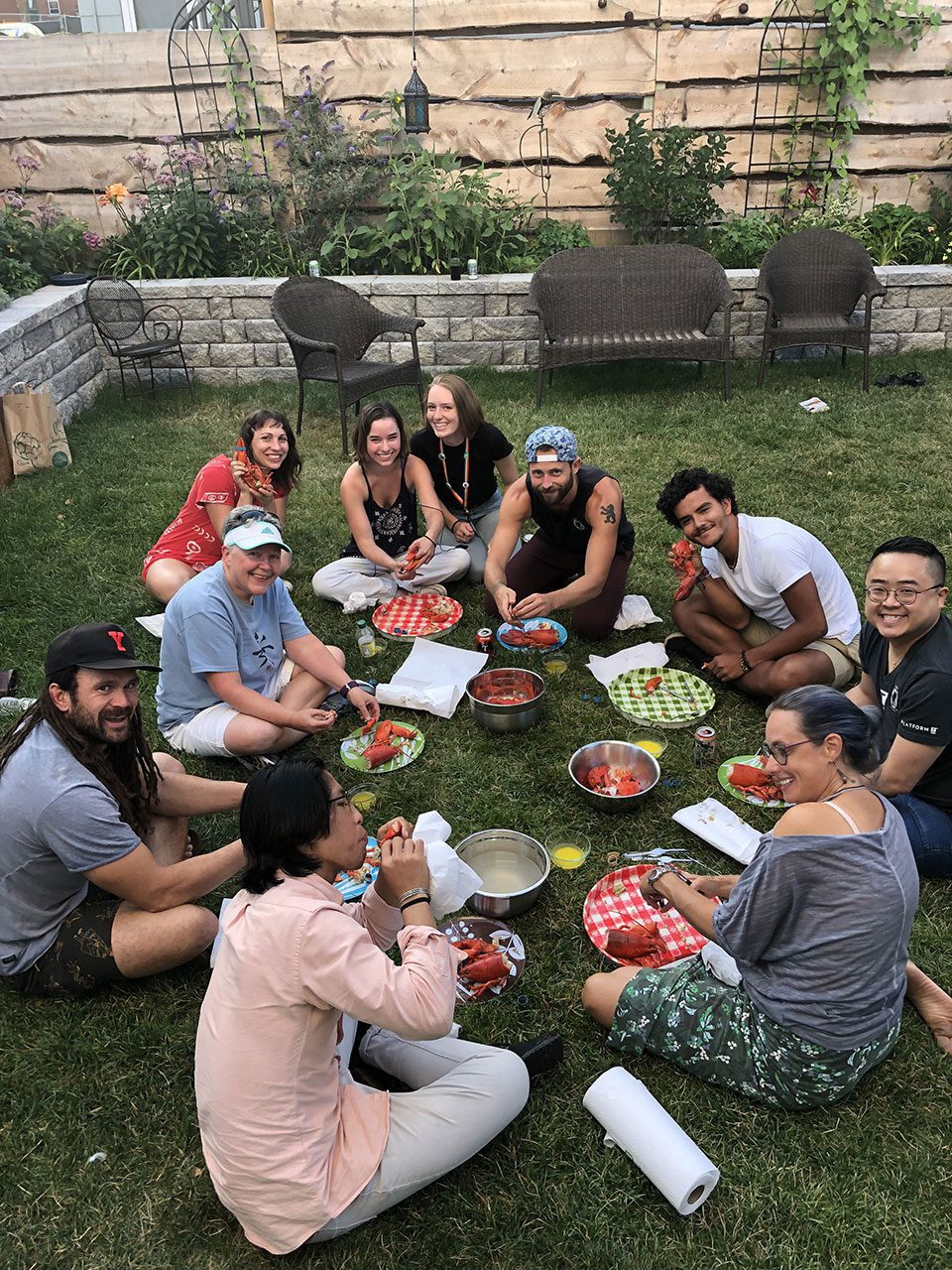 Lobster Boil at the Black Elephant Hostel
Travel Networks
Women Welcome Women Worldwide (5W) and Host a Sister are global communities of female travellers offering complimentary short-term accommodation. With open arms, women around the world will host you in their extra bedrooms (or sofa beds) in the spirit of cultural exchange. Or simply welcome you with a tour or meal in their hometown. 5W requires registration and a $46 USD donation, while Host a Sister is conducted through a free Facebook group. Couchsurfing is another such network which many budget travellers swear by.
Hostels
At a fraction of the cost of a hotel room, hostels shouldn't be overlooked. Though privacy may be limited, cleanliness and safety usually are not and all-female dorms are frequently available. Hostels are also likely to offer affordable tours and activities (and you don't need to be a guest to take advantage). Search for hostels on Hostelworld and Booking – and don't forget to pack your earplugs!
After two decades of hostel travel, Heather recently opened the Black Elephant in Portland, Maine. Along with affordability, she most appreciates the diversity and openness of hostel guests. To anyone past their gap year travels, Heather offers this encouragement: "The youngsters aren't travelling just to see the sights; they are often searching for themselves and trying to find some meaning in it all. With your years of experience and insight you may well be a deep inspiration. The reverse can also happen: the youth can remind us to see and experience things with fresh eyes and an open mind."
Culture Within Reach
With a little research you can fill your days with unique, wallet-friendly experiences beyond the tourist traps. Donation-based walking tours can help to quickly orient yourself within a city; lace-up some comfortable shoes and check out Free Tour or Free Tours by Foot. Information on upcoming concerts, lectures and festivals can be found on Meetup and Facebook, and larger cities will often have entire websites dedicated to low-cost happenings. Check the calendar at nearby universities too. Along with saving money, events primarily hosted by and for residents provide an authentic view into local life.
Facebook groups are a fantastic resource to find recommendations and forge connections. Expat and regional special interest groups have led me to many free events, including an architecture talk in Mexico and a salsa class in Thailand. Don't forget to tap into groups of fellow travelers too.
Save some room for spontaneity and scan bulletin boards in cafes and markets; ask around your neighborhood; simply keep your eyes and ears open. I'm often astounded by the talent on city streets; the northeast corner of Trafalgar Square is one of my favorite concert venues in London. And across the way, St. Martin-in-the-Field church is not only an architectural wonder but also hosts beautiful evensong services each weekday afternoon (as advertised on a sign outside).
We'll all be holding our pocketbooks tight when we finally set out again, but traveling on a budget shouldn't limit the experiences we can have. In summary: Set your priorities. Do your homework. Go slowly. Stay local. And have fun! This list is by no means exhaustive; please comment below with your own tips and stories.
Disclaimers: Prices accurate as of May 7, 2020. In some instances, prices have been converted from foreign currency to USD. The recommendations, sources and tips presented in this article are the author's own from experience and research. JourneyWoman does not necessarily endorse or recommend any of these, nor are any of the companies mentioned current advertisers or sponsors.
Kathryn Sullivan is a hospitality student in London, UK who dreams of opening a hotel designed for women. In the meantime she blogs and podcasts to encourage first-time solo travellers at vivientravel.com. Contact her at [email protected] or on Instagram @quevengasconmigo.