Last updated on November 12th, 2023
Featured Image: Children riding home from school on donkeys in Morocco / Photo by Carol Moore-Ede
Seven tips on how to capture photos while respecting local culture 
By Carol Moore-Ede, Guest Writer
"The camera is an instrument that teaches people how to see without a camera"
— Dorothea Lange
As the first spikes of spring-green shoots break through the dark winter soil in my garden, I am reminded that there will be a new resurgence of travel as COVID vaccinations roll out worldwide. It is not too soon to start thinking about dusting off our neglected luggage and deciding what will travel with us.
Professional photographers on assignment are experienced in their equipment needs. In contrast, the 'selfie' crowd requires only their telephone and extension sticks. While photo-taking etiquette applies to everyone, this article is more suited for the serious amateur – those who love to capture moments in time to enjoy forever. Read on for my best tips on how to capture photos without forgetting your manners.
1. What to pack and what to leave behind
I have learned from experience that I pack too much. I tend to think I need to take every lens, camera, tripod, and other accessories that I possess. But too much can be detrimental and often interferes with capturing a good photo. It is easy to miss shots while one is swapping lenses (or cameras, if you have taken more than one). 
For those with DSLRs (Digital Single Lens Reflex), minimize the number of lenses you select. A good 70-300 mm lens will cover many photographic situations, both up close and from a distance. Tripods can be left behind, as they slow one down and easily get in the way of others. In addition, put away your wide-angle lens. The iPhone (or equivalent) is excellent for wide-angle shots, panoramas, and low light conditions – both interiors and late evenings. However, do not count on your phone for zoom shots. When enlarged, they often disintegrate into a pattern of pixels. Also, set aside your flash attachment. In low light, the ISO or exposure features can be adjusted to enable a good picture, and will be less intrusive than a flash in many situations.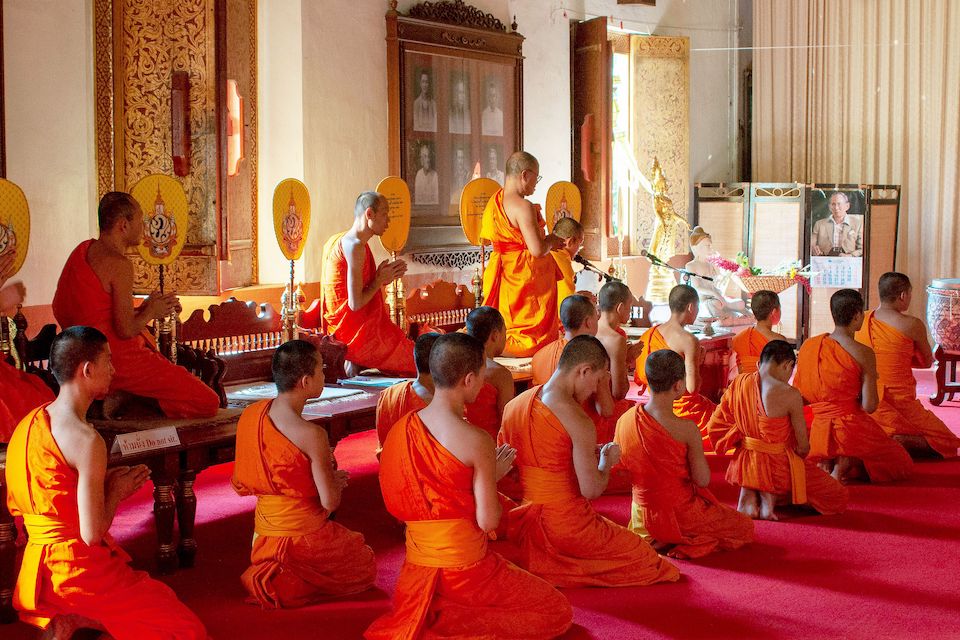 Buddhist Monks at prayer in Thailand | Photo by Carol Moore-Ede
I like to take a second battery and always have one charging. A second memory card can also be a lifesaver. It is a miserable feeling when one sees the perfect shot and finds that the battery is dead or memory card empty. A good camera backpack is a sensible idea and a camera chest harness is a bonus in many situations. It takes the weight off your neck and shoulders, and can hang hands-free. In addition, a large zoom lens can seem less intimidating to your subjects if it is hanging in a harness pointing at your shoes. 
It is a challenge to remember every landscape, monument, and artifact you recorded, once at home sorting through hundreds, or even thousands of images. If your camera does not have a built-in GPS system, I strongly recommend buying one. They are inexpensive, can be attached onto the flash shoe of a camera; and they record the precise time and global position at which a photo is taken. These items should provide the perfect travel combo package.
"Photography is a way of feeling, of touching, of loving. What you have caught on film is captured forever…
it remembers little things, long after you have forgotten everything."
— Aaron Siskind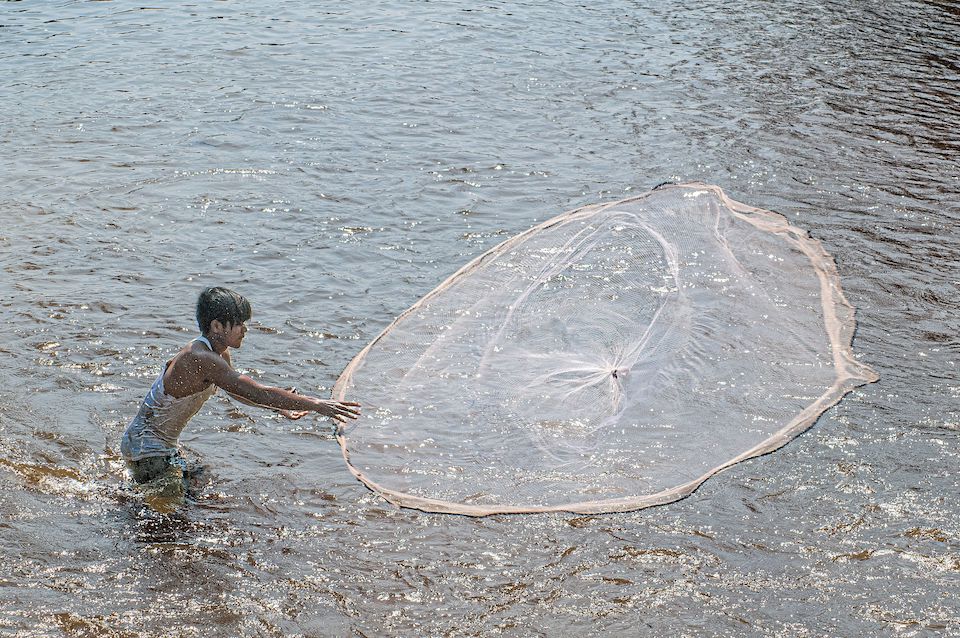 Boy fishing with a net in Cambodia | Photo by Carol Moore-Ede
2. Research your destination's culture

"The camera is an excuse to be someplace you otherwise don't belong. It gives me both a point of connection and a point of separation."
— Susan Meiselas
No matter what continent you travel to, you are a guest within a set of different cultures. These ways of life may differ by country, region, or even village. They may also vary by religion. Such traditions need to be respected by the photographer. Despite the fact that universally photographers may shoot from public spaces, in some cultures there are religious taboos against taking photos of women or of men in others. It may be disrespectful to take images of certain buildings, particularly of religious interiors with their worshippers or icons. In Islamic countries, certain objects are forbidden to be recorded by the Koran; and in both Islamic and Asian countries it is discourteous to take pictures of anyone's feet. Some Asians feel it is bad luck to have a photo taken with three people, although I have never found this to be the case. Photographing from private property without permission is generally illegal. In addition, most countries prohibit photos relating to the military.
Would you like to get paid to take simple photos of people, pets, your everyday activities and travels? If you're interested in giving it a try, there's no experience or fancy equipment necessary. (Sponsored) 
Photographing in some of these situations can lead to fines or even jail, so it is important to be informed and know the law.
For example, in Paris it is illegal to photograph the Eiffel Tower at night except for personal use. Posting photos on Facebook, Instagram and other social media is not allowed. Ignoring these rules can lead to legal action from copyright lawyers.
A few others surprises include Ayers Rock in the Northern Territory, Australia. Because it is out in the open countryside, it appears to be acceptable to photograph. However, the rock is considered sacred by the Aboriginal people and must not be 'captured' by film. This is also true inside the tombs of the Valley of the Kings in Luxor, Egypt. For the most part, common sense is the main principle to follow on any continent.
"The eye should learn to listen before it looks."
— Robert Frank
Group of three children in Shangai, China | Photo by Carol Moore-Ede
3. Caution… children at play
There is a magic that emanates from children, and the camera loves them. They provide endless photographic opportunities. It is easy to start snapping without thinking, but proceed with caution. In most countries, parents do not like to have their children photographed without permission. If in doubt, apply it to your own situation. Would you want a number of photographers clicking away at your child at play? Probably not. Permission may be obtained simply by making eye contact with a parent; and/or miming taking a shot, if one does not speak the same language. A simple nod will indicate their consent to shoot. It is rare that a formal consent form is required. These are used mostly in cases where photos will be used commercially. 
Children tend to gravitate towards a camera. They are natural performers. However, once I have approval to shoot, I prefer to photograph from a distance, using a zoom to capture their expressions up close without having encouraged 'high-five" signs or mugging to the lens. Another method is to use a wide-angle placed on a table or other surface, to get the close up view.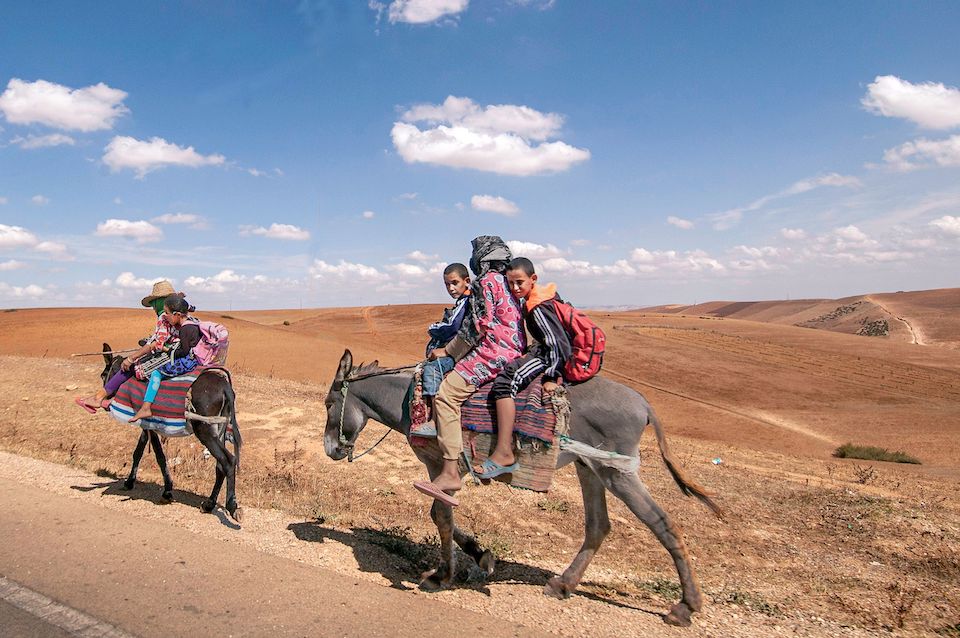 Children riding home from school on donkeys in Morocco | Photo by Carol Moore-Ede
Photo of Bedouin girl up close | Photo by Carol Moore-Ede
In some cases, however, up close and personal can be effective. One of my favourite photographs was taken in the middle of a Bedouin encampment at night. Two children were playing and I invited them over to sit with me on the carpet under the open skies. We did not speak each others' language, but as their father watched, I would take their photographs with my iPhone and then hand it to them to see themselves. Next they would take my photograph with it, and so it went back and forth, with much laughter and companionship. The result was not a very good photograph, but it captured one delightful little face in a way that makes me smile each time I see her.
"It's more important to click with people than to click the shutter."
— Alfred Eisenstaedt
4. Don't be the ugly tourist
I prefer to gravitate towards the locals and their favourite places than to go with the crowd. However, sometimes it cannot be avoided if iconic locations, such as Angkor Wat, Cambodia, are at hand. But look out for the selfie-seekers. They tend to stand directly in front of a famous landmark and slow down the line as they proceed to tinker with their hair, sunglasses, etcetera to get the perfect self-portrait. For the most part, they never take a photograph of the actual legendary site, but only of their faces in front of it. Nonetheless, they have a right to be there too.
In such cases, I wander off in search of other photographic treasures while the numbers dwindle. Usually they have somewhere to go – for instance a bus tour deadline –- and there is time to photograph the site before another busload arrives. If you cannot escape the crowds, lots of opportunities open up by changing your point of view, and not always looking straight ahead. It seems that most snapshot-takers like to photograph straight-on. Going to one side for a side angle can lead to some interesting results, which also has the benefit of cutting tourists out. If you have to line up for the perfect picture, then be considerate. Think about the shot ahead of time while lining up, then take it and move on. In other words, be considerate of others. 
The same is true with the pushy photographer who sees that you have found the perfect shot and wants to get in on the action. Hold your ground and do not let them interrupt your find. Others walk in front of a shot you are obviously composing, in order to get one of their own. In these cases it may be possible to get up close to the object of your composition, thereby preventing tourist traffic in front of your lens. There is also the chatty snap-shooter. They want to discover all about the equipment you are using while you are in the midst of taking a shot. It is frustrating to have your photograph compromised by these actions. There is a time and place for everything.
"A good photograph is knowing where to stand."
— Ansel Adams
Siam Reap Warriors' Heads | Photo by Carol Moore-Ede
5. Being a woman can give you a photography advantage
In many countries it can be an advantage being a female photographer. This is particularly true if you are photographing away from the tourist spots. Parents feel more comfortable with their children in your presence; and women enjoy showing off their clothing and adornments, or inviting you into their homes. The men like showing off their work, or their families, or even their livestock!
I had the opportunity to be in China in 1979. The province of Sichuan, as with all of mainland China, had been closed to the West for 30 years and the province had been open for only a matter of months. There were generations of Chinese who had never seen a white person, especially a female one with curly red hair, blue eyes, and considerably more height than most Asians. I was the oddity, and it proved very useful in photographing the people. I had been told that the Chinese would not tolerate having their photograph taken, but I was welcomed with smiles, open arms … and laughter. 
Be open. Communicate. Carry photos of your own children and family. They too will open doors. Keep your subjects' feelings in mind, and accept their cultural practices – even if some of them may not be appealing to you. You are a guest in their country. Be respectful at all times, and recognize their places of worship or their leaders. One is there to learn and enjoy, not to criticize.
"A thing you see in my pictures is that I was not afraid to fall in love with these people."
— Annie Leibovitz
A woman is made up of so many strong and beautiful facets that are overshadowed by the emphasis on the shape of her body. It was then that I knew what this year's exhibit would be about.
6. The universal language of a smile
Whether you speak the same language or not, a smile will open doors and hearts. Landscapes and monuments are easy to shoot, but photographing people is a sensitive issue. On the whole, it comes down to commonsense. Would you want to be photographed doing your laundry or setting up your shop? Would you want your day-to-day space violated? Engage your subjects. Show interest in what they are making or selling in a market. Do not just take their photo, but buy something from them. Most people will respond happily to these overtures. In all my traveling I have only had one gentleman, a Moroccan, gesture "no.". So I moved on. There were plenty of other scenes to capture.
Find a local or a tourist guide who speaks your language and is willing to take you off the beaten track. This will enable you to discover the local culture and people away from the common tourist. You may be invited into homes, meet families, and eat the indigenous or native foods. Learn a few phrases in their language, such as "good morning," "good afternoon," and "hello." And don't forget to smile. The response you get will be amazing.
"To take a photograph is to participate in another person's mortality,
vulnerability, mutability." — Susan Sontag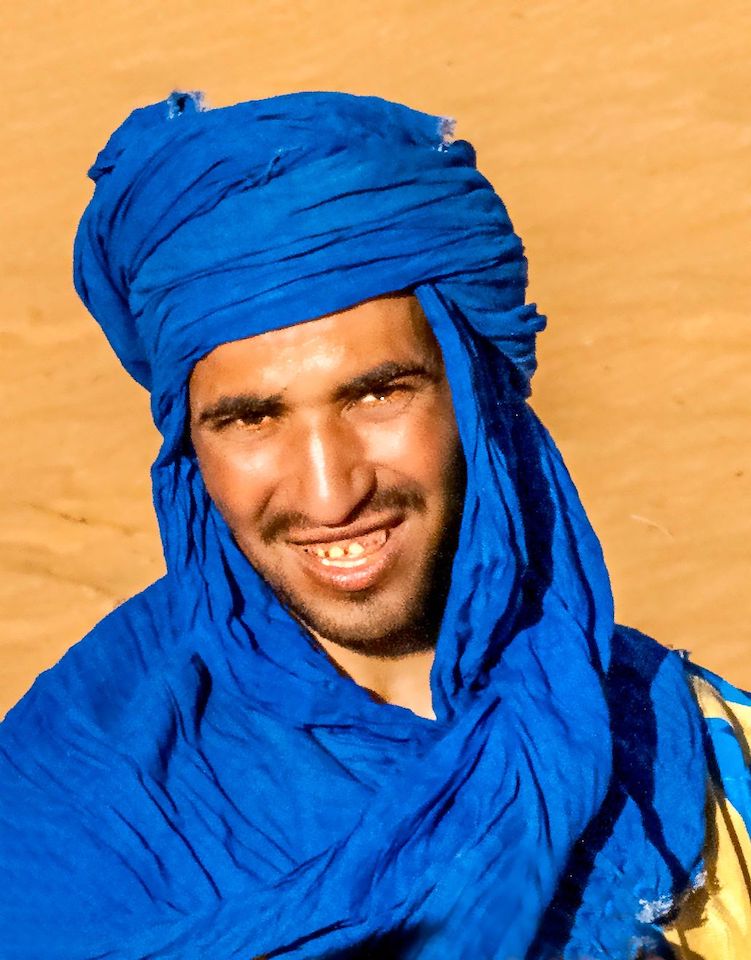 Bedouin man in Morocco | Photo by Carol Moore-Ede
7. What is it worth?
To pay or not to pay?  In some cultures, it would be demeaning to expect payment. In others, a person may request it. Each situation has to be judged on its own merit. I like to carry around a pocket full of change to give out in poorer countries. A little goes a long way. If someone is demanding payment after having been fully aware and agreed to being photographed in advance, I tend not to give in. It is a personal choice. Of course, if the end result is for commercial use, that's a different issue. Then definitely they should be paid. 
I came across some musicians sitting under a tree in Cambodia. I hesitated about taking their photographs. They were all severely maimed by landmines, so it became an ethical issue not to exploit their condition. Nevertheless, I thought that the group told a story of survival and fortitude and deserved to have their situation recorded.  In this case, I gave the group money.
"There is one thing the photograph must contain, the humanity of the moment."
— Robert Frank
Thousands of travelers are itching to get back on the road to discovery. Travel agencies are starting to make bookings in anticipation of borders opening up. It will be quite an onslaught after years of hiatus. Even more reason to start your research now, think about your equipment, and use commonsense and courtesy when you finally are able to step off your airplane at your destination. You are your own ambassador.
"My life is shaped by the urgent need to wander and observe, and my camera is my passport"
— Steve McCurry
We Love Photography! Explore More from JourneyWoman!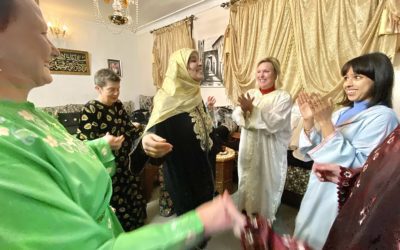 Featuring five women-owned tourism businesses that have been supporting women, communities and wildlife during the pandemic.
From hiring women to donating menstrual supplies, here are 12 things we can do to support and empower women through travel.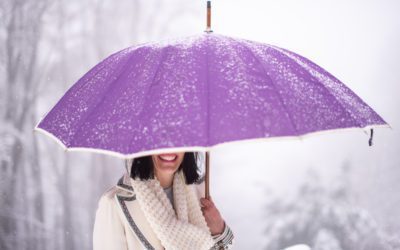 This International Women's Day, consider supporting small businesses and products that empower, uplift, and support women.