Last updated on July 3rd, 2023
Featured image: Reconnect with the ocean / Photo by Paula Owen Photography
Escape the crowds at this small boutique resort in the Bahamas
by Carolyn Ray, Editor-in-Chief, JourneyWoman
It's sunrise and I'm standing knee-deep in waves, watching a stingray sweep the ocean floor for breakfast just a few feet away. As a former Floridian, I don't feel any fear, I know he's not interested in me – but it reminds me that the Pacific Ocean is a wild place, one that I respect deeply.
An orange glow spreads across the water and I close my eyes, say a small prayer of gratitude, and turn toward the small boutique resort where I'm staying on a remote island south of Nassau in the Bahamas. I'm not the only one enjoying the sunrise, I spot several other women who share my reverence for nature.
I start each day on South Andros this way, knowing that my time is limited; in the five days that I've been at Caerula Mar, I've come to appreciate its wildness and simplicity.
The appeal of a remote location
When Canadians Sarah and Bryan Baeumler first discovered Caerula Mar in 2017, they saw it as a potential spot for travelers who wanted to get back to the basics, reconnect with nature, and savor the simplicity and beauty of Andros.
Little did they imagine their journey would include the hotel shutting down due to COVID-19 and the family quarantined together on the island. (Watch the HGTV show "Island of Bryan". to follow their journey.)
"We believed the island and the resort had the ability to evoke a feeling of contentment after a long day at the beach, when your skin and hair are kissed with sun and salt and you know everything is going to be all right," says Sarah Baeumler.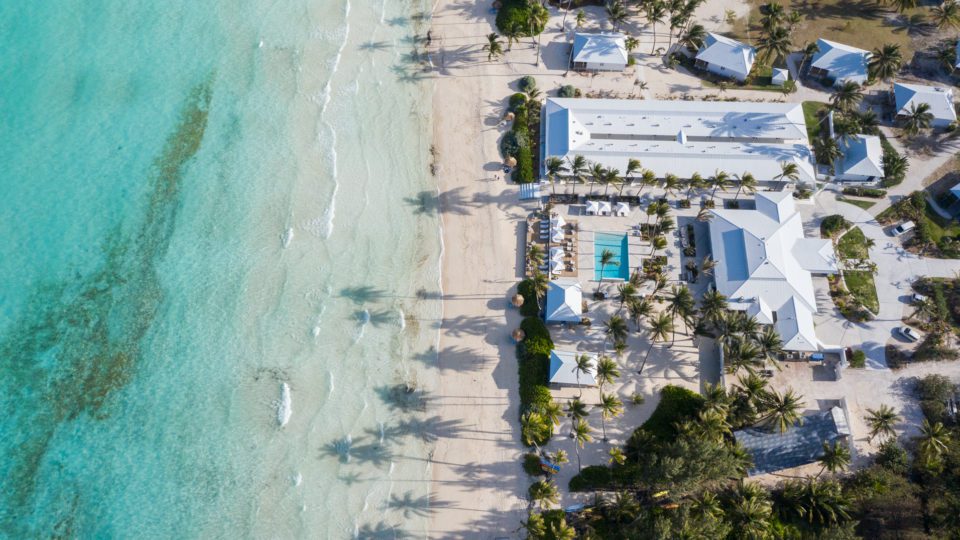 Caerula Mar from above / Photo provided by Paula Owen Photography
Connect with nature in an untouched place
Although easily accessible from Nassau or Fort Lauderdale, South Andros is a place that has yet to be discovered. It's quickly becoming an off-the-beaten track destination for fishing, scuba diving and other natural pursuits.
It was too windy to sail or snorkel when we were there, but the resort's Ocean Adventure Team took us to see nearby Blue Holes, underwater cave systems formed during the last ice age, similar to Mexico's cenotes. With 200 Blue Holes, South Andros' caverns reach depths of almost 1,000 feet and are found both offshore and inland.
There are also sunrise yoga sessions, complimentary bicycles to explore the island, and plenty of chairs on the beach for personal reflection in paradise.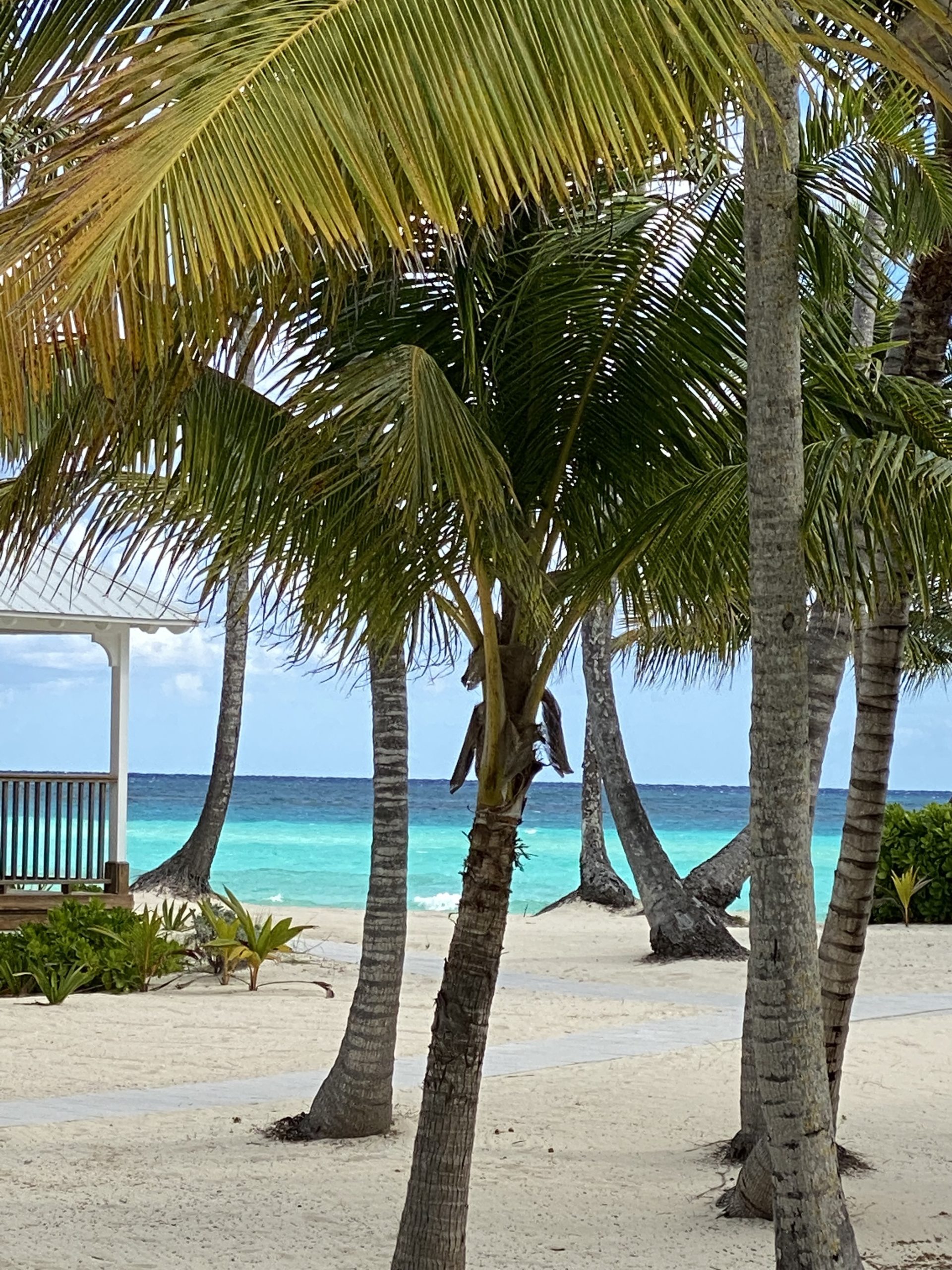 No colour adjustment needed for this ocean / Photo provided by Carolyn Ray
What makes Caerula Mar retreat-worthy
I'm at Caerula Mar for the Dovetail Summit with a group of women entrepreneurs from around the world. Our last summit, in April 2019, was in Tofino, BC. This event has been postponed for two years.
For many women, it's their first trip outside North America in years, and the energy and excitement is high. We missed this time connecting, sharing and learning from each other. Even though 'don't hug me' bracelets are provided when we register, we all want to feel the warm embrace of another woman.
Dovetail founder Alexis Dean says Caerula Mar appeals to her for several reasons.
"I want a place that feels like home, where you can take your shoes off," she says of her decision to host her retreat here. "It has the natural beauty, spaces for more intimate gatherings and the right energy for women to relax and connect."
Even with designer Sarah Baeumler at the helm, Dean brought hammocks and throw pillows from her own home.  Dean, who is an expert in teambuilding, says she has three main goals with her retreats. The first is to find a place that supports her vision.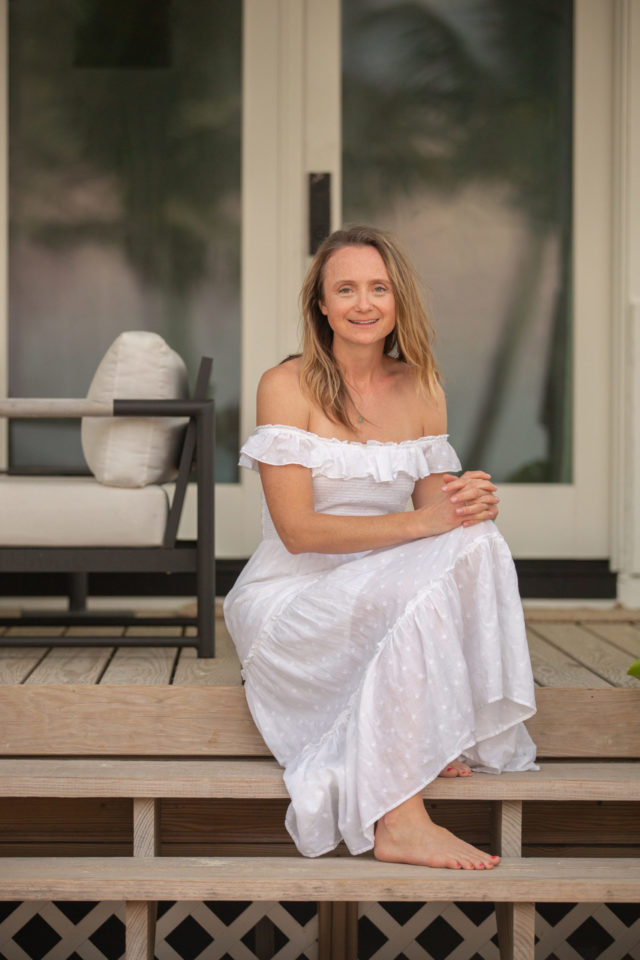 Alexis Dean, Founder, Dovetail Summit / Photo provided by Paula Owen Photography
"First, I want to create a space of psychological safety. Trust and confidentiality is integral because we, as women, show vulnerability," she says. "Secondly, you have to have the right team, one that leads with a service mindset and takes initiative. They look for the little things, are always observing and watching for how people connect, then making introductions or arranging seating plans to facilitate dialogue."
The final goal, Dean says, is to curate the right blend of people and topics, supported by rituals that bring people back. In all of her retreats, Dean gives participants bracelets to show unity and rocks to show a connection with the earth. In this case, we are all treated to a beautiful gold bracelet designed by Sarah.
"The most rewarding part is to see women connecting deeply, develop long-lasting friendships," Dean says.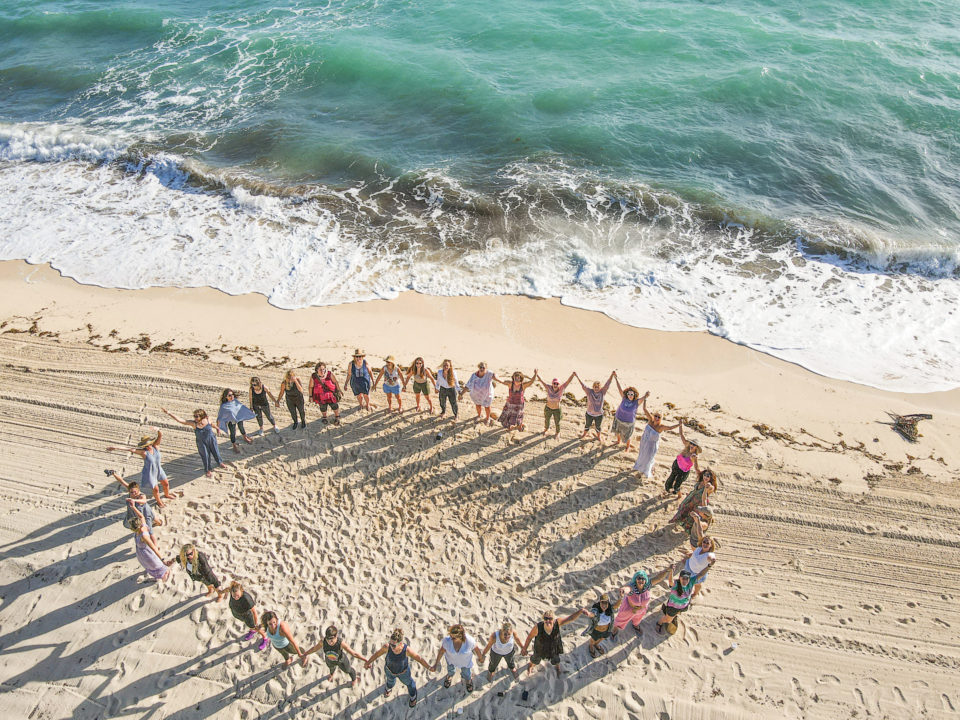 A circle of powerful women on the beach / Photo provided by Paul Owen Photography
Villas and clubhouses with ocean views
With 18 clubhouse suites and 5 private villas on 10 acres, the Baeumler's 'hideaway' features sustainable, natural materials and breezy outdoor spaces that allow guests to immerse themselves in nature and connect with their surroundings.
When you travel as much as I do, having an outdoor balcony is absolutely critical. I stayed in a suite near the pool, which had a deck with comfortable couches and chairs – perfect for working outside, as I did, or gathering with friends in the evening.
The villas are beyond stunning, with ocean views surrounded by palm trees and sand. There's even a honeymoon suite, which I didn't see from the inside, but imagined myself looking out at the ocean from my bed. Dream away!
Everything is a short walk to Lusca restaurant which I can honestly say had not only delicious food but a wonderful staff. On our last night, they even joined in in our dance party which made the retreat even more memorable. There's also a coffee bar, open all day, a pool bar, a spa and gym.
Your villa awaits/ Photo provided by Paul Owen Photography
The friendly staff loves their island  / Photo provided by Paul Owen Photography
Organic connections that support connection
Baeumler says Caerula Mar offers retreat guests a beautiful combination of camaraderie, encouragement and self-reflection.
"Caerula Mar, by design, offers a footprint that allows for space for each of these elements to flow organically, whether an inspiring moment around a fire pit with like minds, a solitary stroll down the beach for moments of introspection and relaxation, or a group setting with one of many backdrops from whimsical to beachfront," Baeumler says. "The spot is just good for the soul and a way to reconnect with yourself and that around you."
"Caerula Mar has truly been a life changing project for our family," she says. "We have loved seeing the growth thus far and are looking forward to continuing to expand our offerings and our community in the future.  Whether this is in The Bahamas, or on a larger global scale, we hope to continue to inspire and connect like-minded travelers to live each day with intention."
For small groups or solo travelers
With the trend to solo travel, small-group retreats and remote locations, Caerula Mar is perfectly positioned. For a buyout, the absolute maximum is 60. That means a head on every pillow, including daybeds and a rollaway bed or two (for this reason, Sarah recommends 56 for comfort). Our group had single occupancy per bed and only one person per bedroom in the two-bedroom villas, so the maximum occupancy is 30.
Getting there
The largest island in the Bahamas, South Andros is less than 200 miles from Miami, with minimal development. There are flights available from Fort Lauderdale Executive Airport and Nassau on airlines such as Western Air, and Makers Air. There are two airports on Andros Island, so make sure you fly to South Andros (Congo Town Airport) and travel light on these small planes. Check flight time before you book at the resort, and be prepared for delays.
 At the time of writing, a Bahamas Health Visa is required for all travellers, and visitors staying longer than five days must complete rapid Antigen testing, which the resort conducts. Check local travel requirements  https://travel.gov.bs/
As a successful entrepreneur, what is Sarah's advice to other women entrepreneurs?
Bauemler, who participated in the Dovetail retreat with us, shared many of her lessons as an entrepreneur at our dinners and mastermind sessions.
"The Dovetail Summit is an incredible opportunity for fellow female entrepreneurs to step away from their business for a short time while stepping into a community of fellow peers," she says. "Women from around the globe join together to learn from the best and brightest in their industries as fellow innovators, artists, and entrepreneurs. There is a level of support and closeness as we dive deeper into our business goals that is truly rare in entrepreneurial communities."
"Embarking on your entrepreneurial journey can become very lonely, very quickly.  As you forge a path that is true to your vision and break down barriers within your field, often it can feel lonely.
One thing that has been vital for me is engaging in roundtables, participating in podcasts, and seeking out forms of open conversation. By finding your own diverse community of fellow entrepreneurs and lifelong learners, it has helped me to feel more connected."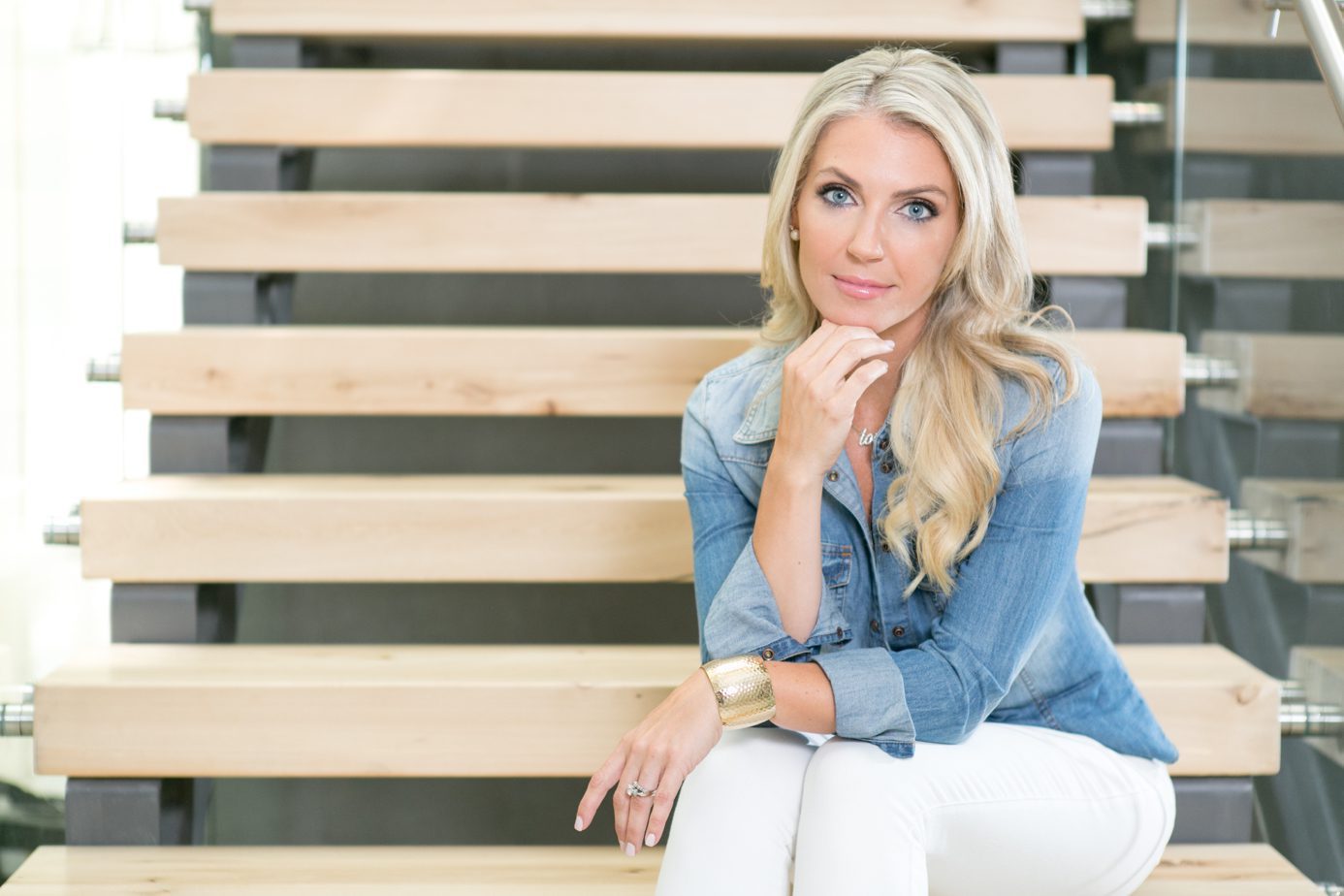 Disclaimer: I spent five nights at Caerula Mar, which I had pre-paid in 2019 personally as part of the originally scheduled Dovetail Summit in 2020. The fifth night was not covered through the Summit but when I decided to stay over, I was provided with a significant discount from Caerula Mar. 
Start Planning Your Trip
Get started with resources loved by the JourneyWoman community
Book Your Flights
Use tools like Expedia or Google Flights to look up the best flight prices. Being flexible with dates can save you even more money.
Don't forget to carbon offset your flight with TerraPass.
Find Somewhere to Stay
Find a hotel on Expedia and earn points towards free stays. Hotels.com offers a free night stay for every 10 nights booked.
Looking for an apartment or something more long-term? Check out VRBO.
Insure Your Trip
Travel insurance is more important than ever. Compare plans and policies for the best coverage for your trip using Insure My Trip.
Traveling for an extended amount of time? SafetyWing offers ongoing coverage on a month-to-month basis, and World Nomads offers coverage for extended trips.
Looking for a Tour?
Head to the Women's Travel Directory to find a woman-lead tour in around the world.
Travel Extras
Why not brush up on a new language before your trip with Babbel.
Don't forget your JourneyWoman branded accessories while you're on the go!
Discover More on Wellness Travel
For Global Wellness Day, five tips to find a wellness retreat that's right for you and support your journey of self-care and healing.
After almost four months of overseas travel, I'm discovering new wellness rituals that I can take on my next trip.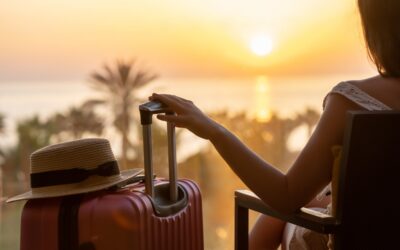 Author Becky Livingston shares the story of losing her 23-year old daughter, Rachel, and the solo journey that helped her to start healing.