Last updated on August 7th, 2022
The perfect travel hack for those traveling with kids! 
By Evelyn Hannon, Founder, JourneyWoman
Picture this. You, hubby and the kiddies have been out sightseeing all day and you're all pooped. Everybody is cranky and you wish you didn't have to go out for supper. This recipe is easy, healthy and cheap. Your family will absolutely love it. In fact, I promise they will volunteer to do the cooking and your hotel room meal will be complete in minutes!
Make a quick stop at any grocery store …
These items are always readily available.
1. a loaf of sliced brown sandwich bread.
2. sliced medium strong cheddar cheese
3. a small tub of margarine
4. tart green apples (one sliced apple enough for four sandwiches)
5. aluminum foil
6. celery and carrot sticks already cut up.
7. juice or chocolate milk
P.S. The only thing you'll need to bring from home is a knife to spread the margarine and cut the sandwiches.
Assembling is so easy…
1. Tear sheets of aluminum wrap big enough to wrap a sandwich in.
2. Assemble each sandwich on its own piece of wrap.
3. Fill sandwich with cheese slices topped with tart apple slices.
4. Spread margarine on outside of top and bottom pieces of bread.
5. Wrap each sandwich completely with the aluminum wrap it is sitting on.
P.S. The only thing you'll need to bring from home is a knife to spread the margarine and cut the sandwiches.
Add the secret ingredient…
1. Assemble the hotel room's ironing board. Yes, you read that right. The. Ironing. Board. Now heat the iron. Hot.
2. Let each person have the fun of ironing their own sandwich on both sides (of course, the littlest ones will need supervision).
3. Unwrap, garnish with carrot and celery sticks and eat.
Betcha everyone will ask for seconds! And, best part of all? There are no dishes to wash!
P.S. Anybody travelling solo and staying at a hostel? You'll be both a "Travel Star" and an "Entertainer" when you bring the iron from the laundry room into the kitchen to create your grilled cheese wonders. Enjoy everybody!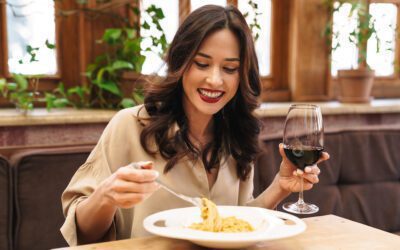 From Austria to Zanzibar, JourneyWoman readers share their favourite food experiences discovered while travelling.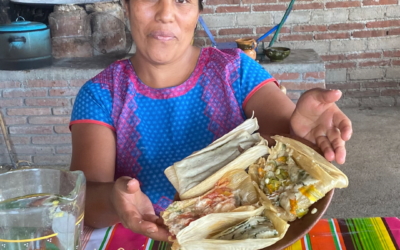 Enjoy all the fresh cuisine you can in Oaxaca, Mexico — from street food to upscale rooftop restaurants, you'll love every bite.
We asked some of our JourneyWoman women's tour partners, who are experts in local cuisine, to share their best culinary travel experiences.