Last updated on May 15th, 2023
Featured image: The best swimsuit is the one that makes you feel most comfortable! | Photo by
Rawpixel
on Envato
A fashion designer's tips for finding the perfect swimsuitit 
By Diana Eden, Contributor, Travel Over 80
Who decided that bathing suits had to be brief, tight, and miserably uncomfortable? 
Of course, when I was young with a lithe body, I was perfectly happy to have my bathing suits brief and tight, and I don't remember them being uncomfortable.
In ancient times, swimming was done naked. I'm not advocating a return to those times for swimming in public, nor am I advocating a return to nineteenth-century fashion where women's bathing suits consisted of a dress, drawers, and black stockings, usually made of wool! These did not encourage free movement, only an obsessive dedication to "modesty." (Men, by the way, were allowed to swim naked in separate quarters in the UK until 1860, when nude swimming was made illegal).
Even the name "swimsuit" was not introduced until 1921 when suits were made of knitted material that absorbed a lot of water and thus elongated and sagged. Not a pretty sight! They must have smelled like wet sheep.
Fortunately, Lastex yarn was invented in 1931, and bathing suits have been increasingly stretchy ever since.
In 1946 the bikini was invented, though, throughout the 1950s, it was considered improper for the navel to show. In the 60s, all bikini parts shrank to barely cover the essentials. They remain so, to various degrees, attractive to the younger set or those living in certain European countries or Brazil.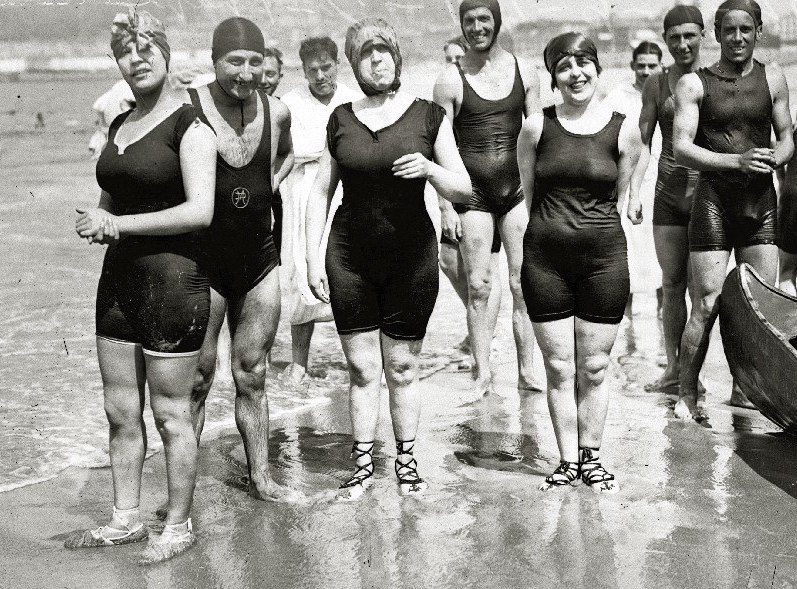 Swimmers enjoy the beach on Playa de la Concha, San Sebastian, Spain, 1918
/ Photo by Ricardo Martín, Public domain, via Wikimedia Commons
However, with the improvement of stretch fabrics, bathing suits got tighter and tighter, with "flattening" panels inside, making them a mighty struggle to get on, a nightmare to lower when nature calls, and a challenge to remove when thoroughly wet.
As an older woman who no longer wishes to show her middle section, I have a rule. NO one-piece bathing suits, for the reasons noted above. I have no desire to squish myself into the smallest size I can to replicate how I looked 50 years ago. Two-piece bathing suits allow easier access, and you can alternate tops and bottoms. I have a collection of swim bottoms, some boy shorts, and some little mini skirts, and then I add tops (or "tankinis," as they like to be called.) I look for ones that are just a bit floaty and end at the hip or top of the thigh. 
In Europe, it is not unusual to see older women on the beach topless and quite comfortable in their own skin. Women should not have to be self-conscious about their bodies, but let's face it, we are. Men do not seem to have that same issue, and at the beach or pool, they routinely display sagging chests and protruding bellies. I recently spoke to a woman who is self-conscious about showing her legs and has not ventured into a pool in years for that reason. 
Help is on the way.
Tips for Finding the Perfect Swimsuit
Fully covered swimwear has become popular for those wishing to avoid the sun's damaging rays. Coolibar.com is a company that has developed the most technical, elegant sun protection you wear. In fact, they are the first sun protective clothing company to receive The Skin Cancer Foundation's Seal of Recommendation.
Swim leggings and tights are available here,
and long sleeve tops for swimming can be found here.
Lands' End has some swim shorts with panty liner advertised as quick dry, found here.
There are also websites that specialize in full-coverage modest swimwear for those of the Muslim faith. Called A burkini, the suit covers the whole body except the face, the hands, and the feet while being light enough for swimming.
If you need a lot of support in the bra area, choose a bathing suit or top by bra size. For instance, a swim tank top in a DD cup bra can be found here.
In Tahiti some years ago, I learned to use my pareo as a dress, skirt, blanket, shawl, and yes, even bathing suit. I put on a pair of swim bottoms and wrap my pareo around me, especially if I am alone in my own pool. It flows out behind me when I swim, and the water feels divine on my skin. My body is more covered in my pareo than in a miserable suck-me-in spandex one piece that costs over $150. When I am finished swimming, I put the pareo back outside in the sun, and it is dry in minutes. 
So when you are ready to travel, choose bathing attire that suits all your personal needs for comfort and make sure it is as quick-drying as possible. I advise having one or two quick-drying swim bottoms, a loose top or tankini, and a couple of cover-up sarongs (they take up almost no space in the suitcase).
Looking for support and comfort on your next adventure? Here are 15 of the best bras for travel for women of all shapes and sizes.
Four tips to enjoy your suit
1. Pack your swimsuit flat
Pack your bathing suit pieces completely flat to take up less space. If your suit has a built-in bra or molded cups you can stack other bras into the cup area or use the curved space for storing socks or undies!
2. How to dry out a damp bathing suit
If your checkout time is upon you and swimwear is still damp, find a large plastic bag (like the laundry bag your hotel or cruise line provides,) cut a small hole in the bottom about the size of a 50 cent coin, put your suit in, and then aim the hairdryer into the bag. Costumers on films do this all the time for a quick dry when out on location.
3. Cut out tankini liners
If your loose flowy tankini has an inside "compression" lining that is tight, just cut it out. I do it all the time! Once you are in the water, no one can really see what's going on.
4. How to wrap your pareo
When you wrap your pareo around you at the bust level, like a wrap-around dress, take one corner of the left bottom corner and tuck it into the top of your shorts on the right. This is a trick a local in Moorea taught me to keep it closed and yourself covered.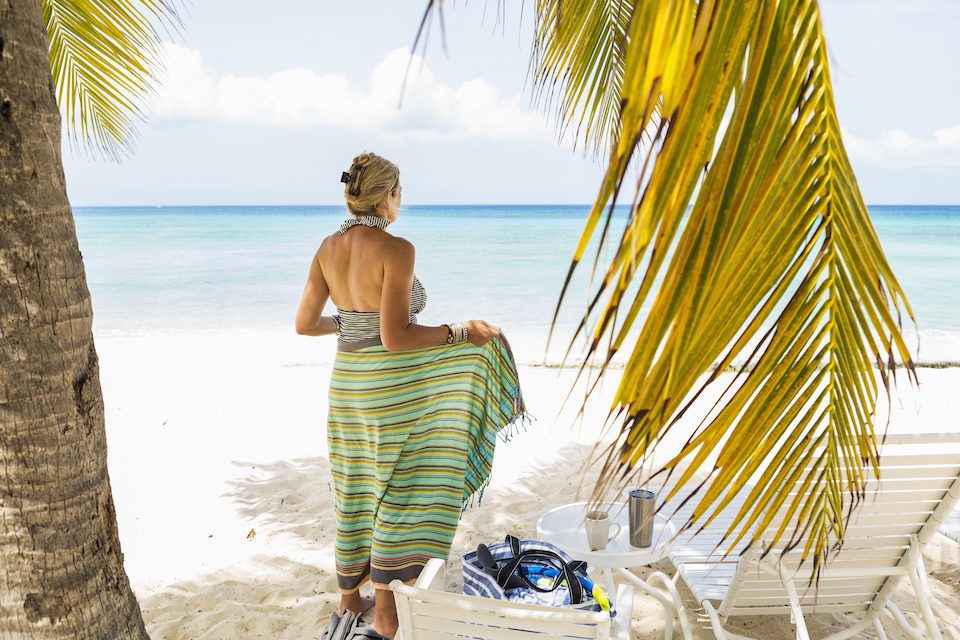 Pareos can be used in so many ways! / Photo
Mint_Images
on Envato
If you feel uncomfortable in whatever swim attire you are wearing, consider keeping your cover-up on until you are in the pool. Then take it off and put it to one side. Once in the water, all anyone can see is from the chest up. Of course, this is a little harder to do in the ocean!
If you have a private pool, well you can choose whether to return to classical times….or not.
More Tips on What to Wear Around the World
Clothing tips from a plus-size solo traveller to empower women with a fashionable travel wardrobe that combines comfort, style, and confidence.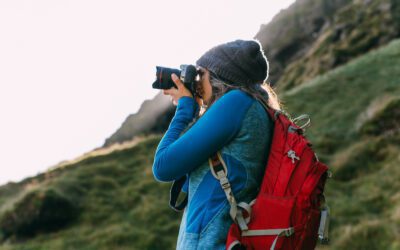 Our monthly curated list of solo travel trips submitted by JourneyWoman readers, featuring hotels, safety tips, what to pack, and more.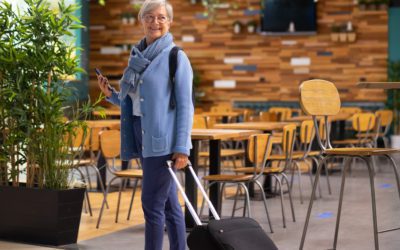 Expert tips for women to stay comfortable and stylish on the plane from former costume designer Diana Eden.