Last updated on May 15th, 2023
Featured Image: Diana's sprawling villa in Antigua / Photo provided by Diana E.
Tips for travellers booking homestays for future travel
By Diana Eden, Contributing Writer, JourneyWoman
The words charming, rustic and secluded inspire action in vacation rental bookers. They make us want to hit the Reserve Now button in a hurry. To find the perfect rental, look past romanticized marketing and get clear on what is important to you.
Trust me, I've made some mistakes. One was a "rustic cottage" in a Spanish hill town that I had romanticized beyond all comprehension. I had been blinded by a photo of a sweet little porch on which I pictured my husband and me sitting, looking out over the quaint town at sunset, sipping a glass of sherry and eating tapas.
Upon arrival, we took one look at the little wooden structure, primitive furniture, the less-than-sturdy front door lock, and ran for our lives. That was in the early stages of booking through the internet rather than through a trusted travel agency.
I made another mistake when I was looking for a place in Marseille near the old port, and the choices were few. I opted for a place that had a "retro" feel but a perfect location. The location was indeed ideal, but I felt like I was in a college dorm room with mismatched sheets and towels from Mom. The bathroom had shockingly thin walls that amplified every little sound throughout the apartment.
Pitfalls like these can be avoided with time, effort, and careful pre-planning. Once you have made a specific list of what you need to have a lovely time, (space, beds, bathrooms, location, activities and budget), put away your rose-coloured glasses and get practical with these get-real tips as your guide:
Location, Location, Location
No matter what the listing says, "close to everything" is not good enough. Find out what it is close to and if that is indeed what you want to be close to (beach, town centre, etc). Quiet countryside life or near all the sites? Can you walk to the village or must you always pile in the car, even to go to the corner to get some more coffee for the morning?
For this, Google Earth is my best friend. Once I can estimate the address, I go to "Street view" and put myself right there. I look up and down the road. I move my little yellow person around. If I see a biker bar or a nightclub next door, I know this is not the place for me. The front of a building may look fabulous, but if you back out to a wider view and see that it there is not a cafe or store in sight, or you are near the freeway, once again, time to keep looking.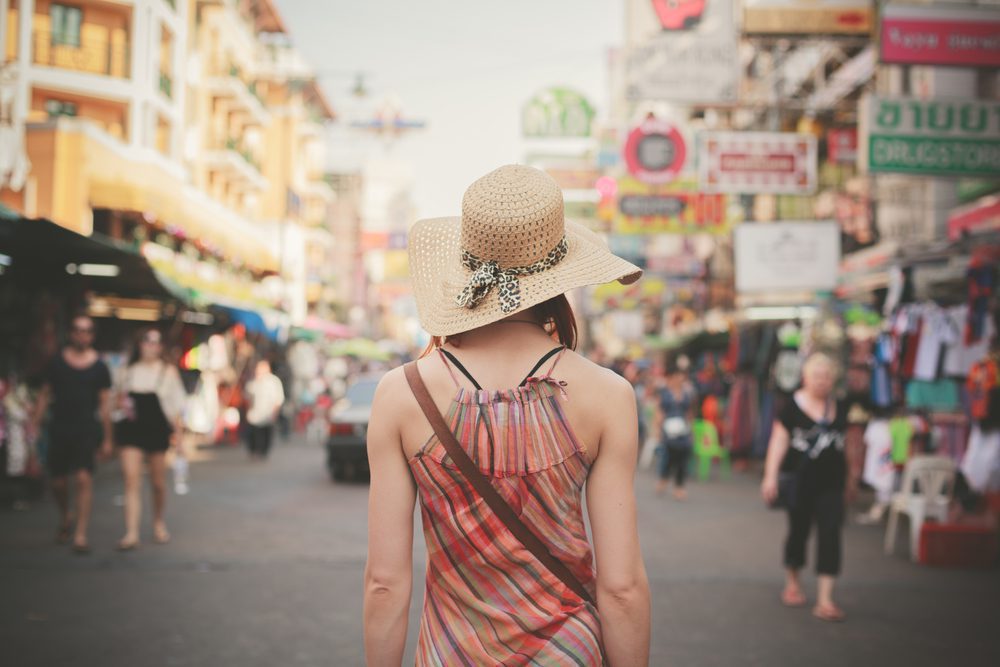 For World Tourism Day 2023, we invited five influential women travel leaders to share actions women can take to create meaningful change.
read more
Bedrooms
How many beds are there? Some of the most wonderful villas have three or four magnificent bedrooms, but if each room only has king beds, your party of six may not want to get that cozy.
Bathrooms
How necessary it is to have your own bathroom? In modern villas, most bedrooms have their own bathroom, but not all. Is there a loo downstairs?
In older villas, converted farmhouses or older city apartments, there were probably few bathrooms in the original layout, and only renovations will have added more. Can you and/or friends take turns?
Kitchen
How important is a fully-equipped kitchen? Do you just need enough to have breakfast in the morning and fix snacks before Happy Hour? Or do you have a group that will not want to go out every night and will want to cook? How are the supplies? Are there spices and decent cookware or will you be managing with an old spatula and a bent frying pan? (I've done that too).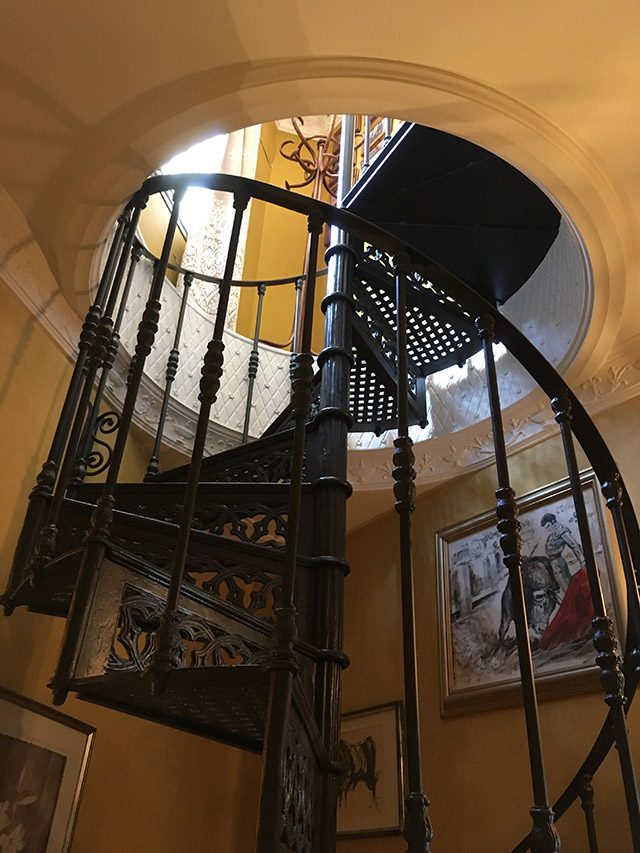 The gorgeous spiral staircase in an apartment in Seville, Spain / Photo provided by Diana E.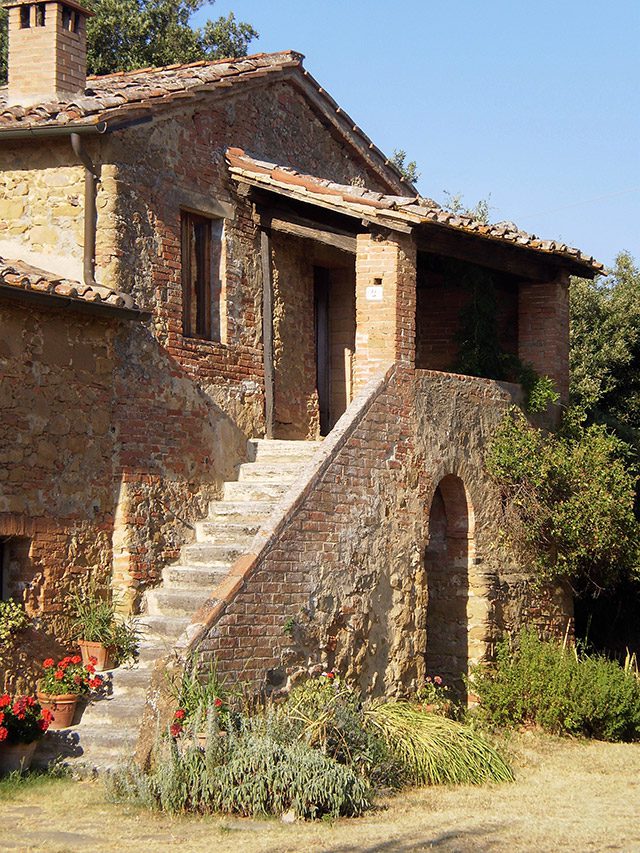 Diana's Tuscan villa with exterior stone staircase / Photo provided by Diana E.
Stairs
A big concern for older travelers. I tend to like places with a view, and the first villa I rented in Antigua had 16 stairs up from the car park to the pool level, and n eight more up to the front door! One of my guests had quite a difficult time with that. Are the bedrooms on the second floor? Are any on the main floor? Good to know in advance.
Also, for apartments, does the building have an elevator? It doesn't matter if it is one of those tiny one-person-one-pocketbook lifts, as long as there is one. We had a situation in Seville where the apartment I had rented had a massive water heater disaster and we were rerouted to another charming apartment, equally suitable. Until we discovered it was a third-floor walk-up and we could barely make it up once, let alone several times a day.
Reviews
Learn to read between the lines. Most people don't want to leave a bad review unless they have been badly mistreated, and I confess that I too didn't have the heart to criticize too firmly the deficiencies in the Marseille apartment. The owner was so nice! But read with a dubious mind and careful ear.
Photos
As I've said earlier, take off the rose-coloured glasses. Just because the house is a charming 600-year-old stone cottage in the heart of Tuscany, it doesn't mean it is going to be comfy. Be wary of too many closeups of a towel draped with a fresh rose, or a plate full of fruit. You can create your own fruit plate when you get there. And beware if you are told there are four bedrooms but there are only photos of three. What do you suppose the fourth bedroom looks like, and why is it conveniently omitted from the presentation? A converted broom closet perhaps?
Owner
I often ask the owner a question of some sort just to see how quickly they respond, how eager they are to answer questions, and how honestly they appear to answer –"Well yes, it was a broom closet, but it's really sweet now, especially if you are petite."
All in all, most of my vacation rentals have met or exceeded my expectations because I took the extra time up front to ensure my needs and wants were met. Apply the same to your next rental, and your accommodations will be part of your overall experience for all of the right reasons.
Diana's Top Picks for Rentals
Antigua
The four-bedroom, 4 1/2 bath villa of my dreams with a view of Jolly Harbour that can't be beaten. The decor of every bedroom is Caribbean contemporary, the bathrooms very upscale, the kitchen very well equipped, with concierge service available. Caveat: many stairs up from the private parking to the front door.
Click HERE for the Airbnb link.
Lake Como, Italy
Adorable tiny apartment with bedroom and bathroom on second floor in a loft-type space. Open the french doors to magnificent view of the lake, whose colours change almost hourly. Cosy and romantic, with a basic kitchen, but Senora brings a trolly in the morning with breakfast, plus fresh flowers from the garden and perfect linen napkins! Caveat: if you are afraid of narrow streets winding up steep hills, this may not be for you.
Spain
Jaw-dropping views! Two very large master bedrooms, suites are drop-dead gorgeous, with ample white linens,  balcony, and/or access to outdoor sitting space. Kitchen not as well equipped as some. Caveat: there is only one road up the hill, with some very steep inclines and an area that badly needs repair (may have been done by now). Less than five minutes down to the beach and all the restaurants and bars, or to catch the freeway along to Malaga and other beach towns.
New Orleans
A charming little second floor apartment, beautifully decorated and equipped. Entrance is off an alleyway and next door to a tattoo parlour, but after all, it's New Orleans. Balcony overlooks the St. Charles streetcar line which will have you downtown in 7 minutes. Lots of neighbourhood restaurants and bars but not noisy, as bedrooms do not face the street. Great location. Accurate photos in listing
Hollywood
Great for a couple wanting a Hollywood getaway. Separate entrance to the little house which is below the main house and has a to-die-for view of downtown Los Angeles and Griffith Park. Hosts gave us permission to have a little birthday cocktail party on our front deck. A simple little house, a lightly equipped kitchen but very romantic.
More articles for active adventurers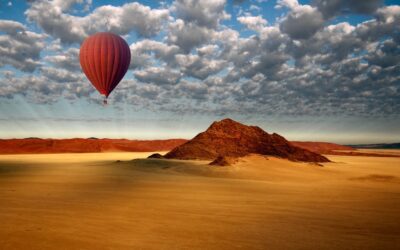 Maria celebrates her 50th birthday with a hot air balloon safari in Namibia, a safe crash landing and champagne.
Sandra Phinney's journey through Nova Scotia's UNESCO Cliffs of Fundy Geopark, is a reminder that travel is often about letting things unfold.
Inspired by the women who came before her, adventurous solo traveller Angela Maxwell shares lessons from her courageous walk around the world.