Last updated on November 12th, 2023
Featured image: With proper planning, we can protect ourselves from hackers and scammers while travelling/ Photo by 
davidpradoperucha
Envato
Why strong passwords should be part of your travel planning
By Carolyn Ray, Editor, JourneyWoman
When it comes to hackers and scams, many of us might think 'it will never happen to me'. But with the return to travel, increase in remote work and our reliance on mobile phones, we're even more vulnerable to fraud and theft when we travel.  May 4 is World Password Day, an invitation to check our cyber security travel tips and ensure that our identity, financial information and even our personal safety is protected. By getting the basics, like our passwords, right, we can be more prepared when it comes time to travel.
Surveys show that millions of people use weak passwords that can be hacked in a few minutes, particularly those that use all numbers, like 123456. Strong passwords combine 11 or more letters, numbers, and characters to make them harder to guess, yet a 2019 Google/Harris poll found that 59% of US adults use birthdays or names in their passwords. One in eight US adults use the same password for every single one of their online accounts. An additional 52% reuse the same password for some of their accounts, and 35% use unique passwords for every account. Does this sound familiar?
"With the number of breaches, cyber security is becoming top of mind, but it still tends to be overwhelming, particularly with with the number of connected devices, apps and passwords we have," says cyber security expert Paige Hanson. "The best way to protect yourself is by educating yourself. It's important to assess your own risk, and decide how you would like to apply those learnings  in your everyday life."
Hanson says that Artificial Intelligence, or AI, is going to make cyber security even more important. "Technology is making scams even more believable now," she says.  "Imagine getting a phone call and it sounds like somebody you know because they've used AI to piece together someone's voice.  They are going to get harder and harder to identify, so having the basics locked down is a first good step.  We have to stay ahead of them by educating ourselves."
How to change your passwords
1. Use a website like Norton Password Generator to change your password from your birthday to something like this, K0dr0Th-0uPoTH*Jl$u?
2. Store it on your phone or computer using a built -in system like Apple's Keychain, or with LastPass or NordPass. Make sure you use a different password for every single account.
3. Use Two-factor authentication, also known as "2FA", to add an extra layer of protection. When you log into an account, it will ask for two ways to confirm your identity. In addition to a password, this might include a thumbprint, text message, email or code from a 2FA app, like Google Authenticator. 
A Google/Harris Poll survey found that:
33% use a pet's name
22% use their own name
15% use a spouse or partner's name
14% use their children's names
Source: Google/Harris Poll
Cyber Security Webinar Series
In April and May, we hosted two Cyber Security webinarsto provide you with expert advice to protect yourself from hackers and cybercrime. If you didn't have an opportunity to join us live, both sessions are now available on our YouTube channel for viewing at your leisure.
As with the original sessions, both of these webinars are pay-what-you-can, with proceeds going to our speaker and Women4Cyber Foundation, an initiative that aims to help fill the gender gap among cybersecurity professionals in Europe.
Session #1: Safety Basics
Session #2: Travel Scenarios
12 Cyber Security Travel Tips
Scams can happen to any traveller, but when women are travelling solo, we tend to rely on public wifi, the Internet and our phones more than usual. Unless we're ready and prepared, we may be unknowingly giving thieves and hackers access to our personal data and identity.
It only takes a moment for malicious software called malware to infiltrate our computers or phones, or to give thieves access to our email by clicking on a link that looks official but is designed to steal your personal and financial information. Scammers are targeting women with phishing emails – including tax refunds, fuel vouchers, phone bill discounts and supermarket offers.
Drawing on Hanson's expertise, here are some of her top cyber security travel tips to help you keep yourself and your personal information safe while travelling at home or on the road.
Paige joined us on April 11 to talk about cyber security and identity management and is also hosting a second session on May 11 at 2 pm ET. Don't wait – attendance is limited. You can register here. 
Before you leave on a trip
1. Create strong passwords using Norton Password Generator (it's free), and store your passwords with Keychain (Apple), LastPass or NordPass.
2. Use two-factor authentication (2FA) to provide a second way to access your accounts, beyond a password. Download Google Authenticator or another authentication app (it's free). Make sure your email, social media and bank and credit cards are set up before you leave, particularly if you won't have access to your cellular service.
3. Enable 'find my device' on all devices from Apple and Google Android including phones, iPads and computers. Both Apple and Google have free online resources to help you understand privacy settings on your phone, or go to an Apple Store for a free 30-minute training session.
4. Find and track your belongings with Bluetooth-enabled Apple AirTag, Tile or Samsung Tracker, which act as a digital leash for your personal belongings. Make sure to set them up in advance and name them! If someone places an unwanted device in your belongings your phone should alert you that an unknown device is moving with you. In most cases, you can disable the AirTag. Here's how to do that.
5. Install antivirus software on your devices to stop bad actors from gaining access to your personal data. We recommend Norton Antivirus, McAfee Anti-Virus, or K7 Anti-Virus.
6. Download WhatsApp for free, secure calls – both audio and video calls (free).
7. Stop bad actors from accessing your data by using a RFID Wallet or a product from Pacsafe like a Pacsafe Waist Bag, Pacsafe Backpack, PacSafe Bra Wallet or Passport Holder. You can also buy RFID sleeves (or Paige suggests using aluminum foil!)
When you're travelling
8. Avoid oversharing on social media about travel. Post when you're home! When using your phone in public, use a Privacy Screen.
9. Turn off auto-connect functions on your phone, so that it doesn't automatically connect to Bluetooth or wifi networks.
10. Have you heard of juice jacking? Don't use public charging stations. Instead, plug into the wall or bring your own portable charger, like this Portable Charger, Travel Adapter. If you are concerned use a USB Data Blocker.
11. When it comes to paying for things, your safest option is mobile payment like Apple Pay, Android Pay, Google Pay or Wise. A credit card or RFID credit card is much better than using a debit card.
12. Don't access sensitive personal information on a public network and use a secure network / virtual private network like NordVPN when using public wifi. A VPN establishes a secure connection between you and the internet. All your data traffic then goes through an encrypted virtual tunnel that disguises your IP address when you use the internet, making your location invisible to everyone.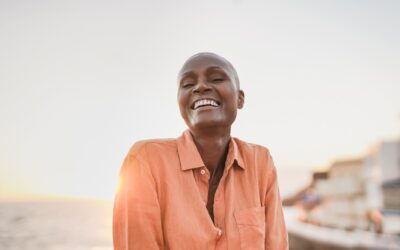 We invited experienced female solo travellers over 50 to share their first-hand advice on safe and affordable countries for seniors.
Learn how to protect your online safety with our CyberSafety Webinars in April and May with cybersecurity expert Paige Hanson.
As travellers, we can play an active role disrupting human trafficking, which affects millions of women and girls around the world.