Last updated on November 22nd, 2020
Featured Image: Singer Tami performing on stage / Photo provided by Tami
Music makes the world go 'round – and us go 'round the world
By Tami, Guest Writer 
Singer Tami grew up in a little northwestern town in Oklahoma.  There was no shortage of music in her home, as her father had a collection of  over 5,000 records, which she eventually inherited. 
With big stars in her eyes and a suitcase filled with dreams, Tami moved to Nashville, and again to Thailand, where she became a headliner singing torch songs at Oodie's Place, a renowned club in Koh Chang owned by Thailand's Father of the Blues. 
For Tami, 2020 can be described as lost and found dreams. She was invited to play the legendary music festival SXSW before it was cancelled due to the pandemic. The concert was to come on the heels of her sold-out New York City debut at the acclaimed Bowery Electric. But picked up the pieces, reached into her soul and made music.
While no one is travelling much these days, we will again. So we asked Tami to provide us with a playlist of her top travel tunes.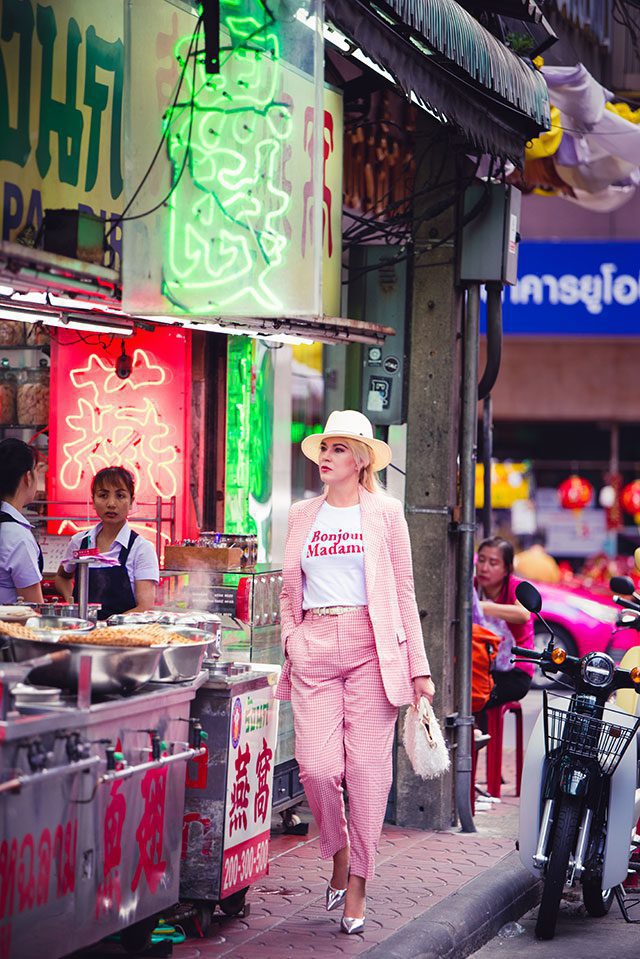 Tami on the streets of Thailand. Photo provided by Tami.
"Travel far enough, you meet yourself"
I absolutely love to travel. To experience other cultures is endlessly fascinating. While I might be fatigued while travelling, I never tire from exploring places.
My husband and I embarked on a split lifestyle, straddling multiple countries in a year, over 10 years ago. We moved to Asia – a continent I'd always felt connected to – and life actually came full circle for me recently when I discovered my DNA is heavily Eastern. I don't know how to explain it other than to say if you feel connected to a place, there is probably a reason. In the words of David Mitchell: "Travel far enough, you meet yourself."
There are three segments to my travel – Before Takeoff, In-Flight and After Landing – and as a singer, all segments have musical accompaniment. My trips are often so long that I include full albums and soundtracks in the middle. I usually start out with fun, jazzy songs at the airport before takeoff. Then I go for full relaxation for 24 hours-plus of in-flight, with full soundtracks and albums. After landing, I am ready for adventure!
.
Before Takeoff: Jazz Stylings
Come Fly with Me / Frank Sinatra
That's the Way of the World / Earth Wind & Fire
Hooray for Love / Ella Fitzgerald, The Best of the Songbooks
The Girl from Ipanema / featuring Stan Getz, Joao Gilberto, Astrud Gilberto and Antonio Carlos
In Flight: Meditative Sounds
Ella and Louis / full album – Ella Fitzgerald and Louis Armstrong
Crouching Tiger Hidden Dragon soundtrack
Memoirs of a Geisha soundtrack
Pure Meditation – Apple Music
After Landing: Get the Party Started
I Feel It Coming / The Weekend featuring Daft Punk
September / Earth Wind & Fire
Chained to the Rhythm / Katy Perry featuring Skip Marley
Real love / Clean Bandit and Jess Glynn
Tami is an international billboard charted artist and performs around the world. She moved to Nashville to sing country music, where fate would take her and her jazz and blues sounds to China, Thailand, sales worldwide in over 65 countries, and beyond the rainbow. Tami's latest release is "Together Apart."
Website: www.tamimusic.com
Facebook: @OfficialTamiMusic
Instagram: tamimusicofficial
Twitter: @TamiMusic
JourneyWomen: What's on your travel playlist? Share the soundtracks of your favourite trips in the comments below!
Guest writer Kaelie Piscitello shares why Cork, Ireland is a city full of surprises that offer different experiences at every turn.
read more