Last updated on April 30th, 2022
Life lessons from our mothers
By Ruth Hazi, Guest Writer
One day, my 70-year old mom asked me to join her on a trip to Hungary, where my father came from. The trip was not very successful. It took us almost the entire trip to get used to one another. To know how to do things that please both sides.
I promised myself to never repeat this experience.  I took her on fun short trips in my country, Israel, but not abroad.
But 10 years later…
Ten years passed… my mom turned 80 and asked me again. This time, I thought: "this is a great way to collect memories."
We have been travelling together ever since, every couple of years.
In one of our more recent trips, we visited Austria.
We are in Austria at the Saltsburg lakes area. We arrive at Lake Gosau – The name means "God's eye". I have heard that this lake is spectacular, but when I see the lake, my heart sinks.
Its low water level reminds me of drought. It doesn't look like the eye of God to me.
I hear mom's voice in my head: "This is that amazing lake you were talking about? What are we going to do here?"
I almost think to start the car and go somewhere else, when I see her grabbing the walking sticks ready to go.
She says: "Let's go around the lake from the left side – it looks prettier."
I smile to myself. She is so right! The left side was amazing!  There are many places to stop and gaze at the most amazing clear water. It's the eye of God because of so many shades of green and blue colours that are distinct in this lake.  Walking by small waterfalls and hobbit-like land. Magic.
As we continue to walk all the way around the lake, mom tells me one of her stories about her big family.
Later, sitting at a café in the end of the trail, I post some pictures of our trip on Facebook. Two hours later she wants to know how many people liked her picture: 90 people. She is so happy…
Travel with mom is possible
Travelling with mom is possible. Here are my tips from my experience:
Make sure that the time of year is the best. Older people may have a hard time with heat, while cool spring weather can make them more vital.
I find it important to plan ahead with extra ideas to do on rainy days, or days that the outdoors is not possible: Go to a spa for the day, play board games, painting together. It can be much fun to bring a block of paper and watercolour pencils – even if you are not artists. Can make the day special.
Talk about expectations before the trip. If possible, plan together. Sometimes, the life experience of the elders brings ideas we don't think of…
I took walking sticks which turned out to be a great success. It gave my mom confidence to walk 5 km every day and enjoy the outdoors, even at the age of 83. (My mom didn't do this kind of walking when she was young, so this was a revelation).
Talk about packing, about choices: hotel vs. airbnb. We love going to the local store to buy food and prepare breakfast together, and having our own kitchen. Getting to know the neighborhood, the local bakery etc. The rest of the day you can eat out…
This is quality time. My mom told me many stories about her past. Going on such a trip allows time to share things we don't speak about when we are busy with many things in our daily life.
Write a diary. Usually when we return from a trip, I develop some pictures and write some details next to them. I give this to my mom, so when she wants to reminisce – she can. Writing a diary is really great way to help remember.
Gosau Lake in Austria – Just go there.  https://www.gosautal.net
Ruth was born in Israel and is an avid traveller. Ruth spent seven years in Alaska where she discovered clay and eventually became a ceramic artist. She happily combines her travels with her profession – meeting other artists all over the world and making art together.
More on Multi-generational Travel
Grandmother of three Kathy Buckworth's new column "My Grand Journey" explores tips and places for multi-generational travel with grandchildren.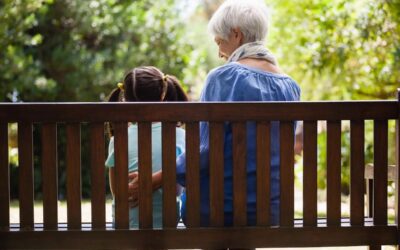 For Mother's Day, three adventurous women share their travel experiences with their grandchildren about trust, gratitude and service.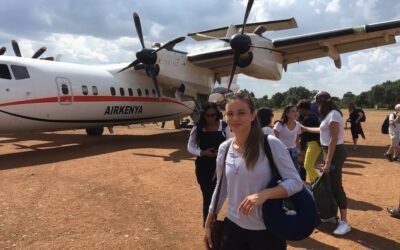 Claudia Laroye's book "A Gelato a Day" includes short stories from leading travel writers that show the true impact of family travel.