Last updated on November 4th, 2023
Featured image: Heading to the airport? Use Diana's tips to be comfortable and stylish on your journey | Photo by svitlanah on Envato
Tips to Pack Light and Reduce Travel Stress
By Diana Eden, Contributing Writer, Travel Over 80
In my former life as a costume designer for television shows and films in Hollywood, my job was to find characters (actors) the perfect look for any situation, whether the scene called for an evening gown or a traveling ensemble. Certainly, I have dressed thousands of people in those 35 years designing for all sizes, ages, and shapes, all levels of talent and fame. But that was for the "pretend" world where a crew of costumers is standing by just off-camera to straighten, mend and adjust during filming. Now, as a retired designer, and an over-80-year-old traveler, I am asked to recommend the best clothes for traveling, and I confess, I am sometimes at a loss, as every person is so different. Who am I to say that what I like to wear will be what someone else wants to wear on the plane.
Traveling in the past looked a lot different… and more comfortable!
That being said, I WILL say that when I'm asked what to wear on a plane, my answer is that if you can be both comfortable AND stylish, you have achieved something major. And if you also choose clothing that meets Ethical and Sustainable standards, you are also doing good for the planet.
What to wear on the plane to be comfortable and stylish 
Getting to your destination often requires long periods of standing in lines or hours sitting on airplanes. In the early days of flying, people dressed up in smart little suits with hats and gloves. The pendulum swung to people so concerned with comfort that they showed up to the flight in sweats and what looked like sleepwear.  
Can we find a balance?
1: For me, the answer is in loose clothing
I personally don't like the tight compression of stretch pants or jeans. In my younger days, I said I'd never be caught dead in elastic-waisted "pull-on " pants, but here we are! If I am to wear pants, they most certainly will be soft jersey knit pants with a fairly high rise so they don't slide down when I'm seated. If I can find it, I like a matching jacket over a contrasting t-shirt or blouse, also made of soft fabric that doesn't crease. All pieces must wash easily and hang dry at my destination.
I also like wearing a full-length t-shirt dress. It makes me feel completely unrestricted through my middle section, and with a shawl, a wedge sandal, and a touch of jewelry still looks pretty cool. Any figure type or size can pull this off.
What adds the dash of style to this choice is some good shoes that are comfortable for walking, but preferably not tennis or athletic shoes. (As anyone will tell you, those are a giveaway that you are a foreign tourist in almost anywhere but North America.)  Add some light jewelry; costume jewelry is just fine, or do what the Europeans do with such flair — add a scarf.
2. Search for companies specializing in travel-ready clothing that is no-wrinkle and easy fit
.
Magellan's and TravelSmith (the same company) have numerous jersey dresses, pants, and sets that are in the mid-price level and easy to fit. Here is a very basic dress.
Chicos has a line they call "travelers": a selection of jersey knit stretch pants (not tight, just straight), matching tank tops or sleeved tops, and jackets. Their colors are usually black or navy for basics, but also plenty of brighter colors. I have this set from them in "Astro Green," which is indestructible! Striding through airports, I get countless head turns and compliments.
The other advantage is that Chicos has some pants in the tall size (I hate wearing "high water" pants) and have sizes suitable for the older woman.
Appleseeds has less expensive choices but good basic designs for older women and is one of the few websites that use older models to show their fashions. Soft Surroundings and Coldwater Creek are two other older-women-friendly vendors.
To be good to the planet, consider shopping from a company that offers sustainable and ethical clothing. This is an emerging field of study with people researching just how damaging the mass production of inexpensive wear-and-discard clothing is. These companies are changing the environmental impact of textile production and making sure garments are made by people earning a decent wage.
Some companies using climate-friendly textiles are: 
Poetry Fashion, which has sizes up to 18. I like this dress.
Wayre sources the highest grade and quality fibers and builds fabrics using dramatically less water, energy and waste compared to cotton or synthetics  though it has a smaller inventory of styles. This dress caught my eye.
Pact uses "sustainable crops, organic farms, and chemical-free dyes to ensure our fibers are supporting Mother Earth from seed to tee." Browse their women's clothing here.
Kotn is based in Toronto, Canada and offers BCI-certified organic cotton, safe and fair labor standards, non-toxic dyes, and plastic-free packaging. 
Our travel over 80 contributor Diana Eden shares tips and stretches to endure long-haul flights for women with back and hip issues.
Other tips on what to wear on the plane
The trick to being equally stylish and comfortable is to plan ahead and have an ensemble designed to go together rather than just "separates."
It may seem obvious, but planning ahead will reduce your stress level as you get closer to travel day. I count the days I will be away, how many casual/sporty outfits I will need, and how many dressy. I plan how I can repeat pants and shorts with different tops and what dresses are the lightest weight and easiest to pack small. 
Bring only neutral-colored shoes – black, white, and "nude ."They will go with everything no matter what you pack.
On a long-haul flight, do NOT wear an underwire bra or a bra that is too tight around the band. Try a sports bra or one of the many suggestions offered in a recent JourneyWoman article here.
Hats: One in five people will develop skin cancer in their lifetime, so be sure to bring a hat. If your hat is not packable, wear it on the plane. My favorite straw hat from Tommy Bahamas just doesn't pack, so I have to wear it, put it in the overhead storage, and hope it doesn't get too crushed. For Africa, though, I am packing this SPF 50 hat from Coolibar.
Bring socks if your feet tend to get cold – mine certainly do. There is always a pair in my carry-on bag.
With your chosen travel outfit, add a cashmere-feel shawl. It will be useful for warmth around your shoulders, a blanket over your lap, or rolled up for a pillow. Mine is basic black from Amazon for a mere $12.00, and it comes in 6 colors. Find it here. 
Bon Voyage!
Clothing tips from a plus-size solo traveller to empower women with a fashionable travel wardrobe that combines comfort, style, and confidence.
The best travel tips from JourneyWoman readers in February 2023, covering packing tips, places to stay, how to save money and safety tips.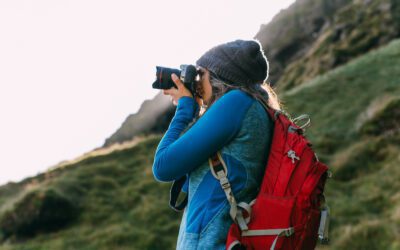 Our monthly curated list of solo travel trips submitted by JourneyWoman readers, featuring hotels, safety tips, what to pack, and more.