Last updated on November 19th, 2023
Feature photo: Cocora Valley's beautiful wax palm trees / Provided by Samantha Glauser
Lessons from a solo hike in the Colombian Rainforest
By Samantha Glauser, Guest Writer
I have traveled solo a number of times to four continents, but my trip to Colombia nearly didn't get off the ground – from what I read about the country's dark past (hello, "infamous man from Medellín," drug cartels, and guerrilla groups) to friends and family expressing their concerns. One person even went so far as to threaten to tear up my passport! My curiosity, innate rebel tendencies, and the lure of the country's beauty won out, particularly the draw of hiking Cocora Valley. It's located in the Coffee Triangle (Eje Cafetero), a six-to-eight-hour bus ride from Medellín. People are drawn to visit the small town of Salento for this incredible hike through the rainforest into a verdant valley speckled with
wax palm trees
—cartoonishly-tall palms rising as high as 200 feet. The opportunity to hike such a beautiful and unique area was incredibly appealing.
For all the beauty of Cocora Valley, it is a challenging hike. It's long—it takes an average of five hours, depending on your speed. There is a strenuous section with over 3,000 feet of elevation in under a quarter of a mile. Hardest of all for me were the seven dodgy suspension bridges you have to cross in the rainforest, as I am absolutely terrified of heights. These bridges are rickety, between 10 and 20 feet off the rocky ground, a few feet wide, and some that are 50 feet or more long. They sway under your weight and there is nothing to hold onto. I was concerned about doing the hike because of the suspension bridges, I wasn't in "hiking shape," and I was nervous to go alone. As a woman traveling solo, heading off into a remote area alone should give you pause. This epic hike through a lush area of Colombia's coffee triangle made the avid hiker in me push through my uneasiness to go. I was prepared to be blown away by how beautiful Cocora Valley is. What I was not expecting was what a life-changing experience my time there would be. Fear provides fertile ground for life lessons, and what follows is a sampling of mine.
Life Lesson #1: Be Prepared But Flexible
I'm a planner. Literally. I'm a Project Manager, and a big part of my job is planning and managing risk—you know, all those things that could happen. The thought of going somewhere that still had shadows of a dark past was unnerving. And knowing that I was nervous hiking alone but going to wing it? Well, the planner in me shuddered at the horror. But, what an incredible way to learn what I am capable of!
I decided I would wait a couple of days to do the hike to give me time to meet someone to go with. Not to miss an opportunity to plan, I thought about some places where I might meet people.
Though I'm glad I went through the exercise, it was entirely unnecessary as I met an amazing woman on the bus to Salento. We hit it off, explored Salento together that evening, and decided to hike together. When you put your thought and energy towards something with clarity, it allows it to happen.
Samantha hugging a wax palm tree on her solo hike in Colombia / Photo provided by Samantha G. 
Life Lesson #2: Be Clear About What You Want and Open to What You Get
When I headed to Salento, I simply wanted a hiking buddy and wasn't thinking beyond that. When I checked into my hostel, the family that ran it welcomed me warmly. After introductions, the daughters invited me to a bonfire they were having that night. Why not?
I invited my new friend as well. We met a group of guys from France, Belgium, Germany, and Peru and were introduced to a local liquor made of sugar cane called aguardiente. We became fast friends around that circle of flame.
I wasn't expecting, or even seeking, making new friends in Salento. I simply didn't want to hike Cocora alone. But, when you know what you want and are open to what arises, things seem to fall into place. My time in Salento wasn't what I expected—it was even better.
Life Lesson #3: Go Anyway
Colombia is such an incredible country of people who are strong, proud, and brave. I loved my time there and plan to return to see more when I can.
I almost didn't go to Salento as I was concerned about the hike. In truth, it wasn't just about hiking alone – it was having to traverse seven suspension bridges gripped by a fear of heights. I was consumed with the thought of getting to the middle of one and having a panic attack.
When we got to the trailhead, we paused for a moment and met two young women from Argentina. They asked if they could hike with us as they were nervous hiking on their own. Here I was judging myself for being worried about hiking alone and met two other women who were concerned about doing it as a pair! I was so appreciative they shared that.
When we got to the first suspension bridge, an amazing thing happened. I was terrified as I expected, even though they weren't that high off the ground, but now I had a group of three amazing women cheering me on. One went to the other side to encourage me towards her, and the others stayed off the bridge so it wouldn't sway more. My fear and embarrassment turned to gratitude.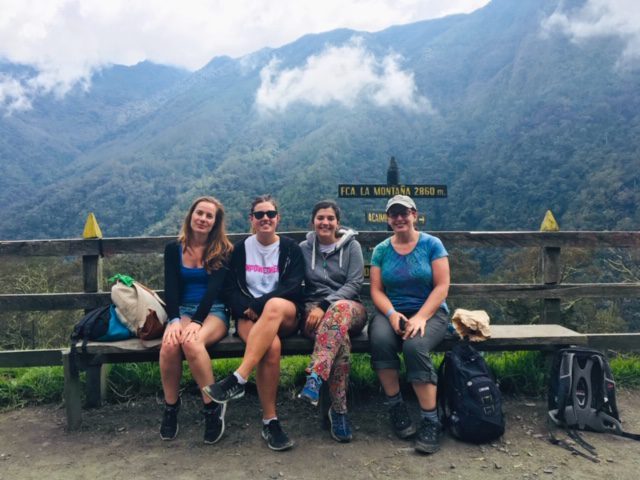 Samantha and the friends she made while hiking in Cocora Valley, Colombia
The Bottom Line
The Cocora Valley hike was just as amazing as I expected. I crossed seven dodgy suspension bridges with an epic fear of heights with the encouragement of my new friends, even crossing one of them a second time when we got off track. I climbed the peak, a 3,000-foot gain to nearly 10,000 feet, completely out of breath and barely able to feel my legs, exhilarated that I made it. I pushed through my fear, asked for help, and did something outside of my comfort zone. As far as magnificent experiences go, this one was pure magic.
If You Go
Sam's tips for a great time in Salento and Cocora Valley:Sam's tips for a great time in Salento and Cocora Valley:
Most people get to Salento by bus from Medellín. Given poor road conditions, it can take 6-to-8 hours or more. Visitors can also fly to Armenia and take a bus to Salento in under two hours total.
Stay in places on the edge of the town as the square can get quite noisy at night. I highly recommend Plantation House Hostel. The family is fantastic, and they have an incredible coffee plantation tour, Don Eduardo's. They are also animal lovers so you can get your fix if you're missing your pets at home!
Get a hiking lunch to-go at Brunch de Salento. It's plenty of food, and the owner is a really interesting guy worth meeting.
Grab a "Willy" Jeep at the square to get a ride to Cocora Valley. They are plentiful and take off once full of eight people. (Another great way to meet a hiking buddy!)
Bring Colombian pesos on the hike. There are two places where you have to pay a small fee to hike. Ask where you stay for the cost as they may try to get more if you don't know the price.
 Go the counter-clockwise route. It leads you through the rainforest first and you end at the palms. It does have you going up the steep climb, but better than going down, particularly if it's rainy.
Hike early as it rains in the afternoons during many times of the year.
When in Salento, have an ableas (thin pastry with a jam or caramel filling), eat trucha (the local trout), and try aguardiente.
Hiking Safety Tips for Women (that anyone can use)
Be prepared for the trail—Read in advance about the trail to know what to expect and how to train for it.
Bring plenty of water—You do not want to get dehydrated on a hike where you don't have access to water. Bring more than you think you need, and if you're traveling in an area where it's unsafe to drink the water, make sure you have a filter.
Find a hiking buddy—You can get injured, run into a wild animal, or a host of other issues while hiking. Buddy up, or at the very least, make sure it's a populated trail, or rent a satellite phone. Sure, you can go on your own, but you want to be sure you can get help if you run into trouble.
Bring first aid gear—Have a small first aid kit with things like bandages, antiseptic ointment, and other essentials. Blisters and cuts happen.
Bring food—If a hike takes more than a few hours (this one is generally between five and seven hours), bring some hearty energy-giving food that won't weigh down your pack. Think trail mix and energy bars. In case you get lost or injured, you want to make sure you have something to eat.