Last updated on November 30th, 2023
Featured image: The Galician countryside along the Camino de Santiago
Six things that surprised me about Spain's iconic pilgrimage
By Carolyn Ray, Publisher, JourneyWoman
The Camino de Santiago: Others may walk it with you, but no one can walk it for you. 
I'm a guest on a tour with a group of adventurous women who all come from different places and a range of professions. An architect, a social worker, a scientist, retired women – and me, a travel writer. We are all so different, but we share the same passion for travel as a way to enrich our souls and expand our worldview. Every morning, despite our aches and pains, we rediscover our resolve and commitment to finish what we started, on our own terms, in our own way. 
The path is rocky, rainy and steep, but our drive and determination push us to the next day. It's a demanding and challenging walk, known to bring healing and personal discovery. But even if you walk with other pilgrims on the route, this is your journey.   
Expect the Unexpected
When I was invited on this nine-day "Camino Way" tour by women's adventure company, Wild Women Expeditions, I thought I knew a lot about the Camino de Santiago. I had researched it for months, hosted a webinar on the topic, written articles about women who had walked it and read books and watched the film "The Way."  I even walked the PEI Camino in September to prepare for this walk. 
I had been told that on the Camino, what you don't have, you find. What you need, you are given. What you seek, you find. Here, in this northeast corner of Spain, I discover several things I didn't expect on my Camino. 
1. Galicia's mysticism pulls me in
On my first day from Barbadelo to Portomarin, I trek along lush forests and farmer's fields. I can't help but wonder if I'm really in Spain. The Spain I know from previous trips is populated by orange trees, gardens and Moorish architecture. Here, I'm greeted by lush, green rolling hills, dotted with sheep, tilled fields and small villages. The Galician countryside is pastoral, like something out of a photograph, and in October, the weather is sunny but misty and cool, perfect for walking.
While Scotland and Ireland are most associated with the Celtic people, this part of Spain also has a strong Celtic heritage. Celtic crosses and knots decorate many of the buildings and small villages, and there's the occasional sound of bagpipes. There's a reverence for nature here, for the forests, rivers and trees, and a feeling of magic and mystery.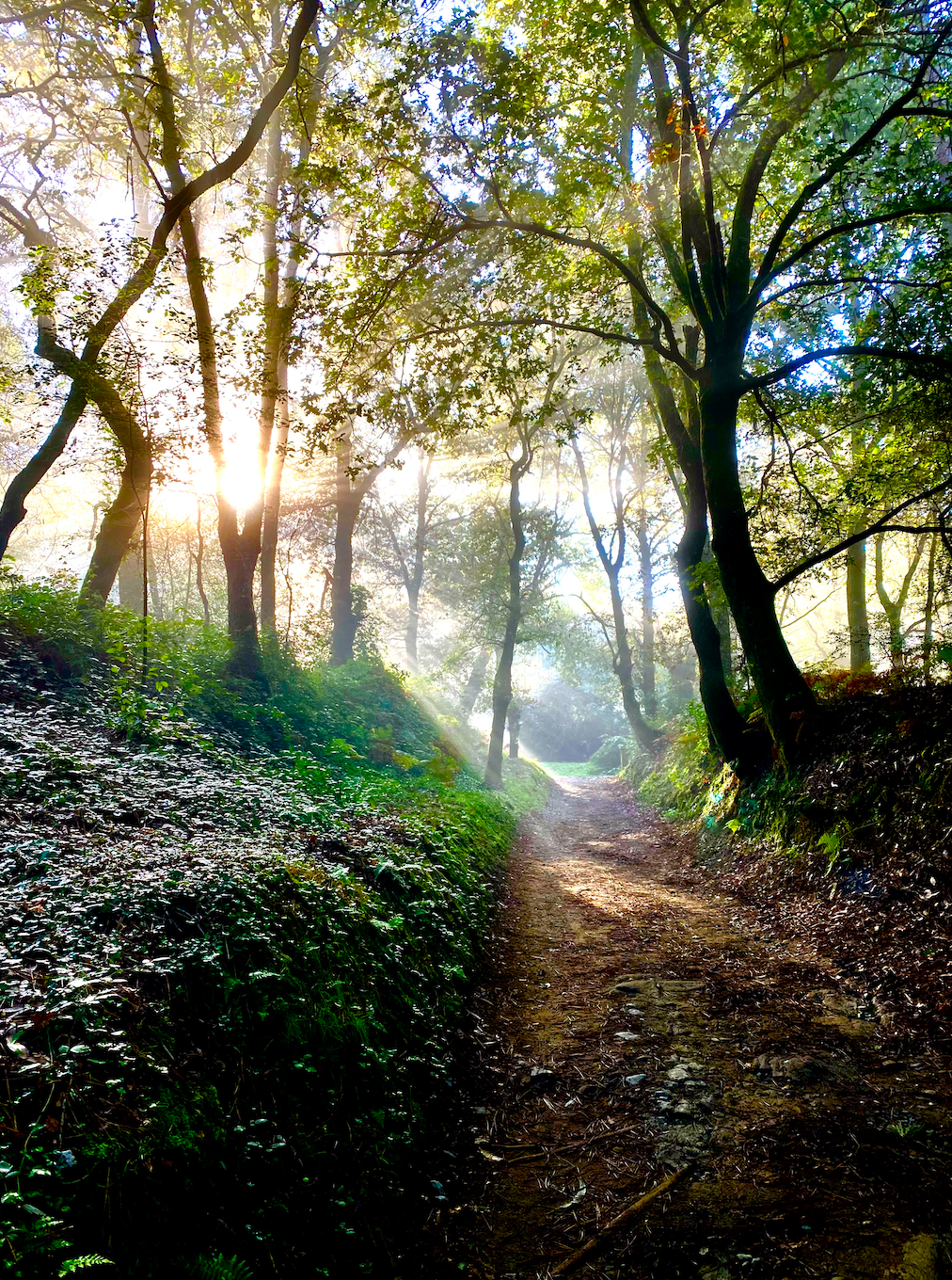 The trail leads through mystical forests; I almost expect fairies to jump out!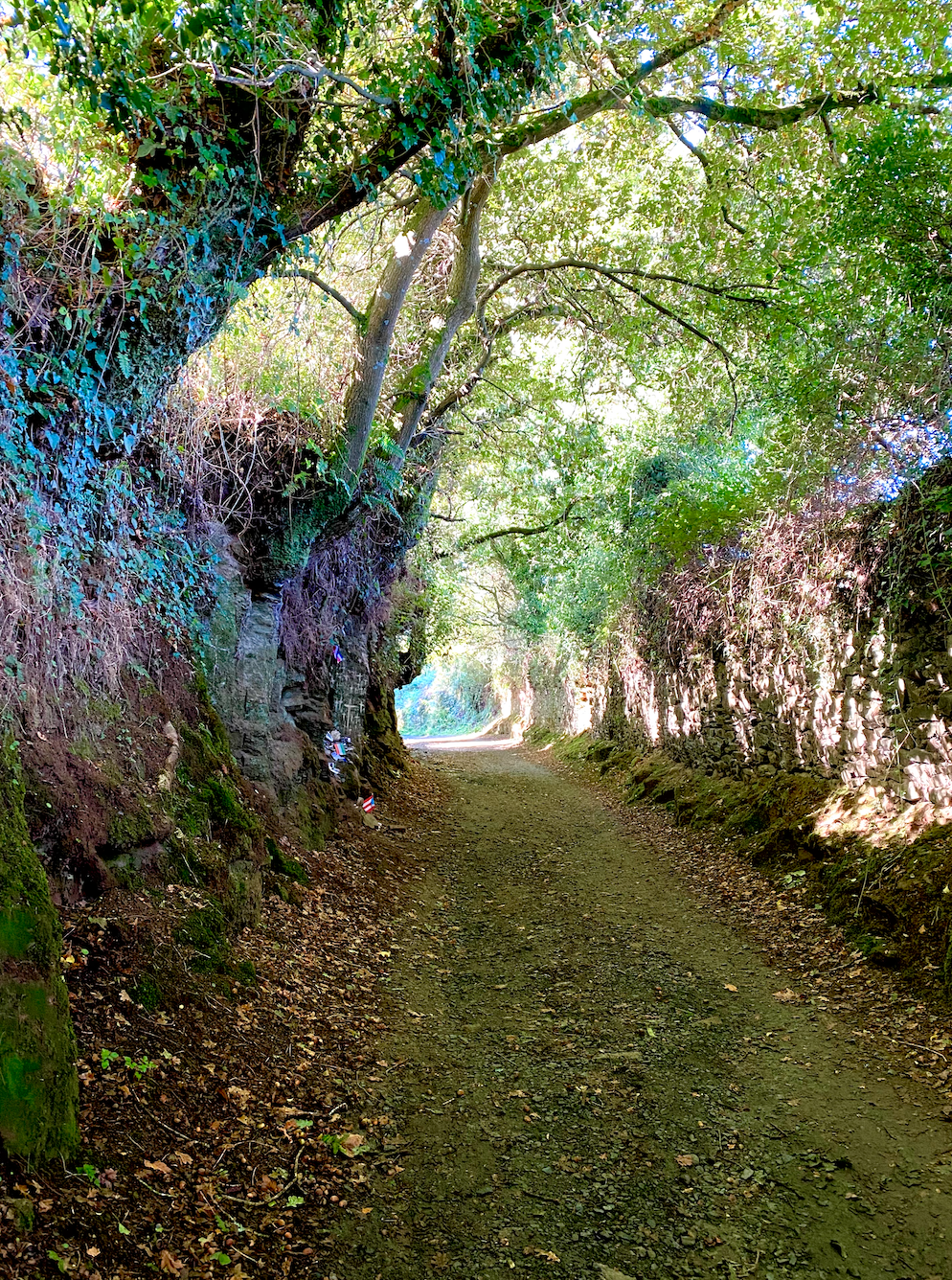 Imagining those who walked before 
Celtic rituals permeate the culture. One evening at our hotel, we are treated to a fiery queimada, made from Galician
aguardente
, a type of brandy flavoured with coffee beans, sugar, lemon peel, and cinnamon. During the preparation, a spell or incantation is recited, so that special powers are conferred to the queimada and those drinking it. Then the queimada is set alight, and slowly burns as more brandy is added.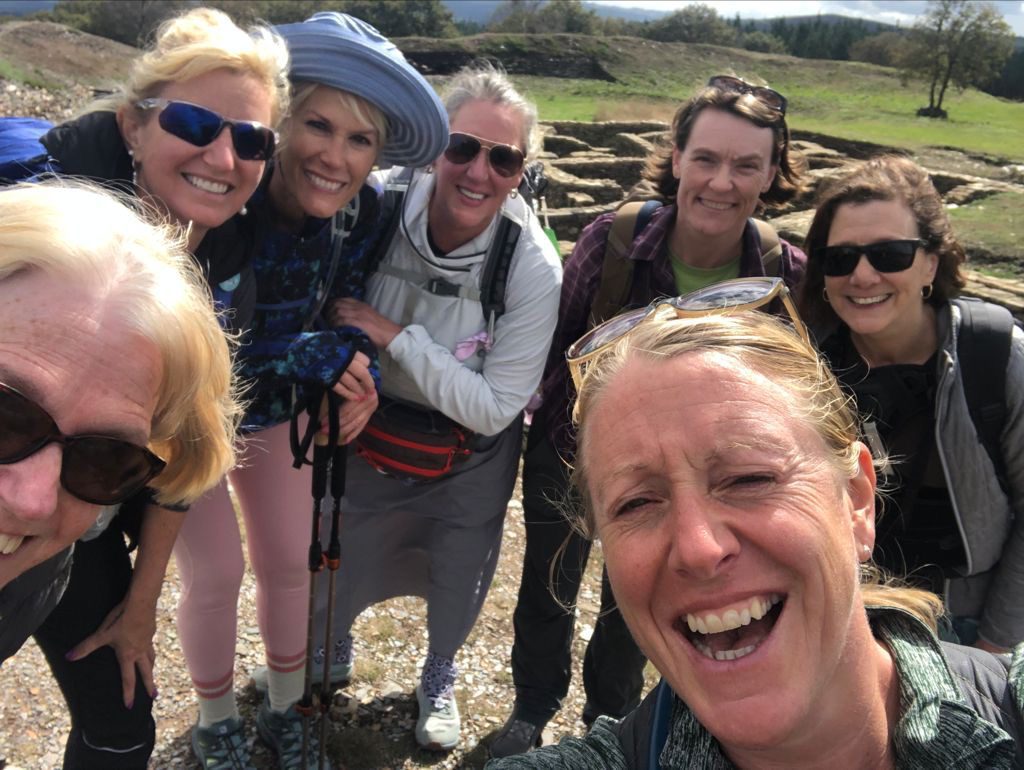 Walking toward Palais de Rei, take a short detour to stand on the scenic remains of the Castromaior archaeological site just outside Portomarin.
You can imagine the village that was once here from the stone walls on top of the hill.
2. It's easy to walk at my own pace
Those new to the Camino are often concerned about the physical challenges of the walk.  
Even when we start walking together, some are faster than others. After realizing I can walk 20 kilometres (12 miles) a day, I slow down.  
This makes the trip more memorable for me. The slower I walk, the more I feel my curiosity heighten. I focus on the details. I pause at a church, revelling in the brickwork, imagining how something so beautiful could have been constructed 500 years ago. 
"A big part of enjoying Spain is relaxing. Mañana, mañana. Relax and be like a Spaniard," our Wild Women guide Lu Sutton advises. "Life's just more tranquil here. Why wouldn't you stop and drink your coffee and eat your sandwich. Relax and be like a Spaniard. Take your time, don't rush through it. You may never be here again. Every step that you take, every smell — whether it be cow manure or a rose — is an equally important part of your experience. The running water of a fountain, or the passing of a tractor, they're all a part of your Camino. We operate in such busy worlds, and there's something so blissful and calming about just putting one foot in front of the other and walking."  
The scallop shell we all wear on our backpack is an open invitation to call out "Buen Camino!" with a smile. There are always opportunities to speak with others, ask questions and learn more. Or not, it's up to you. We are all pilgrims, heading in the same direction. 
"I've done a lot of walking and urban hiking, but the Camino is different," Californian Jill Eyres tells me. "On any other trail, you usually encounter people coming the other way. But on the Camino, most of the people you encounter are going the same way, on the same road, toward the same destination.  Even if you walk most of it by yourself, you feel that you're part of a huge group that spans not just distance, but also time — from way in the past to way in the future. There's something really magical about that."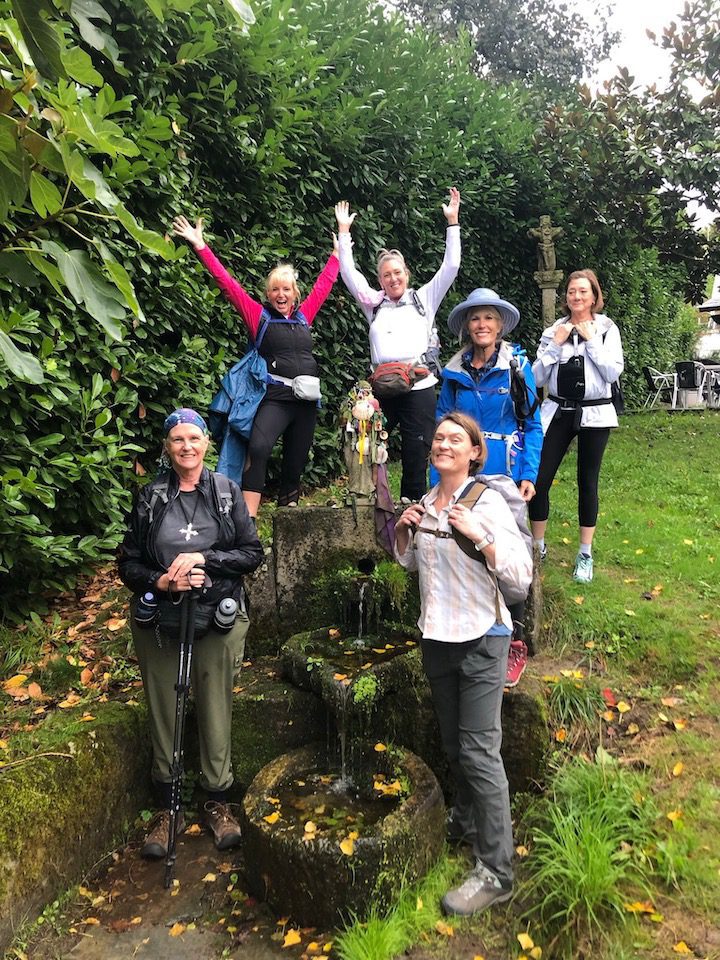 Our first steps in Barbadelo, near Lugo, Spain.
3. I can travel solo in a group
With so many bars and restaurants closed, Lu makes the trip incredibly stress-free by arranging everything for us in advance – food, hotel, and transportation. All of the places we stay along the route are unique and beautiful, ranging from convents to family-owned farmhouses. As much as I love planning my own travel, this allows me to focus on the experience, not the logistics. 
"This is a safe place to be as a woman," says our guide Lu, who moved to Spain 10 years ago from England. "One of the great things about a Camino is you're never alone. You can be in a group or walk as an individual. You can have your time to walk alone. You don't have to engage if you don't want to — but it's part of the pilgrim spirit to meet others." 
Every day, we start from the same point together. Some days I walk alone for hours, then meet with the group. There is only one path, and it's impossible to get lost, particularly with all the scallop shell signs pointing you in the right direction. At the end of the day, Lu directs us to a meeting spot and we wait for the others to finish their walk. Most nights, we stay in a nearby farmhouse, or a chateau. We have several hours before and after dinner to do our own thing. Thanks to Lu's morning briefings, we know what kind of terrain and weather to expect, which helps me decide on my layers and rain gear, and which shoes to wear (hiking boots for hills and rocky terrain, or sneakers for cement roads?).
Susan, Carolyn and Jill at the halfway point
This small group model allows for all the flexibility of solo travel, but the camaraderie of a group. There's a certain comfort in eating with a group of women that share your passion for travel.  
Lu says: "One of the things that's appealing about travelling with a group of women is that there are no holds barred — everything is on the table. We're united by our femininity and our strength as women. The Camino is a really safe place to bring all those vulnerabilities and let them all out. I think that's one of the most powerful things of the Camino de Santiago: It's the place to be naked. Strip all of your layers off, be the essence of who you are, and you'll be accepted, loved and embraced." 
4. The cuisine wins me over
All right, I admit it. One of my aspirations was to lose some of my pandemic weight. However, that did not happen. In fact, I am convinced I came home with more than I left with, but I still felt great, and that's what matters most. 
"I'm a huge gastronome, and the food is a massive part of any travel experience," Lu says. "It also reflects Spanish culture. There is more than tortilla de patatas here. I've done a lot of eating in this country and I live here, so this is now my adopted culture and country and I really want to share the best of it with our guests."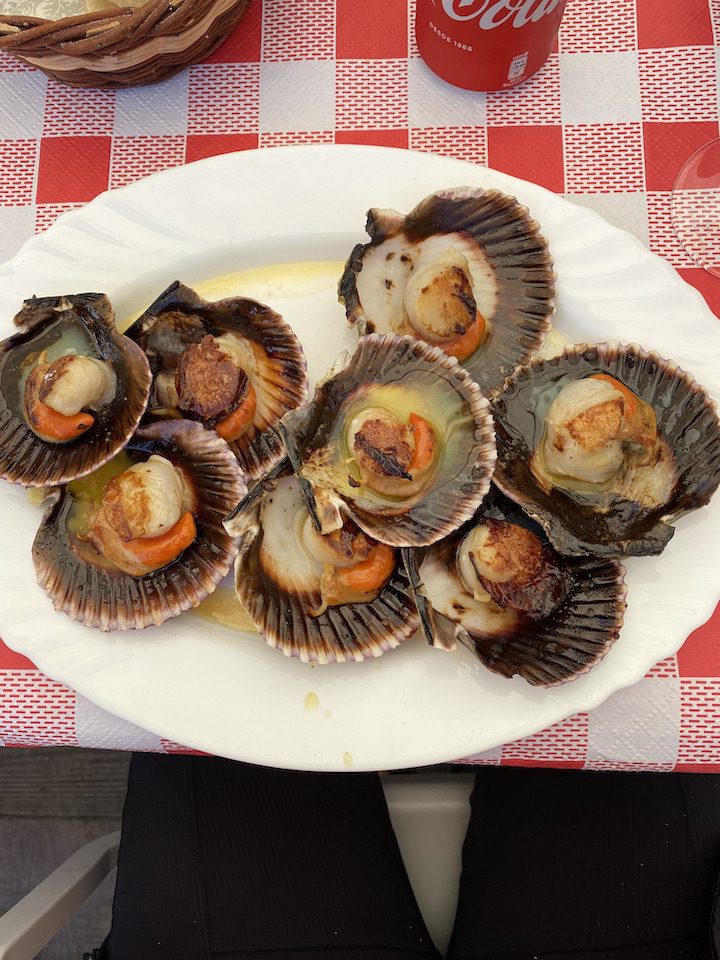 Don't miss the fresh grilled scallops in the shell in Arzúa at Tia Teresa, hosted by Manolo and Teresa.
The food is mouth-watering and irresistible. There is pastel de cuajada, flan, biscotti and tarte. Pulpo, cheese and scallops. Not to mention bread, potatoes, seafood, peppers, eggs, fresh-squeezed orange juice, and soups. This region of Spain, known for its white wine, has delicious wineries which offer unique blends. The evidence of my appetite is reflected in my Camino Credential, and the stamps (or sellos) I collect along the way at coffee shops, hotels, and restaurants.
"The combination of walking through beautiful countryside and leisurely coffee breaks and lunches, made it a perfect vacation — just the right amount of exercise combined with great food (and wine!)," says Chicagoan Susan Ross. 
However, many restaurants are closed. Those that are open are staffed by the owners and family, who sometimes share their struggles to stay open during the pandemic. Miami-born Vanessa and her wife Ashley bought Taberna Vella to follow her dream of living in the same small community where her father grew up. Despite years of delays getting electricity, permits and covid, she has reopened. Stories like these, which I hear throughout my time in Spain, motivate me to tip generously at restaurants.
5. Not a spiritual experience, but a meaningful one
Before my walk, I wondered if I might have a spiritual revelation along the route.  
When I ask Marta, who did the Camino three years ago, if she found it a spiritual experience, she says: "Less than the last time I did it, because many churches were closed. I think if I had set aside a short period every day for meditation, either alone or with a buddy, it would have helped. My on-the-run musings weren't enough to scratch my spiritual "itch."
What the Camino is, however, is life changing. But not for the reasons you might think. It creates a bond that can't be broken between women. I will never forget walking alongside the women in my group who share their story with me, bringing me to tears with their bravery, resilience and courage. By the time we reach midlife, we have all had major traumas that affect our perspective on life — addiction, cancer, divorce, the loss of a child, parent or partner, our health. These we carry with us every day. They form part of who we are. 
Maybe that's why both Jill and I get scallop shell tattoos — hers on her foot, mine on my wrist. 
The scallop shell is said to be a metaphor, its lines representing the different routes pilgrims travel from all over the world, all walking trails leading to one point: The tomb of Saint James in Santiago de Compostela Catedral. Like the medieval pilgrims, I wear a scallop shell attached to my clothing, signifying to others that I'm a pilgrim. 
Susan says: "What was memorable about the walking the Camino de Santiago was the feeling that so many had done this over many centuries, and the sense of accomplishment that I felt at the end."
The group and a nun that they meet along the way
6. How sad I was the last day
Our last morning begins on top of a hill looking down on Santiago. I can see the three steeples of the Catedral in the distance.  As we start walking, a wave of sadness passes over me. I realize, as I have done several times on this trip, that I am merely walking in the steps of thousands of pilgrims who made this journey.   
It can be hard to predict the synergy of women on a trip like this. But I think our group is perfect. It's simply astonishing that women from all over North America can bond so quickly, so deeply, and have the maturity to be non-judgemental on any level. It's clear that a good guide also makes a difference and we all have come to adore Lu. Not only is she always a step ahead of us, but she also has a wonderful sense of humour, speaks five languages and is a treasure trove of local knowledge.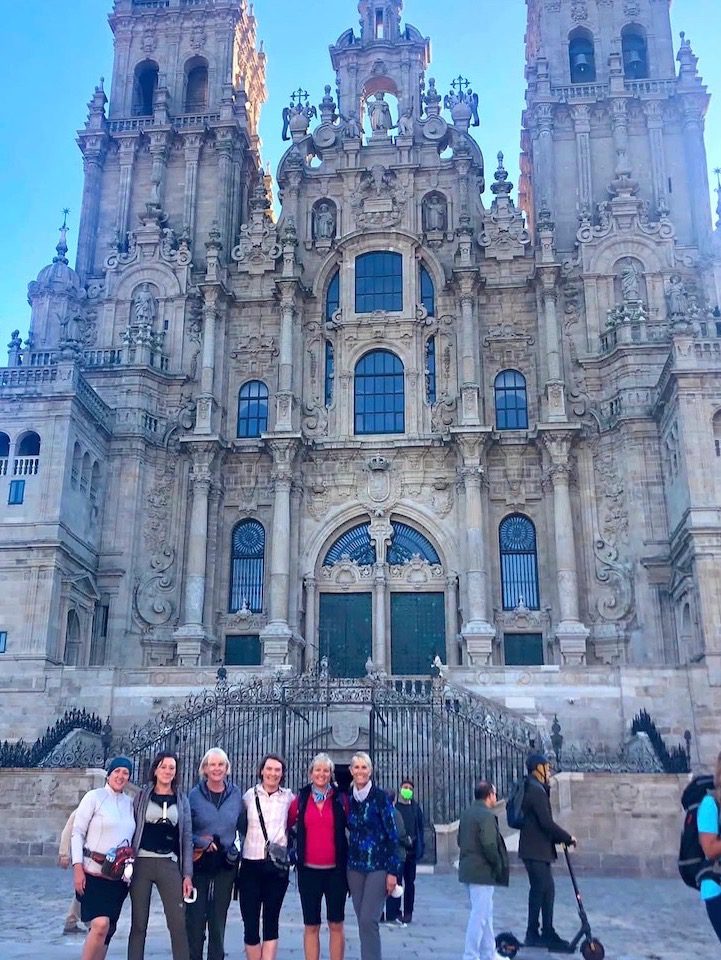 Feeling a sense of accomplishment in front of the Catedral in Santiago de Compostela.
We walk together as a group into the city of Compostela de Santiago, staying close together as we wind through the medieval cobblestone streets. We decide to step off the route for one last coffee and realize we have lost our way. Here, the signs have disappeared and there's construction everywhere. 
Masks on, we walk briskly through the street, looking up for the spires that were so easy to see before and are now hidden by buildings. When we hear the bagpipes playing, we know we're getting close. Rushing into the square beside the Compostela de Santiago, we're greeted by Lu, who leads us to a large scallop shell in the middle of the square. "Welcome to the end of your Camino," she says. "Congratulations." 
We all have tears in our eyes as we put a foot into the shell and step back for a photograph. As I press the toe of my dusty hiking boot into the scallop, I grin like a crazy person. Five other women are doing the same, looking at each other with a mixture of awe and surprise. We did it. On our own terms, in our own way. 
I look around us, where hundreds of people are singing, dancing, crying and taking photographs. I have no idea who these people are, where they are from, what route they walked or how far they walked. It doesn't really matter. Today, we are all pilgrims.  
Tips from my Group
"The most important piece of advice I would give is to prepare. Your gear doesn't have to be flashy, but it needs to be well-tested. YOU need to be well tested. The Camino is not the time to find out that the gear you brought it isn't right for you or that you don't have an effective plan for any possible obstacles. Stress-test yourself and your gear beforehand. There were three of us on the trip with some musculoskeletal limitations, but because we were realistically prepared for problems those might cause, we all finished the Camino." — Marta V, Ohio
"My tip for anyone planning to do it — be in good shape but don't fret about putting in too many miles before the walk. Twelve miles a day at the pace we walked was not difficult to do and made you just the right level of tired at the end of the day." — Susan Ross, Chicago, Illinois
"You will push your body, so be prepared for the journey, but also make it your journey — there is no right or wrong way to do this —  whether you walk fast or slow, alone or with others, five or twenty kilometres a day, for personal or spiritual growth, doesn't matter. Do it for yourself!" — Julie Nitzschke, Dallas, Texas
On my way back to the US, several people notice the scallop shell hanging off my backpack and asked if I'd walked the Camino. All of them told me that their experience on the Camino was wonderful and life-changing. I will keep an eye out for scallop shells now too — and tell anyone who asks that the Camino was life-changing for me as well." — Jill Eyres, Montara, California, USA (near San Francisco)
"What is one tip of travel advice for those who are thinking of doing this trip? I'm giving two tips.  Do not over-pack. Second, people have a tendency of setting a destination goal, and the destination becomes their focus. Let the place where you are at that moment be your focus." — Kymberley Petty-Emirch, Arkanasas
Julie, Kym and Marta along the route
All the ladies with their feet in a circle, marking the end of their pilgrimage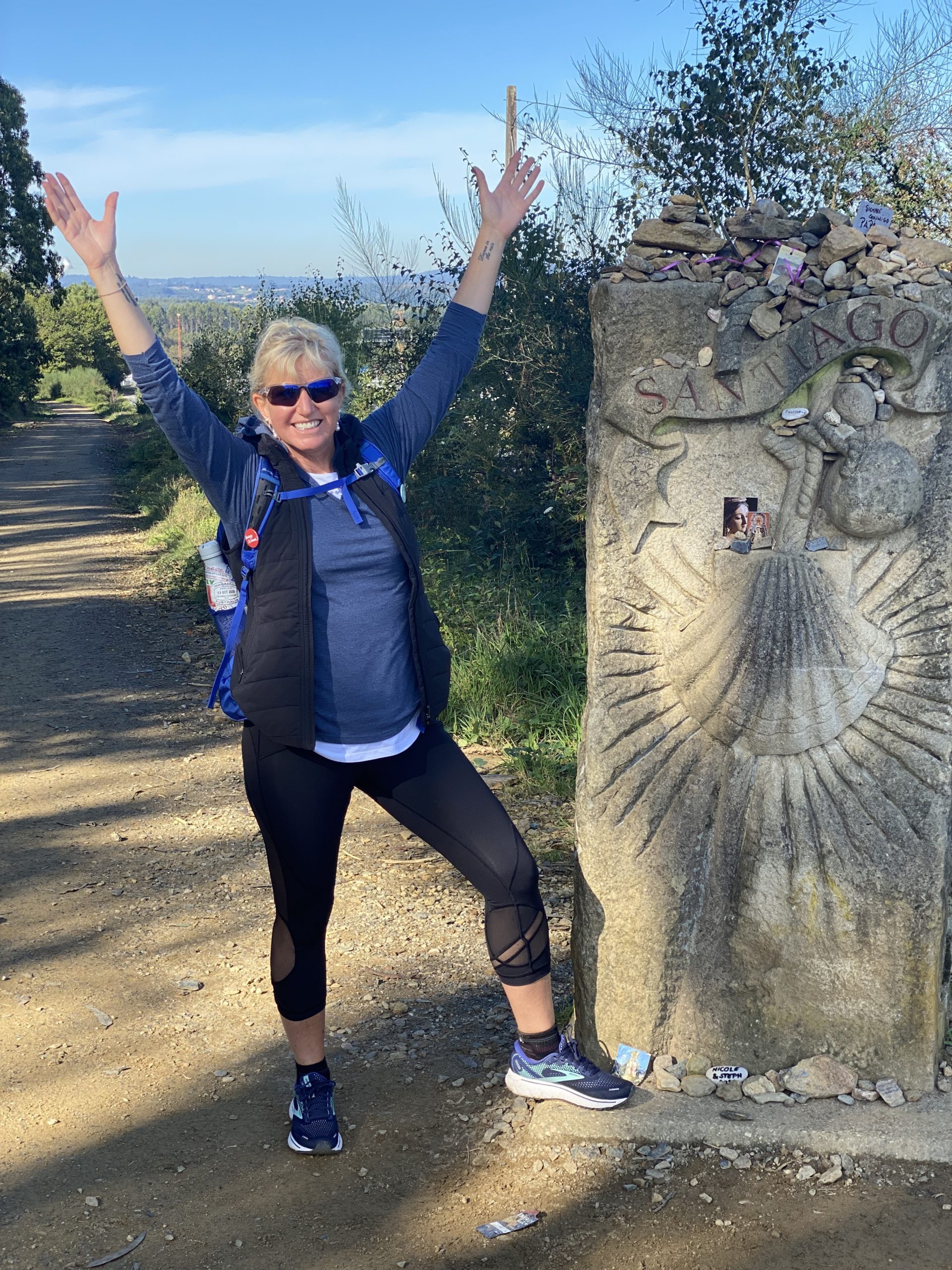 Celebrating the end of my pilgrimage
Disclaimer:  I was invited on this tour by Wild Women Expeditions, but I covered my own trip insurance, airfare and gratituities. Wild Women did not review this article prior to publication; my opinions are my own. 
The Camino Way runs for nine days, from Lugo to Santiago, along the final 108 kilometres of the Camino de Santiago. To learn more visit their website here. 
More to Discover Along the Camino de Santiago
Once upon a time, not too long ago, pilgrims could walk the Camino de Santiago without a reservation and a phone. But is it possible now?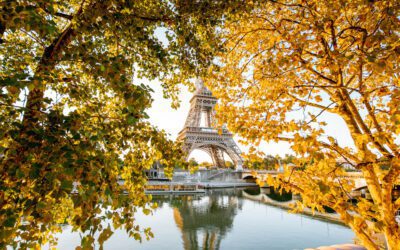 Five shoulder season travel destinations recommended by women that offer lower costs, less crowds, and unique experiences.
Take a peek into my backpack with my Camino de Santiago packing list, filled with everything you need to get ready for your pilgrimage.