Last updated on November 19th, 2023
An adventure for any generation
By Evelyn Hannon, Founder, JourneyWoman
My 16-year old grandson, Josh and I have two big interests in common. We both have a terrific love of photography and adventure travel – the kind of travel that allows us to delve into environments and cultures different from our own. At heart, Josh is a nature boy who loves the outdoors and has a keen eye for capturing the beauty in his surrounding. He also is a patient, uncomplaining, 'go with the flow' kind of explorer. So when I received an invitation to travel to Iceland with one of Insight Vacations' escorted tours, I knew exactly who I would take with me as my assigned photographer. I couldn't imagine asking anybody else.
Josh and I have gone on city photo walks since he's been a little kid. Back then the first map he posted in his room had circles scribbled in black marker around all the places he planned to visit. Whenever I discussed the assignments I had around the world he always sighed and said, 'You're so lucky. I wish I could go there, too.' Naturally, I saw this Iceland opportunity as our chance to work together. I would tell the story to my audience in words; he would tell it to his social media followers via photographs.
The perfect way to travel together…
Realistically, if we were roughing it on our own in this rugged country a 76-year-old grandmother could never keep up with a 16-year-old energetic young man. Happily, Insight Vacation's award-winning itinerary 'Natural Wonders of Iceland' was a perfect solution for us. We travelled in an extremely comfortable air-conditioned bus, there was WIFI on board (which Josh was grateful for) and extended legroom (which I loved), our bags were handled for us and the hotels we stopped at were all very well chosen. All we needed to do was show up in the morning and we were transported in style to the major highlights that this picturesque environment had to offer.
Our Icelandic guide, Snorri Valsson didn't carry one of those usual guiding flags in the air. He didn't have to; we could always spot him in his very florescent orange jacket and yellow cap. Josh and I both appreciated his good stories and expertise but loved the fact that he gave us plenty of quiet time to think our own thoughts as we took in the rugged beauty we were traveling through.
What was the summer weather like?
When you hear the word Iceland one automatically thinks freezing cold. That is generally not the case during the summer. Most days we experienced were like late fall days in New York, Montreal or London (about 10 or 11°C/50°F.) The problem with the weather is its changeability; one minute you are basking in the sun and the next it's raining and you are being blown about by very strong winds. The trick is to have three layers available with you – (1) a thermal long sleeve t-shirt (2) a fleece (3) a windproof, waterproof jacket and then you are ready for all eventualities. When it rained Josh wore his lined, multi-pocket travel jacket from Global Travel Clothing and it kept him warm and dry. Good waterproof hiking shoes are a must as well! Inside the bus and in all the hotels it was comfortable enough to peel down to just one layer. Being a good Journeywoman I always carried a shawl in my backpack.
P.S. Having the same bus with us all of the time spoilt us silly. There was no shlepping of extra jackets or backpacks when they weren't needed. We just left everything on the vehicle which was never left unattended.
What did we see and do?
If you are a photographer and/or a lover of landscapes and geology this itinerary is absolutely perfect for you. In eight days we travelled the Golden two-lane Ring Road that took us completely around the island. We were shown the best examples of Iceland's natural wonders – colossal, gushing waterfalls like Gullfoss, the Icelandic equivalent of Niagara Falls (it produces 200 tons of water per second). We drove through the sand desert of Modrudal; we were shown glaciers, luminous blue icebergs (where scenes for two James Bond movies were shot).
Remember the Icelandic volcano Eyjafjallajökull that erupted in 2010 and for six days caused havoc to air travel across parts of Europe? We were able to see it in the distance and it is perfectly quiet now (though our guide explained that one-quarter of Iceland is an active volcano zone). We walked along beaches and got up close and personal with green moss growing on the surface of huge lava fields. Some days a multitude of wildflowers including bright red poppies dotted the landscape. At Geysir I photographed my grandson, Josh amidst the vapors erupting from underground hot springs. The smell of sulfur permeated the air but none of us really cared. We were too busy taking pictures. We saw a herd of wild reindeer; we petted Icelandic horses with their long manes and handsome faces. We drove past a river that teems with salmon; celebrities like David Beckham are reputed to pay $2000 per day for the privilege to fish there. Throughout, I couldn't help but marvel at the intricate workmanship in the Icelandic sweaters on sale everywhere we went.
In Reyjkavik's Botanical Gardens we were able to see an ancient pagan burial mound. Our bus made a stop to examine sod houses of long ago. It took us to Thingvellir where the American and European tectonic plates meet. One evening Josh skipped stones on a lake near our hotel. It was past ten but he could still see what he was doing because Icelandic summers remain light all night.
From the beginning of our journey to the end, each day was filled with new and interesting things to see and hear about. This route was an absolutely excellent introduction to Iceland, a multi-level sampling of what the country has to offer. Best of all? I got to enjoy all of this raw beauty alongside my grandson. I know that I'd go back in a minute, and Josh can't wait to be old enough to backpack this route with his own nature-loving pals. P.S. You can see the full itinerary here. Note that there will ample time in your schedule for optional tours to the Blue Lagoon one day and/or to cruise amidst the icebergs on another. Both interesting and great fun to do.

What about the food?
Iceland is an island. Given its location and unpredictable weather along with its rocky soil it is no surprise that just about all fruits, vegetables and many provisions must be imported. Lamb, pork and some beef are raised on the island. Fish is plentiful but, in general, you can expect to pay almost double what you'd pay at home for meals in proper restaurants. Even at gas station stops along the ring road (July 2016) a small bowl of mushroom soup with bread and butter was US$9.80 and CDN $12.60. The same size bowl of meat soup was an incredible US$20.43 and CDN$26.62.
On our last evening before flying out of Iceland, my grandson and I ate in the hotel bar/restaurant. We each had a hamburger platter including french fries and absolutely nothing else. Our bill was close to a whopping CDN$50. We did find a few bargains though. In Reykjavik's harbour area, we stood in line at the famous Baejarins Bestu hotdog stand. Their excellent steamed lamb, pork, beef combo dogs were a bargain at US$3.45 or CDN$4.47. Fast food pizza and Subway sandwiches were also very easy on the pocketbook. It's a good idea to seek those out simply to keep your overall travel budget balanced.
Happily, on this Insight Vacations holiday, we weren't terribly affected by food prices. The majority of our meals were included in the tour (which was a very big plus). Each morning we enjoyed a huge buffet breakfast before setting out to explore. I sampled Arctic Kaviar in a Tube. Josh was intrigued by the bottle of yellow liquid (Lysi) that appeared on the table every morning. It contained, as our guide explained, a neutral-tasting cod liver oil produced locally and very rich in vitamins A, D, and omega-3 fatty acids. I brought a bottle home as my Icelandic souvenir (about $10 a bottle). P.S. You must try the Icelandic yoghurt, Skyr described as somewhere between yogurt and cheese. Per 100 grams it contains approximately 65 calories, 0.3 grams of fat, a whopping 11 grams of protein and only 4 grams of carbohydrates. And, it tastes good, too!
On six of the nine travel nights, we enjoyed a three-course meal as a group, dining leisurely with our new found friends. I tried reindeer pate, mussels, poached salmon and many variations of lamb I hadn't tasted before. After a full day of sightseeing, it was so nice to sit down, relax and be served. P.S. Wine was included with our meal on several occasions but more often than not folks simply met in the bar for pre-dinner drinks on their own.
Very informal lunch stops along the way were on our own. My grandson and I found it was a good idea to carry some trail mix or energy bars in our packs for snacks along the way. P.S. I must mention that Icelandic water deserves high praise. It is perfectly safe to drink, it comes out of the tap clear as glass, it's cold and it tastes better than any other water I've ever had. Be sure to pack a water bottle. Buying bottled water along the way would be a perfect waste of money.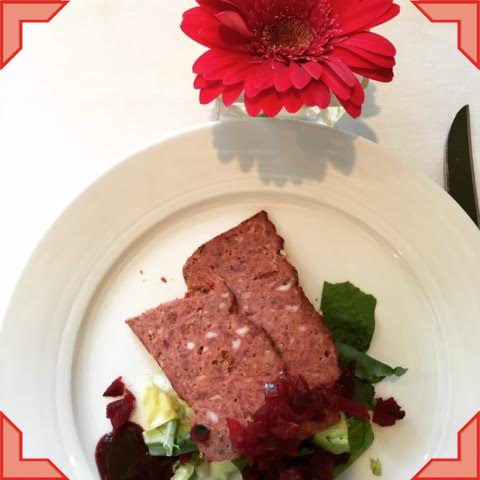 Comfortable accommodations…
In order to circle the ring road, we stayed in a different setting each night, except for one stop where we stayed two. Each of the hotels was immaculate and comfortable. Much to my delight, there was not one lumpy bed in the lot. At each stop, Josh and I appreciated the free WIFI that allowed us to post our photos on Facebook every evening (though at one stop the only way we could get any reception was to sit on the carpet outside our room). Cyberspace is very funny that way!
Our favorite hotel by far was Hotel Edda in Vik where a floor to ceiling window in our room looked out on a rocky cliff where countless birds made their home. Since during Iceland's summer it remains light all night we could watch them socializing, swooping to and fro right outside and, I like to think, showing off just for us.
Extra day in Reykjavik…
This Natural Wonders of Iceland itinerary does not spend a lot of time in urban Reykjavik. However, Josh and I flew in a day early, partially to feel rested when the official tour began and partially to get out and explore this interesting little city. We started out early our first morning and didn't get back to our hotel until late afternoon. We chatted with locals, meandered through charming neighbourhoods and stopped in at a flea market where Josh bought a sweet gift for a friend back home. The harbour area was our next stop, then on to the famous Hallgrímskirkja Church, the tallest in Iceland. We circled a lake, paused at statues and walked past a graveyard. I invited Josh to join me for tea and fancy cake at the elegant Hannesarholt Café at 10, Grundarstígur, (once the home of Hannes Hafstein, the first minister for Iceland) and then we got lost going back to our hotel. Stopping a woman to ask for directions she kindly walked with us and set us on our way. What an incredible day recorded by us in over 100 photographs!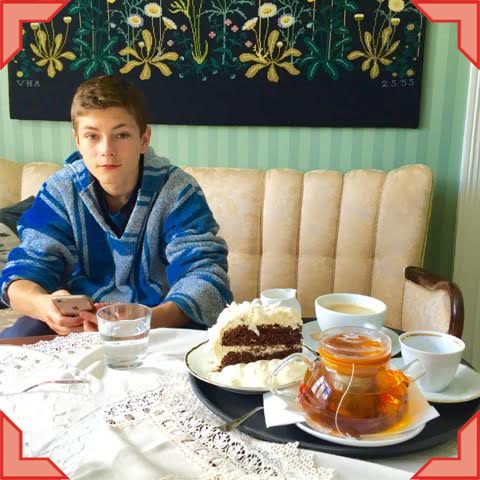 Grandmother-grandson travel…
Looking back to the early Eighties and leading to the present time, it's wonderful to see the strides that have been made in the women's travel market. From a few brave adventuresses who ventured out to explore the world, to the first newspapers and magazines that began writing about them, we have come a very long way, ladies. Today the two largest niches in travel are (1) females (2) the over 50 population.
Since 1994, Journeywoman has been forecasting the next trend when it comes to females and travel. No, we don't have a crystal ball but we do have 74,000 women worldwide who read our monthly newsletter. It is via their reader questions, their valuable travel tips and our Facebook communications with them that we are able to stay ahead of the crowd.
This is what I've been hearing. Grandparents taking grandchildren on adventures is not a new thing. Grandmother, mother and teen-aged daughter travel is no longer a novel idea – it's a female tradition that goes on as long as all involved are willing and able to participate. However, for a grandmother-grandson duo, there seems only a very short window of opportunity to enjoy each other's travel companionship.
The cutoff age for teenage boys is generally about 15-16 and then the young man in question will no longer be interested. That's why I initiated this Iceland trip now all the while making sure that Josh had his responsibilities during the week (taking the photos) and I had mine (writing this story). It was a week of discovery for both of us and I am filled with pride at the results of Josh's work. You can see his Iceland Photography Album here.
I urge other grandmothers to try this concept as well. Why not negotiate a destination with your grandson? Make sure it is the type of trip that will accommodate both of your energy levels and any common interests you might have. Choose something that doesn't put a strain on your budget and before departure create some ground rules for what you expect from each other. Then, go! I think you will never regret it.

Getting to know Iceland
 Iceland has only about 335,000 inhabitants.
 Iceland is situated in the North Atlantic Ocean.
 A third of its people live in the capital, Reykjavik.
 Reykjavik is the most northern capital in the world.
 The language spoken in Iceland is called, Icelandic (from Old Norse).
 Iceland is only about 40,000 square miles big.
 Glaciers cover over 10% of the country.
 Tourists flock to Iceland because of its landscape.
 Iceland's landscape is sand & lava fields, low mountains, glaciers & glacial rivers.
 The Northern Lights, an amazing seasonal natural phenomenon can be seen here.
 During the summer the sun shines all day and night.
 Average temperature in winter is zero C./54 F.
 Average temperature in the summer is 13C./54F.
 Iceland has no standing army.
 Iceland is a member of NATO and has the smallest population in the union.
 Gender equality is highly valued in Iceland.
(Source of this information – Icelandair Hotels)
Discover More From Iceland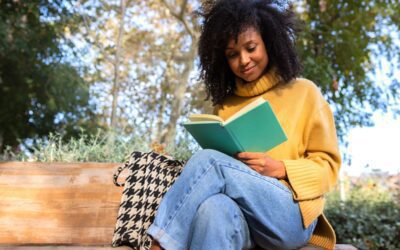 TripFiction's Tina Hartas helps us travel by book to 12 countries that solo women plan to visit in 2023, from Africa to Peru.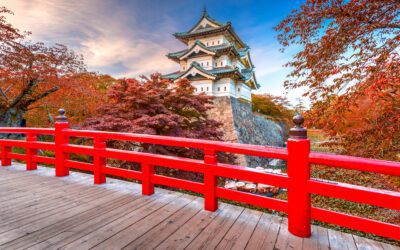 When it comes to 2023 travel, 12 countries top the list for solo women over 50, according to our latest survey results.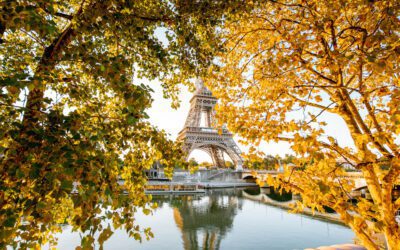 Five shoulder season travel destinations recommended by women that offer lower costs, less crowds, and unique experiences.