Last updated on April 23rd, 2022
Featured Image: Dr. Mary K. Clark's father, pictured here at Sumida Farm, inspired her life-long love of travel / Photo credit: Dr. Mary K. Clark
Adventures of our JourneyWoman Advisory Council Members
Dr. Mary K. Clark, a member of our new JourneyWoman Advisory Council, takes the spirit of her father with her when she travels. While she grew up in the Eastern US countryside on a 40-acre farm, her father was involved in local politics and would travel frequently to local, regional and national meetings.
"He'd jump in the car, go who knows where, meet strangers, and be comfortable in any setting. I have a lot of him in me," says Dr. Clark. "My mother was very comfortable at home in her garden – she wouldn't travel more than five miles from home – and none of my other siblings are real travellers. I have a little bit of her in me because I can be a homebody."
That's something she's discovered during quarantine as she's put skills she learned from her mother to good use – gardening, saving a few seeds from the spaghetti squash she'd had for dinner to plant and harvest for the coming summer.
"Both of them have contributed to me being comfortable in any situation, whether that be someone's small, we-don't-have-a lot-but-we-know-how-to-make-a lot-out-of-a-little home, or being in Paris at a five-star restaurant having all the wine and cheese and accoutrements," she says. Growing up as the only black girl in her class cemented Dr. Clark's ability to adapt to and navigate unfamiliar places and situations. "I become a chameleon when I travel and try to blend in because a lot of my joy is in seeing what the customs are. Of course, when you're a black woman and you go into a culture that's not predominantly black, it can be hard to blend in."
Like father, like daughter – when kindred spirits travel together
When Dr. Clark was in her thirties, she had an opportunity to travel to Hawaii with her father, LeeRoy Clark, for one of his political meetings. It was the first time she'd spent a good chunk of one-on-one time with him. One of her colleagues, Dr. Stephen Sumida at the University of Michigan, told her to drop by and visit his father, Masaru Sumida, at the family farm while she was there.
She says her humble colleague downplayed the scope and importance of the family operation. The Sumida family has owned this farm since 1928 when two Japanese immigrants from Hiroshima decided plantation life wasn't for them, bought a small plot and looked to their neighbours to teach them how to farm. They're now the biggest watercress producer in the state, accounting for 70% of the crop. The farm – bordered on all four sides by shopping centres in Waimalu – is something of an urban marvel. It was a perfect bonding opportunity for a farm-loving father and daughter who share a love of travel that doubles as an educational experience.
Saving seeds and yielding squash – a lesson Dr. Clark learned from her mother. / Photo credit: Dr. Mary K. Clark
"The bus dropped us off at a mall and we found the farm in the parking lot. We discovered that this is a historic site and the farm could not be demolished because of its value to the community," says. Dr. Clark. "Mr. Sumida and his daughter welcomed us, showed us around the farm, and gave us beads. To see my father interact with this gentleman he had so much in common with was lovely. It was a wonderful day, and a meaningful trip to have had with just him."
She once joined her father on another work trip, this time in Chicago. The two experiences made her see where she and her father were alike, and where they differed slightly.
"I got my joy and appreciation for being in different places and learning different things from my father," she says. "On the Chicago trip, I also realized that my father had more energy than I ever would. He was up at the crack of dawn, would go to his meetings, and when they were done, would say: 'Okay, what do you want to do?' And we'd spend the evening doing some things together. So I knew he was the travel spirit in the family."
Get in the car and go – feeding a love of road trips, small towns, and tiny thrifted treasures
Dr. Clark is a seasoned world traveller – solo, with travel partners, and in small groups. But some of her favourite travel experiences have started with getting in the car and driving to rural areas, observing life in small-town USA. A former position as a recruiter for the University of Michigan took her all over the United States and gave her opportunities to explore, discover and appreciate the little things in life.
"After work, I'd explore whatever city or town I was in. Many times, they were large cities, but I would go to the outskirts and try to find a smaller area. I'd visit The Salvation Army or Goodwill and browse what people saw as things that weren't valuable. Things that I might see as treasures," she says. "My all-time favourite treasure is a little wooden doll I found in Lawrence, Kansas. She had a black face and yarn braids and was just very sweet. There were no black dolls when I was growing up, so it reminded me of something I would have loved as a child."
One of Dr. Clark's prettiest small-town road trips was a drive from Sacramento to San Fran with a friend and fellow recruiter, stopping along the way in towns like Chico and Davis. Her friend loved resale shops, so they decided to focus their trip around thrifting.
"We would go into the Yellow Pages – that tells you how long ago it was – and find out where the resale shops were. Many of them were owned by people who had been there for many years, and they would tell us stories about their community and we'd pick up little items," she says. "It was fun because there was no plan. We'd just get in the car and stop at whatever shop looked interesting, grab a bite to eat at a little local diner, and keep going."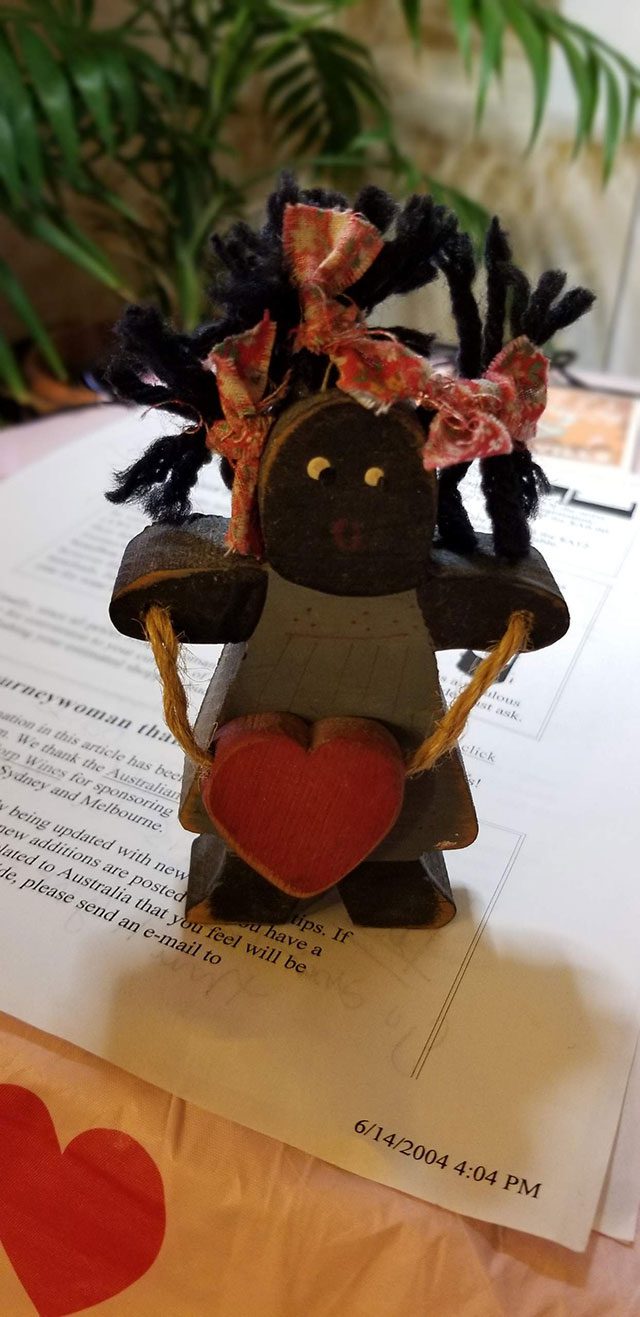 Dr. Clark's favourite thrifted treasure: A sweet little doll with yarn braids. / Photo credit: Dr. Mary K. Clark.
Life is a highway – a cross-USA motorcycle trip with a former flame
Dr. Mary K. Clark has an adventurous heart. Still, few would guess that heart would lead to her spending two weeks on the back of a motorcycle touring the U.S. But that's exactly what happened three years ago after she reconnected with Ron – a man she'd dated 27 years earlier.
In an uncharacteristic and gutsy move, she initiated contact with her former flame. She knew if she didn't reach out then, she never would. Still, fear roiled in her stomach. She wasn't certain if he was married, single, living or dead. As it turns out, Ron was going through a divorce and had an 11-year-old daughter. The pair met for lunch to catch up.
"He was still handsome, he was still tall, but this was a married man in my mind. We stayed in touch, and by the time he asked me to go on the bike trip, he showed me the paperwork for his divorce court date. Because I had to have proof that this wasn't someone else's man. So that's where things began," she says.
Ron suggested they start with a weekend trip to Covington, Kentucky on his motorcycle as a test for a longer adventure. It was a fabulous shared experience and the pair decided to take a two-week bike tour and let the time together decide if they should pursue a relationship.
Dr. Clark met Ron in Cincinnati, where they began a trek through the Smoky Mountains, with stops in Tennessee, South Carolina, Georgia, Florida and back again.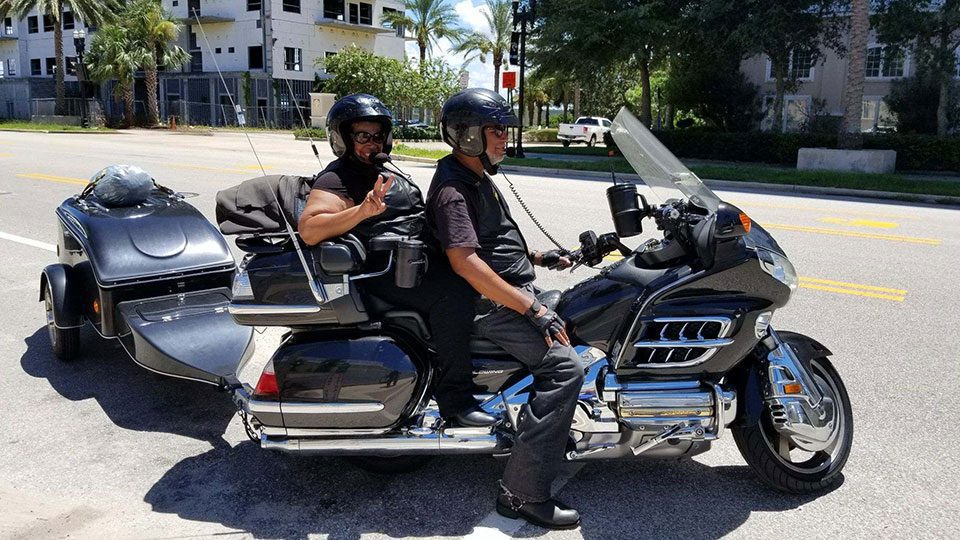 Dr. Clark and Ron on his motorcycle in Jacksonville, Florida. Photo credit: Sheila Loman
"Along the way, we did some unique things – like catching fish for our lunch in this small town in Tennessee. I'd never been to a Waffle House, so we stopped and met people who had worked with him. He's a Detroit police officer," she says. The pair turned heads on the highway – a mature black couple on a huge motorcycle towing a trailer.
"People would give us the thumbs up, and when we stopped at gas stations, some would come over and talk with us. I think the bike drew people – there was this tall handsome man and a little woman on this big, beautiful bike," Dr. Clark says.
"We rode through all kinds of weather. We got caught in rainstorms. It was mind-blowing to be able to ride on the road unprotected. Of all the world travel adventures that I have been so fortunate to experience, it was this trip as a passenger on a sleek, black, powerful machine that gave me a completely different appreciation of travel. It wasn't about the destination – although the gentle surf, the warm sand and the sunshine that awaited us in Florida promised to be a real treat. It was ultimately the journey, the warm breezes on my face, the conversations with friendly strangers, the stops along the way, and all the subtle nuances of everyday life that made this trip so memorable."
Since taking her once-in-a-lifetime motorcycle tour, Dr. Clark has slowly been digesting the experience and its impact on her. She is reminded of something she heard Time reporter and travel writer Pico Iyer say on Oprah's SuperSoul Conversations: "If it's a good trip, we will spend the rest of our lifetimes going over our memories, looking at our photographs, rereading our journals, and the week is really just like an appetizer for the main course, which takes place when you're back at home, sitting still, processing everything."
"When I heard that, it was a rubber stamp for me that the idea I had to write a book about the trip – his version, my version and the bike's version – was the right thing to do," she says. "There's so many times where I'm outside and smell something that reminds me of things I smelled as we were riding down the road."
Wondering if these two kids rekindled the flame? Well, Dr. Clark describes Ron as the love of her life, but says that sometimes, lives are meant to run parallel and not interconnect: "I think that's what we've discovered. We are just dear, loving friends. I'm grateful that we have each other, that we keep in touch. Since we've been quarantined, we've been depending on each other for moral support. I know he's there for me, and I'm here for him."
Proof positive that no matter which way a relationship is meant to progress, travel can be the world's most powerful bonding agent.
Mary's Top Five tips for a motorcycle road trip: 
1. Take a shorter test trip first – You'll want to see how you fare with three to four-hour driving segments. Maybe you'll love it. Maybe you won't. Better to find that out on a short trip.
2. Pack for all weather – You're exposed to the elements on a motorcycle in a way that is thrilling but creates practical considerations.
3. Consider your choice of travel companion – Make sure it's someone you get along with and travel well with. There's no escaping one another during those long hours on a bike together.
4. Take a few detours – Never been to a Waffle House? Make a pitstop. Do things you've always wanted to, no matter how small or big. Look for unique experiences in the cities and towns you drive through. 
5. Keep a journal – This is a visual journey. You're going to be taking in large volumes of visual data. Your mind will be processing what you've seen, what you've done, and how it's impacted you long after the wheels stop turning. You'll want a record of the experience, even if it's only for yourself. Or you might be inspired to turn your insights into an article or book.
Dr. Mary K. Clark is an administrator at Wayne State University. Her 30+ year career as a transformational leader is enhanced by her interests in family history research, painting, and travelling.
Her top travel tip: "Trust your instincts, use common senses, and do your research before you leave home."
Dr. Clark offers advice on: "Travelling comfortably on a budget using points and miles; travel as self-care."
Meet Our Travel Advisory Council Members