Last updated on May 15th, 2023
Travel Tips from an Octogenarian
By Diana Eden, Contributing Writer
When my handsome 39-year-old financial advisor said to me, "Well, you probably won't be traveling much anymore," I wondered if he had some premonition of a worldwide pandemic that would end my traveling days. But no, he was referring to MY AGE, as the trip I was financing was to celebrate my 80th birthday. In his tunnel-visioned youth, he was unwittingly relegating me to life in the rocking chair. Not me! I flat out refuse.
Full disclosure: I am very fortunate to still be in excellent health. Both hips and knees are the originals. My spine is a little crooked, I get short of breath on long uphill climbs, and I occasionally get headaches if I drink more than two alcoholic drinks a day. But that's it.
For the benefit of other seasoned JourneyWomen like me who are still on the move, and even some who may believe their travelling days are behind them, I share my best tips for making travel over 80 fun and fulfilling.
1. Pack light and carry on
This is key for travellers of all ages, but it becomes more poignant as you shed the strength and vigor of youth: I ONLY take what I can lift, drag, or carry – one small suitcase and one carry-on with wheels. As much as I like to think that there will always be a kind stranger to help, often I must lift the bag up onto the conveyor belt at security, off the carousel in baggage claim, and sometimes up some unexpected stairs I hadn't spotted in my internet exploration. I pack very flat, no air allowed, no little sub-packages to take up real estate. Since my trips are seldom longer than two weeks, and I am not attending a film premiere at Cannes, if I don't have the perfect shoe for every outfit, so be it. As long as I am warm enough or cool enough.
2. Create a home base – and make yourself at home
Choose ONE place to visit, a place you can call home for a short time and which offers lots of local side-trips within easy reach. Stay locally – rent an apartment, condo, B and B, or house. ALL of my favourite stories and memories from my travels have come not from the Hyatt's lobby, but from the kindness of locals who are delightful, generous, and love to share what they have.
We experienced this on one trip as soon as we arrived in our little town in Tuscany. We stopped by the local alimentari for the few basic things we would need for dinner – pasta, garlic, olive oil, cheese, tomatoes, wine. The proprietress Irma Ricci was mortified that she was all out of garlic! But as we settled into our house with the sun setting, we saw the dust of an approaching car coming our way. It was Senora Irma, bringing us garlic fresh from her garden.
Part of creating a home base is stocking up the kitchen where you're staying. Some of my friends say they do not want to be bothered with groceries and cooking while on holiday, but I have found that doing one shop on arrival will take care of the whole week. Buy drinks, alcoholic and non, breakfast supplies, fruit, and cheese for snacks, and all will be well. If you have an avid cook in your group, even better, but mostly you will sample the local fare at cafes and restaurants, preferably far from the tourist centres.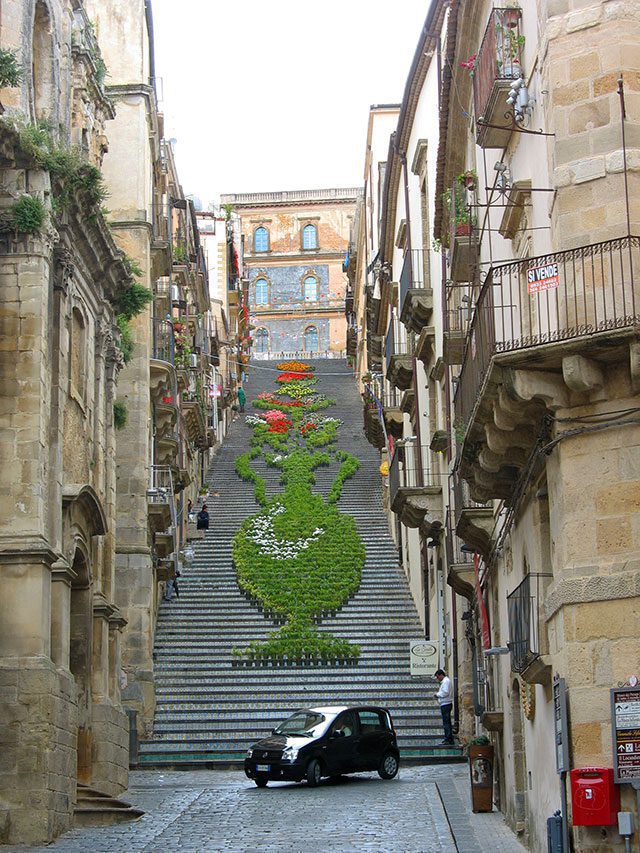 The 142 steps of the Scalinata di Santa Maria del Monte in Caltagirone, Sicily / Photo provided by Diana Eden
Nothing can beat waking up each morning with the sounds of the city or countryside right outside your window. My favorite moments are usually the mornings where my co-travelers and I get up at our leisure. Some are early risers and have already been for a walk when I get up. The rich aroma of coffee often wakes me if the sounds of light conversation haven't. We sit on a patio, balcony, in the garden, savoring the slow morning rhythm, discussing the day's activities, and setting no schedule other than "when you are ready, perhaps in an hour…or two."
On the same memorable stay in the farmhouse in the Tuscan hilltop town of Montisi, we loved to walk up the road to the local winemaker, Sr. Gattobigio. He showed us where he kept the key to his wine cellar in case he was not around. "Just bring your own bottle and fill it from the keg," he pantomimed. "You can leave a couple of Euros if you like." It helped make us feel like we were part of the community, which we were for the time we stayed there.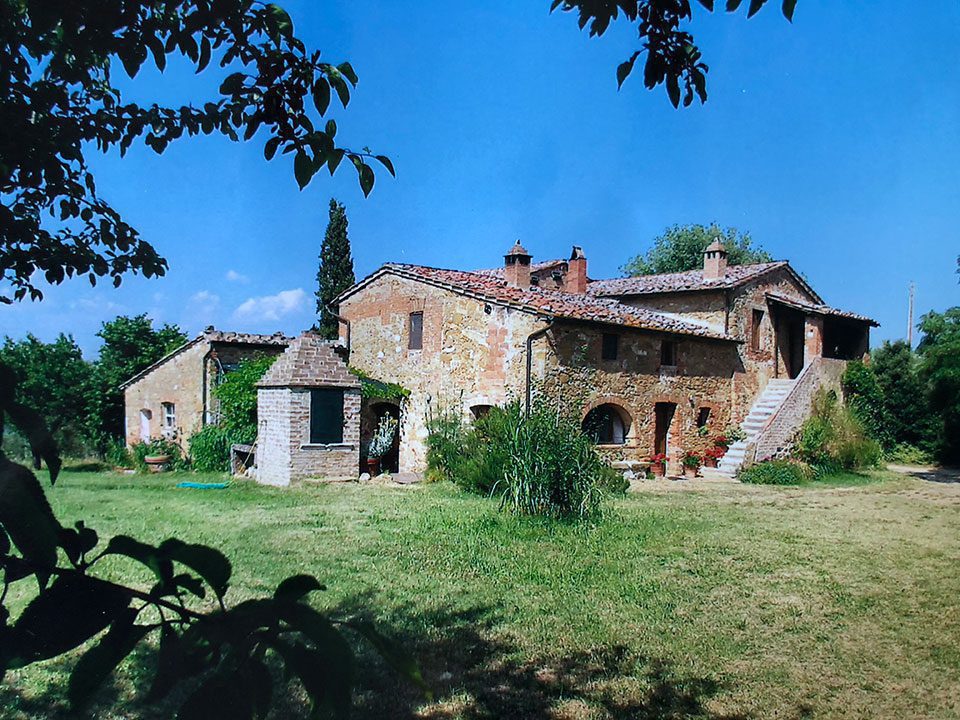 The Tuscan farmhouse that Diana and her group rented. / Photo provided by Diana Eden
3. Take transportation into your own hands
Personally, I like to rent a car. No, not in the heart of urban centres like Paris, where I use L'Uber and Le Lyft, or Rome, where couples have been known to break up in their third go around on the Grande Raccordo Anulare, trying to exit the airport. But in the countryside, it is effortless, gives you independence, and allows you to explore places the tour buses don't go. I suggest you assign your calmest travel mate the co-pilot seat in the navigator's role. Someone who will not scream at you if you miss the correct exit off the roundabout. Who cares if you get lost? You're on holiday.
The most embarrassing adventure I had driving in the Italian countryside was when I was attempting to learn how to drive a stick shift and had ventured off the main road by myself and into the tiny town of Petroio, where the streets got narrower and narrower. Eventually I could go no further but was not skilled enough to back up the hill in order to turn around. Luckily, I found a local young man who came to my rescue.
4. You're never too old to learn a few words of a country's language
If you learn nothing else in the language of the place you are visiting, learn how to say good morning, please, thank you, and "I'm so sorry, thank you for your patience" as you hold up the grocery checkout line, searching for the right coins.
As an aside, one time, friends wanted to go buy a bag of ice for cocktail hour and couldn't remember the word for ice in Italian. After pantomiming "drinks?" and "shivers?" (for ice cubes), they were sent to the nearest bar where they had such a good time with the locals that they came back without the ice after several rounds!
Moral of the story: Language foibles can lead to fun adventures. Don't sweat the small stuff. Most cultures appreciate your attempts, and people are generally happy to teach you the proper word for all manner of things – "It's cubetti di ghiaccio, by the way."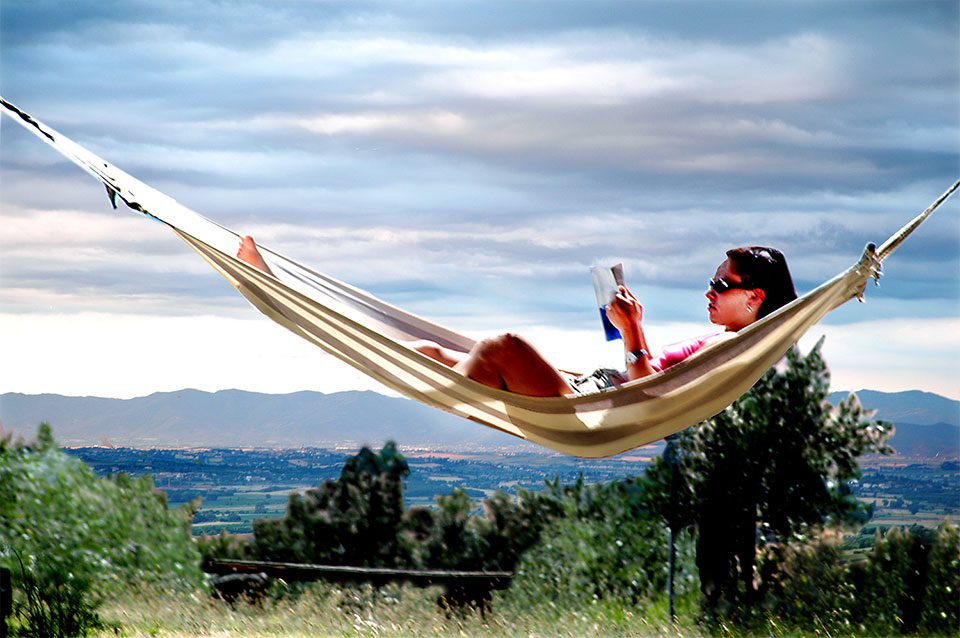 Fellow traveller Mary Beth suspended in time / Photo provided by Diana's sister, Carol Moore-Ede
5. Don't be afraid to go your own way
When you have that home base, there is a delight in knowing that not everyone has to do the same thing. One may wish to lay in the hammock and read. Others may want to go to a nearby farmers market, or to a local church or museum. The joy is that there is no tour bus waiting at 8 am to herd you off, nor waiting for slowpokes who are not back on board when they are supposed to be.
Everyone gets to do what they want at their own pace. Lunch is usually out, and then home for a nap – oh, glorious nap! In the late afternoon, people emerge on their own time, sensing that it might be getting near cocktail hour. Then follows a discussion of what lovely restaurant will be chosen for dinner or from which hilltop the sunset may best be viewed.
6. Treat the return trip like a marathon, not a sprint
On the way home, I always split the journey into two and stay in an airport hotel halfway. You wouldn't drive for 17 hours without a stop at a roadside Holiday Inn, would you? After three to four hours going through customs and security lines at my departure, followed by an eight or nine-hour transatlantic flight, I can't bear the thought of a three-hour layover, more lines, and another five-hour flight to the West Coast where I live! A lovely bed in an Airport Marriott means I am rested the next morning for the last leg, and arrive home fresh as a daisy. Well, almost. That is how I, at 80, rest, recuperate, reboot on my travels.
Diana was born in England, raised in Toronto, lived and worked in New York, Los Angeles, and now Las Vegas. She is a former dancer, actress, Emmy-nominated costume designer, and now author. She has recently published her memoir, Stars in Their Underwear: My unpredictable journey from Broadway dancer to costume designer for some of Hollywood's biggest stars.
JOIN US ON WEDNESDAY, SEPTEMBER 23 AT 8 PM FOR TO MEET DIANA AND HEAR MORE ABOUT HER STORY IN OUR NEW 'BEHIND THE SCENES' WEBINAR.
To register, click HERE.