Explore the 7th continent on this
Antarctica tour
(Sponsored feature) 
Wild Women Expeditions wants to help women explore the seventh continent on this Antarctica tour. 
Antarctica is hailed as the last great nature preserve, with its incredible density of wildlife. It's the ultimate adventure for those who seek a clean, rugged landscape and want to observe vibrant species of wildlife, untouched by time and untamed by humankind.
To witness a world so remote and so alluring is a memory that lasts for a lifetime. It's also a place that all women should experience at least once, which is why it ranks among the top seven Once-in-a-Lifetime Experiences recommended by women, for women.
"It's this opportunity to not be connected. Live in the unknown. To let go. You gain a deeper understanding of the world's most delicate ecosystem and become an ambassador for Antarctica." – Franny Bergschneider, Global Program Operations Manager, Wild Women Expeditions
Wild Women is currently offering 25% off Antarctica expeditions, now is the perfect time to check the Antarctic off your bucket list! Be sure to peruse JourneyWoman's in-depth look at "Why Antarctica is the Ultimate Once-in-a-Lifetime Experience", which explores the ins and outs of Antarctic expeditions, with a quick look at how this rugged terrain can still be attainable for travelers with mobility concerns.
Don't forget travel insurance! Compare prices on insuremyflight.com.
Learn more with these three Antarctica tours!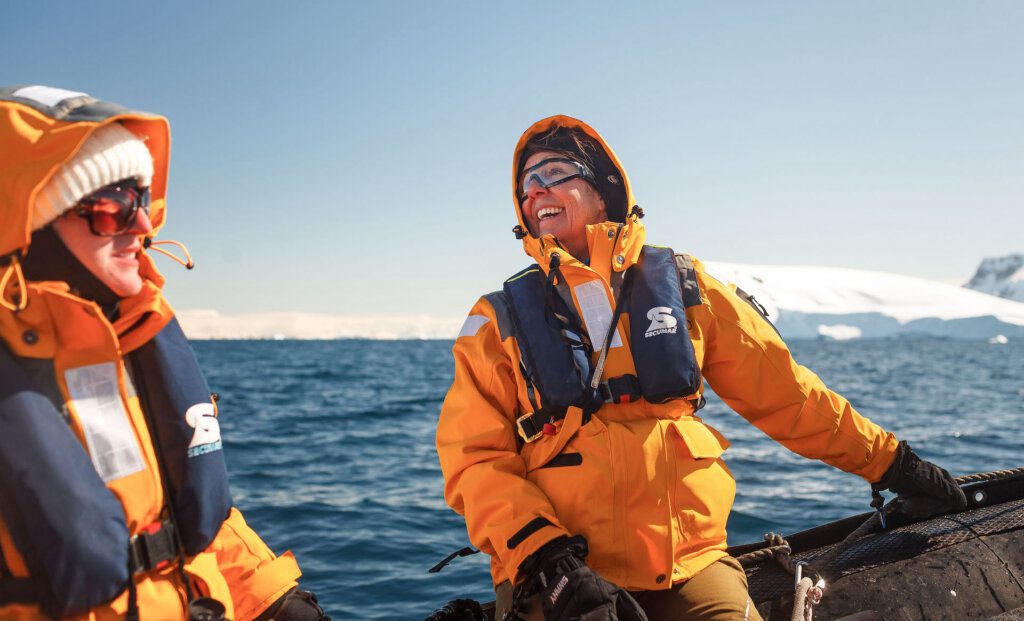 Photo provided by Wild Women Expeditions
Antarctic Explorer Discovering the 7th Continent
December 2 – 12, 2023
Wild Women Expedition's 10-day Antarctica Expedition offers the perfect immersive experience for solo travellers looking to delve into the 7th continent.
Navigate the famed Drake Passage in luxury aboard the 128-passenger polar-class Ocean Adventurer. You will get up close and personal with native wildlife, and learn from a polymath polar Expedition Team who will present workshops on wildlife behavior, marine biology, geology, glaciology, ornithology and Antarctic history.
This tour is fully customizable: choose to kayak in the still sanctuaries of the inlets or keep your neck on swivel with binoculars or a wide lens attached to your smiling face.
Photo provided by Wild Women Expeditions
South Georgia and Antarctic Peninsula Penguin Safari
February 5 – 20, 2024
Join the Wild Women Expeditions 'huddle' to visit the island with one of the greatest concentrations of wildlife on the plant…
The South Georgia & Antarctic Peninsula Penguin Safari promises a truly out-of-Africa safari expedition, complete with King penguins, elephant seals and more!
An active expedition, guests will hike in the shadows of glaciers and keep pace with new animal friends. Explore the rugged terrain by foot or kayak, or brave the frigid temps by taking a traditional polar dip!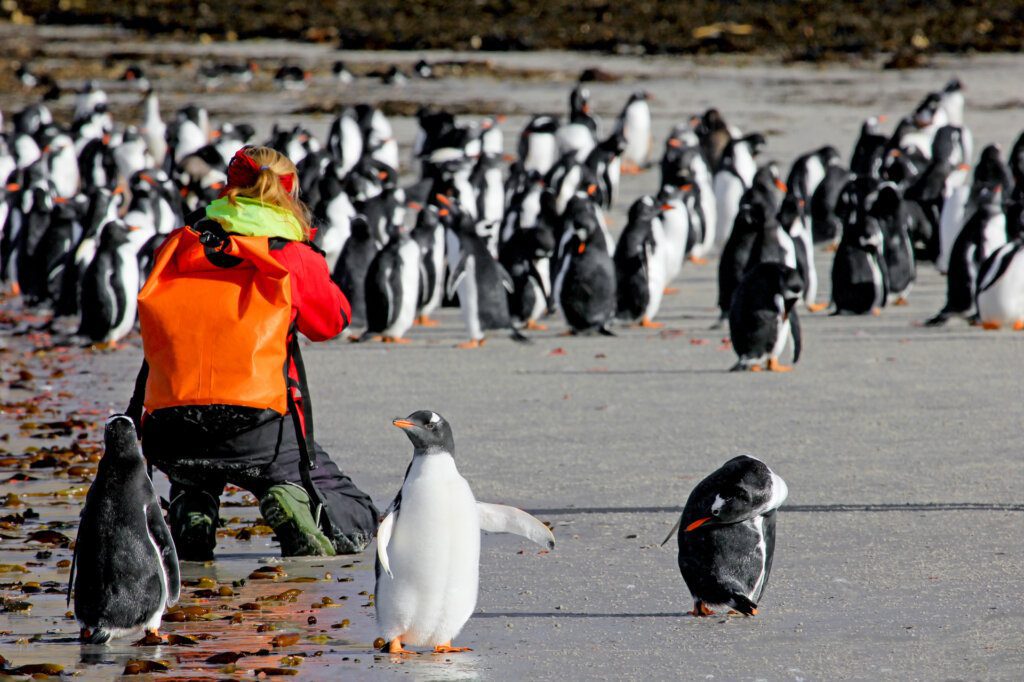 Photo provided by Wild Women Expeditions
Falklands South Georgia and Antarctica Explorers and Kings
November 14 – December 3, 2023
Wild Women's Falklands/South Georgia/Antarctica expedition combines two different environments into one incredible bucket-list experience.
From otherworldly ice flows and the adorable antics of the native wildlife, to the controversial history of Sir Ernest Shackleton's ill-fated Endurance expedition, this trip is as much about immersing yourself in the scientific significance of the region as it is cavorting with King penguins.
On board the Ocean Endeavour, "Floating U" students are in for a luxury experience with decadent meals, excursions and opportunities to set foot on the ice.
Wild Women Expeditions began in 1991 as an adventure tour company for women, based in Canada. Thirty years later, we are a global leader in women's travel, with tours in 30 countries. We offer all kinds of outdoor adventures, from hiking to horseback riding, kayaking to sailing. In May 2021, Wild Women was nominated by USA Today as the Best Adventure Travel Company. For more information email adventure@wildwomenexpeditions.com or call tel:1.888.993.1222. Learn more about us on Facebook

We have more trips, including Antarctica tours, for adventurous solo women in our Women's Travel Directory. Search by destination and find. the trip of your dreams.
More on Solo Trips for Women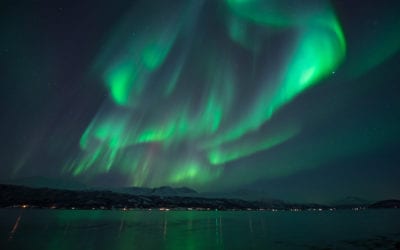 We reveal the top seven Once-in-a-Lifetime Travel Experiences recommended by women, including the Northern LIghts, the Camino de Santiago, Canada's Rocky Mountains, a Safari in Africa, an Antarctica expedition, Machu Picchu and Bali.