Last updated on July 11th, 2023
Featured image: Tanzila Khan is ready to share her ambition of travelling solo with the JourneyWoman community | Photo by Ravesh PR 
Accessibility is a human right
By Tanzila Khan, Contributor, Solo Travel Disability Writer
My name is Tanzila Khan. I am from Pakistan. I was born with a deformity in my legs that made me a wheelchair user since birth. I am an entrepreneur, writer, activist, and travel enthusiast. I guess travelling on wheels is an expertise I have gained by accepting life's adventures; this is my story of a solo traveller in a wheelchair.
A conversation that changed my life
In 2014, I was preparing for my BSC exams and would often visit the local library to study. One day during lunch break I sat in the café of that place when a lady requested to join me as the place was full. We both ordered burgers. She was at least 20 years my senior and upon my asking shared that she was unmarried, almost in her late 40s, a working nurse and lived with her married brother. I randomly asked her if she ever considered travelling solo. To which she responded that she had no reason to.
On the other side of the table, I sat there broke, disabled, dependent on my parents for finances and permission and with a deep desire to travel, see the beauty of the world and claim my space in it. I pointed out to her all the reasons she can and should travel because the only barrier in her life was her mind. She responded very positively and decided to travel by herself for the first time for the Islamic pilgrimage, Umrah. I felt I not just shared my table with her but also my ambition.
The beginning of an unexpected new passion
I initially made my first trips abroad for speaking engagements for disability rights chaperoned by my mother to countries like India, Thailand, Sri Lanka, USA, Brazil, Rwanda, China, Japan and more. I learned to navigate the inaccessible embassies because I needed Visa every time. I sensitized the staff over calls, emails and at times letters to make things accessible for me.
This effort continued with airlines, hotels and taxis. I learned to facilitate the world for my needs and also educate the travel industry about disabled travellers. This was an involuntary process but a fruitful one.
I slowly started pushing my boundaries and would stroll on empty streets on my own. I would look for activities that I could and could not do and would find out ways to do them with the organizer. Many times they had never seen a person in a wheelchair so excited to participate in activities.
Taking first solo flight
After gaining much confidence (and a bit of a fight), my parents allowed me to travel solo and I took my first solo trip to Istanbul, Turkey.
Sadly, there was a lockdown during those days but I made the best of my time by roaming in the empty streets. I was just too excited to see the world as my playground that even dragging my bag through the streets did not bug me.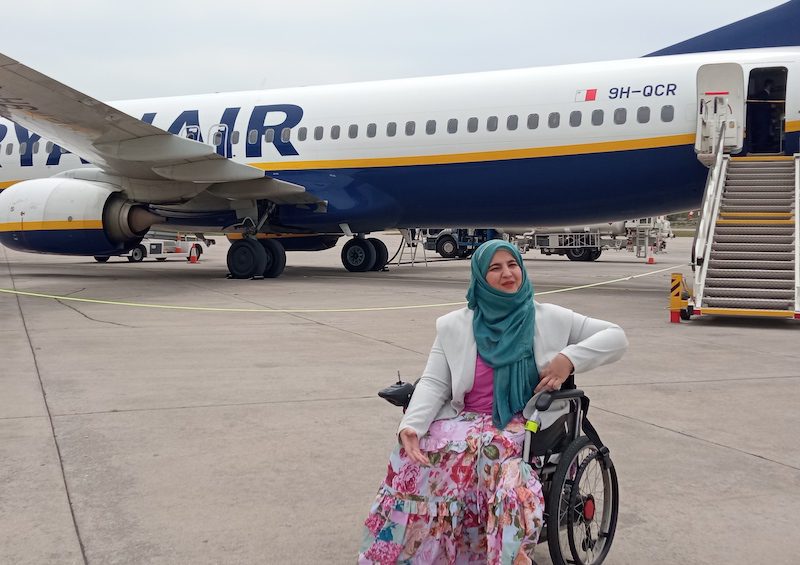 Tanzila boarding a plane to Croatia  / Photo provided by Tanzila Khan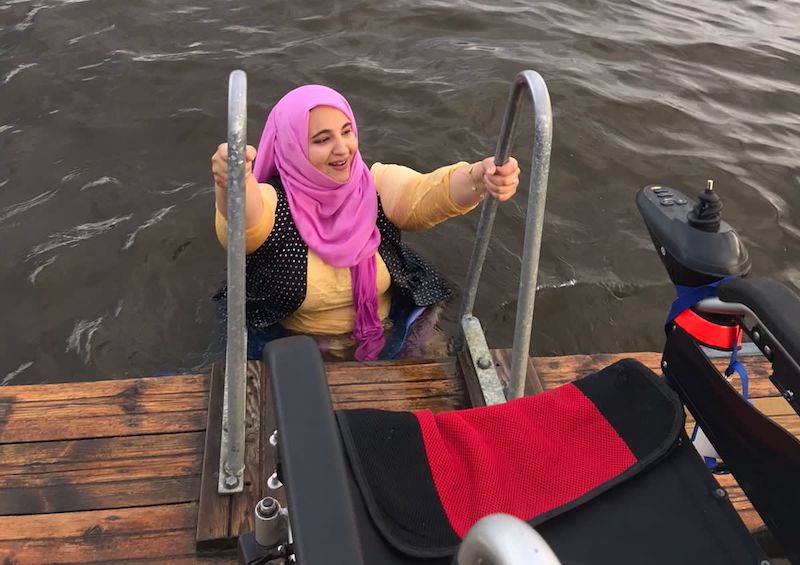 Taking a dip in the lake in Uppsala / Photo provided by Tanzila Khan
The second trip was to Egypt with two other friends who were also wheelchair users. That trip opened my eyes to how much the hospitality industry needs to grow for disabled travellers and the best service we can give them is to travel more and travel solo.
I then made solo trips around Europe to Croatia, Portugal, Spain, Austria, Sweden, Germany, Latvia, and Estonia on wheels and navigated accessibility on my own. I got stuck in train tracks, got wet in the rain, remained hungry for days, locked for accessible bathrooms and hotels and all of these were no less than an adventure for me.
I made friends in all of these places, waited for my wheelchair in the company of many elderly women and would strike up a conversation with them. That's how I realised that accessibility is a human right.
Time to share the table once again
Today I may not share a burger and a table with all of you. But I will share my ambition of travelling solo and claiming your space in the world.
Whether you are on wheels or on foot, the world deserves to see your marks left behind as you all navigate the world guided by your soul.
Travelling made me realise how much love, empathy, support and technology there is that can take me to places and I am thrilled to join the JourneyWoman family to share my stories of accessibility, disability traveling, empathy and lots of fun!

Read More on Accessible Travel
Our Accessible Travel writer Tanzila Khan discovers that kayaking is possible for adventurous women in a wheelchair, in Stockholm, Sweden.
Accessible solo travel writer Tanzila Khan explores the medieval city of Tallinn, Estonia, and lets the city guide her.
AccessibleGO offers accessible hotel discounts of up to 60% for JourneyWoman readers, from our Women's Travel Directory.